The Best Gate Company in Houston, Texas
Looking for a gate company that can provide you with the best security gates in Houston, TX? Consult with the professionals at Nexlar. We offer a wide range of gates perfect for any business.
Whether you're looking for a traditional iron gate or something more unique, we have you covered. Plus, our team is available 24/7 to help you choose the perfect gate and install it quickly and efficiently. Don't wait any longer. Call us today!

REQUEST A FREE CONSULTATION

The Gate Company That Sets The Standard For Quality, Security, And Value.
We are the #1 gate installation company in Houston, Texas. And with good reason. We provide high-quality gate services at an affordable price. We also have a wide selection of residential and commercial driveway gates, so you can find the perfect one for your business.
Highest quality gates in the industry

Nexlar's products are made from the highest quality materials and provide optimal security for a wide range of applications, from gated communities to commercial parking facilities. We use only certified materials and components in our products, and all of our gates are carefully examined to ensure that they meet our strict standards for quality and performance.
Strongest security against break-ins and vandalism
Our security gates are designed to provide your business with the highest level of security. Made from heavy-duty steel and featuring a patented locking system, our gates are virtually impossible to breach. Additionally, our gates are powder-coated to resist rust and corrosion, making them ideal for use in coastal areas. Our security gates also come in a range of colors and styles to complement any property.
Custom-built to fit any business
We offer many customization options to ensure that our gates meet the specific needs of our customers. Whether you're looking for a basic security gate or a tailored solution, we're confident that we have a gate that will suit your business perfectly. Contact (281) 407-0768 today for more information about our gates and how we can help you secure your property.
Our team of experienced technicians takes great care in ensuring that each installed gate is built to last. We offer a variety of gate designs to choose from, so you can find the perfect gate to complement your business. And because we believe in providing outstanding value to our customers, we offer a 100% satisfaction guarantee on all our products.
So if you recently googled "the best commercial security gates available," look no further than our company. We'll deliver a high-quality gate that will give you years of trouble-free service. Whether you simply want to secure your property or want to make a statement, our security gates offer industry-leading value.
Free consultations and price estimates
The choice to commit to a security gate installation project can be a big one. We understand. That's why we offer free consultations and cost estimates to help ease the process. Our team of experts will work with you to assess your needs and develop a plan that fits your budget and timeline.
We're committed to complete transparency throughout the entire process. So, you can be confident that you're getting the best possible value for your security investment. Call (281) 407-0768 today to schedule your free consultation.
Competitively priced without sacrificing quality.
You can't put a price on peace of mind. However, when it comes to security gates, we believe that you shouldn't have to sacrifice quality to get a competitive price. We offer the best prices on commercial security gate installations and repairs without sacrificing quality or service. We know that your security is important to you, and we're committed to providing the best gates at the best possible price. Contact our experts today to get the best price for your next metal gate installation project.
Integration with other security systems
Our gates can be integrated with other security systems to provide a comprehensive security solution that can deter intruders and help to protect your business. This may include such as CCTV cameras or alarm systems. They can also be fitted with various locks, making it difficult for even the most determined criminals to gain entry. Contact (281) 407-0768 today to discuss your business security needs.
Nexlar's gates have been built to be as convenient as possible. With our easy-to-use electric gate openers, you can open and close your gate from inside your commercial building or anywhere in the world. Your security team doesn't have to get out in the cold to open the gate manually!
Commercial gates with an unrivaled aesthetic appeal
Sometimes, security gates are meant for more than just keeping intruders out. In some cases, they can be great marketing tools. At Nexlar, we believe that commercial security gates should also make a property look more appealing. That's why our
security gates
are designed to complement your property.
Whether you're looking for a traditional or contemporary look, we have a gate that will suit your needs. Our security gates are finished with a powder coating that resists fading and corrosion. Plus, our innovative design means that our gates can be installed quickly without the need for extensive excavation or concrete work.
Get the right gate for your commercial property.
If you're looking for a security gate company that can provide you with the perfect solution for your commercial property in and around the Greater Houston area, Nexlar is here to help. We have many gate options available, and our team is experienced in installing and servicing them all.
So whether you're looking for a wrought iron fence gate to keep unauthorized people out or a steel gate to add an extra level of security to your business premises, we can provide you with the perfect gate for the job. Contact us today for a free quote!
Security gates provide security and privacy and enhance the appearance of your business. Upon request, Nexlar can install custom gates for properties of all sizes. We have a wide variety of gate models readily available for you to choose from.
These gates are typically used to seal off areas that aren't accessible to the general public, like warehouses, factories, and other industrial settings. They open and close by using a sliding mechanism.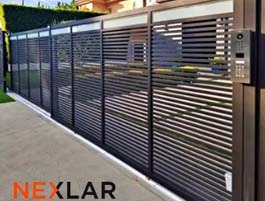 It is essential that slide gates are designed with high stability in mind. Our slide gates provide reliable performance even in demanding applications. In addition to being stable, our slide gates are crafted for durability to withstand the rigors of constant use. All our slide gate options, including those made from steel or composite materials, can withstand years of heavy use without failing.
Custom gate height at request
We offer custom gate height options to ensure yours is tailored to your needs. So whether you need a small gate for a light-duty application or a large gate for a commercial parking lot, we can provide the perfect solution. Schedule a free consultation with us to learn more about our custom gate height options.
Fully automated access control

Our slide gates are fully automated, meaning that you can control access to your property with the push of a button. The gates can be programmed to open and close at specific times, or you can use the remote control to open and shut them from close proximity. The gates also have sensors that automatically close the gate if someone tries to enter your property without permission. Rest assured that your property is secure against intruders.
Our slide gates are designed for remarkable performance in a variety of applications. From gated communities to heavy-duty industrial uses, our slide gates can be customized to meet your needs. Our experienced security professionals will work with you to select the right materials and design for your application, ensuring that your slide gate provides the best possible performance. We offer various options for customizing your slide gate, including different sizes, finishes, and features.
Commercial Swing Gates Solutions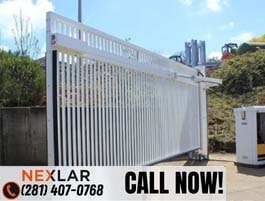 As their name suggests, these gates swing to open and close. They are ideal for commercial settings and if installed and maintained correctly, can provide years of high security.
Single leaf and double leaf variants are available
Each variant is designed to suit different needs and openings. The single-leaf swing gate is ideal for smaller spaces, while the double-leaf swing gate is perfect for larger openings. Both variants come with many options to choose from, including manual or automatic operation and multiple finishes.
The high ground clearance of our swing gates is a key feature that sets them apart from other types of gates on the market. This feature is especially important if you have a lot of traffic going in and out of your property. It helps to prevent the gate from getting held up by mud or other debris. The high ground clearance also makes it easier to open and close the gate, as there is less chance of the gate getting stuck on uneven ground.
Tall enough to stop intruders from gaining entry
Our heavy-duty swing gates are specifically designed to provide maximum security for your business. The gates have a robust locking system and are tall enough to deter intruders from trying to climb over them. Nexlar security gates can also be fitted with surveillance cameras and motion sensors to increase security further.
Opening directions choice
With our swing gates, you can choose which direction you want them to open. Whether you want outward opening gates or inwards opening gates, our team has got you covered. Talk to one of our experts to plan a free onsite consultation.
Approximately 180 degrees of opening angle
Our swing gates have approximately 180 degree of opening angle, which means they can be fully opened to allow access or closed to block entry. In addition, the wide opening angle makes it easy for guests to drive through the gate, even if they have a large vehicle. Our swing gates are an excellent choice for many applications. Talk to our experts today.
Commercial Traffic Barrier Arms Solutions
Traffic barrier arms control the flow of traffic. They are used in many applications, including parking lots, driveways, and highways. In each case, they are used to control the flow of traffic and to protect property and pedestrians from errant vehicles.
Built for continuous duty
Our arms are made from high-strength steel and reinforced with welded joints. They're designed to flex under impact, absorbing the force of a collision while minimizing damage to the arm itself. Are you looking for a temporary barrier arm for construction sites or a permanent one for a busy entrance? You can count on Nexlar to provide a product that will meet the demands of continuous use.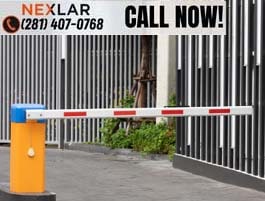 Nexlar offers custom-designed traffic barrier arms to meet the specific needs of our clients. Whether you need a longer or shorter arm length, we can work with you to create a solution that fits your unique requirements upon request. We also offer a variety of finishes and optional features. So, you can be sure that your traffic barrier arms will fully complement your existing infrastructure and serve their purpose.
Automatic controls, including car sensor
Our traffic barrier arms have automatic controls, including a car sensor. This allows the barrier arm to automatically close when a vehicle approaches and then open again once the vehicle has passed. This helps to keep pedestrians safe by preventing them from walking into the path of oncoming traffic. The car sensor also helps to improve traffic flow by eliminating the need for drivers to stop and manually open the barrier arm.
Manual and electric options are available.
Manual traffic barrier arms require someone onsite to raise or lower the arm, which may not be practical for all businesses. Electric traffic barrier arms offer the convenience of operating them remotely, but they're usually more expensive than manual models. When choosing a traffic barrier arm, it's important to consider your budget and your business's specific needs. Please consult with our professionals to find out which is right for your business.
Adjustable rising and lowering speed
How quickly do you want your barrier arm gates to close? The raising and lowering speed of our barrier arms can be easily adjusted to account for different traffic conditions, making them an ideal solution for various situations. For example, you may want them to lower faster in gated communities to avoid tailgating. Call (281) 407-0768 today.
Pedestrian Security Gates Solutions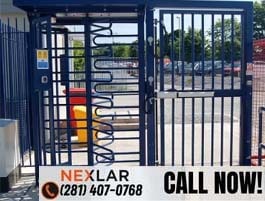 Do you want to regulate your visitors around the clock with ease? Then our pedestrian gates are just what you need. Nexlar has half-height and full-height turnstiles for any commercial property. Contact us for more information.
Call Us Today (281) 407-0768 For A Free Consultation 
Automated Gate Solutions For Businesses Of All Sizes
Every business is unique, and we understand that businesses have different security and access control needs. Because of this, we offer many automated gate solutions to suit any business. From small businesses to large corporations, we have a solution that will fit your needs.
Security features that surpass industry standards
We take security seriously. That's why our security gates are designed with state-of-the-art security features that surpass industry standards. Our gates are made of heavy-duty steel that is difficult to breach. They are also equipped with advanced locking mechanisms for added security.
We also give you the option of having our 24/7 security team that is ready to respond to any potential threats monitor the gates for you. Contact our team today to learn more about our virtual guard solutions.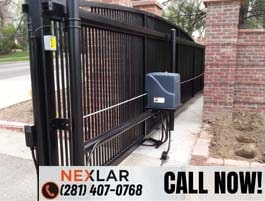 Compatible with all standard access control devices
Our
security gates
are compatible with all standard access control devices, making it easy to create a secure perimeter around your property. Whether you're looking to protect a commercial building or a gated community, our gates will provide the level of security you need. Our gates can be fitted with several features, such as automatic locks and remote-controlled access, making it easy to customize your security system.
Protect your business with 24/7 security
Our gates deter potential intruders and provide a visual barrier that can make it more difficult for strangers to gain access to your property.
Eliminate the hassle with manual gates
Anyone who has had to open and close a manual gate knows the hassle it can be. The constant back-and-forth can be time-consuming and tedious, not to mention the fact that it can be difficult to keep the gate properly aligned. Our automatic gates offer a convenient solution to this problem.
With an automatic gate opener, you can simply push a button and let the gate do the work for you. By having a remote control, you can ensure that only authorized people have access to your property.
Enjoy increased efficiency and performance.
Our automatic gates reduce the time needed to manage access to your premises. This way, your security team will have more time to focus on other security duties like premise surveillance without leaving room for possible break-ins.
Our gates are ideal for many applications, including hospitals, shopping malls, schools, healthcare facilities, and more. Call us to find out which gate is best for your property.
Why Our Customers Love Us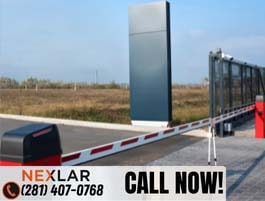 We are continuously improving our offers so that we can continue to provide the best possible experience for our customers. They know that they're getting the best in the business when they choose us.
1. We provide security solutions that our customers love.
When it comes to customer satisfaction, we have a proven track record. Our friendly customer support takes the time to understand what each customer needs, then deliver. Our gates are functional, reliable, and built to last. Our customers rely on us for high-quality gate installation that they will love. That's why they keep coming back to us, time and time again.
2. We're experts in our field, always learning and staying updated with security advancements.
Our security professionals are always staying up to date with the latest advancements in security gate technology. From electronic gates to secure entry systems, we know how to keep your property safe and secure.
We understand that security is an ever-evolving field, and we are always learning and growing to stay a step ahead of any security threats. When it comes to security, you can rest assured that we have you covered.
3. We always put our customers first.
Nexlar ensures that our customers are happy with the outcome no matter what the situation may be. Without our customers, our company would not be in business, so we do everything we can to keep them coming back.
4. 100% satisfaction guarantee
In addition to offering high-quality security systems and monitoring services, we also offer a hassle-free money-back policy. Our staff is always available to help. If the gate we install doesn't meet your expectations, let us know, and we'll make it right. We'll refund your money or provide you with a replacement, whichever you prefer.
Our goal is to provide you with the best possible experience, and we're committed to making sure you're happy with your purchase. We believe in prioritizing our clients. After all, they're the only reason why we'll continue to grow and prosper for years to come.
Maintenance And Repair Packages

Regardless of whether you're looking for a one-time service or a monthly plan, we have an option that's right for you. Our team of security specialists will work quickly and efficiently to get your problem solved.
Our gate repair services are available 24/7 because you never know when you could need them. With Nexlar, you can be sure you're making the best decision for your business. Contact (281) 407-0768 to ask any questions about our maintenance and repair packages.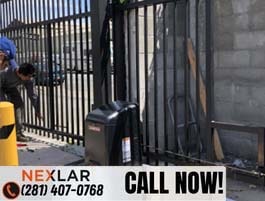 Get In Touch Because We Build The Highest Quality Security Gates For Commercial Applications.

If you're looking for a security gate that will keep your business safe and make your business operations smoother, contact us today. For commercial gates in Houston, Texas, Nexlar is the company to call.
We'll help you choose the gate your business needs, install it and perform routine maintenance as you please. With our years of experience, we'll ensure that you get a gate that is effective. Call us today at (281) 407-0768 to get a free price estimate.
Commercial Gates Service Area
Directions, That Matter!
Service And Quality Matters
Increase return on your investment with our custom security cameras, access control and software integration technology.
Quickly, professionally, on budget and on schedule, I would not hesitate to recommend Nexlar
Cliff M. Fogo de chao
CEO

Nexlar staff attend to our needs in a courteous and professional manner
Jeremy Director Of Facilities – BCFS

Outstanding customer service, fast and professional installation
Brenda

Thank you so much for your quick and effective work with us. Your technician was outstanding
Matthew
Production Group Leader (PGL) – Haliburton