Best Security Gates Systems In Houston, Texas
Are you looking for reliable security gates systems for business in Houston, TX?
Please Call (281) 407-0768 For A Free Consultation

Are you looking for a security gate in Houston, TX, that will protect your business, its customers, and its employees without sacrificing convenience? Commercial security gates are a great way to keep your property safe. Not only do they provide a physical barrier to entry and act as a visual deterrent to criminals, but they can also improve the value of your commercial property. Nexlar offers a wide selection of commercial security gates so that you can find the perfect one for your business. Our company also offers free consultations so we can help you choose the right gate and installation plan for your needs. Contact Nexlar's experts at (281) 407-0768 to schedule a free consultation!
REQUEST A FREE CONSULTATION

We Install Security Gates That Do More Than Just Protect.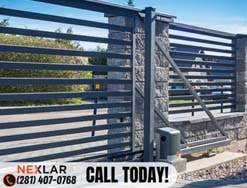 Do you own a business? Are you looking for a way to protect your assets and employees? Our security gate do more than just keep people out and deter crime and vandalism. Plus, our gates are custom-made to fit your specific needs. Call (281) 407-0768 for a free quote or to learn more about our security gate installation services.
If your business is looking for ways to reduce expenses, one way to do this is to decrease the amount it pays for insurance premiums. Make your business appear less risky to insurers with our company's commercial security gates. This conveys that you are serious about protecting your property and your employees, and it can lead to a reduction in your property's insurance rates.
Add value to your commercial property.
Nexlar's security gates are made with high-quality materials and construction, so you can be sure they will improve your business's valuation. For example, if you own a high-rise apartment complex, our security gates can ensure that your building attracts high-quality renters that are willing to pay extra because of the security they are getting. Set your property apart from other rental options. Call Nexlar today.
If you want to increase privacy and security for your business, for example, you own or manage an apartment complex or gated community, consider installing Nexlar's security. Our gates are designed to withstand forced entry. They can also be equipped with additional features like locks and alarms. Our gates can also be customized to match the existing architecture of your building. In addition, our gates can be automated to open and close on a schedule or in response to an alarm system. By installing our security gates, you can rest assured that your business is secure from intruders. Contact Nexlar today to discuss your business's needs and find the perfect security solution for your business. Installing a security gate is a big decision, but it's one that can offer peace of mind.
Does This Sound Like You?
– You are afraid of the potential hazards that come with installing security gates on your business premises.
– You are afraid that they will prevent emergency vehicles from getting in during emergencies.
– You're afraid of these gates causing injury due to malfunctions caused by poor maintenance.
– You're afraid they may be a safety hazard for older adults or those with disabilities.
– You are scared that security gates won't do much to protect your employees and customers and are trying to steer clear of any security measure that gives a false sense of security.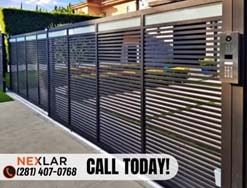 Here's What Makes Nexlar's Security Gates Different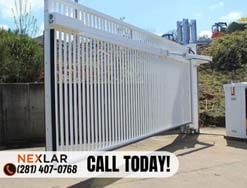 Our security gates differentiate themselves from the competition with their high-quality construction and customizability. We can work with you to create the perfect gate for your business, ensuring that your business is always secure.
All our gates are regularly tested and inspected for maximum performance.
Do you want to protect your business for many years to come with minimal spending? We've got you covered. The security gates we install for businesses are regularly checked for functionality and tested to ensure they are up to standard. For example, our team of experts regularly inspects the gates for any damage or wear and tear. We also test the gates to make sure they are still functioning correctly and can withstand any force. This will give your customers and employees peace of mind knowing that your security gates are in good condition and your business is secured from external threats. Our team is always on call to respond to any problems that may arise, so get in touch with our team today.
We have automatic and electric gates.
Our electric gates are a great solution for businesses that want to improve security and safety. The automatic gates we provide open and close with the push of a button, making them very convenient for keeping unauthorized vehicles from entering the premises. Every gate we install is low maintenance and easy to operate. You can have our team install ready-made kits. However, our team can add features if you'd like a customized premise access control gate system for your business. We can add remote control features, fingerprint recognition, and video intercom to the installed gates. You can also choose from our wide variety of gate designs, including swing gates, slide gates, and barrier gates. Regardless of the kind of business property you own, Nexlar's commercial security gates and electric gates can provide several benefits that will help you maximize your ROI. Call Nexlar's technicians for a free consultative session.
Highly rated and crash-tested entry gates
Some of the gates we provide undergo crash-test simulations to ensure they will withstand a real-life impact. Our gates have been crash-tested with both small and large vehicles and consistently performed well. Every gate our company installs for businesses can withstand a high level of impact, making them an excellent choice for protecting your property. In addition, our gates are made from high-quality materials that can resist corrosion and wear. This means that they will continue to look good and perform well for many years to come. We have models that are made from high-strength steel and reinforced with heavy-duty brackets. We also offer customization options to ensure you get a security gate that meets your needs.
Contact a licensed security company at the best prices in town.
Our company is fully licensed to provide security gates for your business. We have an A+ rating by the Better Business Bureau because our company is committed to providing the highest quality security gates in Houston. We offer various security gate options, and we can customize a solution to your specific needs. We also offer a 100% satisfaction guarantee, so you can be sure you're getting the best possible system for your premises. Contact us to learn more about our security gate options.
Reinforced designs for extra-protection
Forced entry and vandalism? Not with our steel gates that can't be pried open easily. The gates we install are equipped with high-security locks that are very difficult to pick. This makes it much more difficult for intruders to gain access to your property. Our steel security gates are more resistant to damage from blunt force, making them ideal for areas that are susceptible to graffiti or other forms of vandalism. Reach us on (281) 407-0768 to inquire about all the gate models we have to offer.
Manage vehicular and pedestrian traffic more efficiently.
Does your business get many cars and people in and out of the premises? Our company's automatic gates can help you manage this traffic much more efficiently than manual gates. Since they can be programmed to open and close at specific times or for specific individuals, our gates offer the convenience and level of security that your customers and employees expect without causing traffic logs. For example, if you have a busy period in the morning, you can set the gates to open early to allow traffic to flow more smoothly. In addition, our gates can also help to deter unauthorized traffic from entering the premises, and even if they gain access, Nexlar can install spikes to ensure that cars going the wrong don't get far. If you want to manage traffic, better consult one of Nexlar's professionals today.
Protected against power surges
Our security gates are designed to protect against power surges and short circuits. We use only the highest quality materials and components to ensure that our gates can withstand any attack. Our security gate installers are also experts at all types of cabling. This cabling is tested and certified by leading boards to ensure its reliability. In the event of a power surge, our cabling will keep your gate operational, minimizing any potential damage. Setup a free consultation with our cabling experts to learn more about our commercial cabling solutions in Houston, TX.
Our security gates have backup batteries that will keep them operational for up to 12 hours in the event of a power outage. This ensures that your facility remains secure even in the event of an extended power outage. If you are ever concerned about the gate not opening, please do not hesitate to contact us for a consultation at (281) 407-0768 to get started.
Our security gates are designed to be highly efficient, consuming low levels of power. This not only helps to keep bills down but also reduces our environmental impact. The security gates we install aren't constantly drawing power. We also have models with solar-powered batteries, so they don't rely on the grid as much. If you choose Nexlar's security gates for your business, you could save up to 30% on your security bill. Save money and conserve energy by investing in our low-voltage security gates. Call (281) 407-0768 to get started.
Maximum efficiency, even at low temperatures
Cold environments can be a tough time for security gates. Low temperatures can cause problems, from frozen locks to jammed mechanisms. But our security gates are designed to cope with even the coldest conditions. Thanks to their advanced engineering and robust construction, they can withstand even the most extreme cold snaps. So if you're looking for a security gate that's up to the challenge of any cold weather, Nexlar's gates are a perfect choice.
Crush prevention technology
Keep pedestrians safe with advanced technology that can detect when people are walking through them. Our security gates are ideal for high-traffic areas where people constantly come and go. If the sensors detect a person, the gate will automatically open to prevent them from being crushed. This technology is also beneficial for people using mobility devices, such as wheelchairs or scooters.
Advanced movement control
Our boom gates are equipped with an integrated absolute encoder that ensures great precision in slowdowns and advanced control of the boom movements. This allows for the smooth, safe, and efficient operation of the boom gate system. The encoder also provides valuable feedback to the operator so that they can monitor and adjust the boom gate movements as needed. This ensures that the boom gates are always operated in the safest and most efficient manner possible.
Fast open and close functions
Our security gates are designed for fast, efficient opening and closing. The mechanism is simple and easy to use, and the gates can be opened and closed in just a few seconds. The gates are also designed to close automatically, so you don't have to worry about leaving them open. If the sensors detect someone trying to enter the premises, they will immediately close. This offers a higher level of protection and peace of mind. Some of the gates we provide, like traffic barrier arms, have features that let you choose how fast you want them to open or close. For more information about our boom gates, call us today.
We carry a wide selection of gate motors and openers for all security gate types and heavy-duty and light-duty applications. Whether you're looking for a simple opener for a small gate or a heavy-duty motor for a large gate, we have options to suit your needs. We can help you choose the right gate motor or opener for your particular security setup. We'll also make sure it's properly installed so you can rest assured that your business is secure.
Nexlar's experts have worked on projects for some of the leading companies in the city, and we have a reputation for reliability and durability. Our gates are made to withstand heavy traffic and harsh weather conditions and are designed to keep your property safe and secure.
If you want a trusted security gate provider, then you need to look no further than our company. Nexlar will find the perfect solution for your needs. We will also make sure that your property is well protected. Contact us today for your security gate installations, repair, and maintenance.
If you have a small budget, we have a price to match.
A security gate is a significant purchase. We get that. That's why we offer various flexible financing options to help make the purchase more affordable. Whether you're looking for a short-term security solution or a long-term investment, we can work out a payment plan that fits your budget. We also offer discounts and free quotes, so be sure to ask about those when you call our experts. Our company's goal is to make the security gate installation services we provide as easy and stress-free as possible for you and your employees. So let's talk financing options. Call (281) 407-0768 today.
The Various Security Gates We Install At Nexlar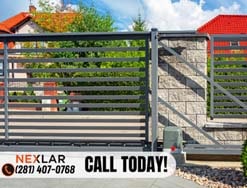 There are a variety of different types of
security gates
that we can install for your business, depending on your needs and budget. Our ex can help you choose the right type of gate for your business and provide installation and maintenance services to ensure that your gate is always in good working order. We have gates that can be opened manually or with an electronic opener, and if you need us to automate the existing gate, we can do that too. Here are some of the gates we install. – Sliding Gates – Boom Gates – Swing Gates – Automatic & Electric Gates
Finding The Right Gate System For Your Property
You need to ensure the safety of your employees and customers, as well as your assets. A security gate system can help accomplish this goal, but it's important to find the right system for your business. What is your budget? What type of gate do you need? By taking into consideration all of these factors, our experts can help you find the perfect security gate system for your business. Nexlar also offers a wide range of customization options, so you can choose a gate with the features you need to maximize security and productivity and return your return on investment. Request a quick quote today by calling (281) 407-0768.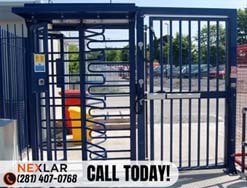 Our Security Gate Installation Process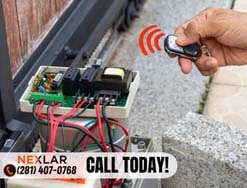 Step 1: The first step in the security gate installation process is to measure the opening of your driveway or property
Step 2: Once the measurements have been taken, a representative from our security gate company will provide you with a quick estimate for the entire project

Step 3: If you decide to move forward with the installation, a date will be scheduled for the crew to come out and install the gate

Step 4: The crew will arrive on site and begin by removing any existing gates or fencing
Step 5: They will then install the new security gate, ensuring that it is properly aligned and functioning correctly
Step 6: After installation is complete, they will clean up any messes that were made during the process
We are a licensed security gate installation company in Houston, TX. We also offer a variety of security features, including alarms, CCTV cameras, and access control systems. Our team of experts can customize a security system to meet the specific needs of your business. Contact an expert from Nexlar today to learn more about our security gates and how we can help keep your business safe.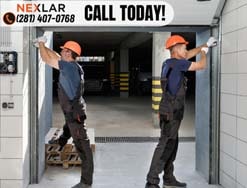 Quick and professional installation
Look no further if you're looking for the quickest and most reliable security gate installation for your business. Our experts are highly experienced and can get any installations, repairs, and maintenance work done quickly and efficiently. We understand the importance of time when it comes to business, so we'll make sure that your gate is installed as quickly and professionally as possible. With our installation, you can be confident that your business is secure and protected. Contact us today to schedule a consultation.
Regular repairs and preventive maintenance
Our installation team can inspect and test your gates and gate hardware regularly to ensure they are in good working order. We will also quickly perform any necessary repairs to keep your gates operating smoothly. In addition, we will provide preventative maintenance to help prevent future problems. With Nexlar's professionals regularly servicing your security gates, you can be sure that they will continue to protect your business for many years to come.
A highly customized solution for your security needs
Your business needs custom-built security gates to stay safe because what works for another business could not work for your business. Our security gates are designed and built with this in mind. We work with you to understand your specific needs and design gates that will provide the level of security you require. If you'd like, our gate installers can equip your security gates with security features, such as keypads, deadbolts, and video surveillance systems. Call us for a free custom quote.
Highly reputable for high-quality business security systems
We are highly reputable for our high-quality business security systems. Our security gates are no different. Nexlar uses the latest technology to provide its customers with the best possible security. Our gates are made of high-strength materials designed to withstand attempted forced entry.
Our security gates are ideal for various applications, including commercial properties, hospitals, schools, federal institutions, and more. To see how our security gates can serve your business, call Nexlar's experts today. Call (281) 407-0768 to get started.

Commercial Security Gates Systems Service Area
Houston
Sugar Land
Spring
Katy
Kingwood
Stafford
Conroe
Texas City
Cypress
The Woodlands
Webster
League City
Bellaire
Missouri City
Friendswood
Humble
Richmond
Pasadena
Baytown
Tomball
Galveston
Galveston County
Pearland
Seabrook
Lake Jackson
Channelview
New Caney
Manvel
South Houston
Magnolia
Kemah
Rosenberg
Alvin
Hempstead
Dickinson
Fulshear
New Ulm
Wallisville
Hunters Creek Village
Brookshire
Sweeny
Hardin
Hankamer
Danbury
Needville
Simonton
Gilchrist
High Island
Raywood
Piney Point Village
Orchard
North Houston
Anahuac
Romayor
Huffman
Cat Spring
Bellville
Dobbin
Damon
Highlands
Bacliff
San Felipe
Winnie
Kendleton
Guy
Galena Park
Danciger
Pinehurst
Liberty
Liberty County
Daisetta
Industry
Mont Belvieu
Bleiblerville
Old Ocean
Clear Lake Shores
Santa Fe
Bunker Hill Village
Porter
Liverpool
La Porte
Brazoria
Prairie View
Willis
Cleveland
Clute
Port Bolivar
Rosharon
Dayton
Crosby
Montgomery
Montgomery County
Freeport
Sealy
Fresno
Alief
Hitchcock
West Columbia
La Marque
Beasley
Wallis
Splendora
Devers
Hull
Hufsmith
Pattison
Thompsons
Oak Ridge North
Rye
West University Place
Angleton
Kenney
Hockley
Barker
Waller
Stowell
Deer Park
Sienna
Northeast Houston
Westfield
Near Northside
New Territory
Nassau Bay
Mt Houston
Needville
Porter Heights
Plum Grove
Rayford
Quintana
Rose Hill
Midline
Atascocita
Arcola
Addicks
Willowbrook
Willow
Williams
Westchase
West University Place
Waverly
Turtle Bayou
Trammel
Timberlane Acres
Southeast Houston
Surfside Beach
Bayarea
Directions, That Matter!
Service And Quality Matters
Increase return on your investment with our custom security cameras, access control and software integration technology.
Quickly, professionally, on budget and on schedule, I would not hesitate to recommend Nexlar
Cliff M. Fogo de chao
CEO

Nexlar staff attend to our needs in a courteous and professional manner
Jeremy Director Of Facilities – BCFS

Outstanding customer service, fast and professional installation
Brenda

Thank you so much for your quick and effective work with us. Your technician was outstanding
Matthew
Production Group Leader (PGL) – Haliburton