Top Rated Commercial Automatic Gate System Design, Installation and service in Houston, Texas
If you are looking best automatic gates system to our business.
Please Call (281) 407-0768 For A Free Consultation

If you're looking for automatic gates to secure your property entrance and increase the value of your commercial property, you've come to the right place. Nexlar is the best gate installer in the business. We are one of the most trusted experts in the security industry and can provide you with the best service possible. Our security company only works with the world's best gate manufacturers, so you can be sure your new gate will be of the highest quality. With a Houston automatic gate, you'll never have to worry about unauthorized access again. Plus, our gates are designed to be as aesthetically pleasing as possible, so they'll complement your property perfectly. We've installed gates for all multiple commercial properties, from government buildings to large commercial complexes. There's no gate installation and repair project we can't handle. We'll work closely with you to find the perfect gate for your needs and install it quickly and professionally. So if you're looking for the best gates and installation, call Nexlar at (281) 407-0768.
REQUEST A FREE CONSULTATION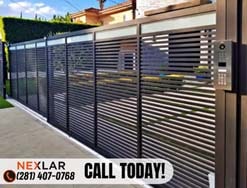 Electric Sliding Gates Solutions & Features
Give your business the extra level of protection it needs to succeed with our electric sliding gates. Designed and installed by experts, Nexlar's sliding gates are available in various colors and styles and aren't like any other gates on the market. If your business or commercial property requires a security upgrade or a cost-effective access control solution, talk to one of Nexlar's experts today.
Automatic timed opening for convenience
Make it easier for your employees and customers to access your premises without having to open the gates manually or worrying about accidentally leaving the gates. Our installation team can configure your electric gate to open on its own at the appointed time and then close again after a certain period. This is a great feature for busy people who want the convenience of an automatic gate but prefer to have to remember to close it manually. It's also a good security measure since it ensures that the gate will always be closed when it's not supposed to be open.
Manual operation in case of power failure
If there's a power outage, these gates can be manually operated to ensure your property is still secure. This is just one of the many vital features that make our electric sliding gates the best choice for your business. Contact Nexlar's team today for a free quote.
Heavy duty track rollers for quiet travel and less buckle during heavy winds
These rollers allow the gate to smoothly open and close. They also distribute the weight of the gate evenly, which reduces wear and tear on the tracks. As a result, you can enjoy years of trouble free operation from the sliding gates. Suppose you're in the market for a new gate and are considering a sliding option. Nexlar's team of experts is here to help you choose the perfect model for your business. We'll install the gate correctly so you can enjoy its benefits for years to come. Get in touch with us.
Swing Gates Solutions & Features
Nexlar's swing gates are a great way to improve security without making it difficult for people to come and go. They are made of high-quality materials and can be customized to fit any opening. Plus, our team of experts is available 24/7 to help with installation, repairs, and more. Enjoy the convenience of being able to come and go as you please – without having to worry about security today. Contact us on (281) 407-0768 for a free consultation.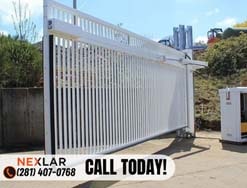 Don't make your customers wait long for your swing gates to open or close. This feature is great, especially if you have a lot of traffic coming in and out of your property. With a quick operating speed, you can be sure that your property is safe and sound with little to no inconvenience.
Our security company has single-leaf swing gates, which consist of only one moving part. This makes it easier and faster to open and close your premises. It also takes up less space when it's open, which can be important if you're working in a tight space. We also provide double-leaf gates that have two leaves that move independently of each other. With this option, you will have more flexibility in terms of the size and shape of your opening. This can be helpful for commercial properties with large entrances or driveways. Also, because there are two leaves, the gate is more stable and less likely to swing out unexpectedly. Which one is right for your property? Call us for a free consultation.
Nexlar can build custom gates to meet the specifications. For example, if you have an oddly shaped property entrance having swing gates with exact opening angles will ensure that your gates open and close properly. We understand that sometimes, 90 degrees just isn't enough, and having a custom opening angle can ensure that your gates don't get damaged by the wind. Call us for a custom solution or schedule a free onsite consultation with one of our gate experts.
Induction loops (Upon request)
Nexlar's team can add induction loops to your swing gates' features. Our induction loops can be triggered by wheelchairs making it easier for customers and employees with mobility issues to enter and exit your property. Induction loops can also trigger alarms if anyone crosses them. If you need an alarm integrated with your swing gates, let us know.
Boom Gates Solutions & Features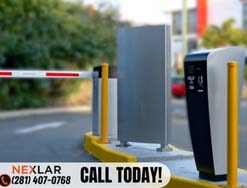 Nexlar provides automatic gates that are built to last, and our boom gates are no exception. Made from heavy-duty steel and aluminum, our boom gates are designed to withstand years of use in even the most demanding environments. If you are looking for a reliable boom gate for your property, call (281) 407-0768 to schedule a free consultation.
Our boom gates have proximity sensors to prevent accidents. When a car/motorcycle gets too close to the gate, the sensor triggers and the gate automatically opens. This prevents people from having to stop and wait for the gate to open. It also prevents cars from crashing into the gates. As a leading security company, we make sure that everyone using your facility is safe, and that includes preventing collisions between cars and gates.
Thickened steel arms for durability
Our traffic barrier arms are tough and durable, perfect for high-traffic areas. The thickened steel arms can withstand a lot of wear and tear, making them ideal for busy parking lots or buildings with a lot of foot traffic. Plus, they're easy to operate, so you'll be up and running in no time. So if you're looking for a robust entry gate solution to your security needs, look no further than Nexlar's boom gates.
Hi-tech digital chip technology
This technology is extremely precise, so you can be confident that the boom gates will open and close exactly as they should. The risk of them getting stuck in the open or closed position, which could cause serious problems, is almost non-existent,
Adjustable opening and closing time
Choose a time that works best for customers and your employees. Easily configure the time between opening and closing sequences through a user-friendly interface. By being able to adjust the times, you can make sure that the gates are open for just long enough for the maximum number of cars to get through without causing unnecessary congestion. This means that your customers and employees spend less time waiting at the gate and more time on their way. So if you're looking for smooth and efficient vehicular traffic control, remember that our boom gates have adjustable opening and closing times – it's just one more way that we're making life easier for you.
Turnstiles Gates Solutions & Features
We install turnstiles for all entrances. Control foot traffic and prevent unauthorized access to your buildings with our help. When you choose our turnstiles, you're getting a top-of-the-line access control solution that comes with several features to make your life easier.
Swipe card memory function
Eliminate the need for pedestrians to stop and swipe their cards each time they get through. This allows for a smoother flow of foot traffic and reduces the chances of accidents. This function also allows you to keep track of whoever last accessed your building. This is handy in an emergency as your security team can easily review card data to see who was on the premises. It also provides extra security by preventing unauthorized access.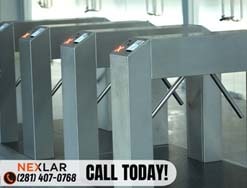 Single button press activation

This feature makes Nexlar's turnstiles more efficient since they can allow a higher volume of people with less congestion and fewer bottlenecks. This feature makes our turnstiles ideal for settings where security is a priority, such as office buildings or transportation hubs.
Long-range management and control via computer

Get a powerful tool to help you better manage your facility. Our turnstiles can be managed via computer to let people in or out. You can monitor and control multiple turnstiles from a central location, ensuring that only authorized personnel can access your facility. It also gives you real-time data on usage patterns, allowing you to optimize traffic flow and reduce congestion.
Shock absorption and anti-reverse
If someone tries to forcefully go through the turnstile, the shock absorption will protect the turnstiles from damage. Our turnstiles are also equipped with anti-reverse features that help to prevent unauthorized entry. This is important for two reasons. First, it helps to keep our facility secure. Second, it helps to prevent accidents and injuries. So whether your guests are coming into our commercial building for work or leisure, you can ensure their safety.
Compatible with other access control systems

Rest assured that only authorized personnel are entering your premises by having our team integrate our turnstiles with your existing security systems. This means you can maintain one central system for all your entry points, making things more efficient and streamlined. And because they are highly compatible with other access control systems, you have the flexibility to choose what works best for you. Contact our installation experts to integrate these systems for your business.
Automatic Gate Openers, Closers Solution & Features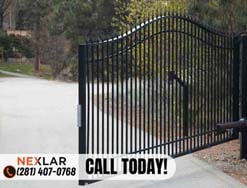 Let your visitors and employees enter and exit your property without having to get out of their vehicles. Nexlar also carries automatic gate openers that are easy to use and lessen the workload of your security team. They come with a variety of features, such as remote control operation and solar power options. Whether you simply want to make life a little easier or are looking for added security, our automatic gate openers will be a great solution.
We Design, Install, Repair, And Service Automatic Gates For Commercial Properties Of All Sizes.

At Nexlar, we specialize in automatic gates for commercial properties. We can design a custom gate to meet your needs or install a pre-made gate that fits your property. Regardless of the option you choose, we will make sure the gate is installed properly and functions smoothly. We also offer automatic gate repair and maintenance services to keep your gate in good condition. Our technicians are passionate, experienced, and highly trained, and we are committed to providing excellent customer service. If you are looking for a secure automatic gate for your commercial property, please contact us at (281) 407-0768 to discuss your options.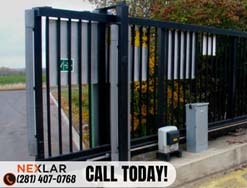 Low voltage commercial gates for cost-effective security
Save on your business's electric bill by choosing low-voltage automatic gates that can secure your assets and employees with the performance you can trust. Our company specializes in low-voltage security systems. This means that they require less power to operate and are therefore more efficient. Call (281) 407-0768 for all your commercial gate needs.
Light-weight and heavy-duty variants to choose from
Whether you are looking for a light-duty gate for a small store or a heavy-duty gate for a factory, we have an option that will suit your needs. If you are interested in getting a free quote for an automatic gate for your business, please get in touch with us today. Our gate installers in Houston, TX, would be happy to provide you with a variety of options and pricing. This way, you can make the best decision for your needs.
Our automatic gates have long duty cycles to minimize wear and tear on the equipment. If a gate is opened and closed multiple times throughout the day, it will eventually wear out and need to be replaced. By keeping the gate open for an extended period, you reduce the number of times it needs to be opened and closed, which prolongs the life of the gate operator.
Free quotes and consultations
We understand that your business is a major investment, and we want to help you protect it. That's why our company offers free quotes and consultations on all our products and services. We'll work with you to find the best solution for your needs, and we'll provide you with a free quote so that you can make an informed decision. Call our team today to learn more about how we can help you protect your commercial property.
If you need an automatic gate that will last for several years to come, consider talking to one of our experts. Our commercial gates are made to withstand years of wear and tear. They also come with a variety of customization options, so you can be assured we can find the right gate for your property.
Ideal for various commercial applications settings

Our automatic gates can be used to control pedestrian traffic, secure parking lots, and provide security for businesses and other commercial properties. Nexlar has a variety of gate styles to choose from, so you can find the perfect match for your needs. And because our gates are made in the USA, you can be confident that you're getting a top-quality product.
Get the most from your automatic gates for the longest time possible. Our cabling experts will make sure that your gate is getting the power it needs to function properly and hardly breaks down. Call (281) 407-0768 to learn more about our automatic gate installation and cabling services.
Quick and dedicated client service

Nexlar's team quickly responds to all clients' inquiries and requests. Your time is valuable. We understand. So, we make sure to address your concerns as quickly as possible. No company goes the extra mile to ensure that you are satisfied with our service like we do. We follow up with our clients after each interaction to ensure they are happy with the outcome. So if you're looking for a gate company that is responsive and dedicated to providing excellent customer service, then you should choose us.
All gates are certified to meet industry standards.

Our automatic gates are certified and meet the standards because they have been tested and proven to work correctly and efficiently. The BBB (Better Business Bureau) has determined that our gates meet their requirements for safety and performance. Call (281) 407-0768 for an onsite consultation.
Nexlar understands that business owners need to save money where they can. That's why we offer cost-effective automatic gate services that protect your bottom line. Our experienced professionals are familiar with various gate types and can help you choose the right one for your business. 
Our experts also offer regular maintenance and repair services to keep your gates in good working order. So if you'd like a hassle-free and reliable way to secure your business's premises, give us a call today. Our security gate professionals are happy to provide you with a free quote.
Secure your premises –fast quick installation
Our Houston automatic gate installation team provides fast and easy installation for all automatic gates. Nexlar's team is experienced in installing all types of commercial gates, so you can be sure your gate will be up and running in no time. Our team is knowledgeable and experienced in the industry, so you can trust that your gate will be correctly installed and to your satisfaction.
Choose from a unique catalog or get a fully custom design made just for you.
We offer a variety of custom-built solutions for businesses of all sizes and apartment complexes in and around Houston, TX.
Climb over protection. We can add spikes to your gate.
Adding spikes to your automatic gates is a great way to protect them from being climbed over. The spikes will make it difficult for would-be intruders to scale the fence and will also deter anyone from even trying. If you'd like us to add an extra layer of protection to the automatic gates, we install, get in touch with our team. We'll build a custom security gate that checks every box of your needs.
Our team can add warning strips to your automatic gates to prevent accidental injuries to those who don't see them. If someone accidentally walks into your automatic gate while it is opening or closing, the warning strip will help them avoid being hit by the gate. Adding a bright reflective strip will also make it more visible to people walking or driving near it. This is especially important at night or in low-light conditions.
There are many benefits to this kind of setup, including added security and convenience. Simplify communication between your security staff and individuals trying to gain access to your premises and improve customer satisfaction in the process. Get in touch with an automatic gate installation specialist from our team to find out more about how we can integrate intercoms with the automatic gates we install.
The Best Gate And Fence Security Solutions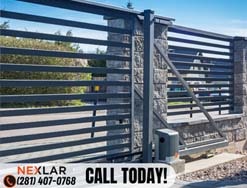 Secure your perimeter and your business today with Nexlar's automatic gate systems second to none. Our gates are directly sourced from the leading manufacturers in the country. Having you trust us any business. Our team has been in the security business for over two decades and has a long history of satisfied customers. You can trust Nexlar to provide you with the best gate and fence security possible. Contact us for a free automatic gate consultation.
Get in touch with our team. We'll be in touch within 24 hours.
Commercial Automatic Gates Service Area
Houston
Sugar Land
Spring
Katy
Kingwood
Stafford
Conroe
Texas City
Cypress
The Woodlands
Webster
League City
Bellaire
Missouri City
Friendswood
Humble
Richmond
Pasadena
Baytown
Tomball
Galveston
Galveston County
Pearland
Seabrook
Lake Jackson
Channelview
New Caney
Manvel
South Houston
Magnolia
Kemah
Rosenberg
Alvin
Hempstead
Dickinson
Fulshear
New Ulm
Wallisville
Hunters Creek Village
Brookshire
Sweeny
Hardin
Hankamer
Danbury
Needville
Simonton
Gilchrist
High Island
Raywood
Piney Point Village
Orchard
North Houston
Anahuac
Romayor
Huffman
Cat Spring
Bellville
Dobbin
Damon
Highlands
Bacliff
San Felipe
Winnie
Kendleton
Guy
Galena Park
Danciger
Pinehurst
Liberty
Liberty County
Daisetta
Industry
Mont Belvieu
Bleiblerville
Old Ocean
Clear Lake Shores
Santa Fe
Bunker Hill Village
Porter
Liverpool
La Porte
Brazoria
Prairie View
Willis
Cleveland
Clute
Port Bolivar
Rosharon
Dayton
Crosby
Montgomery
Montgomery County
Freeport
Sealy
Fresno
Alief
Hitchcock
West Columbia
La Marque
Beasley
Wallis
Splendora
Devers
Hull
Hufsmith
Pattison
Thompsons
Oak Ridge North
Rye
West University Place
Angleton
Kenney
Hockley
Barker
Waller
Stowell
Deer Park
Sienna
Northeast Houston
Westfield
Near Northside
New Territory
Nassau Bay
Mt Houston
Needville
Porter Heights
Plum Grove
Rayford
Quintana
Rose Hill
Midline
Atascocita
Arcola
Addicks
Willowbrook
Willow
Williams
Westchase
West University Place
Waverly
Turtle Bayou
Trammel
Timberlane Acres
Southeast Houston
Surfside Beach
Bayarea
Directions, That Matter!
Service And Quality Matters
Increase return on your investment with our custom security cameras, access control and software integration technology.
Quickly, professionally, on budget and on schedule, I would not hesitate to recommend Nexlar
Cliff M. Fogo de chao
CEO

Nexlar staff attend to our needs in a courteous and professional manner
Jeremy Director Of Facilities – BCFS

Outstanding customer service, fast and professional installation
Brenda

Thank you so much for your quick and effective work with us. Your technician was outstanding
Matthew
Production Group Leader (PGL) – Haliburton