Looking for MP Security Technologies? Call us (281) 407-0768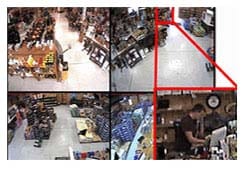 Megapixel Security Cameras Houston
If you are looking for the latest technology to high quality video recording Nexlar security can help. We have installed many Megapixel security camera systems and can provide you with design, installation, programming and service of megapixel surveillance cameras.
We are fully licensed in the state of Texas and proud member of the BBB and TBFAA (Texas Burglar and Fire Alarm Association).

Megapixel Security Camera Solutions
1.3 to 10 Megapixel IP Video Security Camera
License Plate Recognition
Facial Recognition
Fast Remote Viewing
Zoom in on recorded image
Benefits of MP Security Camera Houston
It's cost effective to implement megapixel technology
Covers a wider Field of View using fewer megapixel than VGA cameras
You will need less lenses, housings, NVR license fees, cable runs, labor time, moving parts, etc
Installations are less expensive than analog or low resolution IP installations compared to Field of View per camera, i.e; one 5.1 megapixel camera is equivalent to 16.4 VGA cameras.
Resolution Increases
Replaces each low resolution camera with a megapixel camera to maximize total project resolution, and yield the best image quality possible
MEGAPIXEL SURVEILLANCE VIDEO SAMPLES
Directions, That Matter!
Service And Quality Matters
Increase return on your investment with our custom security cameras, access control and software integration technology.
Quickly, professionally, on budget and on schedule, I would not hesitate to recommend Nexlar
Cliff M. Fogo de chao
CEO

Nexlar staff attend to our needs in a courteous and professional manner
Jeremy Director Of Facilities – BCFS

Outstanding customer service, fast and professional installation
Brenda

Thank you so much for your quick and effective work with us. Your technician was outstanding
Matthew
Production Group Leader (PGL) – Haliburton