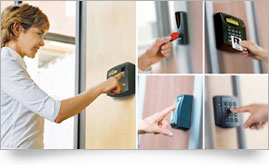 Our access control team is dedicated to provide a cost effective solution. We offer unparallel solutions to ensure the highest standards to protect your business.
Nexlar's Specialists are equipped with the latest technologies and expertise to integrate alarm, cameras and fire systems. Whether you are a small company or a large enterprise we have the right solution for your needs. Our integrators can design, install and service most type of access control.
We are proud member of the BBB and TBFFA (Texas Burglar and Fire Alarm Association) and licensed by the Department of Public Safety – Private Security Bureau. Our technicians undergo Finger Print Check for FBI background check and rigorous training.