Looking for Commercial Intercom Systems Expert in Houston For Your Business ?
Call us (281) 407-0768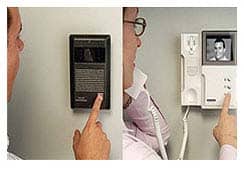 Houston, TX Commercial Intercom Systems for Business
Nexlar 
specializes in state-of-the-art commercial intercom systems tailored for businesses. Our expertise in understanding the unique needs of your commercial establishments and providing intercom solutions that enhance security and streamline operations. Choose us for reliable, high-quality commercial wireless intercom installations and experience the difference of working with #1 Houston Commercial Intercom  trusted professionals.A commercial intercom system is more than just a communication tool; it's a vital component for security and seamless operations. Whether integrated into doors for secure entry, elevators for efficient communication, or gates to manage and monitor access, an intercom system plays a pivotal role in safeguarding and streamlining business operations. At Nexlar  in Houston, we pride ourselves on being experts in the realm of commercial intercom installations. With a wealth of experience under our belt, we understand the unique needs of businesses and offer tailored solutions to match. From the initial consultation to the final installation, our team ensures a hassle-free process, guaranteeing optimal performance and peace of mind for our clients. Partner with us and experience the synergy of cutting-edge technology combined with unparalleled expertise

Commercial Intercom Systems Installation and service in Houston, TX 

Nexlar Security provides installation and service of all major brands of intercom systems. We are dedicated to provide you with solutions that will fit you needs and budget. We work all major brands of intercom systems and telephone entry systems. We have integrated multiple intercoms devices with access control, gates and automatic doors. Call us today for a free consultation.In today's fast-paced business world, a commercial intercom system does more than just facilitate communication—it stands as a cornerstone of safety and efficient operations. From securing entryways through doors, enhancing communication in elevators, to overseeing access at gates, intercoms have become an integral part of business infrastructure. Located in the heart of Houston, Nexlar specializes in commercial intercom installations tailored to your business needs. Our seasoned team, backed by years of experience, commits to delivering not just a product but a promise of security and operational excellence. We can intergrate commercial security entry gates and access control system in Houston with any commercial intercom system.
Commercial Intercom Sytems Applications – Houston Intercom
Communication is key, but in the commercial realm, an intercom system becomes a lifeline for both security and seamless functionality. Be it doors that need controlled access, elevators where swift communication is essential, or gates that demand vigilant monitoring—our solutions at Nexlar in Houston are designed to integrate and elevate. Drawing from our extensive experience, we fine-tune our installations to match the unique demands of each business. Embark on a journey with us, from the first consultation to the final touch, and witness firsthand the fusion of advanced technology with unmatched expertise.
The role of a commercial intercom system has evolved—it's now an indispensable asset for ensuring both clear communication and robust security. Whether it's facilitating secure entries through doors, enabling prompt elevator communication, or providing vigilant access management at gates, the importance of a top-tier intercom system cannot be understated. Nexlar stands as Houston's beacon of excellence in commercial intercom installations. Our rich experience positions us to cater to the diverse needs of businesses, promising both reliability and peace of mind. Engage with us and explore the confluence of modern technology and seasoned expertise. Wireless intercom solution can be a great asset when combined with automatic gates.
Leading Intercom Systems: Spotlight on Top Brands – Wireless and Wire Intercom system
In the world of intercom systems, certain brands commercial intercom systems have carved a niche for themselves, offering unparalleled features, reliability, and efficiency. Here's an overview of the industry's frontrunners:
Alfred360:

Overview: Alfred360 stands out with its state-of-the-art technology tailored for diverse communication needs. It ensures secure and clear communication for both commercial and residential spaces.
Key Features: Advanced security integration, seamless communication, user-centric interface.

ButterflyMX:

Overview: Renowned for its smart commercila intercom systems solutions, ButterflyMX offers mobile video intercoms that allow users to open doors for guests using their smartphones.
Key Features: Mobile integration, video capabilities, cloud-based access.

Doorking:

Overview: Doorking presents a blend of access control and telephony technology, producing systems that are both durable and versatile.
Key Features: Robust construction, wide application range, high security.

Aiphone:

Overview: A global brand, Aiphone is known for its high-quality systems suitable for varied needs, from home installations to intricate commercial setups.
Key Features: Reliability, diverse product range, and easy integration.

Akuvox:

Overview: Specializing in smart intercoms, Akuvox offers solutions that integrate with modern smart homes and businesses.
Key Features: IP connectivity, Android OS integration, and video calling.

DoorBird:

Overview: DoorBird offers IP video door intercoms that are known for their high-quality materials and contemporary designs.
Key Features: Remote access via mobile, clear video and audio, and integrated motion sensors.

2N:

Overview: 2N boasts a range of intercoms, from IP-based solutions to LTE intercoms, ensuring clear communication.
Key Features: Versatility, high-definition audio and video, and enhanced security features.

Comelit:

Overview: Comelit is recognized for its innovative video door entry units, emphasizing both functionality and aesthetics.
Key Features: Elegant designs, IP technology, and wide compatibility.

Mircom:

Overview: Mircom offers solutions tailored for residential, commercial, and enterprise applications, ensuring safety and communication.
Key Features: Integra
Directions, That Matter!
Service And Quality Matters
Increase return on your investment with our custom security cameras, access control and software integration technology.
Quickly, professionally, on budget and on schedule, I would not hesitate to recommend Nexlar
Cliff M. Fogo de chao
CEO

Nexlar staff attend to our needs in a courteous and professional manner
Jeremy Director Of Facilities – BCFS

Outstanding customer service, fast and professional installation
Brenda

Thank you so much for your quick and effective work with us. Your technician was outstanding
Matthew
Production Group Leader (PGL) – Haliburton