Best Security Company For Commercial Properties In Houston, Texas
Are you looking for security companies in Houston, TX, for your commercial property?
Please Call (281) 407-0768 For A Free Consultation

At Nexlar, understand the importance of security for your business. That's why we offer comprehensive security solutions that are tailored to meet the specific needs of your business. We have a team of passionate, seasoned professionals who can ensure that your property, employees, and customers are safe at all times. Our goal is to give you the needed peace of mind so that you can focus on making your business more productive and maximize your ROI. We know that safety is a top priority for you and your employees, and we take our responsibility seriously. You can count on Nexlar to provide reliable and effective commercial security solutions that will keep your business safe. Contact our business security specialist today at (281) 407-0768 to learn more about our company for businesses in Houston. See how much you can save your business by working with us. Schedule a free consultation today.
REQUEST A FREE CONSULTATION

The Leading Security Company In Houston, TX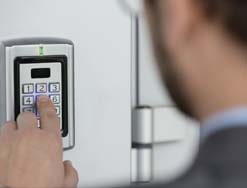 Nexlar is a leading integrator of security systems. We have been integrating security systems for businesses of all sizes for over 30 years. We have the knowledge and skills to ensure that your system is integrated seamlessly and efficiently. We ask questions to understand your specific needs and requirements better, and then we tailor our integration services to meet those needs. We also offer many more security products and services. So, you can be sure that we have the right solution for your business. Contact Nexlar's professionals to learn more about our integration services and how we can help you protect your business.
Manage your business's security more efficiently
Rest assured that your investment is safe. We offer various services, including surveillance and alarm systems, to help you keep an eye on your business. We can also provide virtual security guards to watch your property. And if you ever have any concerns, our 24/7 monitoring center is always here to help. With our security solutions, you can rest easy knowing that your business is safe and sound. Our experts will assess your needs and develop a tailored security plan that fits your budget. From alarm systems to CCTV cameras, we have the products and expertise to help you manage your security better. So why wait? Contact
Nexlar
today for more information about our security solutions.
Comply with policy and state regulations.
Keep your business legally compliant by hiring our company to install security systems for your business. Commercial security is our forte, and we can help you process and acquire the permits and documents you need to stay compliant with state regulations. With Nexlar, your business can avoid penalties and protect its reputation. Meet your obligation requirements today. Call us for a free consultation.
Empower your workforce to be more productive without sacrificing safety
By giving employees the ability to access the information, tools, and areas of your premises they need, when they need them, you can help them work more efficiently and effectively. And with our advanced security features and cabling infrastructure, you can rest assured that your data and resources are well-protected. Contact Nexlar's team today to learn more about how our security systems can help your business thrive.
Monitor and manage time on-site for all visitors and guests
Protect and ensure the safety of everyone on-site by keeping track of who is coming and going at all times. With our systems, you can manage traffic flow and prevent overcrowding of areas. In addition, you can also use them to monitor employee productivity and compliance with company procedures. By understanding how time is being used on-site, your business can make more informed decisions about its needs. If you'd like to learn more about Nexlar's
access control
systems with time-management features and how they keep people safe and businesses in Houston, TX, running smoothly, call us today.
Know where people are on your premises—always.
With Nexlar's security systems, you can know where people are at all times without infringing on their privacy. The key is to install a system that uses smart technology that is easy to use. Our systems can be used to track the movements of employees throughout the day. This information can then be used to improve the efficiency of your business by ensuring that employees are where they're supposed to be and aren't wasting time wandering aimlessly around the office. Our smart CCTV systems can identify patterns of behavior that could indicate a potential threat. We also have LPR that can help you keep track and build reports of the cars that accessed your premises. Schedule a free consultation with our technician for more information about our License Plate Reader Cameras.
Protect individuals from hazardous zones
We have security systems for industrial applications and more. Some commercial settings are bustling places full of activity and machines. It can be loud, hectic, and dangerous. That's where our company comes in. We have automatic security gates, video surveillance, and access control systems that keep employees and guests from accessing certain areas of your building. Our security company also offers live video and alarm monitoring services to take the burden off you and your security team. So, whether you're looking to protect workers, visitors, or equipment, we can help you find the right security solution for your business. Prevent accidents on your premises and secure your business assets today. Call Nexlar for a custom security solution you can trust.
Enjoy scalability and flexibility.
We understand that businesses grow, and their security needs can change quickly and unexpectedly. That's why it's important to have a security solution that is both scalable and flexible. With our security solutions for businesses, you can easily add more users or functionality as needed as your business grows. And because our solutions are designed to be flexible, they can be customized to meet the unique needs of your business. This makes it easy for businesses to keep their security systems up-to-date and respond quickly to new threats. So whether your business is new or already established, you can enjoy the peace that comes with knowing your business is well-protected and safe from intrusion. Book a free consultation today to learn more about our security solutions for businesses.
Improve the emergency management process
At Nexlar, we understand that emergency management teams have to be prepared for anything. That's why our security solutions are designed to help improve the emergency management process. Our e-stop solutions, for example, can be used to quickly and securely shut down operations in an emergency. This can help to prevent further damage or injury and make it easier for emergency teams to respond. Our company also offers a variety of other security services that can be tailored to your specific needs. So whether you're looking to improve your emergency response times or simply want to be better prepared for anything, we can help. Give us a call on (281) 407-0768 today.
Manage business operations with total economy
Save money on employee safety while still maintaining a high level of security. With our total economy approach, businesses can see how much they can save by using our security solutions. We offer a wide selection of options that can be tailored to the specific needs of each business. Our knowledgeable staff is always available to consult with businesses to find the best security solution for their needs. Contact us today to learn more about much you can save by hiring us for all your security needs.
Reduce operational expenditure with our low-voltage systems
By utilizing lower voltages, our systems require less energy to operate, resulting in significant cost savings for your business. In addition, our systems are affordable to maintain, further reducing your overall expenses. Finally, our systems are backed by a full warranty, ensuring you'll never have to worry about unexpected repair costs. When it comes to reducing your business's expenses, our low-voltage systems offer a comprehensive solution that will cut your costs and save you a lot of money in the long run. Call Nexlar at (281) 407-0768 for a free consultation with one of our experts.
Configure and manage security from your phone

Via our web-based app, you can see real-time activity at your business, so you can know exactly what's going on at all times. Plus, with our app, you can set up alerts for when there's any unusual activity. And if something does happen, our systems can help to deter criminals and protect your property. If you'd like, we can develop software tailored to your business with extra features and functions that will give you that additional security you crave. So why wait? Get in touch with us today to learn more about Alfred360 and book a free demo or inquire about our custom software development services for businesses in Houston, TX.
We install, repair and service all security systems in Houston and surrounding cities.
Our company offers comprehensive security system installation, repair, and maintenance services. We serve all sizes of businesses and have a solution for everyone. We can custom-design solutions to meet you're the needs of your business and its employees. We also offer 24/7 monitoring, aftersales support, and security system repair. So if your system ever has a problem or you want reassurance that commercial property is always protected. Give us a call on (281) 407-0768 for a free consultation.
As a business owner in Houston, it can be difficult to strike the right balance between keeping your premises safe and making them accessible to employees and customers. Our security solutions are designed to give you the best of both worlds. We can help you manage access control so that only authorized personnel can enter your premises. We can also provide security cameras and alarms to deter intruders and help you resolve any incidents that occur. Nexlar's solutions are tailored to your business's needs, so you can be sure that your investment, customers, and employees are as safe as they can be. Contact us today to learn more about how we can help you improve your business's security.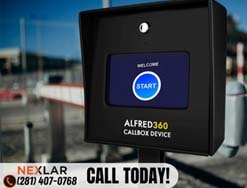 Video Surveillance Systems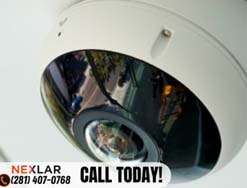 Deter crime and have the evidence to protect your business from false liability claims or help the authorities solve crimes that have already been committed. Our video surveillance systems are designed for businesses of all sizes and industries. They offer a variety of features, and our team can customize them to meet your business needs. We have CCTV and cameras for budgets of all kinds. Call us today for more information.
Stay alert and keep your business safe when suspicious movement is noticed. From shoplifting and vandalism to break-ins and armed robbery, our alarm systems for businesses keep you and your team alert and can make your customers feel safer. Our alarm systems can also alert the authorities in the event of a break-in or other emergency like carbon monoxide detection. Whether you're looking for a silent alarm or deterrent alarm system for your business, Nexlar has got you covered.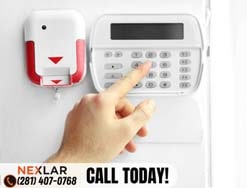 Virtual Guards And Live-Monitoring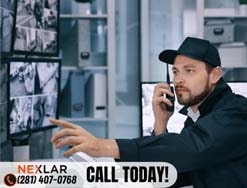 Trust our security experts with over a decade of experience to monitor your premises and protect your business and its employees 24/7. Our company has virtual guards that can monitor your business premises in real-time. They can also provide alarm monitoring services. Nexlar's virtual guards are a cost-effective way to improve your business's security, and they can offer a level of protection that you simply couldn't get with other methods. If you're looking for an affordable and reliable way to secure your business, then our virtual guards could be what your business needs. Consult with one of the Nexlar experts today.
IoT Integration And Development
The IoT has the potential to change the way we live and work, and our company is at the forefront of IoT integration and development. The IoT devices we provide can offer a wealth of data and insights that can help to improve your security systems and protocols. They can also detect and respond to security breaches in real-time. Our company can help take your security system to the next level. We have vast experience (over ten years) in developing IoT solutions. We can work with you to create a custom solution that meets your specific needs.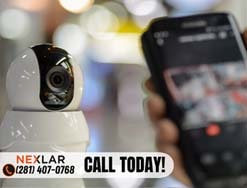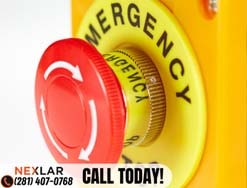 Our company offers e-stop solutions that are both cost-effective and easy to use. Our security system installers in Houston, TX, can install e-stop buttons that can be placed throughout your facility, allowing employees to summon help in the event of an emergency quickly. Best of all, our e-stop solutions are scalable, so you can easily add or remove buttons as your needs change. We also offer a variety of e-stop solutions, such as automated door locks and wireless panic buttons. Consult with us to learn more about how our e-stop solutions can keep your employees safe.
When local storage just doesn't cut it, you can count on Nexlar to have the encrypted cloud solution that you are looking for. You want to be sure that your information is safe and secure and that it can be accessed by authorized personnel only. Our cloud solutions allow businesses to store their data in an encrypted format, making it more difficult for hackers to access it. You'll also have the ability to track who accesses the data and when. Our company offers a variety of cloud-based storage and security solutions that can meet the needs of any business. We'll provide support throughout the implementation process. Consult with one of our experts for more information.
Custom Software Development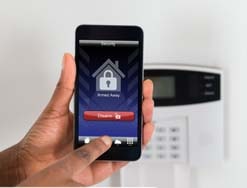 Are you looking for a more user-friendly interface or need to implement custom functions? We can help. We take the time to get a better picture of your business and your goals. Based on this, we can create a solution that is ideally suited to your needs. And because we understand that user permissions and data security are often key considerations, we'll make sure that your solution is secure and user-friendly. With our custom software development solutions, you'll get the perfect solution for your business. Forget off-the-shelf software and consult with our IT experts for uniquely tailored software that meets your business's every security need.
If you need a trusted security company to protect your business, then you should consider hiring our company. We are experts in providing security services to businesses of all sizes and industries. We believe our combination of experience, expertise, and customer service sets us apart. Our security professionals are passionate about providing the highest quality security services available, and we're always looking for new ways to improve. Schedule a free consultative session with one of Nexlar's experts by calling (281) 407-0768 today.
Proven track record of success
Nexlar is a trusted company with a track record to prove it. We have a team of experienced and qualified security consultants who can provide you with the best security solutions possible for your needs. We only use the latest security tech and procedures. So, you can be sure that your employees and assets are productive and safe. Our team has served government agencies, businesses, and healthcare facilities in Houston, TX, and neighbouring cities. Nexlar also offers a free consultation service so that you can discuss your security needs with one of our experts. Reach us on (281) 407-0768 to find out more about our services and how we can help you keep your business safe.
Whether it's installation, maintenance, or repair work, you can count on us to get the job done on time, within your budget, and excellently. We understand that security is a critical issue for our clients. Our team of experienced security professionals has the knowledge and expertise, and we always put our clients' needs first. We offer multiple security services, from alarm monitoring to custom IoT integration, and are confident that we can meet your needs. If you are a business owner or commercial property manager looking for a security company that you can count on to finish your project on time, call (281) 407-0768 today and get a free consultation.
We create better user experiences.

At our core, we believe that security should be simple and convenient without sacrificing safety. That's why we work tirelessly to create solutions that provide the access people need while protecting against the threats they face. Whether it's developing new ways to keep data safe or making it easier for apartment building guests to access the building, we're driven by the belief that security can be better. And that's what motivates us to create experiences that people love because we believe that security should make life easier, not harder.
After you make a purchase, you don't want to get stuck with a system that doesn't work. This is where our company comes in. At Nexlar, we don't just provide security products. We offer complete after-sales support. Whether you need help quickly solving an issue or want to know more about how to use our products to their fullest potential, Nexlar's team is always here to help. We understand that security is a vital part of keeping your business safe. For this reason, our team always provides the best possible service to all our customers. So if you ever need help configuring user permission for your new system or just need help answering a few questions, don't hesitate to reach out to us.
Checkout our previous work
We're proud of the work we've done for our previous clients. They've had many great things to say about the work we've done. We're confident that our company can provide the same high level of service for you. We understand that your business is unique. Nexlar's team will take the time to understand your business's needs before starting work deeply. We know you'll be happy with the finished product, and we look forward to exceeding your expectations.


Connect with an expert from Nexlar today. Call (281) 407-0768 and let us show you what we can do for you.

Commercial Security Companies Service Area
Houston
Sugar Land
Spring
Katy
Kingwood
Stafford
Conroe
Texas City
Cypress
The Woodlands
Webster
League City
Bellaire
Missouri City
Friendswood
Humble
Richmond
Pasadena
Baytown
Tomball
Galveston
Galveston County
Pearland
Seabrook
Lake Jackson
Channelview
New Caney
Manvel
South Houston
Magnolia
Kemah
Rosenberg
Alvin
Hempstead
Dickinson
Fulshear
New Ulm
Wallisville
Hunters Creek Village
Brookshire
Sweeny
Hardin
Hankamer
Danbury
Needville
Simonton
Gilchrist
High Island
Raywood
Piney Point Village
Orchard
North Houston
Anahuac
Romayor
Huffman
Cat Spring
Bellville
Dobbin
Damon
Highlands
Bacliff
San Felipe
Winnie
Kendleton
Guy
Galena Park
Danciger
Pinehurst
Liberty
Liberty County
Daisetta
Industry
Mont Belvieu
Bleiblerville
Old Ocean
Clear Lake Shores
Santa Fe
Bunker Hill Village
Porter
Liverpool
La Porte
Brazoria
Prairie View
Willis
Cleveland
Clute
Port Bolivar
Rosharon
Dayton
Crosby
Montgomery
Montgomery County
Freeport
Sealy
Fresno
Alief
Hitchcock
West Columbia
La Marque
Beasley
Wallis
Splendora
Devers
Hull
Hufsmith
Pattison
Thompsons
Oak Ridge North
Rye
West University Place
Angleton
Kenney
Hockley
Barker
Waller
Stowell
Deer Park
Sienna
Northeast Houston
Westfield
Near Northside
New Territory
Nassau Bay
Mt Houston
Needville
Porter Heights
Plum Grove
Rayford
Quintana
Rose Hill
Midline
Atascocita
Arcola
Addicks
Willowbrook
Willow
Williams
Westchase
West University Place
Waverly
Turtle Bayou
Trammel
Timberlane Acres
Southeast Houston
Surfside Beach
Bayarea
Directions, That Matter!
Service And Quality Matters
Increase return on your investment with our custom security cameras, access control and software integration technology.
Quickly, professionally, on budget and on schedule, I would not hesitate to recommend Nexlar
Cliff M. Fogo de chao
CEO

Nexlar staff attend to our needs in a courteous and professional manner
Jeremy Director Of Facilities – BCFS

Outstanding customer service, fast and professional installation
Brenda

Thank you so much for your quick and effective work with us. Your technician was outstanding
Matthew
Production Group Leader (PGL) – Haliburton