HOUSTON INDUSTRIAL SECURITY CAMERAS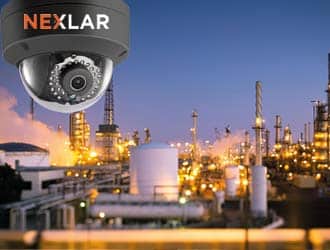 The Nexlar Houston Industrial Installations team has a long history in planning, installing, and maintaining industrial surveillance camera systems. Choosing the right industrial security camera company and the system can be a daunting task. Dedicated to making your life easier, the Nexlar industrial security team is here for you. Our initial step is to understand your needs and which industrial security Camera system is the right system for your industry and facility. Selecting the right solution based on your business's behavior and risk is crucial and will help you increase your profits and minimize your risks. Nexlar Security can also integrate security 
cameras with industrial access control systems, security systems, mass notification, alarm, perimeter protection, and especial industrial customization. Beyond the integration of industrial security systems, Nexlar security can also develop software and hardware to help streamline your industrial processes and streamline your productivity – Call Now for Free Consultation – (281) 407-0768
REQUEST A FREE CONSULTATION

HOUSTON INDUSTRIAL SECURITY CAMERAS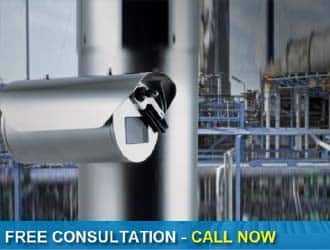 The Nexlar Houston Industrial Installations team has a long history in planning, installing, and maintaining Houston surveillance cameras systems. Choosing the right industrial security camera company and the system can be a daunting task. Dedicated to making your life easier, the Nexlar industrial security team is here for you.
Our initial step is to understand your needs and which industrial CCTV Camera system is the right system for your industry and facility. Selecting the right solution based on your business's behavior and risk is crucial and will help you increase your profits and minimize your risks. Nexlar Security can also integrate security
INDUSTRIAL SECURITY SYSTEM AND CAMERAS: CLASS I (DIVIDSION 1) SYSTEMS
Nexlar Security team provides reliable process monitoring for sites classified as potentially explosive. The complete assembly is NEMA certified and approved for Class I (Division 1) and potentially explosive atmospheres.
Industrial Explosion-Proof Camera:
With amazing image quality and high system reliability. Crucial to be used on process monitoring for the safety of operators. The High Definition allows you to zoom in on a recorded image and view details your eyes cant see.

The PTZ Explosion Proof Series Cameras:
Are classified as Class I (Division 1). And they are to be prevented by explosions when combustible gases and dust enter the camera housing, the so-called explosion-protected devices. No operator should be in a dangerous environment. The excellent video quality allows for close monitoring of websites that must comply with insurance and security authorities' regulatory requirements. This camera can also be used as video surveillance and closed-circuit camera equipment in an explosion, fire, or other hazardous situation.
High Definitions Industrial IP Cameras:
Amazing crystal clear image provided you details no other cameras can. With industrial infrared lights, this camera can be used in low light conditions and hazardous situations.

Industrial Remote Camera Installation:
Nexlar works with trailers and remote cameras application. If you need industrial or regular cameras installed in a remote area, we can help
Directions, That Matter!
Service And Quality Matters
Increase return on your investment with our custom security cameras, access control and software integration technology.
Quickly, professionally, on budget and on schedule, I would not hesitate to recommend Nexlar
Cliff M. Fogo de chao
CEO

Nexlar staff attend to our needs in a courteous and professional manner
Jeremy Director Of Facilities – BCFS

Outstanding customer service, fast and professional installation
Brenda

Thank you so much for your quick and effective work with us. Your technician was outstanding
Matthew
Production Group Leader (PGL) – Haliburton