Best CCTV Security Systems Design, Installation And Service In Houston, Texas
If You Are Looking Expert CCTV Installers.
Please Call (281) 407-0768 For A Free Consultation

Nexlar installs CCTV systems for commercial properties in and around Houston, TX. Studies have shown that businesses with CCTV are less likely to be vandalized and burglarized. We offer the best CCTV solutions for all industries. Our experienced technicians will find the best location for your cameras and ensure they are properly secured. With our state-of-the-art equipment and comprehensive services, we'll help you keep your property safe and secure. Our CCTV systems are ideal for vehicle access control, crossroads and parking lots, schools, stores, building lobbies, etc. Get in touch with us for CCTV installation, repair, and servicing today. Call (281) 407-0768 today for a free consultation.
REQUEST A FREE CONSULTATION

We Install, Repair, And Service CCTV Systems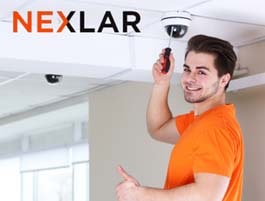 Cost-effective security solutions
Our CCTV systems are designed to provide cost-effective security for your business. We offer a variety of cameras and recording devices that can be customized to fit your specific needs. Our cameras are designed to give you clear, HD-quality video footage, and our recording devices offer reliable storage for your recordings. Our CCTV solutions are user-friendly and offer a great way to keep an eye on your property without breaking the bank. Contact Nexlar's team today to learn more about our CCTV solutions and how we can help you keep your business safe.
Sourced from leading brands
We only source our CCTV systems from the leading brands in the country. That means you can rest assured that you're getting the best quality possible. The cameras we provide are designed to provide clear and concise images, even in low-light conditions. And because they're from the leading brands, you know that they're backed by years of research and development. So if you're looking for the best
CCTV cameras
on the market, you've come to the right place. We have a wide selection of CCTVs to choose from, and our experts can help you find the perfect one for your needs. Contact us today to learn more.
Complete solutions. We're with you 'til the end.
Our team is with you until the end, from installation to maintenance and repair. And if you aren't happy with the systems we install for you, get in touch with our team, and we'll have you sorted out. Call (281) 407-0768 today to book a free consultation with someone from our team.
Quick expert installation
Nexlar prides itself on being the expert in CCTV installation. Our team of highly trained and experienced professionals is dedicated to quick installations such that your property is secured as quickly as possible. We do everything our security company can to ensure that you are up and running with a new system as quickly as possible so you can start enjoying the benefits of this important security measure. Contact (281) 407-0768 to learn more about our services or to schedule a consultation.
Unrivaled customer service
Whether you need help resolving an issue quickly or have questions about our CCTV options, our team is always ready to assist you. We take swift action to resolve any issue you may have because we understand that your time is valuable. Nexlar also offers a satisfaction guarantee on all of our products, so you can be confident that you'll be happy with your CCTV system. When it comes to customer service, we strive to be the best in the business.
Nexlar offers a variety of payment options to suit your needs. Whether you're looking to pay in full upfront or spread the cost over time, we have a plan that will work for you. And if you ever need to make a change to your payment schedule, we can accommodate it. Take advantage of our flexible payment options today. You'll be glad you did. Call (281) 407-0768 today.
Our CCTV systems are customized to meet the specific needs of your commercial property. Upon onsite consultation, our expert will take a look at the layout of the area you need to be covered, the level of security you require, and any potential blind spots. This ensures that your CCTV system is optimally designed to protect your business. In addition, we can also customize the software interface to suit your preferences. Contact (281) 407-0768 today to learn more about how we can tailor a CCTV system just for your business.
Keep an eye on your business at all times from anywhere in the world, even when you're on vacation. This peace of mind is invaluable and is one of the many reasons our CCTV systems are so popular. Through our web-based application, you can check the live feed from your cameras at any time of day or night and take appropriate action if necessary.
Additionally, this feature makes it easier to share the footage with the police or other authorities, as you can send them a link to the footage rather than having to transfer it physically. If you're looking for a reliable and secure way to monitor your property, consider investing in one of Nexlar's CCTV systems and enjoy 24-hour remote access. You won't be disappointed.
CCTV maintenance and repair is no easy task. There are a variety of technicalities involved to keep the system running smoothly. It is important to ensure that all the cameras are properly aligned. This involves regularly checking the camera positions and ensuring they are not obstructed by any objects. Secondly, the CCTV system must be regularly serviced to ensure it works properly. This involves checking the wiring, testing the cameras and monitors, and replacing any parts that are not functioning correctly. Finally, it is also important to keep an eye on the footage that is being recorded. This ensures that any suspicious activity can be quickly identified and dealt with accordingly.
This is time-consuming and stressful, especially with other business activities on your plate. That's why Nexlar is here to help.
Integrated with access control
When integrated with access control systems, CCTV can provide an additional layer of security by ensuring that only authorized people can enter or exit certain areas. At Nexlar, we have extensive experience in installing and integrating CCTV systems. We can work with you to determine the best system for your needs and budget, and we will ensure that it is properly integrated with your access control system. Contact us to learn more about how we can help protect your business.
Get In Touch With Us At (281) 407-0768.

Our CCTV systems have focus control, which allows the user to zoom in on a particular area or person. This can be useful for identifying suspects or tracking movement. Focus control also allows you to change the camera's angle, giving them greater flexibility when monitoring an area. As a result, our CCTV systems are more versatile and effective than standard surveillance cameras.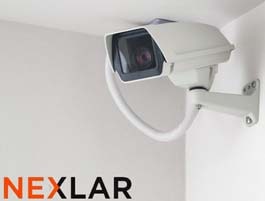 Enjoy the perks of infrared LED features ideal for businesses that want to improve their security. Infrared LEDs emit light at a wavelength that is invisible to the human eye but can be picked up by CCTV cameras. This makes them perfect for night-time security, as they can provide clear images even in low-light conditions. Infrared LEDs also have a longer range than traditional CCTV cameras, making them ideal for monitoring large areas. This makes them essential for businesses that want to deter crime and keep their property safe.
Our CCTV systems have a dual-filter switcher that allows you to quickly and easily change between two different camera filters. This is ideal when you need to capture both night and day footage or when you want to switch between two different color filters. The dual-filter switcher is easy to use and allows you to choose the right filter for the job. This ensures that your security staff always gets the best possible image quality.
Get clear sound – always.
Most CCTVs are noisy. If it's not installed correctly, CCTV systems can pick up a lot of background noise – echoes from walls, traffic noise from outside, etc. Nexlar's team can help you ensure that your camera is properly positioned and installed to minimize how much background noise it picks up.
Freely adjust the sensitivity of the camera. This is essential for getting clear and concise images. Gain control can help you reduce false alerts, as it prevents the camera from being triggered by small movements or changes in light. Call Nexlar today to learn more about this gain control feature.
Our CCTV systems have metal housing that helps to protect the internal components from damage. They are also IP67 rated, meaning they are protected against dust and water. These features make our CCTV systems ideal for use in harsh environments.
Get for clear, high-quality sound recording. This ensures that you can hear everything that is happening, even if it is happening at a distance. The audio is also recorded in digital format, so it can be easily transferred and stored for later use. This makes our CCTV systems an ideal solution for security and surveillance purposes.
Auto/manual white balance
The image quality captured by a CCTV camera depends on several factors, including the white balance. Nexlar's CCTV cameras have an auto white balance feature that automatically adjusts the color balance based on the lighting conditions. With our CCTV systems, you also have the option to adjust the color balance manually. This can be useful when lighting conditions are particularly challenging, such as when there are big changes in light level or when artificial lighting is used. By adjusting the white balance, users can ensure that the images captured by their CCTV system are of the highest quality.
Various video output modes
Our CCTV cameras can send video in baseband, composite, and S-video modes. Baseband is the least common of the three, sending video signals over a single wire. Composite is more common, and it sends color information on one wire and brightness information on another. S-video is the most common video output type, sending color information on one wire and brightness information on another. S-video is the most common type of video output for CCTV systems because it offers the best picture quality. Get in touch with Nexlar's IT professionals for more information.
High Image resolution up to 8K
Get clear and detailed footage of your commercial property in high resolution of up to 8K. Our CCTV systems are also designed to be easy to use, so you can easily watch your property from anywhere in the world. Do you want to learn more about Nexlar's CCTV systems and how they can benefit you? Contact us today.
Nexlar's CCTV systems have flexible zoom options, allowing you to get a closer view of potential threats. With 12X to 42X zoom, you can ensure you get the detail you need to keep your property safe. Furthermore, some of our systems come with night vision capabilities so that you can monitor activity even in low light conditions. With our CCTV systems, you can have the peace of mind that your property is well-protected.
Local and cloud storage options
Nexlar's CCTV solutions have local and cloud storage. Local storage is well suited for smaller installations, while cloud storage is more scalable and can be used for larger installations. Cloud storage offers the advantage of being able to access the footage remotely. Local storage, on the other hand, doesn't require an internet connection. Our systems are designed to be adjustable and offer our customers the best possible storage solution for their needs.
If the footage is not properly stored, it can be difficult or impossible to retrieve when needed. Our CCTV systems come with backup storage to ensure that your footage is always available when you need it. The backup storage solution automatically saves a copy of all footage to a separate location, so even if the primary storage system fails, you will still be able to access your footage. This feature is essential for any business that relies on CCTV footage for security or other purposes.
Intelligent video analysis for those that need higher security requirements
Our CCTV systems are equipped with intelligent analysis capabilities that automatically detect and track objects of interest. This helps to improve the efficiency of security operations and reduce the workload of security personnel. The systems can be configured to trigger alarms in response to certain events, such as a person entering a restricted area or an object being left unattended. In addition, the systems can generate reports that provide valuable insights into the activity in a given area. Your business's managers can then use this information to improve security procedures and make your facility safer and more secure. Call us for more information about our cameras' backup storage.
We have various types of CCTV lenses – fixed and movable. If your goal is indoor surveillance, our experts can install CCTV solutions with fixed lenses. If you want to monitor the outside premises, we can install CCTVs with movable lenses. With these lenses, your security staff can pan and tilt them to get a wider field of view. Fixed lenses offer clear, uninterrupted views of an area, while movable lenses give you the flexibility to monitor a larger area. Whichever type you choose, our CCTV cameras will help you keep a close eye on your property. Call (281) 407-0768 today for a free consultation to find out which one is the right one for your commercial property.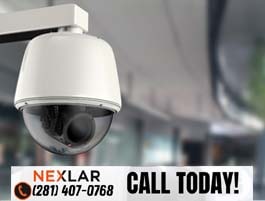 There's no question that any business needs effective security solutions to protect its assets and employees. However, deciding which security system best suits your needs can be difficult. Here are some of the CCTV systems we install that are a great choice for commercial properties.
– Analog PTZ cameras
– Network PTZ cameras
– Panoramic fish-eye cameras
– Full-color HD cameras
– IR CCTV day/night cameras
– Face recognition CCTC cameras
– Dome cameras
– Bullet cameras, and more.
Our CCTV solutions are designed with crime prevention in mind. When we tailor our security solutions for your business, we consider the type of crimes that are most likely to occur in the area under surveillance and tailor the system accordingly. For example, if theft is a common problem, our team will place the CCTVs in strategic locations such as entrances and exits. If violence is a concern, cameras should be placed in areas where people are likely to gather.
Nexlar CCTV systems are a powerful tool to help keep your commercial property safe. If you're interested in learning more about how our security professionals can help you install a CCTV system that meets the specific needs of your business, please don't hesitate to get in touch with us today. We'll happily answer any questions you have. We'll also give you a free consultation.
Reduce false liability claims
Have the right evidence when you need it most. Businesses and other organizations often install CCTV systems to reduce the likelihood of false liability claims. Having video footage of an incident makes it easier to determine what happened and who is responsible. Nexlar's CCTV solutions can protect employees, customers, and your bottom line.
Avoid internal and external theft.
During installation, our team can position CCTV systems in key areas such as cash registers, exits/entrances, and warehouse stockrooms. This way, you can always keep a close eye on employees and catch anyone attempting to steal money or inventory. To avoid external theft, our team will place them near the perimeter of your property and around any potential entry points (e.g., doors and windows). As a result, your commercial building will be safer, and so will your employees and customers.
Manage your workforce better
Monitor employee behavior and build reports based on this information. This can be especially useful when evaluating employee performance. By installing cameras in key areas, you can keep an eye on your staff and ensure they adhere to health and safety regulations. CCTV footage can be essential in determining who was to blame if there's an accident. As such, a well-designed CCTV system can help you to manage your workforce more effectively and avoid potential workplace accidents.
Reduce insurance premiums
Insurance companies are more open to giving discounts to policyholders who install a CCTV system. This is because they know that having a security system deters burglary, theft, and vandalism. A professionally installed CCTV system is a very wise investment. If your business is looking for a way to reduce its insurance premiums, contact Nexlar today. Our CCTV solutions can provide the evidence you need to make an informed decision about reducing your rates. We have years of experience in the security industry and are here to help you find the best solution for your needs.
Improve your customer experience
CCTV cameras have become a staple of modern life, and their presence can be seen in many businesses and public spaces. However, CCTV cameras are not just a security measure – they can also be a valuable tool for customer service. By monitoring customer behavior, our CCTV cameras can help your business identify areas where there are bottlenecks or where customers are having difficulty. You then use this information to improve the layout of the store or to provide additional staff in areas where they are needed. In addition, your team can use CCTV footage to investigate complaints or incidents. As a result, our CCTV cameras can play an important role in improving customer service.
Secure Your Business For Less Today

With our CCTV systems, you can enjoy peace of mind for less. Nexlar's
CCTV systems
use the best technology and offer clear HD images day or night, so you can closely monitor your business premises. So why wait? Like most business owners, you want to keep your property and employees safe but don't want to break the bank in the process. Nexlar provides free quotes or consultations for a comprehensive security system that will protect your business – and your wallet.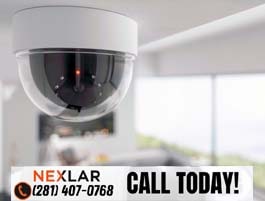 Let us help you secure your commercial property. Get in touch with Nexlar's security experts today and see how our CCTV systems can help you secure your business for less. Call (281) 407-0768 to get started.
Commercial CCTV Systems Service Area
Houston
Sugar Land
Spring
Katy
Kingwood
Stafford
Conroe
Texas City
Cypress
The Woodlands
Webster
League City
Bellaire
Missouri City
Friendswood
Humble
Richmond
Pasadena
Baytown
Tomball
Galveston
Galveston County
Pearland
Seabrook
Lake Jackson
Channelview
New Caney
Manvel
South Houston
Magnolia
Kemah
Rosenberg
Alvin
Hempstead
Dickinson
Fulshear
New Ulm
Wallisville
Hunters Creek Village
Brookshire
Sweeny
Hardin
Hankamer
Danbury
Needville
Simonton
Gilchrist
High Island
Raywood
Piney Point Village
Orchard
North Houston
Anahuac
Romayor
Huffman
Cat Spring
Bellville
Dobbin
Damon
Highlands
Bacliff
San Felipe
Winnie
Kendleton
Guy
Galena Park
Danciger
Pinehurst
Liberty
Liberty County
Daisetta
Industry
Mont Belvieu
Bleiblerville
Old Ocean
Clear Lake Shores
Santa Fe
Bunker Hill Village
Porter
Liverpool
La Porte
Brazoria
Prairie View
Willis
Cleveland
Clute
Port Bolivar
Rosharon
Dayton
Crosby
Montgomery
Montgomery County
Freeport
Sealy
Fresno
Alief
Hitchcock
West Columbia
La Marque
Beasley
Wallis
Splendora
Devers
Hull
Hufsmith
Pattison
Thompsons
Oak Ridge North
Rye
West University Place
Angleton
Kenney
Hockley
Barker
Waller
Stowell
Deer Park
Sienna
Northeast Houston
Westfield
Near Northside
New Territory
Nassau Bay
Mt Houston
Needville
Porter Heights
Plum Grove
Rayford
Quintana
Rose Hill
Midline
Atascocita
Arcola
Addicks
Willowbrook
Willow
Williams
Westchase
West University Place
Waverly
Turtle Bayou
Trammel
Timberlane Acres
Southeast Houston
Surfside Beach
Bayarea
Directions, That Matter!
Service And Quality Matters
Increase return on your investment with our custom security cameras, access control and software integration technology.
Quickly, professionally, on budget and on schedule, I would not hesitate to recommend Nexlar
Cliff M. Fogo de chao
CEO

Nexlar staff attend to our needs in a courteous and professional manner
Jeremy Director Of Facilities – BCFS

Outstanding customer service, fast and professional installation
Brenda

Thank you so much for your quick and effective work with us. Your technician was outstanding
Matthew
Production Group Leader (PGL) – Haliburton