Best Cabling Service Provider In Houston, Texas
If you are looking a best cabling company services to our business.
Please Call (281) 407-0768 For A Free Consultation

Are you looking for a reliable cabling company that can help improve your business's communications and security? We can help with that. Nexlar is a security company that does cabling work for businesses of all sizes. We have been cabling specialists for over a decade and have done cabling work for many commercial properties in Houston, Texas. It is crucial to have an efficient and reliable IT infrastructure in today's business world, and no security company does it better than we do. So, for data and structured cabling solutions for businesses, get in touch with us today by calling (281) 407-0768.
REQUEST A FREE CONSULTATION

High Quality Video Cables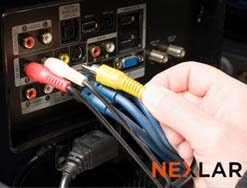 Video cameras can deter crime, but what good are they if they have poor-quality video cables that need to be replaced constantly? Nexlar provides high-quality video cables that can provide clear, crisp images with little to no interference for years to come. We have a wide selection of HDMI, DVI, VGA, and other types of video cables for outdoor CCTV systems and indoor security cameras. We also offer custom cable assembly services to ensure your cables are what you need. And with our 100% satisfaction guarantee, you can be sure that you're getting the best possible value for your money. Call us on (281) 407-0768 for all your video cable needs!
Professional Audio Cables
Get clear audio no matter where you are with our audio cables, and don't let your business fall to audio interception. Whether you don't want private audio conversations with building guests to be intercepted or don't want company secrets to get out, we are the right company to call. The audio cables for businesses we install are highly secure. We offer tamper-resistant connectors and data encryption options and can custom-design audio cables tailored to your business's needs. Rest assured that your business's audio information will stay safe and sound. Our cables are tamper-proof and super durable.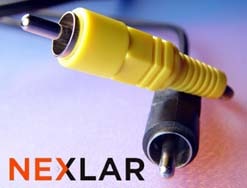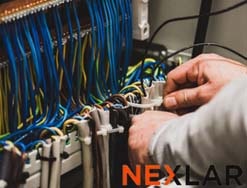 Deliver the voltage your business needs to operate computers, lights, and other electrical equipment and risk short-circuiting them with our help. Without power cables, businesses would be unable to function, and we understand that. That's why we specialize in installing power cables for businesses of all sizes. Our cabling experts have the experience and knowledge necessary to ensure that your business has the power it needs to run smoothly. Whether you're looking to install new power cables or upgrade your existing ones, we can help you get the job done right. Call (281) 407-0768 for a free consultation.
Quality Of Ethernet Cables

Give your business and its employees the fast and reliable internet connection they need to be highly productive. We install Ethernet cables for all commercial properties in Houston, TX. Our cabling company uses only high-quality cables that are built to last. Nexlar also offers a warranty on our workmanship. Our team is highly experienced and can install the cables quickly so you can get back to making those profits. We also offer cable repair and maintenance services to ensure the cables remain in good condition.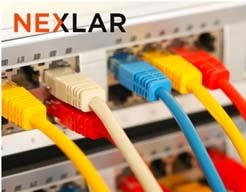 Cable infrastructure installation
Nexlar's experts have over 20 years of experience installing all types of cable infrastructure for businesses. We will work while keeping you updated to ensure that your cables are installed to your satisfaction. We also offer testing and certification services to ensure that your infrastructure is up to code and meets all safety standards. With our cabling team on the job, you can be confident that your project will be completed on time and within your budget. We also offer consultations to help you plan your project and ensure everything runs smoothly. Contact Nexlar for commercial data and network cabling in Houston, TX.
Cable maintenance and repair services
We offer a wide range of cable maintenance, repair, and replacement services. Our team is experienced in dealing with all types of cables, from simple copper wires to complex fiber optic networks. We can troubleshoot any problem, no matter how big or small. And our work is always carried out to the highest standards. So if you're having problems with your cables, give us a call today.
Over the course of 30 years, our team has installed and designed several miles of cable for commercial properties throughout Texas. We still do so and take pride in our workmanship. We provide custom cable design and commissioning services for businesses of all sizes. Nexlar has a team of experts who can create custom designs that meet your specific needs, and we can also provide onsite commissioning to ensure that your cable system is installed correctly. Our services are available all over the city, and we offer competitive rates. Our goal is to provide you with a custom cable solution that meets your exact needs and exceeds your expectations. Not sure what kind of cable your business needs? Schedule a free consultation today.
If you're like most business owners, you're always looking for ways to save money and improve your bottom line. So when it's time to update your office cabling, you may be tempted to hire an unlicensed contractor that promises results and doesn't have a track record to back up these claims. But before you go that way, consider the benefits of hiring a professional cabling company that has been in the business for over a decade instead.
We have the right expertise.
When it comes time to upgrade your business's phone and data lines, hire us to do the work. This will ensure a smooth transition for your employees and minimal disruption to your business operations. What you don't want is for your phones and computers to be down for an extended period while the work is being done. So, we're here for you if you're looking for a reliable, experienced team to take on your cabling project. Our consultation services are always free. Call (281) 407-0768 and tell us about your cabling needs.
Cabling is a hazardous job to undertake; improper installation can lead to fires or other safety hazards. Nexlar's team will ensure that your wiring is done safely. We'll minimize the risks of any accidents or injuries occurring. We have the skills necessary to get the job done safely and efficiently. Contact us today for a free quote, and let us show you what we can do.
Multi-core and single-core cables
Choose a security company that has a range of cables to choose from. We have both multi-core and single-core cables to choose from, so we can cater to your every business need. We have years of industry experience and only use the most durable and latest cables on the market. So choose cables that can stand the test of time. Call Nexlar today.
Quick quotes and free consultations
We understand that when you need cabling work done, you need it done pronto. That's why we offer quick quotes and free consultation you don't have to wait 48 hours for. If you are in Houston, TX, we'll come to your location, assess the situation, and provide you with a free quote, all within 24 hours of you getting in touch with our team. And if you'd like to schedule an onsite consultation on a day over 24 hours away, we can make that happen too. Call (281) 407-0768 to get a quick quote on any type of cabling work you need us to do, and we'll give you a time frame of how long you can expect us to complete that project.
Fully licensed cabling experts
Our company ensures that each cabling expert we send over to your premises is trustworthy and reliable. All our cable installers in Houston go through background checks and FBI fingerprint scans and are vetted before they even work on their first cabling project with us. So, count on Nexlar for cabling work that's done by experts that have undergone the needed training and have the experience necessary to provide the highest quality service possible. We also keep up with the latest advances in the field, so you can be sure that your systems are always properly connected. Don't settle for anyone that's not a fully licensed cabling expert. Call Nexlar today.
In-house quality assurance.
We ensure that all the cables our team installs are above expectations in terms of quality or performance. Before installation, all of our cables are tested to the highest standards. This way, we can be sure that they will meet or exceed the expectations of our customers. We also offer a money-back guarantee if any cable does not meet your expectations. This shows our commitment to providing the best possible products and services to our customers. Thanks to our in-house quality assurance, we are able to provide the highest level of customer satisfaction.
When you work with our company, you can enjoy the peace of mind that comes from knowing that your business has reliable power. We understand the importance of having a continuous power supply for your business, and we take all the needed steps to ensure that there is no interruption in your service. Our team is experienced in cabling work, and we have a process in place to minimize any downtime.
Our professionals have been in the cabling business for over two decades and have been setting the standard for cabling. Our company offers a wide range of cable types that are backed by our years of experience and knowledge. We use cutting-edge technologies and meet the highest standards when it comes to cabling. At Nexlar, we are the experts when it comes to cabling, and we are dedicated to offering all our clients the best possible products and services. Our cables are used in a wide range of applications, from security and surveillance to data networking and communications. So whether you need a one-off cable installation or a long-term custom solution that includes maintenance and replacement, we can help.
Whatever industry your business is in, communication is key, and our cabling solutions ensure that you can always stay connected. Nexlar offers a wide range of options for both indoor and outdoor use, and our cables are tough enough to hold up to even the most challenging environments. Whether you need high-speed data transfer or simply reliable voice communication, our cabling will keep you connected. We also offer several customization options to ensure that your system is just what you need. With our cabling, you'll always be able to stay connected no matter what industry you're in.
Evident commitment in the work we do and the way we treat all our customers
We go above and beyond to ensure that every customer is satisfied with our work, and it is evident in the work we do. Cabling work requires a great deal of precision and expertise. There are many factors that have to be considered when doing cabling work, ranging from the type of cable being used to the environment in which the work will be taking place. As a result, you can count on Nexlar for quality cabling that ensures the finished result is of the highest possible standard. We stand behind our work. That's why we offer a 100% satisfaction guarantee. That means if anything goes wrong with our work, we will come back and fix it at no additional cost to the customer. No matter what cabling service you need, we'll get the job done right. Call us for data cabling, phone cabling, and fiber optic cabling. Call (281) 407-0768 to get started.
Cost-effective cable installation
Like minds think alike, and chances are that, as a business owner, cost-efficiency is on your mind too. Get the most value from your cable installations by hiring Nexlar's professionals. Not only are we cost-effective, but we also help you get your profit margins where they need to be and maximize your return on investment. With our cabling, you'll save money on installation and maintenance while still getting the high quality and performance you need.
The cables we install can be used for a variety of applications. Whether you need Ethernet cable, coaxial cable, or another type of cable, we have the perfect solution for your needs. They are made with high-quality materials and are available in a variety of lengths and colors to suit your installation and match your décor. So if quality and performance are what you are looking for, get in touch with us.
Cut cable installation time by up to 54%
We have worked with some of the largest companies in the world, and we have installed cable in some of the most difficult places. We understand that your time is valuable, and we always work to fill your cabling needs as quickly as possible completely. In fact, our team is so efficient that you may not even realize we were there. Don't believe it? Hire us. Our experts also offer a free consultation so that you can see how we can help you save money and several hours on your next project.
The best way to connect devices
Communicate and collaborate with clients and colleagues for success. Nexlar's cabling services are the best way to ensure that your business stays connected. We specialize in providing high-quality cabling solutions that are designed to meet the specific needs of your business. Whether you need fiber optic cable for high-speed data transfers or Cat5e cable for more traditional networking applications, we can provide the perfect solution for your business. With our experience and expertise, you can rest assured that your business will always be well-connected.
Rack installation and associated equipment
We do rack installations and have the associated equipment. For example, we have cable management panels that keep cables neatly organized and easy to access for your employees. We also offer a variety of cable support products, including brackets, grommets, and clips. We can also install cable trays and ladders to help route cables in difficult or hard-to-reach areas. Call us for quick network cabling services.
Full rewire, add-ons, and moves.
Expect more than just the basics when you hire us. All cables have specific installation requirements, and even the basics alone are enough to drive even the most experienced technician insane. However, Nexlar is different. We are experts when it comes to cabling. We can do full-rewires, adds, and moves. We'll also ensure that your cabling is future-proofed, so you won't have to deal with any annoying upgrades down the line. Contact us today to get started.
Give your cables a longer lifespan with our help. Cable housing is essential for any safe and functional electrical system, and Nexlar's team can handle this for you at no extra cost. We'll provide housing that will provide a barrier between live electrical cables and the surrounding environment, prevent shorts and protect your business against fire hazards. We can install new cable housing, repair damaged housings, and even upgrade existing systems to meet changing code requirements.
Great projects, passionate people
Our team has worked on some great projects over the years, and we are passionate about the work that we do. We enjoy being able to help all our clients achieve their goals. We're also always looking for new ways we can improve our services. Our company is constantly innovating and expanding our capabilities so that we can provide the best possible service to our clients. And because of this, Nexlar has become the commercial cable installation company in Houston, TX, that businesses trust for their cabling needs. If you have a cabling project that you need help with, call us.
Make your office look more professional, and prevent damage to your equipment by contracting our professionals. Cables that are not properly managed can become tangled, making them difficult to use and more likely to be damaged. We understand that cable management is a specialized field, and hiring non-specialists is a risky move that could cost you your business if not done right. Our company's IT specialists can ensure that your cables are safely and securely managed. Contact (281) 407-0768 for more information about our cable management services.
Trusted by Houston's top companies
Nexlar takes pride in providing top-quality cabling solutions for businesses in the Houston area. Our Cat6 and Cat5e data cabling is trusted by some of the city's leading companies, and we have a reputation for providing cost-effective and reliable services. We understand the importance of having a dependable cabling infrastructure, and our team is dedicated to ensuring that your business has the connectivity it needs to stay competitive. 
Whether you're looking for data cabling, fiber optics, or telephone cabling, we have the experience and expertise to get the job done. We'll do it not just right, but fast. Take your business's security and communications to the next level by scheduling a free consultation today.
Highly personalized cabling solution for small and large businesses
Whether you need a simple Ethernet cable run or a fiber optic installation, our cabling experts can do it for you. We also offer a wide range of cabling accessories, including patch panels, wall plates, and cable management products. And because we know how important your time is to you, we offer 24/7 emergency cabling services to ensure you're always up and running. So, if you ever need a trustworthy and experienced team to handle your cabling needs, then look no further than the cabling experts at Nexlar. We have the skills and knowledge necessary to perform all cabling work in half the time at a budget-friendly price so you can get back to business as usual. Contact us today to learn more about our cabling services and how we can help make your business operations run smoother.
Need a data cable upgrade?
If you need cable upgrade or installation services, call us. Nexlar's team understands that not everyone is familiar with the ins and outs of cabling, which is why we take pride in providing high-quality services to each and every one of our customers. Leave your cabling to the experts.
Schedule a free consultation. Call (281) 407-0768 to get started.
Commercial Cabling Service Area
Houston
Sugar Land
Spring
Katy
Kingwood
Stafford
Conroe
Texas City
Cypress
The Woodlands
Webster
League City
Bellaire
Missouri City
Friendswood
Humble
Richmond
Pasadena
Baytown
Tomball
Galveston
Galveston County
Pearland
Seabrook
Lake Jackson
Channelview
New Caney
Manvel
South Houston
Magnolia
Kemah
Rosenberg
Alvin
Hempstead
Dickinson
Fulshear
New Ulm
Wallisville
Hunters Creek Village
Brookshire
Sweeny
Hardin
Hankamer
Danbury
Needville
Simonton
Gilchrist
High Island
Raywood
Piney Point Village
Orchard
North Houston
Anahuac
Romayor
Huffman
Cat Spring
Bellville
Dobbin
Damon
Highlands
Bacliff
San Felipe
Winnie
Kendleton
Guy
Galena Park
Danciger
Pinehurst
Liberty
Liberty County
Daisetta
Industry
Mont Belvieu
Bleiblerville
Old Ocean
Clear Lake Shores
Santa Fe
Bunker Hill Village
Porter
Liverpool
La Porte
Brazoria
Prairie View
Willis
Cleveland
Clute
Port Bolivar
Rosharon
Dayton
Crosby
Montgomery
Montgomery County
Freeport
Sealy
Fresno
Alief
Hitchcock
West Columbia
La Marque
Beasley
Wallis
Splendora
Devers
Hull
Hufsmith
Pattison
Thompsons
Oak Ridge North
Rye
West University Place
Angleton
Kenney
Hockley
Barker
Waller
Stowell
Deer Park
Sienna
Northeast Houston
Westfield
Near Northside
New Territory
Nassau Bay
Mt Houston
Needville
Porter Heights
Plum Grove
Rayford
Quintana
Rose Hill
Midline
Atascocita
Arcola
Addicks
Willowbrook
Willow
Williams
Westchase
West University Place
Waverly
Turtle Bayou
Trammel
Timberlane Acres
Southeast Houston
Surfside Beach
Bayarea
Directions, That Matter!
Service And Quality Matters
Increase return on your investment with our custom security cameras, access control and software integration technology.
Quickly, professionally, on budget and on schedule, I would not hesitate to recommend Nexlar
Cliff M. Fogo de chao
CEO

Nexlar staff attend to our needs in a courteous and professional manner
Jeremy Director Of Facilities – BCFS

Outstanding customer service, fast and professional installation
Brenda

Thank you so much for your quick and effective work with us. Your technician was outstanding
Matthew
Production Group Leader (PGL) – Haliburton