Best Automatic Gate Repairing In Houston, Texas
If You Are Looking A Security Gate Specialist.
Please Call (281) 407-0768 For A Free Consultation

Is your automatic gate giving you trouble? We can help! Our team of security gate specialists is experienced in repairing all types of gates, from automatic to manual ones. Don't want to spend hours trying to fix a broken gate on your own? That's why we're here. We know you have more important obligations than waiting around for a repair technician. That's why our service is quick and reliable – we'll have your gate fully operational in no time. Plus, we include a money-back satisfaction guarantee for all of our repairs. So, you can be sure you're making the best decision for your needs. Let Nexlar's gate repair professionals take care of everything for you, so you can relax and focus on what matters most to your business's success. Call (281) 407-0768 to schedule a repair.
REQUEST A FREE CONSULTATION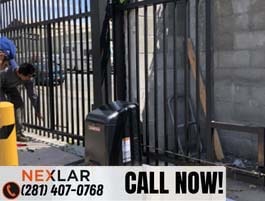 We Install, Repair, And Design Automatic Gates.
Are you looking for a gate that is reliable and efficient? We have been in the business of installing gates for over ten years. Our technicians know what it takes to make an aesthetically appealing and functional gate. All of our automatic gates are made with the highest quality materials. They are installed by experts who know what they are doing. You will never have to worry about your gate again.
We offer repairs for as long as you own an automatic gate, so you can rest assured that it will always be in good working condition. In addition, we offer a wide variety of customization options so you can make sure your gate perfectly matches your business's aesthetic. We install and repair slide gates, swing gates, cantilever gates, bi-folding gates, and more.
Contact Nexlar's consultants today to learn more about our services.
Common Problems We Can Fix
Is your automatic gate constantly giving you problems? Are you frustrated with the amount of money and time you're spending on repairs? We understand how frustrating this can be, which is why we offer our repair services. Our professionals have years of experience fixing automatic gates, so we can help get your gate up and running again quickly and efficiently. Book a free one-on-one consultation call with us today to see how we can help.
Motors that disengage and don't move
Many factors, including a lack of lubrication or worn-out gears, can cause this. We have all the needed components and accessories, so we can replace the damaged parts cases to fix this issue. However, if the issue is more widespread, it may be necessary to replace the entire motor. We have experience troubleshooting and repairing all types of automatic gates, and we can handle this seamlessly. If you need Houston automatic gate repair for your business, call Nexlar today. Our experts will identify what caused the problem and get your gate up and running again in no time.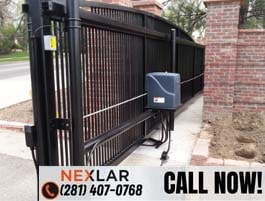 Slow-running automatic gates
Automatic gates are a great convenience, but when they start to slow down, they can be a real hassle. This problem can be caused by many things. It could be something as simple as the motor needs to be cleaned or lubricated. If the tracks are dirty or dusty, that can also slow down the gate. In some cases, the rollers or wheels may be the ones with the problem. Whatever the cause, we can repair slow-running
automatic gates
quickly and efficiently. Our professionals will diagnose the problem and then provide the best solution. Whether it is cleaning, lubricating, or replacing parts, we will get your gate running smoothly again.
Gate engine malfunctions caused by short circuits
If your automatic gate has short-circuited, we can fix that with our expert cabling services. We will inspect the cabling and make any necessary repairs. We will also test the gate to ensure that it is working properly. Our cabling services are available 24 hours a day, seven days a week. We understand the frustration a broken gate can cause, so we work quickly and efficiently to get your gate up and running again. If you aren't pleased with the work our technicians do, we will do whatever it takes to make it right. Be confident that your repairs will last by hiring the most trusted automatic gate repair company in Houston, TX. Contact (281) 407-0768 today to schedule a free consultation.
Over time, dirt, debris, and even rust can build up on the tracks, making it difficult for the gate to slide open and close. If you're having trouble with your automatic sliding gate, we can help. Nexlar's team has extensive experience repairing all types of gates, and we can have your gate working like new in no time. Our repair experts will come to your property and assess the damage. We'll then provide you with a quote for the repairs. Once you give our team the go-ahead, they'll start working on the gate repairs. We'll thoroughly clean the tracks and adjust any components that have become loose or worn out. And because we use only high-quality components, you can be sure that the repairs will last. In addition, we'll lubricate the moving parts to ensure smooth operation. We're confident that we can get your automatic sliding gate back in top condition. Contact us today to schedule a repair.
Issues with the crush sensors
Crush sensors detect when someone or something is in the gate's path. They stop the gate from closing if there is an obstruction. However, if the sensors are not working properly, the gate can close on someone, causing serious injuries. Fortunately, we can repair automatic gates with crush sensors. By testing and calibrating the sensors, we can make sure that they are working properly and that the gate will only close when it is safe to do so. In addition, we can also install new safety features, such as photo beams, that will further reduce the risk of accidents.
If your automatic gate is starting to show signs of rust, it's important to address the issue as soon as possible. Rust can cause serious damage to the gate and make it more difficult to open and close if left unchecked. In some cases, replacing the gate may be the best option. However, if the damage is not severe, you may be able to repair the gate with some basic sanding and painting. Our team can keep your automatic gate looking and functioning like new for years to come, or if you'd like, we can replace your whole gate system.
Noisy and Misaligned gates
If your gates are creaking or grinding when they open and close, it can be both annoying and embarrassing, especially if your business is known for being high value. Luckily, this is usually an easy problem to fix. The most likely culprit is loose hardware, which can be tightened up with a simple screwdriver. If your gates are misaligned, they may not close properly or may even scrape against the ground. This is another problem our gate repair technicians can fix, which involves readjusting the gates' position. This is a common issue when the gates aren't maintained as they should. Consult with one of our automatic gate installers to learn more about our maintenance packages and flexible payment plan.
In our experience, oil leakages are mostly caused by damaged seals. We can replace the seal to stop the leak usually. In some cases, the problem is more severe, and the entire gate will have to be replaced. Regardless of the severity of your gate's oil leakage issues, it is important to have it repaired as soon as possible. Otherwise, it could lead to further damage or even an accident. Call us for a free quote or to have one of our experts diagnose the issue in person.
Immovable automatic gates are no match for our technicians' expertise. Our experts can check to see if the batteries in the remote control are working and provide new ones if that doesn't work. If the issue is being caused by loose wires or other damage, our cabling experts will replace the cables. And if the issue is with the hinges and brackets, we'll ensure they are tightened and in good working condition.
Gate malfunctions caused by power surges
If your gate malfunctions during a power surge, our gate repair services can help. We'll start by checking the backup battery to see if it needs to be replaced. If the battery is fine, we'll check the wiring to see if any connections have been damaged. Once we've identified the problem, we'll make the necessary repairs and test the gate to make sure it's working properly. So if your automatic gate ever stops working during a power surge, don't hesitate to give us a call. We'll get it fixed in no time.
Whether it's lost signal strength, unresponsive buttons, or simply not working at all, a malfunctioning remote can be a major inconvenience. Fortunately, our team of experts at Nexlar can quickly and easily solve any remote control issues you may be having. We'll diagnose the problem and then provide a solution that you need. We understand the importance of having a fully functioning automatic gate, and we're dedicated to providing the highest quality service possible. Contact our gate repair consultants today to schedule a consultation and get your gate back in working order.
Lock replacement and repair
Nexlar offers comprehensive lock replacement and repair services for any automatic gate. Whether you're dealing with a broken keyway or a faulty locking mechanism, our experts can help. We'll give you a free quote and get the repairs done quickly. We also offer various other security-related services, including security system integration and CCTV installation. Inquire about our other commercial security services by calling (281) 407-0768 today.
An Automatic Gate Repair Company You Can Trust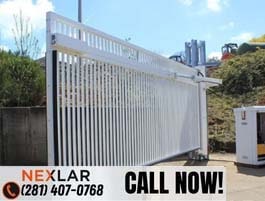 If you're a business owner looking for an automatic gate repair company in Houston, TX, you can trust, look no further than us. Nexlar's technicians have over a decade of experience repairing all types of automatic gates, and we're always up-to-date on the latest advancements in the industry. We understand that your gate is an important part of your property, and we'll work as fast as we can to get it back in working order. We're also proud to offer competitive prices, so you can rest assured that you're getting the best value for your money. Contact (281)407-0768 today to schedule a free consultation.
We do expert installations to ensure that these problems do not happen in the first place.
Expert gate installation is essential to avoid many problems and repairs down the line. No one understands that better than our automatic gate installation experts. We use high-quality materials and follow all manufacturer guidelines to ensure a long-lasting, trouble-free gate. We also offer a warranty on all of our work, so you can be confident that your investment is protected. Call Contact us for automatic gate installation services. We'll help you avoid costly repairs caused by misaligned gates, malfunctioning sensors, and more.
Highly trained technicians
Our fully licensed and trained technicians have the in-the-field experience to handle any automatic gate repair project. Our company understands the difficulties that can come with these types of repairs. We also have the tools and experience to get repairs done right. Whether you're dealing with a broken opener or damaged panels, we can help. Our whole team has undergone background checks and proven to have the skills to repair any automatic gate. We're experts in the field and can provide top-notch service for your needs. Whether it is gate repair or automatic gate replacement, our technicians are the ones to call.
Registered with the leading gate manufacturers
We are registered with the leading manufacturers of automatic gates and offer warranties on our workmanship. Our repair experts are experienced and knowledgeable, and we are confident in our ability to provide top-notch service. We understand that having a functional automatic gate you can trust to keep your business safe is essential for you and your employees. Our gate repair automatic technicians will do everything they can to ensure that your gate is in excellent working condition. Contact us to schedule a free consultation. We don't just look forward to serving you; we look forward to providing a service that exceeds your expectations.
When it comes time to repair your automatic gate, you may be concerned about hidden costs that the company you hire may add and affect your budget. However, Nexlar is different. At our company, we pride ourselves on being upfront and transparent with our pricing. We will give you a complete estimate for the cost of parts and labor before any work is done. In addition, we offer a warranty on all of our work, so you can be confident that your gate will continue to function properly for years to come. With our company, there are no hidden costs or surprises – just excellent service and quality workmanship. Schedule a free consultation with us and get a free no, obligation quote today.
The Best Gate Repair Prices Offer In Houston.
If you're looking for budget-friendly automatic gate repair services, you've come to the right place. Nexlar's team is fully committed to providing quality repairs at an affordable price. We understand that not everyone has the same budget, so we offer various services to fit your needs. Whether your gate needs a simple fix or a complete overhaul, our technicians can help. We also offer various payment options to make our services even more affordable. So if you're looking for the best prices on automatic gate repair, look no further than Nexlar's technicians. Request a free quote today.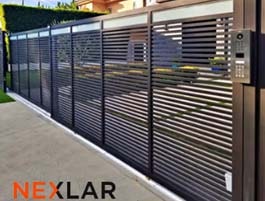 Automatic gate testing and inspection
Let us help you ensure that your gates are in perfect working order. From routine maintenance to emergency repairs, we can handle any gate issue you may have. And because we're always up-to-date on safety standards, you can rest assured that your gates will meet all the required safety guidelines. We begin by thoroughly examining the gate itself, looking for any signs of wear or damage. We then test the gate's sensors and safety features to ensure they function properly. Finally, we verify that the gate operator is working correctly and that there are no obstructions in the gate's path. We'll fix any problems we find. So if you're looking for a reliable gate repair company near you to handle all your commercial
security gate
needs, consult with Nexlar today.
Gate motors and accessories
Our company has gate motors and accessories for all types of automatic gates. Whether your gate needs a new motor or you are looking to install an automated gate for the first time, Nexlar has everything you need. We also carry a wide variety of gate accessories, including remote controls, keypads, and intercom systems. Our expert knowledge and friendly service can help you find the perfect solution for your needs. Call an expert from Nexlar and see what we have to offer!
Integration with other alarms and other systems.
We have technicians that specialize in the integration of automatic gates with other security systems, such as CCTV cameras and access control devices. This allows the businesses we serve to have a complete security solution that is tailored to their specific needs. We believe this is the future of security, and our team of experts provides every customer with the highest quality products and gate repair services. Call (281) 407-0768 today if you'd like us to integrate your automatic gates with alarms and access control systems.
There's no company more passionate about providing quality service for automatic gates than we are. We're dedicated to making sure your gate is operating smoothly and efficiently. We offer regular servicing packages that include everything from basic maintenance to more comprehensive repairs, and we'll work with you to find the package that best suits your needs. Whether you're looking for a one-time service or an ongoing maintenance plan, we're here to help. Contact our gate repair professionals today to learn more about our services or to schedule a free onsite consultation at a time that best fits your schedule.
We use the latest equipment to repair your automatic gates.
Nexlar prides itself on using the latest equipment to repair your automatic gates. We believe using the latest tools and techniques is the only way to ensure a high-quality repair. We also believe that using the latest equipment is important because it helps us to perform the repairs quickly and efficiently. When you hire us for automatic gate repair, you can be sure that we will use the most efficient tools and techniques to repair your gate. We will also take the time to explain what we are doing and why we are using the latest equipment. With us, your business can be sure of getting the best possible repair for its automatic gate.
Repairs are done by reliable and knowledgeable professionals.
Nexlar takes automatic gate repair seriously. We only hire the most knowledgeable people to perform our automatic gate repairs. Our team has years of experience and is up-to-date on the latest gate repair techniques. We understand that an automated gate is a big investment, and we want to help you protect your investment. Nexlar offers a variety of services, including repairs, replacement, and maintenance. We also offer a satisfaction guarantee on all of our work. If you're not happy with the gate repair we do, we'll make it right. Schedule a consultation by calling (281) 407-0768.
We serve HOAs, gated communities, airports, federal institutions, and multiple businesses in Houston, TX.
At Nexlar, we specialize in automatic gate repairs for various clients in Houston, TX. We have experience working with HOAs, gated communities, airports, federal institutions, and businesses of all sizes. Regardless of the type of client you are, we will work diligently to repair your gate in a timely and efficient manner.
We are experts to call to repair all types and brands of automatic gates, and we can provide our services to any business or organization that needs them. If you need automatic gate repairs in Houston, TX, don't hesitate to get in touch with us today.
We look forward to serving you.
Is your gate stuck?
Is your gate motor running slow?
Do you have rolling gates with wheels that have ceased moving? Nexlar can help.

Commercial Alarm Monitoring Service Area
Houston
Sugar Land
Spring
Katy
Kingwood
Stafford
Conroe
Texas City
Cypress
The Woodlands
Webster
League City
Bellaire
Missouri City
Friendswood
Humble
Richmond
Pasadena
Baytown
Tomball
Galveston
Galveston County
Pearland
Seabrook
Lake Jackson
Channelview
New Caney
Manvel
South Houston
Magnolia
Kemah
Rosenberg
Alvin
Hempstead
Dickinson
Fulshear
New Ulm
Wallisville
Hunters Creek Village
Brookshire
Sweeny
Hardin
Hankamer
Danbury
Needville
Simonton
Gilchrist
High Island
Raywood
Piney Point Village
Orchard
North Houston
Anahuac
Romayor
Huffman
Cat Spring
Bellville
Dobbin
Damon
Highlands
Bacliff
San Felipe
Winnie
Kendleton
Guy
Galena Park
Danciger
Pinehurst
Liberty
Liberty County
Daisetta
Industry
Mont Belvieu
Bleiblerville
Old Ocean
Clear Lake Shores
Santa Fe
Bunker Hill Village
Porter
Liverpool
La Porte
Brazoria
Prairie View
Willis
Cleveland
Clute
Port Bolivar
Rosharon
Dayton
Crosby
Montgomery
Montgomery County
Freeport
Sealy
Fresno
Alief
Hitchcock
West Columbia
La Marque
Beasley
Wallis
Splendora
Devers
Hull
Hufsmith
Pattison
Thompsons
Oak Ridge North
Rye
West University Place
Angleton
Kenney
Hockley
Barker
Waller
Stowell
Deer Park
Sienna
Northeast Houston
Westfield
Near Northside
New Territory
Nassau Bay
Mt Houston
Needville
Porter Heights
Plum Grove
Rayford
Quintana
Rose Hill
Midline
Atascocita
Arcola
Addicks
Willowbrook
Willow
Williams
Westchase
West University Place
Waverly
Turtle Bayou
Trammel
Timberlane Acres
Southeast Houston
Surfside Beach
Bayarea
Directions, That Matter!
Service And Quality Matters
Increase return on your investment with our custom security cameras, access control and software integration technology.
Quickly, professionally, on budget and on schedule, I would not hesitate to recommend Nexlar
Cliff M. Fogo de chao
CEO

Nexlar staff attend to our needs in a courteous and professional manner
Jeremy Director Of Facilities – BCFS

Outstanding customer service, fast and professional installation
Brenda

Thank you so much for your quick and effective work with us. Your technician was outstanding
Matthew
Production Group Leader (PGL) – Haliburton