Best Alarm Systems For Business In Houston, Texas
Are you looking for reliable alarm systems in Houston, TX for your business?
Please Call (281) 407-0768 For A Free Consultation

Are you looking for a new alarm system? Perhaps your old one is no longer working properly, or maybe you're just looking for an upgrade. Whatever the reason, if you own a commercial property in Houston, TX, there's only one company to call: Nexlar. We offer professional alarm installation and repair services to businesses in the area. Our technicians are experts in their field – so you can rest assured that your systems will be installed and functioning correctly from the get-go. Give Nexlar's team a call today to learn more about our services
REQUEST A FREE CONSULTATION

Alarm System Installation And Repair In Houston, TX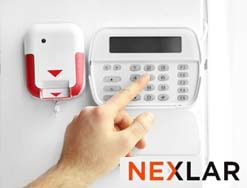 Houston, TX, like other major metropolitan areas, is densely populated. Its growing crime rate puts commercial properties, whether big or small, at risk for theft and other criminal activities. That's where Nexlar's alarm systems come in. Our alarms can protect your property against fires, floods, gas leakages, and intruders, and that's just a start. We install the most trusted intrusion solutions in the city.
Don't sacrifice convenience for commercial security. Our wireless alarm systems don't need wires to function at their peak, meaning that your employees and customers are less likely to trip and fall, leading to damage claims and costing your business a lot of money. Though ideal for large businesses, our wireless alarm systems are great for various commercial and federal applications. Our team can customize them to suit your property's needs and look seamlessly. If you're looking for an alarm system that can monitor both indoor and outdoor areas, get in touch with a member of our IT team.
Maximize your business's security with an alarm system that is less likely to face interference from weather. Nexlar's wired alarm systems provide redundancy. If one sensor is triggered, the system will still work because it has multiple connection points. This also means that there are no batteries to worry about, which can be an issue with wireless systems. RF interference stands no chance against these advanced systems. This reduces the likelihood of false alarms being set off, which could potentially hurt your sales. They are less prone to tampering, meaning that even determined criminals will be put off from breaking into your property and risk getting caught.
Our security staff can set up your alarm system to make sure alerts are sent directly to your mobile phone if an intruder is detected. This will allow you to take quick action to ensure the safety of your commercial building from anywhere in the world. You can book a demo of our web-based app by calling (281) 407-0768 today. By working with our security team, you can be sure that your property is well-protected against intruders.
Unmonitored Alarm Systems
Our unmonitored alarm systems trigger signals to anyone within the vicinity who can then take action like calling the authorities or scare away intruders by themselves. Unlike monitored systems, these systems aren't constantly being watched by someone else and don't require a monthly fee. Because of this, these systems are ideal for small businesses. Standard unmonitored alarm systems don't alert property managers via notifications. However, this is what makes Nexlar different. We can configure your unmonitored alarm system to notify you each time an alarm is set off.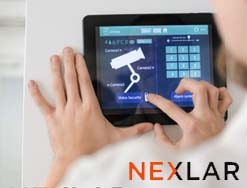 Certified and meet Texas state standards
We only install certified alarm systems that meet industry standards. We test and vet each system to make sure it's up to par with the latest safety features and technologies. This way, you don't end up with a poorly functioning alarms system that could put your business in danger. Plus, our team is always a call away to help with anything you need—from installation to customer service. Get alarm systems that have been tested for safety and performance today. Call (281) 407-0768.
Tailored for your business
Your business's alarm system is tailored to fit your specific needs. Whether you're looking for a system that detects break-ins, fire, or carbon monoxide poisoning, we have a wide selection of alarm systems to choose from. Plus, our team of experienced professionals will work with you to design the perfect system for your business. We use only the latest technology. So, you can be sure that your system will be up and running when you need it. So if you're looking for an alarm system that's been designed with your business in mind, give us a call today. Don't wait any longer – let us help you protect your business.
The best security is that that is available 24 hours every day, especially if you want to protect your employees and customers. Nexlar's alarm systems will monitor your business at all times, even if the power is out or a security guard is not on duty. And because this feature comes as standard with all our
alarm systems
, you can count on them to quickly alert the authorities in the event of an emergency. Whether your business needs a basic setup with just a few sensors or wants a more complex system with CCTV cameras and motion detectors, we can help. Get in touch with one of Nexlar's experts for a free consultation.
The manufacturers we source our products from use cutting-edge technology to create a robust system that is less likely to fail. In addition, our team of experts is on hand 24/7 to monitor the system and respond to any alarms. As a result, you can go on about your daily activities. Our alarm system will be there when you need it most.
Motion detection features
Motion detection can provide an early warning of potential intruders and can also help you to save energy by only activating when necessary. Our Houston alarm installation team can further customize this feature to meet your business needs. For example, we can set certain areas to be monitored more closely than others, or we can set different levels of sensitivity based on the time of day.
Direct Management And Control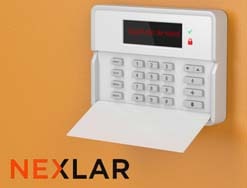 Configure your alarms to go off based on specific commands you set. Our alarm systems give you direct management and control over your business's security. They can also detect fires, carbon monoxide poisoning, and flooding. And if that alone isn't enough, Nexlar's alarms send alerts directly on your mobile device if a sets them off. Our team can integrate them with security cameras to give you a clearer picture of whatever is responsible for setting them off. Contact us for a free quote.
Our company's alarm systems are designed to be user-friendly while also being tough to hack. This is because they need to be accessible to authorized users while also keeping unauthorized users out. For example, a hospital alarm system needs to be able to be quickly accessed by staff in an emergency, but it also needs to be secure enough that hackers can't disable it. The benefits of this are manifold, but some of the most important include deterring criminals, protecting property and valuables, and providing peace of mind for employees and customers. Call us today to see how our alarm systems can make your business safer.
Control all your alarm systems from a single app
Customize your security settings from a single app and access real-time updates without having to go through a separate monitoring company. Our IT software development team can build an easy-to-use app that works seamlessly with your alarm systems. With an app like this, you'll have full control over your alarm systems and other security systems in your building regardless of where you are in the world. We also have an app that your team can use already if building whole custom software for your business is out of the question. Contact our team for a free demo of Alfred360.
We handle everything for you, from installation to repair and maintenance.
Nexlar is a full-service security company, meaning that you won't have to contract someone new each time you need help with your alarm systems. We also offer alarm monitoring services. Our company offers all these services because we want to make sure that our customers have the best possible experience with their alarm system. We also believe that it's important for our customers to have someone they can trust to help them with their alarm system. Book a free consultation with our installation and repair experts today. We've helped several businesses throughout Houston with their alarm systems. We can help you too. Contact us for alarm system repairs, installations, servicing, and monitoring.
Full-perimeter protection
Give your business full protection from burglars and other intruders. Our alarm systems provide an early warning that something is wrong and can alert the authorities to a potential problem. Our systems offer full-perimeter protection, making them ideal for both commercial properties, HOAs, gated communities, and healthcare facilities. They can also be linked to your phone so that you are alerted even if you're away.
Keep your costs at a minimum and protect your bottom line with alarm systems. Insurance companies often give discounts to businesses with alarm systems since they are less likely to be robbed or vandalized. Your insurance company will be more willing to offer greater coverage for your business for less. Want to learn more? Get in touch with us.
Uninterrupted functionality
At Nexlar, we understand that alarm systems can only be effective if they are properly maintained. After installation, our team performs regular health checks and servicing to ensure that your alarm systems have uninterrupted functionality at all times. We regularly update the software to stay ahead of the latest security threats. In addition, our alarm systems are backed by a 24/7 repair service, so you can rest assured that emergencies and attended to quickly and that your property is always protected. Although our alarm systems are interruption-free, we understand that sometimes life happens. That's why our company offers free quotes and consultations for customers who may need to upgrade their system or add additional protection but don't know where to start.
Reduce false alarms by upgrading to Nexlar's alarm systems. They have better sensors that can more accurately distinguish between potential threats and harmless objects. They also include features like two-way voice communication, which allows you to confirm an alarm before dispatch is contacted. If you own a business in Houston, TX, consider upgrading to Nexlar's modern alarm systems for business applications.
Several options to choose from
Nexlar provides several models of alarm systems. We have affordable wired and wireless alarm systems. We also have hybrid systems, which combine both wired and wireless components. The best system for your business will depend on your budget, your building's layout, and your personal preferences, and if you're not sure where to start, we can help. Consult with one of our professionals. We'll assess your needs and find the perfect alarm system for your business.
Our goal is to help businesses maximize the return on their investment by securing their premises, and what better way than by offering cost-effective security solutions for businesses of all sizes? Our alarm solutions and monitoring solutions have a low monthly fee so that your business doesn't end up paying more than necessary in the long run. So, if you're looking for an affordable option, get in touch with Nexlar.
Business owners often think about their alarm system when it's too late. They wait until their business has been the victim of a burglary to start looking for an alarm system. But by then, it's often too late, and they end up paying more for damages or, worse, end up losing customers. That's why we offer free estimates so business owners can get a sense of what their options are and find the best alarm system for their needs. We also offer benefits like next-day installation so business owners can get back to running their businesses as quickly as possible.
Customize your Nexlar package
Our team can customize your alarm system to fit your business's needs. For example, we can design for you a system that includes motion sensors that detect movement and contact the police when someone breaks in. We can also add security cameras to your alarm system. This way, you'll have high-definition footage of anyone trying to access your property illegally. Customizing your alarm will make it more effective in protecting your property. There are a lot of different types of alarm systems out there, and we can find the right one for you. Consult with our security experts today for free.
Do you need your alarm systems installed as soon as possible? No worries. Our team is quick to act and install the right system for your commercial property within 24 hours of your initial call. If you're looking for a custom alarm system that can best suit your business, our professionals will work quickly to design and deliver it within the shortest time. And if there are any delays, our team will let you know ahead of time. Our experts are to help you every step of the way. Call (281) 407-0768 today and talk to us. We'll give you a free cost and time estimate of when you can expect your alarm system installed and fully functional.
With a lot of experience in the Houston area, we can help you choose the right system for your business, install it repair it, and perform routine maintenance. Still not sure if our alarm systems are the best choice for you? That's okay! We understand that making a decision about something as important as your security can be difficult. That's why we offer free price estimates so you can get an idea of what installing one of our systems would cost. Contact Nexlar today, and we would be happy to provide you with more information on our products or schedule a consultation so we can discuss your specific needs.
Nexlar provides alarm installation, repair, and maintenance services to various industries. Our company is committed to giving its clients the best possible service. Dial (281) 407-0768 today to learn more about our services or to schedule a consultation.
Retail businesses have many options when it comes to choosing an alarm system. However, not all are the same. Our alarm systems are designed to provide comprehensive protection for businesses of all types and sizes. Our technicians can integrate them with other forms of detection. Do you own a retail store or a shopping mall in Houston, TX? We have highly experienced professionals on our team who can help you choose the right system for your business. We also provide free project cost estimates so that you can get an idea of what the cost would be for your business. Contact Nexlar's specialists for a free quote or to schedule a free consultation with one of our experts today.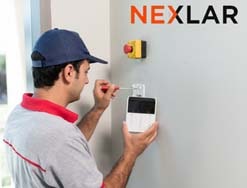 Our alarm systems serve healthcare facilities in more ways than one. They help keep patients safe, medical personnel informed, and facilities secure. For psychiatric patients, the right alarm system can mean the difference between feeling safe and constantly feeling on edge. That's because psychiatric patients are often at risk of harming themselves or others, and an alarm system can provide an important layer of protection. Nexlar's systems can also alert medical staff to take action to prevent harm in case of a patient who is suicidal or getting aggressive.
We have systems that can send out silent alarms to the authorities if the hotel guests are in danger. Your staff can activate a silent alarm by tapping the emergency button on their phone. This will send a signal to the security team, who will then investigate the situation. This ensures that your guests have their experience with your hotel or apartment building not ruined by loud-sounding alarms. Get in touch with our team on (281) 407-0768 if you want to learn more information about Nexlar's intrusion solutions.
Nexlar has done installations for government facilities housing classified information or protecting critical infrastructure. We understand that an alarm system should be highly reliable, discrete, and resistant to tampering or sabotage. During installation in government facilities, our team ensures that the alarm systems are connected to state or federal law enforcement agencies. When an alarm is triggered, the agency is notified and can dispatch officers to the scene. This allows law enforcement to respond quickly to potential threats.
From break-ins and theft to vandalism, Nexlars
alarm systems
have what it takes to secure even the busiest office buildings. Our team can configure your systems to sound an alarm when a specific area in your office is accessed or when a door is opened. Nexlar's installation team can link these alarms to security cameras upon request. This can help you enforce management rules and maximize productivity. Call us for a free consultation.
Our alarm systems ensure the safety of students and staff in the event of an emergency. For example, if there is a fire, our alarm systems can alert students to evacuate the building safely. The alarm systems we install will ensure that authorities are notified as soon as possible in case there is a security breach on the school campus.
Protect Your Business Today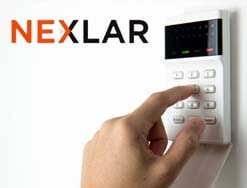 At our company, we are experts in the design and installation of alarm systems. Having a reliable and effective system to protect your commercial property is important. We understand that. No property size is too big or too small for us to secure. No matter what the size of your company is, our alarm systems are a valuable investment that can help keep your assets and employees safe. We provide free consultations and quotes so that you can find the best system for your business. So, if you're considering installing an alarm system, our team at Nexlar is here to help. Contact Nexlar to learn more about our installation and repair services.
Connect with an expert by calling (281) 407-0768
Commercial Alarm Systems Service Area
Houston
Sugar Land
Spring
Katy
Kingwood
Stafford
Conroe
Texas City
Cypress
The Woodlands
Webster
League City
Bellaire
Missouri City
Friendswood
Humble
Richmond
Pasadena
Baytown
Tomball
Galveston
Galveston County
Pearland
Seabrook
Lake Jackson
Channelview
New Caney
Manvel
South Houston
Magnolia
Kemah
Rosenberg
Alvin
Hempstead
Dickinson
Fulshear
New Ulm
Wallisville
Hunters Creek Village
Brookshire
Sweeny
Hardin
Hankamer
Danbury
Needville
Simonton
Gilchrist
High Island
Raywood
Piney Point Village
Orchard
North Houston
Anahuac
Romayor
Huffman
Cat Spring
Bellville
Dobbin
Damon
Highlands
Bacliff
San Felipe
Winnie
Kendleton
Guy
Galena Park
Danciger
Pinehurst
Liberty
Liberty County
Daisetta
Industry
Mont Belvieu
Bleiblerville
Old Ocean
Clear Lake Shores
Santa Fe
Bunker Hill Village
Porter
Liverpool
La Porte
Brazoria
Prairie View
Willis
Cleveland
Clute
Port Bolivar
Rosharon
Dayton
Crosby
Montgomery
Montgomery County
Freeport
Sealy
Fresno
Alief
Hitchcock
West Columbia
La Marque
Beasley
Wallis
Splendora
Devers
Hull
Hufsmith
Pattison
Thompsons
Oak Ridge North
Rye
West University Place
Angleton
Kenney
Hockley
Barker
Waller
Stowell
Deer Park
Sienna
Northeast Houston
Westfield
Near Northside
New Territory
Nassau Bay
Mt Houston
Needville
Porter Heights
Plum Grove
Rayford
Quintana
Rose Hill
Midline
Atascocita
Arcola
Addicks
Willowbrook
Willow
Williams
Westchase
West University Place
Waverly
Turtle Bayou
Trammel
Timberlane Acres
Southeast Houston
Surfside Beach
Bayarea
Directions, That Matter!
Service And Quality Matters
Increase return on your investment with our custom security cameras, access control and software integration technology.
Quickly, professionally, on budget and on schedule, I would not hesitate to recommend Nexlar
Cliff M. Fogo de chao
CEO

Nexlar staff attend to our needs in a courteous and professional manner
Jeremy Director Of Facilities – BCFS

Outstanding customer service, fast and professional installation
Brenda

Thank you so much for your quick and effective work with us. Your technician was outstanding
Matthew
Production Group Leader (PGL) – Haliburton