Best Alarm Monitoring Service Provider In Houston, Texas
If you are looking a best alarm monitoring system to our business.
Please Call (281) 407-0768 For A Free Consultation

When you're away, who's watching your property? Most people would say their employees or a security system. But what if it's during peak hours and your employees are away too? Or what if there's a fire or break-in and your security system doesn't notice until it's too late? That's where alarm monitoring comes in. Nexlar doesn't just do alarm monitoring. We can help you with alarm installation, maintenance, testing, and repair. Call us for a free consultation.
REQUEST A FREE CONSULTATION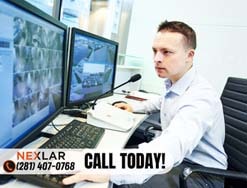 Alarm monitoring is the process of having someone constantly watch over your security system to make sure everything is okay. This service includes the installation of a security system on the business premises as well as 24-hour monitoring of the system by trained professionals.
If there's an emergency, our professionals will notify the business owner or designated individual and provide them with instructions on how to respond. Alarm monitoring can help businesses reduce their risk of crime and keep their employees safe.
Switch to Nexlar's alarm monitoring services.
If you are looking for an alarm monitoring company in Houston, TX
Call us on (281) 407-0768 today. Why choose us?

Our alarm monitoring solutions offer complete coverage that could save your business from loss. With our alarm monitoring systems, we can monitor for unauthorized entry. This way, if there's suspicious activity in your business, we can alert the authorities and help you get to safety. Additionally, we have a team of cabling experts that can install fiber-optic cables that will ensure that the systems stay online at all times. If you are looking for a comprehensive alarm monitoring company that offers comprehensive alarm coverage of your premises, please reach out to us. Call our technician for a free quote.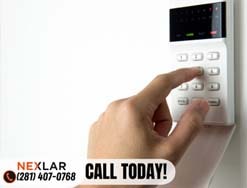 With many insurance companies offering discounts for businesses with security measures in place, you can save money on premiums and enjoy greater security for all your important assets. So if you're looking to enjoy the many benefits that come with alarm monitoring services, be sure to get in touch with a reputable provider today. Nexlar's alarm monitoring solutions can help reduce your business's insurance premiums, so don't hesitate to give our company a call today.
Nexlar's alarm monitoring services are designed to give you peace of mind. They can provide you with round-the-clock protection, ensuring your business is always safe. Our state-of-the-art systems are designed to detect any unauthorized entry into your premises, and our trained professionals will immediately notify the authorities if an intrusion is detected. We offer a variety of security packages that can be customized to meet your business's needs. Our team of experts will also work with you to ensure that your system is installed correctly and operating effectively. In addition, our alarm monitoring service can also be customized to provide you with additional features such as fire and smoke detection, panic button activation, and more. Contact us today to learn more.
24-hour emergency services
Criminal activity doesn't take a day off, and neither do we. Our 24-hour alarm monitoring services mean your business will always have someone watching out for it, even when you're closed. Whether it's a break-in or a fire emergency, our team of experts will be there to help. And if you need repairs for your alarm systems, we'll quickly dispatch repair technicians to your location as soon as possible. We know just how important your financial investment is to you, and we'll do everything we can to protect it.
Fully licensed and trained technicians.
If you are looking for an alarm monitoring service, you want to make sure that the company you choose is fully licensed and trained. Our technicians are licensed and trained in alarm monitoring, so you can rest assured that your business is in good hands. We also offer a variety of security services, including CCTV installation and access control. We can tailor our services to meet your specific needs. Contact Nexlar's experts to schedule a free consultation.
Direct communication with emergency services for a lightning-speed response.
We understand that alarm monitoring is a crucial service that can mean the difference between being profitable and potential lawsuits in an emergency situation. That's why you want lightning-fast communication with emergency services when you choose an alarm monitoring service. And that's what we offer at our services. We have direct communication with emergency services so that help will be on the way as soon as possible. In addition, our highly trained staff is available 24/7 to answer your call and dispatch help to your location. So please don't wait until it's too late. Choose us for your alarm monitoring needs.
Have full insights with our alarm loggers
With our alarm loggers, you'll get full insights into what's going on at your business so you can make informed decisions about security. Our company's alarm systems are designed to give you peace of mind, with real-time alerts and a complete record of all activities. Choose us for alarm monitoring, and you'll never have to worry about the safety of your business again.
Alarm systems servicing and maintenance and repair
When it comes to alarm monitoring, you want a company you can trust. That's why you should choose us. We're experts in servicing and repairing alarm systems. We'll make sure that your system is always in top working condition. And if there's ever a problem, we'll be there to fix it quickly and efficiently. Your business is safe and secure when you choose us for alarm monitoring, and you can.
Remote control of your alarm systems turns them on and off via your mobile device.
Our alarm monitoring services will give you the convenience and peace of mind that most won't. With our mobile app, you can easily turn your alarm on and off, no matter where you are. We understand that sometimes, constantly receiving alerts can get irritating, especially when those alerts are mainly false alarms. With an internet connection, you'll be able to configure which alarms you want to receive as you desire. You'll also receive alerts if there's any activity at your business, so you can stay informed and take action if necessary. Our service is reliable and affordable. So, you can rest assured that your business's premises are protected. Reach us at (281) 407-0768 today to learn more about our alarm monitoring services.
Great customer service at an excellent price
When you choose us for your business alarm monitoring, you can be confident that you're getting courteous and professional service. Nexlar's technicians are some of the most experienced in the country and will work diligently to ensure that your alarm monitoring system is properly installed and working correctly. We also offer a comprehensive monitoring package that includes regular maintenance and 24/7 support. So if you ever have any security problems or questions, we're always here to help. In addition, we offer a competitive pricing structure that is designed to fit your budget. Every customer is different; that's why we'll work with you to find the right solution for your needs. Call Nexlar's expert today.
A trusted member of the TBFAA
Our alarm monitoring company is a trusted member of the TBFAA. Nexlar has been in business for over ten years and has an A+ rating with the Better Business Bureau. Our customers can always trust that they are receiving the highest quality service possible. Our alarm monitoring services are affordable and reliable, and our team of experts is always available to answer any commercial security-related questions that you may have. Call (281) 407-0768 to learn more about our alarm monitoring services. You'll see why we're the best in the business!
We are intrusion detection experts.
For over 30 years, the security professionals at our security company have been helping businesses like yours to protect their premises against intrusion. We are experts in detecting and preventing unauthorized entry, and we have a wide range of products and services to suit your needs. We can install state-of-the-art security systems, provide 24/7 monitoring, and even train your staff in effective security procedures. Whether you're looking to deter burglars, prevent vandalism, or simply give yourself peace of mind, we can help.
Your security is our top priority.
We have experienced professionals who are available 24/7 to monitor your alarm system and respond to any emergencies. We also offer a variety of features such as automation and remote access so you can control your security system from anywhere. When you choose us for alarm monitoring, you can rest assured knowing that your security is our top priority. Schedule a free consultation today.
Advanced technology you can trust
With Nexlar's advanced technology, you can rest assured that your business is always safe and sound. Our state-of-the-art monitoring systems ensure that any suspicious activity is immediately detected and reported. We also offer around-the-clock monitoring, so you can always be sure that someone is keeping an eye on your business. With our help, you can focus on running your business without worrying about security.
Secret monitoring facility to make sure we don't miss anything
We have a modern and advanced location where all alarm monitoring is done. Our state-of-the-art facility is equipped with the latest security technology, ensuring that your business is always protected. We also have friendly, highly trained, and experienced staff who are available 24/7 to monitor your alarms and respond to any potential threats. With our comprehensive security solutions, you can rest assured that your property is safe.
Additional live video monitoring upon request
We offer live
video monitoring
in addition to traditional alarm monitoring services. This means that our team can not only respond to alarms but also provide live video footage of what's happening on your property. This is a valuable tool in deterring crime and helping to solve crimes that do occur. In addition, our video monitoring services are available 24 hours a day, seven days a week. So, you can continue running your business's operations knowing that your employees and assets are always being monitored.
Free quick quotes with no hidden costs
We offer free quick quotes so you can get an idea of the cost before you commit. And we're confident we can provide the best service at the best price. We have a passionate team of experienced individuals who will work with you to customize a security system that meets your specific needs. So don't wait another day. Contact (281) 407-0768 today and let us help you protect your business. If you are interested in learning more about our alarm monitoring services and would like a free quote or consultation, please do not hesitate to call us. Our team of experts will provide you with all the information you need to make an informed decision about your business's security needs.
We offer flexible installment payment options.
The payment plans we offer are flexible, so you can choose a plan that fits your budget. Whether you're looking for a monthly or annual plan, we have an option for you. And if you're not sure which plan is right for you, our team of security experts is always available to consult with you and help you find the perfect solution. So if you're looking for alarm monitoring services that are both affordable and flexible, then give us a call today.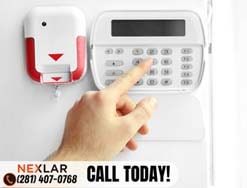 If you own a commercial property, our alarm monitoring company offers a wide variety of security services tailored to the needs of commercial properties. We can install and maintain alarm systems, monitor CCTV footage, and provide 24-hour support. In addition, our security company offers a range of add-on services such as access control and intruder detection. With our help, you can make sure your commercial property is always protected.
HOAs and gated communities
Nexlar is proud to serve the HOAs and gated communities in the Houston area. By monitoring the alarm systems of these commercial properties, Nexlar's team can help to ensure the safety of your tenants and their property. Our company can provide a rapid response to emergencies and reduces the risk of false alarms with our
video alarm solutions
.
We are available 24/7 to monitor your alarm system and respond to any emergencies that may arise. In addition, we offer installment plans and discounts on our services, making us the most affordable option for community safety.
Federal and government agencies
As a leading provider of alarm monitoring services in Houston, TX, our company is proud to offer our services to federal and government institutions. Nexlar's experienced team of professionals is dedicated to providing the highest level of service possible. We are proud to serve some of the most respected names in the city. For example, we have worked with Walmart and the Houston Police Department. In addition, we have also worked with other federal agencies. With our proven track record of successfully securing businesses in the city, we are confident that our specialists can provide the same high-quality service and support to your institution.
At our alarm monitoring company, we understand the unique security needs of hospitals and schools. Nexlar has the experience and expertise to design and implement a comprehensive alarm monitoring solution that meets the specific needs of these institutions. For example, we can provide peak hour alarm surveillance for hallways and classrooms.
We can also provide 24/7 monitoring and notify hospital managers of suspicious case activity or alert medical personnel if a patient is trying to access areas that are only authorized for medical personnel. We are confident that our alarm monitoring company can provide the security solutions you need to keep your hospital or school safe. Call us for a free consultation.
If you want to help protect your business, customers, and employees, Nexlar offers a variety of alarm monitoring systems. We offer wired and wireless options, and our team of experts can help you choose the best system that suits your needs. You're probably wondering, what makes us different? Well, take a quick look at some of the clients we've worked with and what they had to say. For all your alarm monitoring needs, call us today.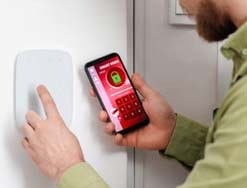 Modern Alarm Monitoring Systems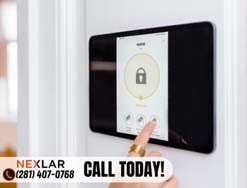 Alarm systems are not what they used to be. The days of a few sensors and a single alarm sound are gone. Today's alarm systems are much more sophisticated, intelligent, and reliable. They can be monitored via the internet from anywhere in the world. They can also be set to send text or email alerts when something happens automatically. And they can even be integrated with business automation systems so that doors can be locked and lights turned on if an intruder is detected. Thanks to these advancements, commercial building managers, employees, and guests can feel safe and secure.
Say goodbye to tedious manual tasks and take advantage of the convenience, efficiency, and peace of mind that only automation can provide. We offer our customers a range of customized features so that they can truly enjoy the benefits of automation. Whether you want to choose what type of monitoring you require or if you prefer to have different alerts for different situations, we have options that will suit your individual needs and preferences.
Our alarm monitoring systems are designed with enhanced compatibility in mind. They can be seamlessly integrated with other technology in order to provide optimal protection and convenience. With their reliable performance, our alarm monitoring services truly provide an unparalleled level of security for your commercial property.
Alarm monitoring needs planning. Alarm monitoring systems can only do their job effectively if they are set up and configured properly. Where should sensors be placed in order to ensure maximum coverage and protection? Do you have future expansion needs and other potential changes that may affect alarm settings over time? These are factors that need to be taken into account from the start. With this in mind, we can help you ensure that our alarm monitoring solutions meet the unique needs of your business and provide you with the security you need for the long term.
At our company, we understand the critical role that alarm monitoring plays in keeping businesses secure. That's why our alarm monitoring process starts with a free assessment of your business needs. By getting to know these needs, we are able to carefully craft a customized plan that will help your business achieve its security goals and objectives over the next few years. Whether you need an advanced intrusion detection system or round-the-clock video surveillance, our team of expert technicians will work with you every step to ensure you have everything you need for optimal security. So if you're looking for comprehensive security solutions at an affordable price, call our company for alarm monitoring services that are second to none!
Our flexible payment plans and free quotes make it easy for all businesses to enjoy the peace of mind that comes with a robust security system. Whether you need 24-hour coverage or only during regular business hours, we have a plan that will work for you. And, because we understand that every business has unique needs, all of our alarm monitoring plans are fully customizable to meet your individual needs and budget. Call Nexlar at (281) 407-0768 to get a free quote.
Alarm monitoring system installation and service provision
We'll get your alarm monitoring system up and running and will be there to troubleshoot any issues that arise and ensure that it continues to operate smoothly at all times. Contact Nexlar for commercial alarm monitoring solutions in Houston, TX. We do security system installations and repairs for businesses of all sizes. We also offer complimentary onsite surveys, this way, you can have complete faith that your property is secured from potential threats.
Book a free consultation with Nexlar's experts. Call (281) 407-0768

Commercial Alarm Monitoring Service Area
Houston
Sugar Land
Spring
Katy
Kingwood
Stafford
Conroe
Texas City
Cypress
The Woodlands
Webster
League City
Bellaire
Missouri City
Friendswood
Humble
Richmond
Pasadena
Baytown
Tomball
Galveston
Galveston County
Pearland
Seabrook
Lake Jackson
Channelview
New Caney
Manvel
South Houston
Magnolia
Kemah
Rosenberg
Alvin
Hempstead
Dickinson
Fulshear
New Ulm
Wallisville
Hunters Creek Village
Brookshire
Sweeny
Hardin
Hankamer
Danbury
Needville
Simonton
Gilchrist
High Island
Raywood
Piney Point Village
Orchard
North Houston
Anahuac
Romayor
Huffman
Cat Spring
Bellville
Dobbin
Damon
Highlands
Bacliff
San Felipe
Winnie
Kendleton
Guy
Galena Park
Danciger
Pinehurst
Liberty
Liberty County
Daisetta
Industry
Mont Belvieu
Bleiblerville
Old Ocean
Clear Lake Shores
Santa Fe
Bunker Hill Village
Porter
Liverpool
La Porte
Brazoria
Prairie View
Willis
Cleveland
Clute
Port Bolivar
Rosharon
Dayton
Crosby
Montgomery
Montgomery County
Freeport
Sealy
Fresno
Alief
Hitchcock
West Columbia
La Marque
Beasley
Wallis
Splendora
Devers
Hull
Hufsmith
Pattison
Thompsons
Oak Ridge North
Rye
West University Place
Angleton
Kenney
Hockley
Barker
Waller
Stowell
Deer Park
Sienna
Northeast Houston
Westfield
Near Northside
New Territory
Nassau Bay
Mt Houston
Needville
Porter Heights
Plum Grove
Rayford
Quintana
Rose Hill
Midline
Atascocita
Arcola
Addicks
Willowbrook
Willow
Williams
Westchase
West University Place
Waverly
Turtle Bayou
Trammel
Timberlane Acres
Southeast Houston
Surfside Beach
Bayarea
Directions, That Matter!
Service And Quality Matters
Increase return on your investment with our custom security cameras, access control and software integration technology.
Quickly, professionally, on budget and on schedule, I would not hesitate to recommend Nexlar
Cliff M. Fogo de chao
CEO

Nexlar staff attend to our needs in a courteous and professional manner
Jeremy Director Of Facilities – BCFS

Outstanding customer service, fast and professional installation
Brenda

Thank you so much for your quick and effective work with us. Your technician was outstanding
Matthew
Production Group Leader (PGL) – Haliburton