Best And Most Reliable Alarm Company In Houston, Texas
If you are looking a reliable alarm company to install commercial security alarms for your business.
Please Call (281) 407-0768 For A Free Consultation

If you need Houston alarm companies to install commercial security alarms for your business, we are the alarm company in Houston, TX, to call. We don't just have a decade of experience. Nexlar has over 30 years worth of knowledge of commercial alarm systems. We have various brands to choose from, and our team will work with you to find the right one for your business. We understand that every business is unique. We will create a custom-tailored alarm system that meets your needs. We also offer several alarm services, including installation, monitoring, and repair. We are a member of the TBFAA, so whether you are looking for a simple alarm system or need integration with CCTV systems, you can trust that you have the right company on your side. Don't just assume that your business is safe. Protect it today. Call (281) 407-06758 for a free consultation.
REQUEST A FREE CONSULTATION

Our company believes that security should be a priority for any business. But we also believe our security solutions can increase your return on investment. That's why we specialize in affordable security solutions that increase ROI for every business. Our team of experts will work to identify the areas of your business most at risk and develop a customized alarm system to address those risks. We'll also work with you to implement security measures that will help you to save money in the long run.
Video Verification Alarm Systems
Need quicker police response? With our video verification alarms, this is possible. These systems send a live video feed to a monitoring center whenever your alarm is triggered. This way, the police can see footage of the break-in in progress, confirm whether it's an intruder or not, and dispatch officers to the scene immediately to apprehend the suspects.
Avoid taking necessary action.
The experience of getting a security alarm only to find out that it was a false alarm is as bad as it gets. This can be stressful and unnecessarily costly, especially if you have to alert your team or the authorities by yourself. Nexlar's video verification
alarm systems
provide a solution to this problem. By sending a live video feed to the monitoring center, these systems allow operators to verify whether an alarm is real or not. This means that you won't be wasting your time (and money) on false alarms. Call us to get a free, no-obligation quote.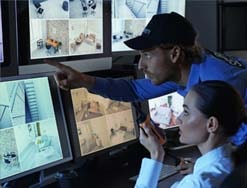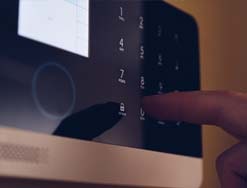 Detect doors opening, vehicles, smoke, and more with our wireless security alarms. Running a highly productive business comes with a lot of responsibility. We understand that. We also know that the last thing you want to do is spend more money than you need to on physical security guards to alert you each time someone is trying to access your premises illegally. Our state-of-the-art sensors can detect cars, motorbikes, and pedestrians approaching your property or specific parts of your premises, giving you plenty of time to take action. And because our systems are wireless, they won't negatively impact the look of your commercial building.
Smoke And Carbon Monoxide Alarms

Get notified at the first sign of smoke. This will give you and your employees and customers enough time to evacuate the premises safely. We can also provide alarms that can detect carbon monoxide and reduce the risk of gas poisoning. If you manage a factory or warehouse in Houston, TX, call us for more information about our smoke and carbon monoxide alarm systems. You won't regret it. We promise.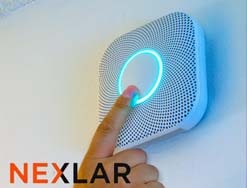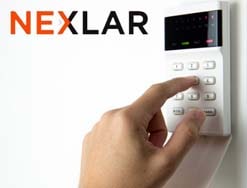 If wireless alarms don't sound like a viable option for you, Nexlar can install hardwired alarm systems that are directly connected to your electrical system via power cables. Get the reliability you need from a custom-built alarm system for your business today. Call (281) 407-0768.
Simplify convenience for you and your security staff with remote-controlled alarm systems. With this feature, you can arm or disarm the systems from a distance.
Mountable on almost any surface
Where do you want your alarms placed? Outside doors and windows or in storage areas? Our team has your back. With our expertise, there's nowhere we can place your alarm system, and there's no configuration we can't do. We can mount them on door frames to make it easier for you to know when someone tries to access a specific room. Contact Nexlar's professionals to learn more about our alarm installation services.
Your business is growing, and you may need to add more alarm systems in the future. Our alarms are designed with this scalability and flexibility in mind. Adding new sensors and devices to the system will be easier and save you costs on buying new whole systems.
Siren volume alarm control/disable functions.
How loud do you want your alert to be? Do you want your alarm completely silent? We've got you covered. Nexlar's alarms allow you to determine how loud the siren should be and whether or not you want it disabled.
Built-in backup batteries
If there is ever any power outage, you can count on Nexlar's alarms to stay fully operational. Their backup batteries are quick to kick in and keep the systems running. And if an intruder tampers with the wiring, you can count on these backup batteries to keep the system operational long enough for the authorities to be notified.
Can notify up to 5 separate numbers
Don't get stuck with an alarm system that can notify only one number at a time. Technology has advanced way too much for that. With Nexlar's alarms, rest assured that up to 5 numbers will be notified in the event of an emergency. Whether it's a fire, break-in, or medical emergency, our alarm systems are designed to get help to you fast. Even if that means notifying the police, fire department, or security staff at once, and because we use the latest technology, you can be sure that our alarm systems are reliable and easy to use. Get in touch with our intrusion system installers in Houston, TX, to learn more about our multi-number alarm systems.
Arm and disarm your alarm systems at any time via a mobile application. With this web-based application, you can check the status of your sensors and even view live footage from anywhere in the world. Alfred360 also allows you to set up custom alerts and notifications, so you will always be updated when the setting you configure is met. Plus, this application is backed by 24/7 customer support and a security team that can configure it to work with already existing security systems like access control gates and video surveillance cameras. Call (281) 407-0768 to try this app for FREE.
Solar-powered options available
Are you looking for alarm systems that are environmentally friendly and can help you keep your business's overheads at a minimum? Consider Nexlar's solar-powered alarm systems. These systems will keep your business safe as they are reliable since they aren't subject to the same power fluctuations that can occur with battery-operated alarm systems. They also do not require any wiring, and as a result, they'll be the best bet for commercial property managers looking for a clutter-free and reliable intrusion detection system.
Our alarm systems have motion detection capabilities that can trigger the alarm in the event of suspicious activity. They use sensors to detect movement and then send an alert to the monitoring center. This allows our trained professionals to assess the situation and take appropriate action quickly. The motion detection feature can also be used to trigger cameras so that your monitoring team can get a clear picture of what is happening. This helps us to more quickly and effectively respond to any potential threats.
You can expect the most hassle-free and seamless installation when you work with us. We know that not everyone is an expert in cabling. That's why we'll do it for you. That way, you can ensure your system is installed correctly and won't have any problems connecting. So, if you want to keep your property safe with a hassle-free method, choose our alarm systems. We'll make sure that every component is installed correctly and working properly.
Wide wireless range up to 25 meters
You can expect the most hassle-free and seamless installation when you work with us. We know that not everyone is an expert in cabling. That's why we'll do it for you. That way, you can ensure your system is installed correctly and won't have any problems connecting. So, if you want to keep your property safe with a hassle-free method, choose our alarm systems. We'll make sure that every component is installed correctly and working properly.
Transmitters and receivers
if you need new transmitters and receivers for an existing alarm system, we've got you covered. The transmitters send out a signal that the receiver picks up. If the receiver does not pick up the signal, the alarm is not triggered. The transmitter can be placed in many locations, such as on a door or window or even in a hidden location. The receiver can be placed in several locations, such as on a wall or shelf. The transmitters and receivers can be used in conjunction with each other to create an effective alarm system.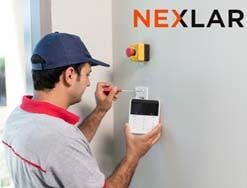 Stay connected and in control. With our remotes for alarm systems, you can arm and disarm your system from anywhere. You can also receive signal alerts if there's an intrusion.
At Nexlar, we understand that sometimes components break and may need fixing before the whole system fails completely. The timer modules we carry help to solve this problem by automatically replacing the batteries in the alarm system. This way, you won't ever have to worry about your alarm system going off in the middle of the night unnecessarily.
If your current alarm system has an old or faulty trigger module, it may be the right time to switch to Nexlar's trigger modules. They'll ensure that the alarm is only triggered when there is an actual emergency. This will reduce false alarms, which can be both disruptive and costly.
If you need to replace your antenna or upgrade your antenna to capture and detect intruders over a wider range, depending on the alarm system you have, we can help. The antennas we have send out a signal that is reflected off of objects in the environment. When the signal is reflected, it is received by the antenna and analyzed by a computer. If the signal is distorted, this can indicate that an intruder is present. Call us for more information.
Why Do Businesses In Houston, TX Work With Us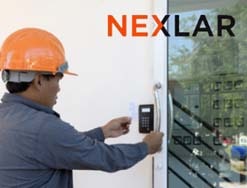 If you're a business owner in Houston, you know that there are certain things you can count on – like the sun shining and the people being friendly. Another thing you can count on is our reliable and affordable alarm company. Here's why businesses throughout Texas choose us as their go-to alarm systems provider.
High-quality and fully licensed

We are a BBB-accredited business with an A+ rating. We have high-quality alarm systems that are rated A+ by the Better Business Bureau. This means that you can trust our products to keep your business safe always. With over two decades of experience servicing Houston and the neighboring cities, we have the knowledge and skills to ensure that you receive the best possible service.
Whether you're looking for a short-term solution or a long-term investment, we have a plan that will work for you. We have monthly plans and annual plans that offer even more savings. And for businesses that want the most comprehensive protection, we offer a custom-tailored plan that includes everything from 24/7 monitoring to automation. So whatever your security needs may be, Nexlar has you covered. Call (281) 407-0768 today to learn more about our flexible payment options.
An excellent 30yr+ track record

Choose a security company with a proven track record of keeping people safe. We have over 30 years of collective experience in the security industry. We've installed alarms in federal facilities, commercial properties, and more. We know how to tailor each system to the specific needs of our clients. We're also trusted by many businesses in the area, which means we're committed to providing the highest level of customer service.
No alarm company in Houston, TX, does it like us. At Nexlar, we pride ourselves on the value we provide to all our clients. Whether you run a small business or a large one, our team will ensure you get the most value for your money.
Nexlar's alarms use cutting-edge technology that provides you and your team with real-time alerts so you can be assured that your property is well protected. With custom settings and alerts, you can have peace of mind knowing that your property is safe from intrusion. You can't go wrong with Nexlar. Schedule your free consultation today.
100% customer satisfaction
Satisfaction is our guarantee. We're the commercial security company that puts you first. You can count on our company to be there when you need us, 24/7. We understand that sometimes just installation isn't enough. That's why we offer various services that include but are not limited to monitoring the alarm system, disarming the alarm system, responding to alarms, and providing customer service. Our state-of-the-art alarm systems are designed to keep your assets safe and your guests safer. And if there's ever an issue, our team of experts will work fast to ensure it is resolved.
As a proud Texas Burglar and Fire Alarm Association (TBFAA) member, our alarm company is committed to providing the friendliest customer service and the highest level of professionalism. We believe that TFBAA members are the best in the business, and we are proud to be part of such a prestigious organization. Nexlar is held to strict ethical standards and is required to maintain a high level of expertise. As a result, you can trust our company to provide the highest quality alarm systems and services.
We offer free quotes and one-on-one consultations.
Sometimes, a quick Google search isn't good enough, and chances are, you will end up with an alarm system that doesn't fit your business needs. We get that. We are an alarm company that prides itself on providing an in-depth level of service. We're not just here to install an alarm system – we're here to help you secure an investment you believe in – your business. That's why we offer free, in-depth consultations. One of our security experts will sit with you and discuss your needs, and then we'll build a customized system to fill that need. And because we are local to the Houston area, we can come to your premises for a complimentary inspection and see where best the alarm systems would be installed, should you move forward.
Commercial Security systems.
We offer low-voltage alarms that are designed to meet the cost and security requirements of businesses of all sizes. We understand that you don't want your security bill to hinder your profitability. Contact us on (281) 407-0768 for more information about our low-voltage commercial security systems.
Security solution for your business.
Our alarm installation company is a leading integrator of alarm systems, and we offer integration with several CCTV brands. This means you can view footage of your premises during an alert to discern the threat before making hasty decisions. CCTV integration can provide a more holistic security solution for your business and a more effective response to threats.
Repair services that never sleep
Are you looking for an alarm company that also does alarm system repair? Look no further than us. We are hardware experts and can fix any issue you're having with your alarm system. Plus, we're always up-to-date on the latest technology, so you can be confident that your repairs will be carried out using the most up-to-date equipment. We understand that an alarm system is a vital part of keeping your assets and employees safe, which is why we offer 24/7 support so you can rest easy knowing we're always here to help. Give Nexlar a call today to schedule a repair.
A wide range of customizable alarm systems

Sure, there are a lot of alarm companies out there, but few offer the same tailored approach as we do. We understand that no businesses are the same. Therefore, no two alarm systems should be either. That's why Nexlar offers a wide range of customizable alarm systems and alarm monitoring plans. So you can choose the one that's right for you. With our help, you can protect your premises exactly the way you want them to be protected. Call (281) 407-0768 and let our team build the right alarm system for your business.
Fast and reliable expert installation
Alarm system installation is our area of expertise. We have the technical knowledge and skills to complete the job quickly and efficiently. Our experts will work while keeping you updated to find the best alarm system for your needs and budget. We'll then install it professionally and make sure it's working properly. You can rest assured that your home or business is well-protected with a reliable alarm system from our company. Contact Nexlar today to get started with a free consultation.
Need an alarm company that will be there for you after the initial installation? We are a quick call away. We believe that it's highly important to provide ongoing support to our customers, so you can always feel confident that your system is up and running properly. Our technical team is available 24/7 to help with any questions or concerns you may have, and we offer regular maintenance and updates to keep your system current. With our years of experience and dedication to customer service, you can rest assured that when you need us most, we'll be there for you.
Whether you are looking for HikVisions's famous alarm systems or BOSCH alarms, we've got you covered. Nexlar carries only the best alarm brands that are sure to give your business the protection it needs. Contact us for alarms for factories, offices, retail stores, and other commercial buildings.
If you are interested to install the branded Alarm System to our commercial properties and business.
Please Call Now (281) 407-0768.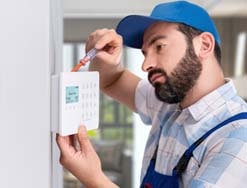 Commercial Alarm Companies Service Area
Houston
Sugar Land
Spring
Katy
Kingwood
Stafford
Conroe
Texas City
Cypress
The Woodlands
Webster
League City
Bellaire
Missouri City
Friendswood
Humble
Richmond
Pasadena
Baytown
Tomball
Galveston
Galveston County
Pearland
Seabrook
Lake Jackson
Channelview
New Caney
Manvel
South Houston
Magnolia
Kemah
Rosenberg
Alvin
Hempstead
Dickinson
Fulshear
New Ulm
Wallisville
Hunters Creek Village
Brookshire
Sweeny
Hardin
Hankamer
Danbury
Needville
Simonton
Gilchrist
High Island
Raywood
Piney Point Village
Orchard
North Houston
Anahuac
Romayor
Huffman
Cat Spring
Bellville
Dobbin
Damon
Highlands
Bacliff
San Felipe
Winnie
Kendleton
Guy
Galena Park
Danciger
Pinehurst
Liberty
Liberty County
Daisetta
Industry
Mont Belvieu
Bleiblerville
Old Ocean
Clear Lake Shores
Santa Fe
Bunker Hill Village
Porter
Liverpool
La Porte
Brazoria
Prairie View
Willis
Cleveland
Clute
Port Bolivar
Rosharon
Dayton
Crosby
Montgomery
Montgomery County
Freeport
Sealy
Fresno
Alief
Hitchcock
West Columbia
La Marque
Beasley
Wallis
Splendora
Devers
Hull
Hufsmith
Pattison
Thompsons
Oak Ridge North
Rye
West University Place
Angleton
Kenney
Hockley
Barker
Waller
Stowell
Deer Park
Sienna
Northeast Houston
Westfield
Near Northside
New Territory
Nassau Bay
Mt Houston
Needville
Porter Heights
Plum Grove
Rayford
Quintana
Rose Hill
Midline
Atascocita
Arcola
Addicks
Willowbrook
Willow
Williams
Westchase
West University Place
Waverly
Turtle Bayou
Trammel
Timberlane Acres
Southeast Houston
Surfside Beach
Bayarea
Directions, That Matter!
Service And Quality Matters
Increase return on your investment with our custom security cameras, access control and software integration technology.
Quickly, professionally, on budget and on schedule, I would not hesitate to recommend Nexlar
Cliff M. Fogo de chao
CEO

Nexlar staff attend to our needs in a courteous and professional manner
Jeremy Director Of Facilities – BCFS

Outstanding customer service, fast and professional installation
Brenda

Thank you so much for your quick and effective work with us. Your technician was outstanding
Matthew
Production Group Leader (PGL) – Haliburton