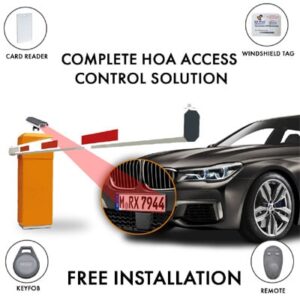 We are Gated Community Access Control, Experts
There are many ways to control access to community gates, from automated gate intercoms to vehicle tracking systems and pedestrian gates to pedestrian gates. Gates and access control systems usually do an excellent job of reducing crime in communities. Automated gate systems help reduce vehicle traffic, while pedestrian gates help to ensure only pedestrians can enter the community. Nexlar is your go-to company, focusing on minimizing your gated community cost by implementing cost-effective solutions that will save your community money
Our unique solutions are wireless. We integrate our access control system with electronic locks for door access control and pedestrian gates to minimize maintenance and installation costs.

Yes, we focus heavily on saving your gated community money.
Call our gated community experts today for a free consultation.

Looking for Gated Community Access control Technologies? Call us (281) 407-0768
Gated Community Access Control - Why we have the best solution
We have specially designed Alfred360 for HOA, Apartment complex, and gated communities. Our access control systems are wireless, and it works seamlessly with electronic locks and pedestrian gates. Alfred saves you money on installation and maintenance costs. If you are looking for a gate entry solution, look no further. Our access systems are proven to be the best in the industry. We provide a unique access control system that is wireless and combines access control with electronic locks. We will offer a free consultation and advice on keeping your gated community safe.

Alfred360 provides wireless access control and visitor management for gated communities and Home Owner Associations. Alfred360 can save gated communities and Home Owner Associations thousands of dollars by replacing expensive telephone lines and optimizing gate access and visitor management. Alfred360 saved over $1 million for a client in Houston, Texas, by reducing the number of security guards from 14 to 4.
Nexlar Guarantees the best prices on gate access control tags, gate remotes, and card readers for your gated community. Our access control system works with license plate readers to allow visitors and residents access using their license plate as a credential.
Alfred360 reduces the high cost of landlines and expensive security guards. Our Alfred360 telephone entry system is innovative. Alfred360 visitor management system recognizes your visitor license plate and notifies you when your authorized visitor enters your gate.
You will be able to enter your gated community using your license plate, remote, windshield toll tag, RFID card, and pin code.
Call us to learn more about how Alfred can streamline your gated community access control.
Frequently Asked Questions:

1. What is Gated Community Access Control?
2. What are the most used gated community access system?
3. What are the benefits of the proper gated community access control?
4. Which access control system is best for our community?
1. What is Gated Community Access Control?
A gated community access control is a security solution you use to manage tenants and authorized guests to enter your community.
Telephone entry prevents unwanted intruders. Gated communities rely on telephone entry systems to quickly enter the gate and keep unwanted guests out.
Community guests or delivery vehicles can use unique visitor codes or request specific residents through these systems.
Guest can also use the callbox to contact the residents.
Residents can quickly provide access to your gated community using their intelligent cellphone.
2. What are the most used gated community access system?
Stand Alone Keypad for gate Access Control
Keypads are one of the most straightforward access control systems. Instead of using a physical device to request access to the property, tenants use an assigned code or PIN. They enter this PIN on the gate access control device, which checks its database to make sure this PIN is registered. When a person enters a valid code, the door will open.
Stand Alone access control are keypads connected directly to the gate operator. Stand Alone keypad is simple to use and inexpensive. The standalone keyboard) has a built-in logic board. When you enter the programmed user code, the electrical locking mechanism opens or closes, allowing access through the door. Standalone keypads are a liability for your community because they are easy to bypass, and it does not keep track of entries. Keypads for gate access control systems can save time and money for facility staff who do not need to issue key fobs or physical cards to each tenant. However, tenants can forget their PIN, and you don't know which pin the tenants have.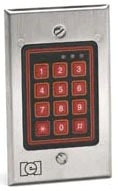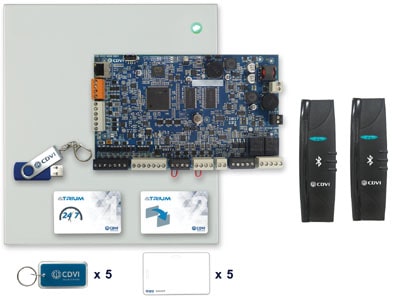 Full RFID Access Control System
These are the most common systems used for commercial access control. RFID stands for "Radio Frequency Identification ."This technology uses a scanner to read the data stored inside an RFID tag using radio waves. Most RFID access control systems use magnetic keys or remote controls. Each tenant receives one of the registered devices for accessing the property. RFID access control systems have a database of every card or remote control registered in the system. When someone scans their remote at the door, the system checks to see if the remote is registered.
RFID Access system control gates entries, doors, and pedestrian gates.
Many businesses and large HOA gated communities use this type of system. The reports are simple, easy to understand, and readily available. You can add or delete cards or remotes from a computer or cellphone. Some of these systems you can view on your cellphone. Additionally, you can use your smartphone instead of an RFID card. RFID access control solution does not support visitor management, and for this reason, most communities will also install a telephone entry system.
Telephone Entry Systems
A Telephone Entry System is a device installed at the entryway of the building. It enables communication and access between tenants and their visitors and operates through a phone line. It also requires hardware to be installed at the entryway and a phone to receive the calls. Each Entry Phone System has a microphone and speaker, allowing tenants to speak with their visitors before granting them access to the property. To use a telephone entry system, a visitor needs to know the resident's unit number they want to call. The visitor then selects the unit number from the telephone entry system's directory list. The telephone entry system dials the resident's registered phone number. The resident picks up the call and presses a button to unlock the door. Some telephone entry systems do not require units to have in-unit hardware. Instead, the telephone entry system calls the resident directly.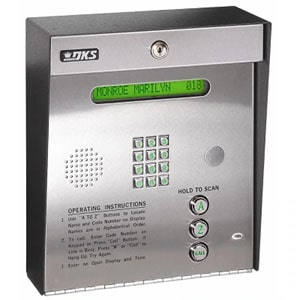 3. Benefits of the best gated access control system
Alfred360 made it easy for you to select the proper gated access control. The benefits of Alfred360 outweigh the cost. Many HOA has saved thousands with our system.
The benefits:
 Replace outdated, expensive landlines – This alone will save your HOA thousands per year.

Wireless lock integration – makes system easy and inexpensive to maintain and install

License plate recognition – keep track of everyone entering and existing gates

On the Cloud – VIew system on the cloud

User-friendly – Easy to use, allowing you to add and delete users easily

Guaranteed best price on tag and remotes

Visitor management – Keeps track of your visitor and contractor

Text notification: You will receive a notification when your visitor arrives.

Life-Time warranty – Yes, you heard it right – the system is maintenance free for your community

Full Support – Save money by managing the system yourself
4. Which access control system is best for our community?
Alfred360 is an all-in-one solution with four different access control modules. The first module is Alfred Call-box. Easy to use cloud base telephone entry. The second module uses a card reader and RFID remotes. The third module is a license plate reader module. You can enter your entry gate with your license plate. with this module, your visitor can enter the property with their registered license plate. The last module is visitor management. You can add and delete visitors for easy entry with the visitor management module.
Alfred's access system module works with wireless locks and electric strikes. This module can secure clubhouses, pools, and any pedestrian gate.

Directions, That Matter!
Service And Quality Matters
Increase return on your investment with our custom security cameras, access control and software integration technology.
Quickly, professionally, on budget and on schedule, I would not hesitate to recommend Nexlar
Cliff M. Fogo de chao
CEO

Nexlar staff attend to our needs in a courteous and professional manner
Jeremy Director Of Facilities – BCFS

Outstanding customer service, fast and professional installation
Brenda

Thank you so much for your quick and effective work with us. Your technician was outstanding
Matthew
Production Group Leader (PGL) – Haliburton