Looking for Body Temperature Detection Cameras Technologies? Call us (281) 407-0768
Thermal Temperature Detection Camera for Body Temperature Detection
Nexlar's advanced body temperature detection sensor and algorithms with Temperature Screening Thermographic Cameras are designed to detect elevated skin-surface temperatures, and can thus be used for rapid and preliminary temperature screening in office buildings, factories, stations, airports and other public places, with accuracy up to ±0.3°C.
One second to detect skin-surface temperature of a person
Non-contact measurement to avoid physical contact
Immediately alarming to notify operators
AI detection to reduce false alarms from other heat sources
THERMAL DETECTION SOLUTIONS
Nexlar walk through metal detector with body temperature measurement
Megapixel Security cameras are recommended when image detail matters the most. With the ability to zoom in recoded images, Megapixel IP Cameras provides you with forensic evidence beyond believe. Affordable and customizable, this system is highly recommended for most business.

Effectively detects body temperature in high-traffic areas
Infrared body temperature detector
18 detection zones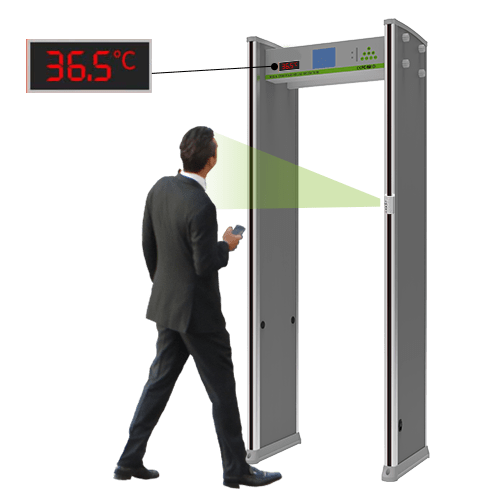 Nexlar Face, Palm-vein, Mask and Body Temperature Detection Camera
Nexlar Face, Palm-vein, Mask and Body Temperature Detection cameras are high-speed biometric access control system terminal with face, palm vein, fingerprint, mask and fever recognition.
A perfect choice to improve safety in the premises of public areas such as hospitals, factories, schools, commercial buildings, stations.
Fast and accurate body temperature measurement
Masked individual identification during facial and palm verification
Enhanced Visible Light Facial Recognition with Deep Learning built-in