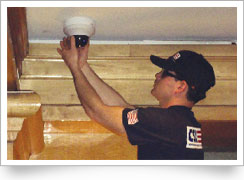 Nexlar Security Surveillance installer team is proud to provided state of the art equipment with unmatched installation quality. With years of experience our licensed installers can provide a worry free installation and equipment training. Our technician are highly experienced on installing, program, repair and service analog security cameras, IP surveillance systems, PTZ cameras, HD CCTV, video analytics and more. We are rated "A" by the better business bureau and five star by yahoo local users. Call us today for free onsite security consultation.
We have installed and integrated security cameras for waste management, waste connection, episcopal catholic school, first Methodist church , nestle , West University Methodist church, UTLX, advance containment system , wood bend subdivision, comfort inn , club quarters, and many other happy clients. Visit our testimonial pages for more details.
Our CCTV Installer team is equipped with knowledge and expertise to integrate enterprise level security cameras, automatic gates, access control, alarm systems, sound system and building controls.