Looking for Houston Virtual Security Systems Expert? Call us (281) 407-0768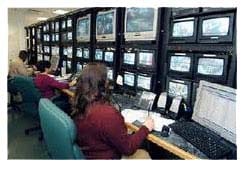 Houston Virtual Security Guard Services
Nexlar Security provides real-time , interactive video monitoring. Using surveillance network Nexlar Security video guard tours on a scheduled, emergency on as-needed basis. Protect your property with unparalleled service that combines video monitoring and Virtual guards 24/7. This significantly reduce personnel cost and improve site security.
Virtual Guard Through Video Analytics offers superior analytics to transform your video surveillance system into a dynamic, real-time, proactive system that delivers early warning of security breaches, fast appearance-match video search, and new levels of video quality, network and storage efficiency. It sports state-of-the-art, ultra-wide dynamic range day/night detection and the only self-learning video analytics system-all leading to the highest degree of accuracy with the fewest false alarms in the industry.
All the equipment used as state of the art technology and all our technicians are highly trained.


Virtual & Remote Security Guard Solutions
Incident Reporting and Case Management
Dispatch
Visual Roster
e-Alert
Guard Tour
Notification and Workflow Automation
Analysis Reports
Administration Tool Kit
Analytics
Virtual And Remote Surveillance Benefits
Increases environment safety
Deters any employee theft
Prevents any Criminal Activity
Increases employees late night safety
Removes all unwanted people from your property
Tracks people moving to and from the high security areas
More efficient than the guards: no sick time, lawsuits, etc.
2-way audio and relay control
Non-proprietary system can integrate with any technology on the market
Easy-to-use and intuitive user interface regardless of on-site technology
Fully integrated video verification system with multi-view video cameras
Secure Internet access from anywhere, including via PDA and WAP
Full audit trail with secure online reports, event history and remote storage
Fully redundant architecture
Frequently asked questions about virtual guards.
Directions, That Matter!
Service And Quality Matters
Increase return on your investment with our custom security cameras, access control and software integration technology.
Quickly, professionally, on budget and on schedule, I would not hesitate to recommend Nexlar
Cliff M. Fogo de chao
CEO

Nexlar staff attend to our needs in a courteous and professional manner
Jeremy Director Of Facilities – BCFS

Outstanding customer service, fast and professional installation
Brenda

Thank you so much for your quick and effective work with us. Your technician was outstanding
Matthew
Production Group Leader (PGL) – Haliburton