Are you Looking for Security Cameras Installer Expert? Call us (281) 407-0768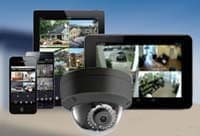 CCTV Surveillance Security Cameras
Nexlar Security is the leading security camera installer in Houston. We offer Free onsite security consultation and we have installed CCTV surveillance cameras in thousands of locations in Texas. As this number continues to grow, our security team is dedicated to provide excellent customer service and we always focus to surpass customer satisfaction. We specialize in the latest technologies for security cameras and CCTV camera systems Houston integration. We have been a member of the Better Business Bureau for many years without a single complaint due to our ability to resolve the issue in a rapid manner. We are rated "A" by the BBB and 5 star by Yahoo and Google Local users. Call us today for FREE onsite Security analysis (281) 407-0768
Our company offers many security camera / CCTV surveillance solutions. Our surveillance cameras Houston systems can be integrated with your smartphone to allow remote viewing. We provide FREE smartphone apps that are easy to use and reliable. Most of our security cameras carry 3 years warranty. We buy most of our products factory direct to ensure competitive advantage.

IP Security Cameras | IP Surveillance System
IP surveillance systems are connected to IP networks using Ethernet ports or Wi-Ficonnectivity. IP Surveillance Cameras can be recorded on a remote server or locally using a network video recorder (NVR). There are many great software's available in the market today. The leading software's are Milestone, GEOVision, Exacq Technologies, OnSSI, Honeywell, Vivotek, Video Insight, Axis, Avigilon and NUOO. Nexlar Security IP CCTV Houston Team is equipped with the knowledge and expertise to design, sale, install and troubleshoot IP security cameras. Houston CCTV Cameras and Security Camera Installers are friendly and knowledgeable. Call us today or Chat with one of our experts.
License Plates Recognition Cameras | License Plate Capture Software
License plate cameras are a specialized form of surveillance cameras with integrated software and lenses that help identify and capture vehicles license plates. In conjunction with License plate recognition software LPR cameras can offer real time license plate recognition in text format that can easily be stored and sent to authorities. The software can also trigger alerts and notifications in the occasion were unauthorized entries occur.
Video Megapixel Surveillance Cameras
Megapixel Security cameras are the latest technology on High Definition IP network surveillance. Most Megapixel security cameras require a network video recorder (NVR) to record and manage multiple cameras. There are many benefits to high definition megapixel cameras. One of the major benefits of IP megapixel cameras is the ability to zoom in on the recorded image.
Video Megapixel Surveillance Cameras
Our DVR system is easy to use and scalable. All our DVRs are capable of remote viewing and Smartphone Support. With up to 5 year warranty our DVR systems are reliable and affordable.
Directions, That Matter!
Service And Quality Matters
Increase return on your investment with our custom security cameras, access control and software integration technology.
Quickly, professionally, on budget and on schedule, I would not hesitate to recommend Nexlar
Cliff M. Fogo de chao
CEO

Nexlar staff attend to our needs in a courteous and professional manner
Jeremy Director Of Facilities – BCFS

Outstanding customer service, fast and professional installation
Brenda

Thank you so much for your quick and effective work with us. Your technician was outstanding
Matthew
Production Group Leader (PGL) – Haliburton