Best Video Surveillance Systems For Commercial Properties In Houston, Texas
Are you looking for reliable video surveillance systems in Houston, TX for your commercial property?
Please Call (281) 407-0768 For A Free Consultation

Do you need an affordable and reliable video surveillance solution to help keep your business safe from criminals? If so, Nexlar has just what you need. With our wide range of video surveillance options, we can provide you with the perfect system to meet your specific needs. Plus, our experts are here to help you every step of the way, from choosing the right system to installation and beyond. Call (281) 407-0768 to schedule a free consultation.
REQUEST A FREE CONSULTATION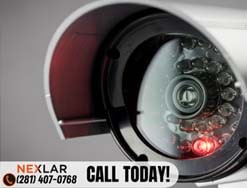 Give yourself and your entire staff the peace of mind they need for a more productive working environment. Let our video surveillance systems watch your premises. They have intelligent video analytics software that can tell the difference between humans, animals, and vehicles with 99% accuracy.
User-friendly customer support
Our company provides 24/7 technical support to our clients through our expert engineers, who will help you install, configure and operate your system flawlessly. Every client is different, and we understand that. That's why we will work with you to find the best solution for your specific situation. Contact us today for a free consultation.
Installed by professionals
Our solutions are backed by a large team of experienced professionals who have successfully delivered hundreds of projects across different industries. With years of experience, our experts will make sure your system is up and running quickly and efficiently. And because Nexlar uses only the highest quality products, you can be confident that your system will continue providing reliable protection for years to come.
Get real-time alerts and video footage of activity as it happens.
Through an application, you can view what is going on on your premises. Our video surveillance solutions are a great way to stay aware of what's happening around your property. They'll send alerts to your mobile phone via text or email. Whatever your needs, Nexlar can help you stay informed and safe.
Choose from a variety of camera models to suit your specific needs.
We specialize in commercial security systems. We have several models from the country's leading manufacturers of security systems. From small, discreet cameras to larger, more visible ones like mega-pixel cameras, we've got you covered. Our expert team performs installations and integrations and provides the guidance you need to make the most of your
video surveillance system
. So, if you want to make your property more secure, choose a video surveillance system you can trust. Contact Nexlar at (281) 407-0768 for a free consultation.
As a business owner, you know the importance of keeping an eye on your property and employees. But doing everything yourself can be difficult, especially with so many demands on your time. That's where our video surveillance solutions come in. Our live video monitoring service allows you to keep an eye on your property 24/7 without having to be there yourself. Nexlar's experts will work closely with you to customize a solution that meets your business's needs and budget. And because our service is subscription-based, there are no long-term contracts required. Don't wait. Connect with an expert from Nexlar to inquire more about our live video monitoring services for commercial properties.
We offer virtual guard services for businesses that don't want to hire physical guards to work full-time because of the extra costs and how unreliable they can be. What does this mean? Our virtual guard services offer a cost-effective alternative that can provide around-the-clock protection for your business. Our trained operators will monitor your cameras and provide real-time alerts if they spot any suspicious activity. We can also contact the police on your behalf if necessary. Reach us on (281) 407-0768 today to get a free estimate of how much you can save by contracting our virtual guards.
Communicate with customers or employees who may be in areas that are not well-lit or visible easier. Our video surveillance systems have two-way audio. It allows your security team to hear what's going on on the premises and get footage in real-time. Gone is the age of only being able to monitor and not communicate with individuals on the other side of the security cameras. Nexlar's advanced video surveillance cameras are different and give your business the competitive edge to fend off potential threats. They can also help you improve the overall experience for your customers. Call Nexlar today.
We know that many businesses in Houston, like yours, rely on CCTV cameras to keep an eye on their property and employees. But what if there is a way to make the surveillance system even smarter? Our video surveillance solutions are just that. Most video surveillance cameras are passive, meaning they can only record what's happening. Smart integration, on the other hand, adds an extra layer of security by actively tracking suspicious activity and sending alerts to the authorities. This is possible because our cameras are equipped with state-of-the-art AI technology that can distinguish between normal and abnormal behavior.
Keep a close eye on your commercial premises from anywhere in the world when you can't be on the premises. This way, you can alert the authorities or your team to quickly respond to any suspicious activity on your premises that they could be unaware of. Remote viewing can also be useful for monitoring employee activity. It is also helpful for providing a record of events that can be used for training or investigative purposes. Overall, the ability to remotely view video footage is a valuable tool for any business that wants to improve its security. Consult with Nexlar's professionals today.
Having CCTV and security cameras is not enough. It is also important to have a way to monitor and analyze the footage. Our video surveillance systems have a built-in analytics suite that makes it easy to do just that. The suite includes face recognition, object tracking, and automatic alerts. This allows businesses to identify potential threats and take action to prevent them quickly. In addition, the analytics suite can also be used for marketing purposes, such as identifying customer trends or analyzing store traffic. Call us for more information about our smart CCTV systems.
Choose us for a product that is built to last. Our video surveillance cameras are designed for durability, even in the most demanding environments. From the materials they are made out of to the way we assemble our cameras, we take every measure to make certain that our products can withstand years of heavy use. And if something does go wrong, we've got you covered with our industry-leading warranty.
Get what you pay for with a flexible plan and enjoy clear images with our video surveillance systems that can provide up to 4K HD footage every time. So, if there is an incident, you'll be able to identify the individual and provide authorities with a detailed description. You'll have the footage to make this job easier. With lower quality footage, this would not be possible, and your business can be left vulnerable. We believe it is important to have high-quality footage to protect your assets and employees. Consult with Nexlar to learn more about our
HD security cameras
.
Enjoy up to 60 frames per second of viewing. Our video surveillance systems capture fluid motion without blurring, making it useful for identifying individuals and collecting evidence. In addition, this high frame rate allows for real-time viewing, which can be important in fast-paced environments. This also ensures that video footage can be properly synchronized with other data sources, such as audio recordings. Our video surveillance systems can capture up to 60 frames per second. This gives our customers the clearest possible view of their business activity. It also provides our client's businesses with the best possible evidence in the event of an incident.
Certified quality management
Every video surveillance system we install goes through a rigorous quality control process. This ensures that you get cameras that are high quality and will meet your needs. We test the cameras in various conditions to make sure they're up to the task. Our company only recommends products we would use ourselves. We're confident in the quality of our security solutions. We're also committed to providing you with the best possible customer experience. Contact Nexlar's experts today to learn more about our quality control process. We can help you get the best video surveillance for your needs.
With our video surveillance systems, you can be easy to use, empowering your staff to take charge of their safety. Our cameras can provide clear, HD footage to help your security team identify intruders and solve crimes. Your employees will also have 24/7 support from our team of experts. So why wait? Give your employees the cutting-edge tools they need to stay safe and protect your business with our video surveillance systems. Call us today.
Thermal imaging capabilities
This allows the system to create heat maps, which can be used to identify hot spots or areas of high activity. Our thermal imaging cameras can see through smoke or fog. This makes them an invaluable tool in search and rescue operations or during foggy days. While thermal imaging is not perfect, Nexlar's nearly is and is a valuable addition to any business in the city. If you need a thermal imaging video surveillance system for your business or organization, please get in touch with us to receive a free quote. We would be happy to discuss your needs and provide you with the best solution possible.
When videos are captured and stored, they are automatically encrypted so that only authorized individuals can access them. This encryption ensures that the footage cannot be tampered with or viewed by unauthorized persons. Furthermore, it also prevents the footage from being shared without permission. As a result, if you share the footage with your staff or the authorities, you can rest assured that the footage remains secure. We offer custom software development services if you'd like a secure application that only your staff can access. Call one of Nexlar's experts for a free consultative session.
Any business owner knows that loss is a major concern. Costs can quickly spiral out of control if theft or damage is not prevented. Our video surveillance systems can be a valuable tool in reducing loss. By deterring potential thieves and catching them in the act, you can save your business a great deal of money. In addition, video footage can be used to identify and prosecute anyone who does manage to steal from your business. When it comes to protecting your business's bottom line, a video surveillance system is well worth the investment.
Improve your business operations today
If you're looking for a modern, budget-friendly way to streamline your business operations, our video surveillance systems can help. Our CCTV cameras can help you keep track of your inventory, monitor employee performance, and deter theft and vandalism. We have a variety of systems that can be tailored to your needs. So, you can get the most out of your security investment. Call Nexlar's experts today to learn more about our video surveillance systems and how they can make your business operations run smoother.
IP, analog, and hybrid video systems
We have IP cameras that connect to the internet and can be accessed remotely. Our analog cameras use coaxial cable to transmit footage to a DVR or monitor. Our team can also install hybrid video surveillance systems that are a combination of IP and analog cameras. Our video surveillance systems include all three types, so you can choose the system that best meets your needs. If you're interested in upgrading to an IP system or are simply curious about what they can do for your business, contact Nexlar for a free quote.
Save storage space with our smart compression technology.
Removing redundancies and unnecessary information from your footage. Our video surveillance systems are able to greatly reduce the amount of storage space required without sacrificing image quality. That's because they use smart compression technology. This is especially helpful for businesses and security teams that need to store large quantities of video footage. In addition, compression can also help to speed up the transmission of video data. This is especially important for real-time surveillance applications. Using smart compression technology, our video surveillance systems can provide high-quality images while minimizing storage and bandwidth requirements.
Capture clear footage in a variety of lighting conditions. Our extra-wide dynamic range allows the camera to adjust to changes in lighting, such as when a light is turned on or off or when there is a sudden shift from light to dark. This ensures that the footage is clear and easy to see, even in low-light conditions. Additionally, it helps to reduce motion blur, which can be especially important in situations where people or objects are moving quickly. Do you need to capture HD footage that can be used for security purposes? Consult with Nexlar for more about our video surveillance solutions for businesses.
Reduce false alerts and ensure you are alerted only when there are real threats. Motion detectors are often set off by things like leaves blowing in the wind or cars driving past. Our systems can more accurately detect actual threats by filtering out background noise. This feature also improves the clarity of footage. By removing excess sound, you're left with a cleaner video that's easier to review and identify important details. Constant exposure to loud noises over time can damage sensitive components, leading to premature failure. By filtering out unwanted sounds, your business can help to protect your investment and extend the life of your system. We've done this already for you. Take advantage of the other perks we have to offer.
Vandal-resistant and IP67-rated models to choose from
Our company has vandal-resistant models that are designed to withstand physical force, while the IP67-rated models are impervious to dust and water. These features make our video surveillance ideal for businesses that need to protect their premises from vandals or the elements. While indoor cameras may only require vandal resistance, outdoor cameras need to be able to withstand harsh weather conditions. We have plenty of camera models to choose from if you're looking for an impact-resistant or IP67-rated video surveillance camera. Our video surveillance team can help you find the right one your business needs and provide a free consultation. Reach us at (281) 407-0768 to get started.
Day and night vision options
While the daytime footage from these cameras can be useful, it is often the images captured at night that are most valuable. Nighttime video footage can provide clear details that can be used to identify suspects or get information about a crime. In addition, night vision cameras can help to monitor areas that are not well-lit, such as parking lots or alleyways. As a result, businesses that have video surveillance cameras with night vision capabilities can enjoy the peace and an extra layer of security. Let your business be that business that enjoys an extra level of security and peace of mind. Contract our company to install day and night cameras on your premises.
PTZ and fixed video surveillance systems
Cover large areas with ease using our PTZ cameras. These cameras allow you and your security team to move the lens remotely to capture footage from different angles. This way, you can get multiple perspectives. We also have fixed models that don't offer the same level of convenience and security but can still keep your business and its employees safe. Not sure which type your business needs? Consult with an expert from Nexlar today.
Since you're a business owner, you understand the importance of keeping your property and employees safe. That's why you're interested in video surveillance solutions. But before you make hire us, take a look at the customer reviews left by our previous clients. The clients we've worked with own businesses like yours that have benefitted from working with us. You'll also get an idea of what others say about our company and security solutions.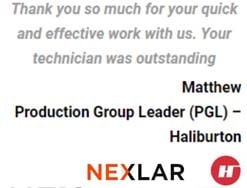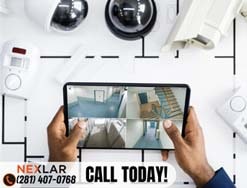 Do you need a video surveillance system for your business? If so, you're in luck; we provide video surveillance solutions for various industries. We are experts in the field. We can provide you with a system that meets your needs. Whether it's a healthcare facility or a small business, we've got you covered. Schedule a free consultative session with one of our experts today.
Federal and government agencies

Our video surveillance systems can provide a wealth of information to authorities. This helps them to solve crimes and keep the public safe. Nexlar's systems come equipped with powerful software that can provide real-time alerts and other useful information. With our video surveillance systems, government agencies can have the tools they need to keep communities safe.
Nexlar's video surveillance solutions offer several benefits and features that make them well-suited for this application. For example, some of our CCTV cameras come with night vision capabilities. In addition, our systems cover larger areas, and with smart analytics, airports can prevent criminals from boarding planes or exiting the airport.
High-rise apartment complexes, HOAs, and gated communities

Nexlar has been at the forefront of HOA security and the safety of gated communities in Houston, TX, for several years. Our video surveillance systems are designed specifically for HOAs and gated communities. They are easy to install and provide high-quality images that can be used for investigations. With Nexlar's systems in place, you can rest assured that your community is being monitored around the clock. Call us for our security solutions for HOAs and gated communities.

Commercial Video Surveillance Service Area
Houston
Sugar Land
Spring
Katy
Kingwood
Stafford
Conroe
Texas City
Cypress
The Woodlands
Webster
League City
Bellaire
Missouri City
Friendswood
Humble
Richmond
Pasadena
Baytown
Tomball
Galveston
Galveston County
Pearland
Seabrook
Lake Jackson
Channelview
New Caney
Manvel
South Houston
Magnolia
Kemah
Rosenberg
Alvin
Hempstead
Dickinson
Fulshear
New Ulm
Wallisville
Hunters Creek Village
Brookshire
Sweeny
Hardin
Hankamer
Danbury
Needville
Simonton
Gilchrist
High Island
Raywood
Piney Point Village
Orchard
North Houston
Anahuac
Romayor
Huffman
Cat Spring
Bellville
Dobbin
Damon
Highlands
Bacliff
San Felipe
Winnie
Kendleton
Guy
Galena Park
Danciger
Pinehurst
Liberty
Liberty County
Daisetta
Industry
Mont Belvieu
Bleiblerville
Old Ocean
Clear Lake Shores
Santa Fe
Bunker Hill Village
Porter
Liverpool
La Porte
Brazoria
Prairie View
Willis
Cleveland
Clute
Port Bolivar
Rosharon
Dayton
Crosby
Montgomery
Montgomery County
Freeport
Sealy
Fresno
Alief
Hitchcock
West Columbia
La Marque
Beasley
Wallis
Splendora
Devers
Hull
Hufsmith
Pattison
Thompsons
Oak Ridge North
Rye
West University Place
Angleton
Kenney
Hockley
Barker
Waller
Stowell
Deer Park
Sienna
Northeast Houston
Westfield
Near Northside
New Territory
Nassau Bay
Mt Houston
Needville
Porter Heights
Plum Grove
Rayford
Quintana
Rose Hill
Midline
Atascocita
Arcola
Addicks
Willowbrook
Willow
Williams
Westchase
West University Place
Waverly
Turtle Bayou
Trammel
Timberlane Acres
Southeast Houston
Surfside Beach
Bayarea
Directions, That Matter!
Service And Quality Matters
Increase return on your investment with our custom security cameras, access control and software integration technology.
Quickly, professionally, on budget and on schedule, I would not hesitate to recommend Nexlar
Cliff M. Fogo de chao
CEO

Nexlar staff attend to our needs in a courteous and professional manner
Jeremy Director Of Facilities – BCFS

Outstanding customer service, fast and professional installation
Brenda

Thank you so much for your quick and effective work with us. Your technician was outstanding
Matthew
Production Group Leader (PGL) – Haliburton