Best Telephone Entry Systems Installation For Business In Houston, Texas
Are you looking for telephone entry systems in Houston, TX for your business?
Please Call (281) 407-0768 For A Free Consultation

Whether you have a small business or a large apartment complex, our Houston telephone entry systems team can help you. Nexlar works with the latest technology in commercial telephone entry systems. Telephone entry systems are usually installed in front of your door or gate to allow visitors to enter your commercial property. The right callbox will help protect your property and keep track of all the visitors entering your business premises. If you are looking to repair, replace, or install new telephone entry systems, we can help. We are located in Houston and service all surrounding areas. Call us today and schedule a free onsite consultation. We offer systems that are both reliable and affordable, so you can stay connected with your customers without breaking the bank. Call us at (281) 407-0768 today!
REQUEST A FREE CONSULTATION

We Repair, Install, And Service Telephone Entry Systems.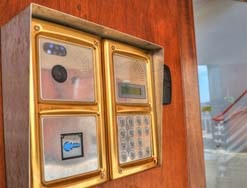 These systems provide a convenient, secure way to allow authorized individuals into your property while denying access to unauthorized personnel. With many system models available, there's sure to be a system that meets your needs. Contact Nexlar's team today to learn more about our telephone entry systems and find the perfect one for your business.
Intruders Don't Stand A Chance Against This Extra Layer Of Security.
These systems ensure that only authorized individuals can access the building by requiring visitors to use a keypad to enter a code. Nexlar's telephone entry systems can also be used to create a log of who enters and exits the premises, providing valuable information in the event of a break-in. In addition, some of the models we carry include features such as two-way communication and intercoms, which can be used to screen visitors before granting them entry. Contact (281) 407-0768 today and let us help you choose the right model for your business.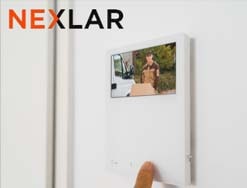 Easily manage who can access your building at the push of a button.
With our telephone entry systems, you can control who has access to your building at the push of a button. We offer a variety of features, including the ability to buzz in visitors, schedule access, and create logins for employees. Our systems are user-friendly, and our team is always available to answer any questions you may have. So if you're looking to increase the security of your building, give us a call today.
Peace Of Mind For Staff, Visitors, And Yourself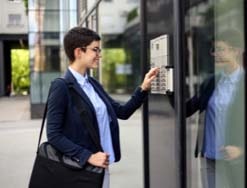 With our systems, you can set multiple entry codes, set specific days and times for access, and receive text or email alerts when someone enters or leaves the premises. Our systems are also compatible with most intercoms and CCTV systems, making them the ideal solution for any security needs.


If you want to increase the security for your business?
Please Call (281) 407-0768 For A Free Consultation

Affordable And Easy To Use
If you are looking for a telephone entry system for your business, chances are you're looking for an affordable and easy-to-use system. Our systems are a cost-effective solution to protect your bottom line. We install the right telephone entry system for your business, and you don't have to pay a high price upfront. Our telephone entry systems also need little maintenance to operate at full capacity. Nexlar only installs systems that come with everything you need to get started. Plus, our friendly customer service team is always available to answer any questions you may have.
Enhance Your Security With Video Technology
Our telephone entry systems use video technology which lets you see who is at the entry gate before allowing them to enter. This way, you can ensure that only the right individuals have access to your property.
Say goodbye to bad and old communication systems.
Chances are your business is losing sales due to bad communication. There's no need to put up with subpar communication systems any longer. Our telephone entry systems are reliable, efficient, and easy to use. You'll manage your business more smoothly than ever before. In addition, our solutions are very affordable. You won't have to reach deep to get a top-quality communication system. If you're looking for a telephone entry system that is both efficient and secure, we can help. Nexlar has years of experience in the industry and can provide you with a system that meets your needs. Contact Nexlar today for a free consultation to see how we can help you get started.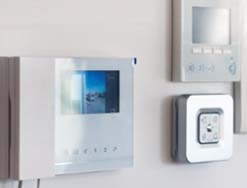 Telephone Systems For All Businesses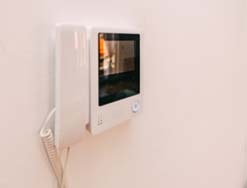 Get the highest quality sound, security, and features at a great price.
Our telephone systems provide clear, reliable communication between employees and customers and can help to improve customer service and sales. Our telephone systems are easy to use and are backed by our industry-leading customer support. Whether you're looking for a simple office phone system for a small office or a VoIP phone system for a large call center, we have a system that will meet your needs.
Budget-friendly communication for an efficient workplace
Get the best deal possible with easy-to-use business phone systems with advanced technology. Our team can tailor the telephone systems to meet the specific needs of your business. This way, you know you're only paying for what your business needs.
Our commercial telephone systems are designed to last for years to come. In terms of durability, our telephone systems are second to none. So if you're looking for a durable telephone system, you've come to the right place. We're confident that our systems can provide you with the reliable performance you need, no matter the application.
A Scalable Business Communication Solution For Large Teams
Our commercial telephone systems are designed to meet the needs of an expanding business. They can be easily expanded as your business grows. Nexlar's telephone systems are a reliable and cost-effective way to keep your business connected. And because they are modular, you can easily add new phone lines and features with minimal costs as your business needs change with minimal monthly costs. Contact us for a free quote.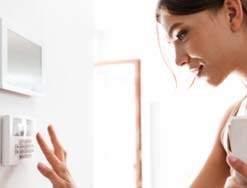 Noise Cancellation Features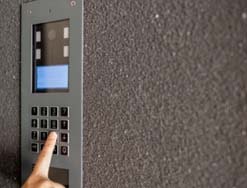 Enjoy true convenience with being able to hear and be heard clearly. Our commercial telephone systems feature noise cancellation technology. This ensures that you'll always be able to communicate clearly and effectively despite the hustle and bustle going on around you. Whether you're taking calls or participating in conference calls, our noise cancellation feature will make sure that your conversations are always loud and clear. And in the event that there is an unexpected loud noise, such as a dropped phone or chair, our phones are equipped with automatic gain control that will instantly adjust the volume to ensure that you don't miss a beat.
Expand Your Communication Options Today
Our telephone systems are perfect communication tools that can do more for your business. They can increase efficiency, reduce overhead costs and expand your customer base. By investing in Nexlar's high-quality business telephone systems, you can ensure that your customers can always reach you when they need to. If you need to, our systems can help you keep track of calls and identify customer behavior patterns. So, whether you're an owner of a small store or a large corporation, a business telephone system can give you the edge you need to succeed. Give us a call at (281) 407-0768 to schedule a free consultation with one of our team members.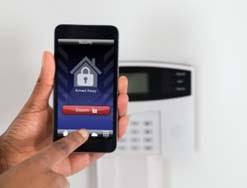 Switch To The Modern Telephone Systems For Commercial Properties Today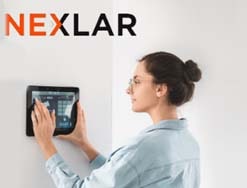 There's no need to keep using outdated and unreliable communication systems. Our commercial telephone systems are designed for businesses of all sizes and offer a wide range of features that can streamline your operations. With our systems, you'll be able to take advantage of features like call forwarding, voicemail, conference calling, and more. In addition, our systems are designed for scalability, so you can always be sure you're using the latest technology. With our commercial telephone systems, you'll be able to say goodbye to bad communication once and for all. Call (281) 407-0768 today for a free consultation.
Intercoms are essential for businesses of all sizes. They help to improve communication and collaboration between employees, customers, and clients. So rest assured knowing that our commercial telephone systems will keep you connected and productive, no matter what the office environment throws your way.
Stop Shouting And Start Communicating.

With Nexlar's business intercoms, there's no need to shout across the office or hunt down someone in another part of the building. If you need to reach someone, simply pick up the phone and dial the extension you need. They have features like hands-free operation and paging, so you can keep your hands free for other tasks while you're talking to your employees or customers. So if you're tired of shouting across the office, switch to Nexlar's business intercoms and start communicating clearly.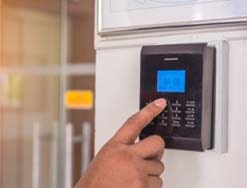 Crystal clear sound quality
When it comes to business intercoms, clarity is key. After all, if your employees can't understand each other, it can lead to miscommunications and lost productivity. That's why our business intercoms feature crystal clear sound quality. Whether you're using them for announcements or one-on-one conversations, you can rest assured that everyone will be able to hear clearly.
With our systems, you and your employees can make announcements, broadcast messages, and even conduct meetings without leaving your workstations. And because our intercoms are compatible with various smartphones and tablets, your employees can stay connected no matter where they are. Whether you're looking for a way to communicate with your employees quickly or to conduct meetings, our business intercoms have you covered. Contact us for a free quote.
Keep your team on the same page.
There's nothing worse than miscommunication within a team. It leads to duplication of effort, missed deadlines, and frustrated employees. With our business intercoms, you can keep your team on the same page with clear, concise communication. Plus, our support team is available 24/7 to help you with any questions or technical issues. We have voice-over-internet protocol and PBX systems that will keep your team connected and productive call us today to learn more.
Higher productivity with faster communication
In business, time is money, and when it comes to communication, faster is always better. That's why it's essential to have a fast and reliable way to communicate with employees. Nexlar's business intercoms provide a convenient and efficient way to share information quickly so everyone can return to their important tasks. In addition, our intercoms can be used to page people throughout the building, making tracking down employees or customers easier.
Reduce customer support costs
Reducing customer support costs is a top priority for businesses. Unfortunately, many traditional methods of customer support, such as phone calls and email, can be quite costly. With our intercoms, businesses can quickly and easily connect with customers through a web-based interface. This saves on customer support costs and provides a more efficient way to resolve customer issues.
Eliminate the need for an onsite receptionist
By providing a direct communication channel for your staff and visitors, your business can save time and money while still providing high customer service. This is particularly helpful for businesses that operate 24/7. Contact us today to find out more.
Eliminate distractions and maximize focus
As a business owner, it's important to communicate quickly and easily with your team. That's where our business intercoms come in. Our intercoms are designed to help you eliminate distractions and maximize focus by allowing you to quickly and easily connect with your team. With our intercoms, you'll be able to get the information you need without having to shout across the room or interrupt your workflow. If you're in the market for an intercom system, we urge you to get in touch. We have a wide selection of options that are perfect for any business size and budget. With our help, you can choose the perfect intercom system for your needs and be confident that it will provide years of reliable service. Contact us today to learn more about our products and see how we can help you improve communication within your business.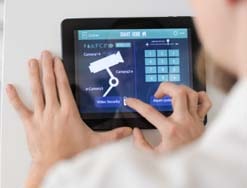 Do you need a better way to communicate with your team? Our intercoms are perfect for your business. With clear, seamless communication, your team can be more productive and efficient. Explore the options we have to offer.
Wired & Wireless Intercoms
With our wireless intercoms, you can communicate with other people in your office without relying on wires or cables. They use radio waves to transmit signals, so you don't have to worry about interference from other electronic devices. And if you ever need to contact someone in an emergency, the systems can be a lifesaver.  You can easily add users, create groups, and send messages with our user-friendly interface. Our intercoms use the latest encryption technology to ensure that your conversations are private and secure. And with our 24/7 customer support, you can rest assured that we will be there when you need us.
If you own a condominium complex, you can be alerted as soon as someone arrives at your gate, giving you the chance to greet them right away. And because we have wired intercoms, too, you'll never have to worry about them losing power or running out of batteries. Whether running errands or halfway across the globe, Nexlar's intercoms will ensure you never miss a visitor again.
Nexlar is the leading provider of business communications systems in Houston, Texas. We provide a full range of products and services to meet the communication needs of businesses of all sizes. Our telephone systems are designed to improve efficiency and productivity, and our services are tailored to each client's specific needs. We are committed to installing trusted products and providing the best services to our clients. Our company is committed to providing the best possible value for our clients' money. We provide a wide variety of telephone systems and services, and we are confident that we can meet the communication needs of any business.
This new web-based app allows you to control your premises remotely. With this app, you can track activity on your property even when you're not there.
Alfred360
gives you real-time updates on what's happening on your premises, and you can even set up alerts to notify you if something suspicious is happening. This app can be integrated with video surveillance cameras, automatic gates, and telephone entry systems. 
So don't wait. Get comfort knowing your commercial property is always under control. Have you tried Alfred360 yet? If not, contact us today for a free demo.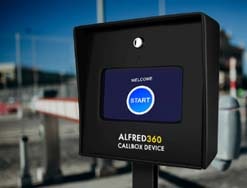 Multi-door control from one platform
Alfred360 provides an easy-to-use interface for controlling multiple doors. With our app, you can remotely unlock doors and keep track of who is coming and going into your property. We are incredibly proud of the Alfred360 platform and what it can do for your business. With our app, you can rest assured that your business is safe and secure.
There are many benefits to using the Alfred360 app for remote access control. First, it is convenient and easy to use. Simply log into the app from any internet-enabled device, and you will be able to view and manage your security system. Second, it is more secure than traditional desktop software. Since the app is hosted in the cloud, it is much harder for hackers to gain access to your system. Finally, this cloud-based based app is more scalable than desktop software. If your need to add more system users or expand your system, it is easy to do so with this web-based app.
Remote lock and unlock function
With the remote lock and unlock function, you can control access to your building from anywhere. Simply set up the app and add authorized users. Then, when you're ready to lock up for the night, click the lock icon on the app. Depending on your configurations, the doors will automatically unlock when an authorized user tries to gain access. As a result, Alfred360 is the quickest and easiest way to improve your business's security. Contact Nexlar's team for a free demo of the app.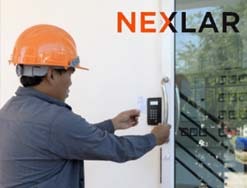 We offer professional installation of the latest business telephone systems. Our technicians are highly trained and experienced. They will work quickly to get your new system up and running. We'll also take care of all the wiring and programming, so you can be confident that everything will work properly. In addition, we offer several models to choose from, so you can find the perfect system for your needs. So, if you're looking for a professional to do commercial telephone system installation, Nexlar is the company to call.
Many businesses rely on telephone systems to communicate with customers and clients. In order to keep these systems functioning correctly, it is important to perform regular maintenance. Our team can help with that. By staying on top of maintenance, your business can avoid service disruptions and ensure that your telephone systems are fully functional. Our regular maintenance services can help extend your telephone equipment's lifespan.
High Quality Repair Services 

Our company has a team of experienced professionals dedicated to providing the best telephone systems repair services for businesses in Houston, TX. Nexlar understands how important it is to have a fully functional and reliable telephone system for businesses, as it is one of the key communication tools businesses use. That is why we are committed to providing high-quality repair services that businesses can rely on. We have vast experience repairing different types of telephone systems. We're confident that we can resolve any problem businesses may have with their telephone systems.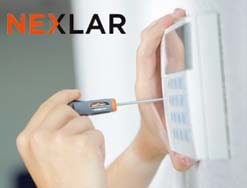 Free Quotes And Consultations
We understand that choosing the right telephone system for your business is no easy task. There are many options on the market, and it's not easy to know which is right for commercial property. That's why we offer free cost estimates and consultations for our business telephone systems. Our team of experts will work with you to determine your specific needs and recommend the best system for your business. We'll also provide a quote so you can make an informed decision about your purchase. With Nexlar, you can be confident that you're getting the best possible advice and service when choosing a telephone system for your business. Call (281) 407-0768 today.
Commercial Telephone Entry Systems Service Area
Houston
Sugar Land
Spring
Katy
Kingwood
Stafford
Conroe
Texas City
Cypress
The Woodlands
Webster
League City
Bellaire
Missouri City
Friendswood
Humble
Richmond
Pasadena
Baytown
Tomball
Galveston
Galveston County
Pearland
Seabrook
Lake Jackson
Channelview
New Caney
Manvel
South Houston
Magnolia
Kemah
Rosenberg
Alvin
Hempstead
Dickinson
Fulshear
New Ulm
Wallisville
Hunters Creek Village
Brookshire
Sweeny
Hardin
Hankamer
Danbury
Needville
Simonton
Gilchrist
High Island
Raywood
Piney Point Village
Orchard
North Houston
Anahuac
Romayor
Huffman
Cat Spring
Bellville
Dobbin
Damon
Highlands
Bacliff
San Felipe
Winnie
Kendleton
Guy
Galena Park
Danciger
Pinehurst
Liberty
Liberty County
Daisetta
Industry
Mont Belvieu
Bleiblerville
Old Ocean
Clear Lake Shores
Santa Fe
Bunker Hill Village
Porter
Liverpool
La Porte
Brazoria
Prairie View
Willis
Cleveland
Clute
Port Bolivar
Rosharon
Dayton
Crosby
Montgomery
Montgomery County
Freeport
Sealy
Fresno
Alief
Hitchcock
West Columbia
La Marque
Beasley
Wallis
Splendora
Devers
Hull
Hufsmith
Pattison
Thompsons
Oak Ridge North
Rye
West University Place
Angleton
Kenney
Hockley
Barker
Waller
Stowell
Deer Park
Sienna
Northeast Houston
Westfield
Near Northside
New Territory
Nassau Bay
Mt Houston
Needville
Porter Heights
Plum Grove
Rayford
Quintana
Rose Hill
Midline
Atascocita
Arcola
Addicks
Willowbrook
Willow
Williams
Westchase
West University Place
Waverly
Turtle Bayou
Trammel
Timberlane Acres
Southeast Houston
Surfside Beach
Bayarea
Directions, That Matter!
Service And Quality Matters
Increase return on your investment with our custom security cameras, access control and software integration technology.
Quickly, professionally, on budget and on schedule, I would not hesitate to recommend Nexlar
Cliff M. Fogo de chao
CEO

Nexlar staff attend to our needs in a courteous and professional manner
Jeremy Director Of Facilities – BCFS

Outstanding customer service, fast and professional installation
Brenda

Thank you so much for your quick and effective work with us. Your technician was outstanding
Matthew
Production Group Leader (PGL) – Haliburton