Expert Network Cabling Solution Provider In Houston, TX


If You Are Looking A Reliable Network Cabling Expert.
Please Call Now (281) 407-0768 For A Free Consultation

If you are looking for a network cabling expert in Houston, TX, to set up a network in your office, you need a professional that can do it correctly. A reliable and properly installed network is essential for any business. Without a functioning network, your employees will be unable to do their jobs effectively, and you could lose money as a result.
Our team of experienced professionals provides fast, accurate, and affordable network cabling services that will meet your needs. We go out of our way to fully understand what your specific requirements are. This way, we can provide you with a solution that is tailored to your unique situation. From installation and servicing to repair, we have the tools to make your business connected for productivity. So whether you own a large office or mid-sized business in Houston, TX, call us at (281) 407-0768 for more information about our network cabling services and inquire about how much you can save with Nexlar's services.
REQUEST A FREE CONSULTATION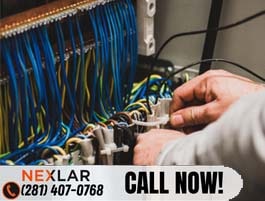 The Types Of Cabling Nexlar Specializes In.

Our team understands in depth how cables and wires connect computers and other devices to each other and a wireless network. There are many network cabling options, but Nexlar specializes in the most effective approaches to building a better connection for commercial properties. We are experienced in various setups and can help decide which type best suits your business situation.
If you need us to do cabling for business phone systems or other security systems over short distances, we can do twisted-pair cabling. Twisted-pair cabling consists of two insulated wires that are twisted around each other. This reduces noise and interference.
There are two main types of twisted-pair cables our company provides: shielded and unshielded. Shielded cables have an additional layer of insulation around the wires. If you want to reduce interference even further, this could be the option for you. Unshielded cables will cost you less and help you maximize your profits. They are typically used in applications where interference is not a major concern. Does your business qualify for unshielded cabling? Talk to one of our experts.
Our coaxial cabling is a durable solution for companies that want network cables that run through walls and floors and can withstand a great deal of wear and tear with little to no replacement over a longer span.
Nexlar's coaxial cables can be used in a variety of applications. That includes computer networking and audio and video systems like video alarm systems. These cables are often preferred over other types because they have low signal loss and resistance to electromagnetic interference. Do you have specific requirements about the cabling you want to be done? We've got you covered. Get in touch.
Enjoy high internet speeds with minimum buffering with our fiber-optic cables. Our team can install cables that consist of thin, flexible strands of optical glass or plastic surrounded by a protective jacket. The cable is typically used in long-distance applications, such as connecting two buildings or connecting an office to the internet backbone.
Nexlar's fiber optic cabling can be used for CCTV connections and business telephone entry systems. One advantage you can expect from this type of cabling over other types is that it can carry data signals over much longer distances with less signal loss. Furthermore, fiber-optic cables are not susceptible to electromagnetic interference, making them ideal for use in environments with electrical noise.
Network cable installation is an integral part of any business. It's the backbone that allows your employees to connect to the internet, access files, and communicate with each other. That's why choosing the right type of network cabling for your business is so important. If you're not sure which type of cabling is right for you, contact us today for a free consultation. Nexlar can help you choose the correct type of cabling and set up a structured cabling system that meets your commercial needs.
Nexlar's High-Quality Network Cabling
As a business owner, you're always looking for ways to increase your net profit. Ensuring your business has the best possible infrastructure is one way to do this. And when it comes to your network infrastructure, high-quality cabling is key.
-Our high-quality network cabling ensures your data travels quickly and smoothly between devices.
-Poorly installed or faulty network cabling can lead to a number of problems, including slowed data speeds, dropped connections, and even system crashes. Nexlar can change that.
-Investing in our company's high-quality network cabling will ensure that your business operates at peak efficiency. In today's business world, efficient communication is essential for success. Network cabling provides a reliable and fast connection between computers, printers, and other devices. It also allows you to connect to the internet and other external networks.
-Additionally, well-installed network cabling can help protect your data from unauthorized access or theft. By separating your voice and data cables from other wires in your office or commercial building, we can make it almost impossible for unauthorized individuals to access or tamper with your data.
– It provides the backbone for your communications and data exchange since employees can easily access the internet and share files and data.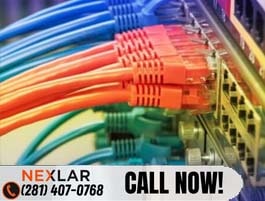 Get a jump on your competitors by upgrading to Nexlar's fiber optic cables today. Call (281) 407-0768 and talk to one of our cabling experts.


Choose The Network Cabling Your Business Needs.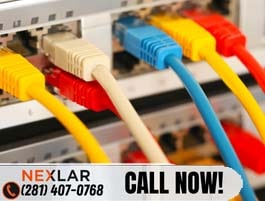 When setting up a network in your business or upgrading your old one, the most crucial decision you'll make is what type of cabling to use. There are many options available, and it may be hard to make the right decision, especially if you aren't an IT expert. However, our team can help you.
– We'll help you define your business needs clearly.
– Our experts will consider the number of employees and devices that will be using the network.
– Evaluate your budget and find a cabling solution that fits your price range
When it comes to network cabling, there are a lot of options to choose from. But don't worry. Our customer support team can help you make the right decision for your business. Nexlar has experience with small and large businesses, so you can count on us to find the solutions for your business. We are licensed and trusted by the biggest names in Houston. And we have a track record to prove it. Kindly look at what some of our previous clients have to say.
What Differentiates Nexlar's Network Cabling Services
Installing the cabling can be daunting, with most not knowing where to start. Here are some steps our experts take to get the job done right and fast. We;
1.Help you choose the correct network cabling for your needs
2.Cut the cables to the correct length
3.Strip the insulation off of each cable
4.Connect the cables to the network adapter
5. Secure the cables in place
6. Test the network connection….all at a budget-friendly price.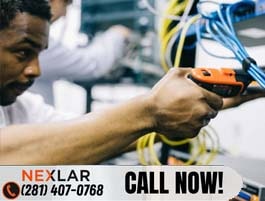 Cable design and installation is a vital task that should be handled by a professional. Our professionals are highly trained to do the job quickly and efficiently so you can get back to work. Contact us today for a free consultation. We will help keep your business running with the best networking cable solutions possible.
But it doesn't end there. We also do cable management, installation, service, and replacement.
Avoid any unnecessary downtime with our cable maintenance services.
1. Our team will inspect your cabling often for damage or wear and tear
During this inspection, we'll look for any signs of physical damage. That may include fraying or kinking. We'll also check for any loose connections, and if we notice any wear or tear, our experts will repair or replace the affected cables as soon as possible.
2. We'll ensure all cables are securely fastened to the wall or floor.
This will prevent them from being pulled out or disconnected, which could lead to data loss or network downtime.
3. We'll label each cable with its corresponding port number.
A tangled mess of cables is the last thing you want to deal with. We know that keeping track of which line goes to which port can be a real headache. Not only is it time-consuming to sort through a tangled mess of cables, but it can also be challenging to determine which cable is which if they're not correctly labeled. That's why our experts will label each cable with its corresponding port number.


This way, you can quickly identify which cable goes where, and you won't have to waste time sorting through a bunch of unlabeled cables when the experts aren't around. Furthermore, if you ever need us to move or add new ports, our team will know which cables need to be moved or replaced and help you cut costs and minimize downtimes. In short, labeling your cables is an essential part of maintaining a well-organized and efficient network cabling infrastructure.
4. We'll keep a backup of your network configuration in case of an emergency
This will allow you to quickly and easily restore your network cabling infrastructure. We can do this in many ways; however, using a network configuration management system is the most effective method. This system will create a copy of your entire network configuration and store it in a safe location. In an emergency, you'll be able to simply restore the configuration from the backup. This will ensure that your network cabling infrastructure is quickly and easily restored.
5. We'll test your network speed and performance regularly to ensure optimal performance
By regularly monitoring your network speed and performance, we'll help you ensure that your system is running at its peak efficiency and identify any potential areas of improvement. Our team uses several tools to help you test your network cabling infrastructure, including online speed tests and performance monitors.
6. We'll also guide employees on proper cable handling and safety procedures
Some simple tips your employees may need to know include; avoiding sharp bends or kinks in the cable and routing cables away from high-traffic areas. By following basic guidelines, you can ensure your network cabling infrastructure is always in top condition.
By working with a qualified professional and following the tips listed above, you can ensure that your cables continue to function at their best for years to come. Have questions or need help? Contact Nexlar's cabling experts for a free consultation – we're happy to help!
We are Network cabling repair experts.
A problem with your network cabling infrastructure can have a significant impact on your business. That's why it's important to know how to determine if there is a problem and what to do about it.
Our experts at Nexlar can help. We can
– Identify the symptoms of a problem
– Test your network for performance issues
– Check the physical condition of your cables and connectors
– Verify the configuration of your network devices
– Use cable tracing to find the source of a problem
-Take corrective action to resolve the issue

Need us to troubleshoot common networking issues?
Cabling is arguably the most important aspect of any network, yet it is also one of the most commonly overlooked. Networking issues can be frustrating and time-consuming to troubleshoot; however, here are some tips for fixing these issues.
1. Poor or no signal strength
First, our experts check if the cable is properly plugged in at both ends. If it's not, that's likely the cause of your signal problems. Next, check if the cable is damaged in any way. If it is, then we'll replace it. Finally, find out whether there is any interference that could be causing your signal issues. Things like electrical wires or metal objects can block signals, so if that might be the case, try moving the cable or objects out of the way. After our experts troubleshoot, you should have your network cabling up and running in no time.
2. Noise on the line
We'll check for any damage. Is there any damage? If so, we'll replace the cable. If the cable is fine, we check the connection at both ends. Our team makes sure the connection is tight and secure. If it is not, they tighten it or replace it. Finally, if there's still noise on the line, we'll move the cable to a different location. This will isolate the problem and make it easier to find a solution.
3. Dropped packets or connections
First, our experts check the connectors to make sure they're properly seated. Next, we check for any kinks or breaks in the cable. If you find any, we'll replace the cable. Finally, we inspect the router to see if it's configured properly. Call (281) 407-0768 and talk to a professional.
4. Incorrectly wired cables
Incorrectly wired cables are a rare occurrence. However, this is a common issue when people try to install cabling on their own without professional help.
Our team can check to see if the cables are plugged into the correct ports on the router. If they're not, we'll unplug them and plug them into the correct ports. We'll also check to see if the cables are loose. If they are, we'll tighten them up.
If the problem persists, replacing the cables may be the best bet. With our help, you can get your network cabling running properly in no time. Call (281) 407-0768 today and talk to one of our experts.
5. Cable length and quality issues
If the cables are longer than need be, they can cause signal degradation, and if they are too short, they can result in network downtime.
First, we'll follow the manufacturer's specifications to see what the maximum recommended length for the cable is. If the cable is too long, we'll replace it with a shorter one. If the cable is too short, we'll use a longer one. Second, we also inspect the quality of the cable by looking for any signs of damage, such as fraying or breaks in the insulation. If the cable is severely damaged, our team can replace it with a new one.
6. Damaged cables
Damage to network cables can cause various problems, from intermittent connectivity to complete loss of service. While some cable damage is due to physical factors such as rodents or construction work, most cable damage is caused by improper handling or installation.
To troubleshoot damaged cables, our team:
1.Starts by inspecting the cable for physical damage. If the cable is cut or frayed, it will need to be replaced.
2.If there is no physical damage, we check the connectors at both ends of the cable to make sure they are correctly seated.
3.Our team then tests if the cable is working by connecting it to another device or running a diagnostic test.
If you're experiencing any of the common network cabling issues above, or aren't sure what the issue is, don't hesitate to reach out for help. Our company's team of experts can quickly and efficiently diagnose the problem and provide a solution that will have your business network back up and running in no time. Contact us today for a free consultation.
What should you do if a networking issue can't be fixed by following the standard troubleshooting steps?
Networking issues can be a headache, but sometimes they can't be fixed no matter what you do. What should you do in this case? Call us to:
– Check the cables for damage
– Verify that all of the cables are plugged in correctly
– Reboot your router and modem
– Update your network drivers
If you need more information about troubleshooting options and still can't seem to fix the networking issue, reach out to us for help. Contacting support or hiring our contractors are both viable solutions that will get your network back up and running as soon as possible.
Future-proofing your network cabling
It's hard to believe, but even the most advanced networks are susceptible to upgrades and changes. To prevent your network from becoming obsolete, it's important to future-proof your cabling. But, how can you prevent networking problems from happening in the first place?
– Understand the different types of network cabling and what each is best for.
– Plan ahead and factor in future growth.
– Use the right tools and techniques to avoid problems down the road.
– Label your cables correctly so you can easily find the one you need when it's time to make changes.
– Maintain your cables properly for optimal performance.
Planning for the future is important. By choosing a cable that can handle more bandwidth and higher speeds, you'll be able to keep up with technological advances and avoid having to replace your cables sooner than you need to.
Work with an experienced and qualified team. It is the best approach. Talk to us – we can help you choose the suitable cable for your needs and get you set up with a system that will last.
Get Connected With The Top Network Cabling Company In Houston, TX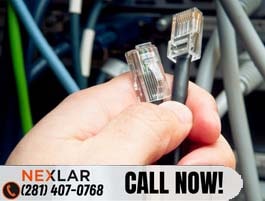 Don't cut corners with your business' technology needs. A reliable and experienced contractor is essential for installing and maintaining your network cabling system. Nexlar's technicians are highly skilled and experienced in network cabling. They will work with you to ensure that your cabling is installed correctly and performs optimally.
We offer ongoing support and maintenance services to keep your system running smoothly. Don't settle for less than the best – contact (281) 407-0768 today to learn more about our network cabling services in Houston, Texas.
Enjoy prompt, reliable service backed by a 100% satisfaction guarantee.
Whether you need help with your office or commercial property, we will be there for you. Having a security partner you can count on is important, and we will always be there when you need us.
Nexlar has been providing security solutions for over ten years. We are a trusted, licensed provider of security systems for commercial properties. We are highly rated for our friendly customer service, and our team of cable installers is experienced and certified. Our company offers several security solutions, ranging from simple burglar alarms to more complex CCTV systems. Whatever your security needs, we can help. We provide free quotes and consultations. Contact (281) 407-0768 for a free quote.
Commercial Network Cabling Service Areas
Houston
Sugar Land
Spring
Katy
Kingwood
Stafford
Conroe
Texas City
Cypress
The Woodlands
Webster
League City
Bellaire
Missouri City
Friendswood
Humble
Richmond
Pasadena
Baytown
Tomball
Galveston
Galveston County
Pearland
Seabrook
Lake Jackson
Channelview
New Caney
Manvel
South Houston
Magnolia
Kemah
Rosenberg
Alvin
Hempstead
Dickinson
Fulshear
New Ulm
Wallisville
Hunters Creek Village
Brookshire
Sweeny
Hardin
Hankamer
Danbury
Needville
Simonton
Gilchrist
High Island
Raywood
Piney Point Village
Orchard
North Houston
Anahuac
Romayor
Huffman
Cat Spring
Bellville
Dobbin
Damon
Highlands
Bacliff
San Felipe
Winnie
Kendleton
Guy
Galena Park
Danciger
Pinehurst
Liberty
Liberty County
Daisetta
Industry
Mont Belvieu
Bleiblerville
Old Ocean
Clear Lake Shores
Santa Fe
Bunker Hill Village
Porter
Liverpool
La Porte
Brazoria
Prairie View
Willis
Cleveland
Clute
Port Bolivar
Rosharon
Dayton
Crosby
Montgomery
Montgomery County
Freeport
Sealy
Fresno
Alief
Hitchcock
West Columbia
La Marque
Beasley
Wallis
Splendora
Devers
Hull
Hufsmith
Pattison
Thompsons
Oak Ridge North
Rye
West University Place
Angleton
Kenney
Hockley
Barker
Waller
Stowell
Deer Park
Sienna
Northeast Houston
Westfield
Near Northside
New Territory
Nassau Bay
Mt Houston
Needville
Porter Heights
Plum Grove
Rayford
Quintana
Rose Hill
Midline
Atascocita
Arcola
Addicks
Willowbrook
Willow
Williams
Westchase
West University Place
Waverly
Turtle Bayou
Trammel
Timberlane Acres
Southeast Houston
Surfside Beach
Bayarea
Directions, That Matter!
Service And Quality Matters
Increase return on your investment with our custom security cameras, access control and software integration technology.
Quickly, professionally, on budget and on schedule, I would not hesitate to recommend Nexlar
Cliff M. Fogo de chao
CEO

Nexlar staff attend to our needs in a courteous and professional manner
Jeremy Director Of Facilities – BCFS

Outstanding customer service, fast and professional installation
Brenda

Thank you so much for your quick and effective work with us. Your technician was outstanding
Matthew
Production Group Leader (PGL) – Haliburton