Best Commercial Monitoring Surveillance Solutions In Houston, TX

Call (281) 407-0768 For A Free Consultation

Is your business in Houston, TX? We understand that keeping your business and its customers safe is of utmost importance. That's why you need monitoring and surveillance experts that can keep your business secure. At Nexlar, we have the perfect solution for you, so you can rest easy knowing your business is in good hands.
We are a fully licensed and trusted Houston monitoring surveillance company that serves commercial and government establishments in the city. We offer a full spectrum of monitoring surveillance solutions for businesses of all sizes to help them meet business objectives. The security systems we use are advanced, secure, and designed to provide round-the-clock protection for your business. With our cutting-edge technology, you'll have peace of mind knowing that we are constantly keeping an eye on your property – no matter what time of day or night it is. We monitor everything from entrances and exits to sensitive areas inside your building. You won't find a better monitoring surveillance company in Houston, TX, than ours.


REQUEST A FREE CONSULTATION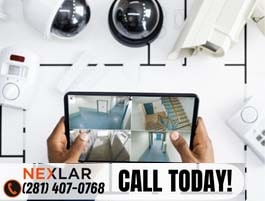 Trusted for modern and uncompromising security
Our monitoring surveillance solutions combine the best of both worlds, technology and human intelligence. Our company is trusted by businesses, federal institutions, healthcare facilities, and schools in Houston, TX, not just because we use advanced systems and have licensed professionals. That's because our company continuously performs and delivers results that surpass our client's expectations.
We offer live video monitoring that is second to none. Our experts are highly trained to monitor your premises via CCTV cameras in real-time. If any suspicious activity is detected, we'll take appropriate action, whether that means contacting the authorities or dispatching your guards.
Rather than waiting hours for your team to review the footage captured by your security cameras, our team can analyze it in real-time using advanced tech, which will minimize any damage or losses intruders pose to your business. We want to help you safeguard and add value to what matters most, your investment. Contact Nexlar's live-monitoring experts at (281) 407-0768 and book a free consultation call.
Whether you're looking to monitor your property or keep an eye on activities in a specific area, Nexlar can provide the perfect solution. Using long-range surveillance systems, we can conduct precision strike operations if required. At Nexlar, we understand that in order to be effective, these systems must be able to operate in all weather conditions and day or night. They must also be able to detect movement at long range, identify targets and track their movements.
In addition, they must be able to share information with other assets in the area, such as ground troops or aircraft. This will allow for a coordinated response to any threats that are identified. Nexlar is the company that has all the solutions to have your business covered. Call (281) 407-0768 for a free consultation.
We provide 24/7 alarm monitoring services to ensure your commercial building is protected day and night. The alarm monitoring services we provide are done by fully licensed security experts, so you can trust that your business is safe from intruders. And if a break-in does occur, we'll contact you immediately and alert the authorities, who will take necessary action to capture the culprits.
Get the security you can trust for less. The best part about solar video surveillance is that it is completely self-sufficient. The cameras we'll install are powered by the sun, so you won't have to worry about running out of power or paying a premium for your electric bill. And, because the cameras are wireless, they won't cause clutter in your office caused by wired cameras. So, if you want a way to keep your property safe, consider Nexlar's solar video surveillance solutions. We guarantee you won't be disappointed.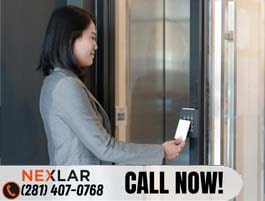 When it comes to business operations, we understand that there are a lot of things that require your attention. You have to make sure you're providing great customer service, monitoring your finances, and overseeing daily operations. But what about security? With all the different threats out there, it's crucial to have a plan in place to protect your business from potential disasters. Nexlar's team can keep an eye on everything.
– IoT Devices
– Burglar and intrusion alarms
– CCTV and security cameras
– Fire and smoke alarms, and more.


Call (281) 407-0768 to schedule a free consultation with our monitoring surveillance experts in Houston, TX
The Security That Never Sleeps
Sleep better at night knowing that our top-of-the-line surveillance cameras are constantly monitoring your commercial building. Our monitoring and surveillance systems never sleep, keeping a watchful eye on your business around the clock. Contact Nexlar's team at (281) 407-0768 today to learn more about our monitoring surveillance services. We promise you won't regret it!
Trained and dedicated virtual guards.
We have fully licensed and trained experts who provide virtual guard services for our clients. These virtual guards help protect our client's property by keeping an eye on things and responding to any potential security threats. And because our virtual guards are always on duty, they can quickly react to any situation that may arise- around-the-clock.
Real-time data analytics to deter criminals
By constantly monitoring activity in and around your property, we can quickly identify any suspicious behavior and take action to deter it. Our state-of-the-art surveillance system includes cameras, sensors, and AI-enabled software that work together to provide a full picture of everything that is happening on your property at all times.
This information is then analyzed by our team of experts who can take action to prevent potential criminal activity. In addition to deterring crime, our monitoring surveillance also provides valuable data that can be used to improve security operations and procedures. Our team is constantly collecting and analyzing data. This way, we can identify weaknesses in our systems and make improvements that will keep your property safe.
When it comes to surveillance, there are hidden costs that are often overlooked. However, that's not the case with Nexlar. Hidden costs will never be an issue with our monitoring surveillance services. We believe you should know what you're paying for, and we'll always give you a clear breakdown of the costs involved. If you'd like, we'll customize a payment for you, so you'll only ever pay for what you need. Get your business the most value for its money today, and contract Nexlar's security experts.
Free consultations and quotes
Get a quick, accurate estimate of the costs of our services and what we can do for you. Our consultation process is straightforward, and we will work with you to ensure that your business gets the best return on its spending. We also offer a 100% satisfaction guarantee, so you can be sure that you are making the best decision for your business when you choose us as your monitoring surveillance partner. Contact Nexlar's technicians today to learn more about our monitoring surveillance services and to get a free no-obligation quote and consultation.
Our experts design a system that provides the coverage you need, whether it's a single camera to monitor your entrance gate or a network of cameras to cover your entire property. We also offer various storage options, so you can choose how long you want to keep your footage. We can also provide around-the-clock monitoring to ensure that your property is always protected. With Nexlar's service, you can rest assured that your security is in good hands.
Tailored emergency action plan e-stop solutions and alert the authorities
E-stop solutions are an essential part of any comprehensive safety plan, and our team of experts can help you choose the right e-stop solution for your business. Our team can link the e-buttons we install to a central control panel, making it easy to shut down all machinery in the event of a fire or other disaster.
Our team can also help you develop standard operating procedures for using e-stop buttons so that every staff member in your company knows what to do in an emergency. Contact Nexlar at (281) 407-0768 to learn more about how our company can help you develop a customized e-stop solution for your business.
With video verification, our monitoring company can take a look at the footage from the security cameras to determine whether or not there is an actual threat. This allows us to confirm alarms and dispatch police only when necessary, which helps to improve response times and reduce false alarms. With these services, you'll also have evidence in the event of a break-in or other crime. When it comes to security, video verification provides an extra level of protection that can give you peace of mind, and Nexlar is the company to call. Reach us at (281) 407-0768 for a free consultation.
Our monitoring company specializes in mobile app integration. This means we can take any monitoring system and make it work with our app. This is a valuable service for companies who want to get the most out of their existing systems without having to invest in a new system. We have a team of software experts who are familiar with a wide range of apps and who can quickly and easily integrate them with our system. In addition, our mobile app integration service includes ongoing support and maintenance, so you can be confident that your app will continue to work seamlessly with our system.
Stay connected and in control no matter where you are. With our remote access features, you can view live footage from your security cameras, arm or disarm your alarm system, and even control access to your premises via our mobile application. Plus, our remote access is available 24/7, so you can always stay connected. And if there's an emergency, our monitoring center will be there to help. Get started with our web-based application and enjoy all the functionalities it has to offer.
Quick police response times
We pride our company on being able to provide a rapid response to any situation, 24 hours a day, seven days a week. There are a number of reasons why Nexlar's professionals are able to respond so quickly. First, we have a large team of highly trained professionals who are always on standby, ready to take a planned course of action at a moment's notice.
Second, we have a state-of-the-art dispatch system that allows us to notify the police or emergency services of an incident quickly. And because we have established relationships with local law enforcement and other first responders, we can quickly get your business assistance if needed. These factors all come together to allow us to provide the best possible response time in any situation.
Save money with tailored security solutions for businesses of all sizes.
Our monitoring surveillance is cheaper than physical guards. Your business doesn't have to worry about salaries, benefits, or other associated costs. Plus, our monitoring services are available 24/7, so you can be confident that your property is being protected around the clock. And if an incident does occur, our team will be there to help you resolve it quickly and efficiently.
Get accurate incident reports.
We understand that data is everything, especially if you run a business and want it to be successful. That's why we offer monitoring and surveillance services that can help you to get the insights you need to make informed decisions. Nexlar's team of experts can provide you with accurate reports on a variety of topics, including employee activity, on-site traffic patterns, and more.
Our company also offers a range of customization options to ensure that you're getting the information that is most relevant to your needs. So if you want a way to stay on top of the latest insights on a specific part of your building, our monitoring and surveillance services are the perfect solution. Please consult with us today.
If you're looking for reliable monitoring and surveillance services, you can't go wrong with our friendly 24-hour support. Our monitoring surveillance team will be there when you need us, day or night. Whether you're dealing with a security breach or just want someone to keep an eye on your property, we're here to help. With our expertise, we can quickly and efficiently resolve any issue you may be having. Schedule a free consultation with our security professionals and get a free quote quickly.
Store and review footage as you please
With our monitoring surveillance service, you can store and review footage as you please. Our monitoring and surveillance specialists will help you determine the best way to monitor your property. They'll install all the necessary equipment and show you how to use the system. This way, your business will get the most out of it.
We offer various storage options, including on-site and off-site storage, as well as cloud-based storage. We also provide various review options, including online review and download, as well as on-site review. If you're looking for a comprehensive video surveillance solution that gives you the freedom you store and review footage as you please, call Nexlar today.
If you want to improve your business's management reporting, our monitoring surveillance services can help. We can provide you with up-to-date information on what's happening in your business. Using this information, you'll be able to make better decisions about where to allocate your business's resources. We can also monitor key performance indicators and spot trends that may help you to identify problems before they become too costly. In addition, our services can be tailored to meet your specific needs, so you can get the right information you need when you need it.
Secure video and data sharing expiring links
We offer secure video and data-sharing links that you can use with confidence. Thanks to our IT experts, you'll also be able to keep tabs on who is accessing the links and when. That way, only authorized users are able to view the content, and you can be certain of that. Nexlar can also provide you with a detailed report of all link activity. So, if there are ever questions about who accessed the link or when you'll have all the information you need, consult with Nexlar's experts today.
Get constant feedback via automated alerts.
Always stay informed about what is happening on your premises and make it easier to take action if necessary. The systems our team use for monitoring and surveillance are designed to provide immediate notifications in the event of any suspicious activity.
So, our clients can trust that their property is always safe and secure. They also allow our clients to track the performance of their security cameras and receive reports on any unusual activity. By always being up-to-date on what is happening on their property, our clients can rest assured that their business's security is never compromised.
If you're looking to increase your business's revenue, our monitoring surveillance can help. How? Using advanced technology, our surveillance team can help you identify areas where you may be losing money, so you can take steps to remedy the situation. By hiring Nexlar for monitoring surveillance for your business, you can improve your bottom line and make your business more successful. Consult with one of our experts today.
Reduce risk and increase property value
Maintaining the value of your property isn't our goal. Increasing it and maximizing your ROI is. And having us watch over your business can help you sell the property for a higher price in the future or attract more customers. Nexlar's experts can help you choose the right combination of cameras, alarms, and other security services to deter intruders and increase the value of your business.
By investing in our monitoring surveillance services, you can rest assured knowing that your commercial property is well protected. Call (281) 407-0768 for more information about how we can help you reduce the security risk and increase property value.
Top quality services that are trusted by Houston's leading companies
We attribute our success to our three core values: quality, trust, and experience. Nexlar's team of experts has a wealth of knowledge and experience in the surveillance industry. We're passionate about security and committed to providing our clients with the best possible service. No other company understands the importance of meeting the highest standards more than Nexlar. That's why we always work hard to ensure that our clients receive the highest level of service possible.
We take pride in being among the highest-rated and most trusted names in the monitoring surveillance industry, and we are proud of this feat. We're confident that our technicians can provide you with the best possible service. Book a free consultation with Nexlar's expert today to learn more about our services. Let us show you why Nexlar is the go-to company for alarm monitoring and video surveillance in Houston.
Enforce protocols in real-time
We use the latest monitoring technology to detect potential threats and alert the appropriate authorities. Our team is highly trained and experienced in dealing with all sorts of security situations. So you can trust us to secure your business while protecting your privacy. If you are interested in learning more about our services or would like to schedule a consultation, please call (281) 407-0768 today.
Give your business 24-hour protection.
Our monitoring and surveillance professionals are on call 24 hours a day, seven days a week, to ensure your business is always protected. Nexlar uses the latest technology to monitor your premises and identify any potential threats. We also have a team of response professionals who are ready to provide assistance at a moment's notice. With our surveillance services, you can rest assured that your business is always safe.
Don't Put Your Assets, Employees, And Customers In Danger.
Look no further than our fully licensed team of experts. Nexlar is the most trusted monitoring surveillance company in the city. We can give you the needed peace of mind to run your business without worrying about safety.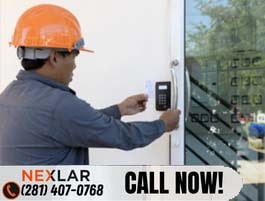 Get a custom monitoring and surveillance package by acting now. Call (281) 407-0768 to get started.
Commercial Monitoring Surveillance Service Area
Houston
Sugar Land
Spring
Katy
Kingwood
Stafford
Conroe
Texas City
Cypress
The Woodlands
Webster
League City
Bellaire
Missouri City
Friendswood
Humble
Richmond
Pasadena
Baytown
Tomball
Galveston
Galveston County
Pearland
Seabrook
Lake Jackson
Channelview
New Caney
Manvel
South Houston
Magnolia
Kemah
Rosenberg
Alvin
Hempstead
Dickinson
Fulshear
New Ulm
Wallisville
Hunters Creek Village
Brookshire
Sweeny
Hardin
Hankamer
Danbury
Needville
Simonton
Gilchrist
High Island
Raywood
Piney Point Village
Orchard
North Houston
Anahuac
Romayor
Huffman
Cat Spring
Bellville
Dobbin
Damon
Highlands
Bacliff
San Felipe
Winnie
Kendleton
Guy
Galena Park
Danciger
Pinehurst
Liberty
Liberty County
Daisetta
Industry
Mont Belvieu
Bleiblerville
Old Ocean
Clear Lake Shores
Santa Fe
Bunker Hill Village
Porter
Liverpool
La Porte
Brazoria
Prairie View
Willis
Cleveland
Clute
Port Bolivar
Rosharon
Dayton
Crosby
Montgomery
Montgomery County
Freeport
Sealy
Fresno
Alief
Hitchcock
West Columbia
La Marque
Beasley
Wallis
Splendora
Devers
Hull
Hufsmith
Pattison
Thompsons
Oak Ridge North
Rye
West University Place
Angleton
Kenney
Hockley
Barker
Waller
Stowell
Deer Park
Sienna
Northeast Houston
Westfield
Near Northside
New Territory
Nassau Bay
Mt Houston
Needville
Porter Heights
Plum Grove
Rayford
Quintana
Rose Hill
Midline
Atascocita
Arcola
Addicks
Willowbrook
Willow
Williams
Westchase
West University Place
Waverly
Turtle Bayou
Trammel
Timberlane Acres
Southeast Houston
Surfside Beach
Bayarea
Directions, That Matter!
Service And Quality Matters
Increase return on your investment with our custom security cameras, access control and software integration technology.
Quickly, professionally, on budget and on schedule, I would not hesitate to recommend Nexlar
Cliff M. Fogo de chao
CEO

Nexlar staff attend to our needs in a courteous and professional manner
Jeremy Director Of Facilities – BCFS

Outstanding customer service, fast and professional installation
Brenda

Thank you so much for your quick and effective work with us. Your technician was outstanding
Matthew
Production Group Leader (PGL) – Haliburton