Nexlar's Full Range Of Commercial Security Solutions For Business In Houston, Texas
If You Are Looking A Expert Commercial Security Company.
Please Call Us Now (281) 407-0768 For A Free Consultation

If you own a business in Houston, TX, we've got you covered. Nexlar provides full-range commercial security solutions for all commercial buildings. We are the trusted experts in designing and installing business security systems. Our company has a team of experienced and certified professionals dedicated to providing our clients with the best possible security solutions. We offer many services, including security system design, installation, maintenance, repair, and monitoring. We also offer various innovative models built to meet our clients' unique needs. Nexlar is committed to providing our clients with the highest level of service and support. Let us help you find the right commercial security system for your property. Contact (281) 407-0768 today!
REQUEST A FREE CONSULTATION

Securing Businesses In Texas For Over Ten Years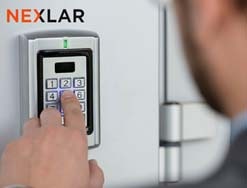 We've been in the business of security for a long time. Our experience has taught us a lot about what works and what doesn't. We've seen firsthand how a well-designed security system can deter criminals and give business owners peace of mind. We've also seen how a poorly designed system can leave businesses vulnerable to theft and vandalism. That's why we ask insightful questions that can help us understand each client's individual needs and create a customized security solution that is both effective and affordable. With our experience and expertise, we can help you find the right solution for your business.
Life can be unpredictable, and sometimes, unexpected expenses arise. We get it. That's why we offer flexible payment plans on all our security systems. Whether you want a new CCTV system or an automatic parking lot gate, you can choose a payment plan that fits your budget. Our company offers several options, so you can find one that works for you. So if you're ever in a tight spot, remember that we're here to help. With our payment plans, you can get the security you need without breaking the bank.
Trusted By The Largest Companies In The State

In the commercial industry, safety comes first, no matter the size of the business. That's why the largest companies in the state put their trust in us for commercial security. Our team of security professionals has several years of experience keeping businesses of all sizes safe and secure. We offer a comprehensive security plan that includes everything from virtual guards to advanced commercial alarm systems. Nexlar's goal is to keep your business well-protected from any threat, whether it's a break-in or an act of vandalism. With our commercial security services, you can rest assured that your business is in good hands.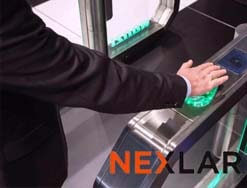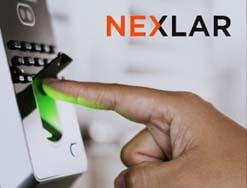 24/7 Commercial Protection From Industry Leaders

With us, your business will be protected around the clock from potential threats. This includes vandalism, theft, and even natural disasters. You can run your business knowing that it is in good hands when you work with us. You will also have the option to choose a comprehensive maintenance package that will make sure your security systems last the longest they can with very minimal spending on your end.
Protect Your Bottom Line With Budget-Friendly Solutions
Keep your costs at an all-time low and protect your assets with advanced technology you can trust. We have the perfect
commercial security solution
for your business, from access control and alarm systems to video surveillance systems. Book a free onsite consultation and let us help you choose the right security system for your commercial property.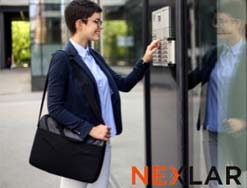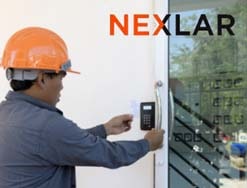 Installed And Backed By Experienced Technicians

When it comes to commercial security solutions, you want a security company you can rely on. Nexlar has the experience and knowledge to install the right security solution for your business. We only install systems that have been certified and sourced from the leading manufacturers in the country. With Nexlar, you can be sure you are getting the best possible value for your money.
Get A Custom System That Best Suits Your Business.
We offer custom security solutions tailored to fit your business's specific needs. Our technicians will help you identify your most critical assets and vulnerabilities, and then we'll design a security system that provides the best possible protection. And because we're a full-service security provider, we can handle all your ongoing maintenance and monitoring needs. So, if you're looking for a robust security solution for your business, get in touch. We'll be happy to customize a package that's right for you. Call (281) 407-0768 and get a free security consultation.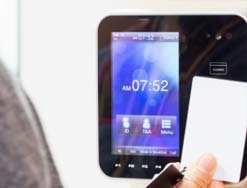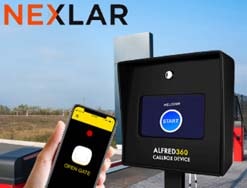 Simplify your security needs and improve your customers' experience with our access control systems. Our keyless entry solutions offer a simple, convenient, and effective way to protect your business.
By using an electronic key fob or smartphone app, your customers can instantly access your premises without the hassle of keycards or keys. And you can revoke access quickly and easily if you ever need to. As a result, you'll enjoy improved security with less hassle for you and your customers. What's not to like?
We have
– Biometric access control
– RFID readers
– Temperature detection access control systems
– Cloud-based access control
– Proximity and swipe cards
– Mobile access control systems
– Magnetic locks and more.
Contact (281) 407-0768 to learn more about our keyless entry systems

Our gates are made from heavy-duty materials designed to withstand repeated use. They are also scalable, meaning they can be equipped with other security features, such as keypad entry and CCTV cameras. So whether you're looking for a telephone entry system or a more advanced CCTV system, we have a security solution that will fit your business needs. We carry turnstiles, electric gates, traffic arms, and swing and slide gates. Call (281) 407-0768 to talk to an expert today. Let us find the right solution for your business.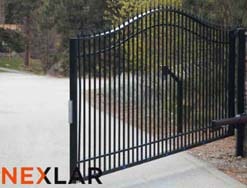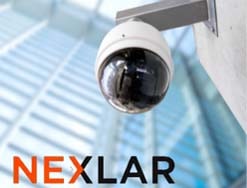 Video Surveillance Cameras

Video surveillance cameras can provide an extra layer of security for businesses of all sizes. When properly installed and monitored, they can help to deter crime and vandalism. If an intruder breaks in, they can also provide crucial evidence.
Enhance your customer's experience

Not only do our video surveillance cameras deter crime, but they also offer reassurance by keeping an eye on your commercial property when you're not there. You can use cameras to monitor employee performance, identify potential safety hazards, and resolve customer complaints. In today's competitive landscape, businesses need to do whatever it takes to stand out from the crowd. By investing in video surveillance cameras, you're sending a message that you're committed to providing the best possible experience for your customers.
Get a complete view of your premises.

Our video surveillance systems provide a comprehensive view of your premises, helping to discourage and investigate criminal activity. Cameras can be placed at key points around the property, allowing you to monitor entry and exit points, get a clear view of public areas, and keep an eye on high-value assets. In addition, video footage can be reviewed in real-time or later to provide valuable information about suspicious activity. By installing our video surveillance system, you can help to keep your property safe and secure.
Identify a crime before it happens with reliable and intuitive systems.

Our cameras are equipped with video analytics, allowing you to monitor large areas with great detail and accuracy. This AI can interpret and assess what is happening in the scene. This can include identifying objects, understanding behaviors, and making predictions. For example, our surveillance cameras can identify suspicious behavior and alert security personnel to potential risks in areas with heavy pedestrian traffic. As a result, they can help to keep your visitors, employees, and assets safe.
Get the best image you can with our night-vision cameras.

When it comes to night surveillance footage, our night-vision cameras are second to none. By using infrared technology, they can capture clear images in even the darkest conditions. And because they use a wide-angle lens, they can capture a large area in a single frame. Additionally, our night-vision cameras are equipped with built-in software that helps to improve image quality further. As a result, you get high-quality images when you use our night-vision cameras.
Nexlar's video surveillance cameras have a broad view range, allowing them to capture a large area. This is very useful in public places like parks and squares, where there is a lot of activity. The broad view range makes it easier to identify potential threats and track people or objects. They can be mounted on poles or walls, giving them a wider field of view. Contact us to learn more about our mega-pixel camera and its de-fish functions.
Weather resistant and ideal for indoor and outdoor
Our security cameras are designed for indoor and outdoor use and are ideal for any weather conditions. Whether it's sunny, rainy, or snowy, our advanced cameras will keep on working. Plus, they're easy to use, so your security team won't have difficulty making the best of them. Our cameras include license plate readers, 360-mega-pixel cameras, thermal cameras, and more. If you're looking for a security system to keep your business safe, video surveillance cameras are the way to go. Call Nexlar today for a free quote, and let us help you get started on protecting your business today.
Our virtual guard services provide all of the benefits of traditional security guards but at a fraction of the cost.
Lessen the need for physical guards
Hiring physical guards can be costly and logistically difficult. However, that's not the case with our virtual guards. Our guards provide 24/7 monitoring and protection without the need for breaks or vacations. And because they can be deployed quickly and easily for far lower cost, they are a more efficient and affordable way to protect your property.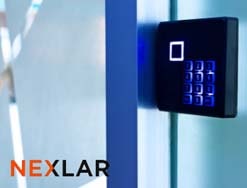 Alarm monitoring services with quick response times
With security, every second counts. Our monitoring center is staffed 24/7 by trained professionals ready to dispatch emergency services at a moment's notice. We also offer a wide range of features that can be customized to meet your specific needs. That includes real-time monitoring of your business, remote access, and more.
Handle any criminal threat quickly
Using the latest AI technology, our virtual guards are always on the lookout for suspicious activity. And if they spot something, they'll immediately alert you and dispatch the authorities to the scene. So you can rest assured that any criminal threat will be handled quickly and efficiently.
Convenient and affordable
Our virtual guards provide a convenient and affordable solution to your commercial security concerns. Our virtual guards are available anytime to monitor your premises and provide immediate assistance in an emergency.
Choose when you want our virtual guards to watch your business, and we'll work with you to create a fully tailored plan that fits your budget and needs. Whether you're looking for around-the-clock coverage or need us to check in on your business while you're away, we can create a plan that's right for you. So if you're looking for a way to lessen the need for physical guards, virtual guards are the answer.
Call (281) 407-0768 for a free consultation.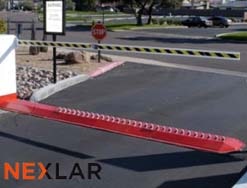 Traffic spikes are designed to puncture tires, preventing vehicles from entering or exiting a designated area. Heavier-duty spikes can even damage the undercarriage of a vehicle, making it inoperable.
At first glance, traffic spikes may seem like a simple solution to the problem of managing vehicle traffic. However, these devices can be quite complex, and their design can have a significant impact on their effectiveness. That's why at Nexlar, we offer tailor-made lane widths to ensure that our traffic spikes are well-suited to the needs of our customers. By narrowing or widening the lanes, we can create a system that is more or less effective at controlling traffic flow in any application.
Prevent unauthorized entry
Unauthorized vehicles on your property can cause several problems. They can damage landscaping, create dust and noise, and even pose a security risk. When placed at key points around your property, Nexlar's traffic spikes can effectively deter unauthorized vehicles while still allowing authorized vehicles to pass through. Contact us to learn more.
Little to no excavation is needed.
Our spikes can be installed with minimal excavation, meaning less mess and less hassle for you. And because our spikes are designed to fit snugly into the pavement, you won't even be able to tell they're there once they're installed.
Made from tough materials like steel and concrete, our traffic spikes are designed to withstand the wear and tear of heavy traffic. And because they're so durable, they can help improve traffic flow by keeping vehicles moving smoothly throughout the day. This makes them ideal for solving gridlock issues in busy entryways and controlling traffic jams on highways. Are traffic spikes the right solution for your business? Our team of experts has years of experience in the commercial security industry, and we're ready to safeguard your investment. Get a free consultation by calling our experts today. Let us show you how we can protect your business from harm.
Alfred360 Access Control System

If you want to protect your property and employees with a system for access control that is reliable and easy to use, there is no better option than a web-based app. With this type of app, you can manage access permissions easily from any device with an internet connection.
Plus, you'll receive updates automatically, so you always have the latest features and security enhancements.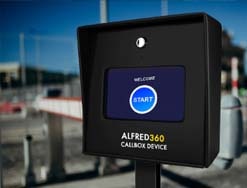 The latest technology at your fingertips gives you total control over your security.
Alfred360 uses the latest email security technology that gives you complete control over your security. Its advanced features allow you to add or revoke access from your phone with or without an internet connection. It also allows you to connect with surveillance cameras ensuring that you see whoever you are letting onto your premises. Alfred360's technology provides a comprehensive audit trail, allowing you to track who has accessed your entry points and when. With this level of control, you can rest assured that your business is safe from external threats.
Remote visitor and employee management

In today's business environment, it's more important than ever to have a way to manage visitors and employees remotely. That's why we created this application. It provides a simple and efficient way to track who is on your premises at all times. With this app, you can add and remove people from your visitor or employee list with the tap of a button. As a result, Alfred360 is an essential tool for any business owner that needs to maintain a secure and safe environment for all visitors, employees, and customers.
Get notified every time someone tries to access your building.
Our app offers this feature, as well as other tools to help you keep your business safe. With our app, you can view a live feed of your property, set up motion-activated alarms, and even call the police if you see something suspicious. So if you're away from work, you can rest assured that your business is being protected. Call us for a free demo of Alfred360.
Protect your business today with top-rated security solutions
We understand that commercial security is a complex issue. From access control systems to security cameras, we have the tools and expertise to help you keep your premises safe and secure. And with so many advanced features now available, there's no reason not to take advantage of them. Make sure your business is secure by investing in Nexlar's commercial security solutions today.
Security systems that grow with your business
Your security needs will grow as your business expands. Our commercial security solutions are designed to scale with your business, ensuring that you have the coverage you need as your company expands. From retail locations to office buildings, we have a solution that will fit your needs. Get in touch with our team. Learn more about how our commercial security solutions can help you protect your business.
Quick to learn and easy to use
Our commercial security systems are designed to be intuitive and easy to use. User-friendly controls and clear instructions make it quick to learn how to operate the system. At the same time, regular updates ensure that the latest features are always available. In addition, our dedicated customer support team is on hand 24/7 to answer any questions or resolve any issues. As a result, our commercial security systems offer the perfect balance of security and convenience.
Compatible with other all security systems
Our team can integrate our systems with your existing security infrastructure. This way, you create a customized security solution that meets the specific needs of your business. Our security systems are designed to work seamlessly with various other security products. Our team is always available to help you determine the best way to integrate our products into your existing system.
Customize access rights easily, add and remove users easily
With our access control systems, you can easily add and remove users and customize their access rights. And because our systems are compatible with various devices, you can be sure that your security plan will always be up-to-date. If you're looking for a security solution that's flexible and easy to use, look no further than our access control systems.
From encrypting your information to detailed activity logging, we go above and beyond to keep your information safe. And if something happens, our team of experts is standing by 24/7 to help you recover. So you can rest assured that your user data is safe with our security systems.
Control access to specific parts of your premises
If you want to temporarily or permanently limit who can have access to specific areas of your business, then we have just what you need. Our advanced access control systems allow you to restrict access to specific areas of your property, ensuring that only authorized personnel can enter. For added peace of mind, our security cameras can be used to monitor activity on your premises 24/7. Contact us today for a free quote.

Commercial Security Systems Service Area
Houston
Sugar Land
Spring
Katy
Kingwood
Stafford
Conroe
Texas City
Cypress
The Woodlands
Webster
League City
Bellaire
Missouri City
Friendswood
Humble
Richmond
Pasadena
Baytown
Tomball
Galveston
Galveston County
Pearland
Seabrook
Lake Jackson
Channelview
New Caney
Manvel
South Houston
Magnolia
Kemah
Rosenberg
Alvin
Hempstead
Dickinson
Fulshear
New Ulm
Wallisville
Hunters Creek Village
Brookshire
Sweeny
Hardin
Hankamer
Danbury
Needville
Simonton
Gilchrist
High Island
Raywood
Piney Point Village
Orchard
North Houston
Anahuac
Romayor
Huffman
Cat Spring
Bellville
Dobbin
Damon
Highlands
Bacliff
San Felipe
Winnie
Kendleton
Guy
Galena Park
Danciger
Pinehurst
Liberty
Liberty County
Daisetta
Industry
Mont Belvieu
Bleiblerville
Old Ocean
Clear Lake Shores
Santa Fe
Bunker Hill Village
Porter
Liverpool
La Porte
Brazoria
Prairie View
Willis
Cleveland
Clute
Port Bolivar
Rosharon
Dayton
Crosby
Montgomery
Montgomery County
Freeport
Sealy
Fresno
Alief
Hitchcock
West Columbia
La Marque
Beasley
Wallis
Splendora
Devers
Hull
Hufsmith
Pattison
Thompsons
Oak Ridge North
Rye
West University Place
Angleton
Kenney
Hockley
Barker
Waller
Stowell
Deer Park
Sienna
Northeast Houston
Westfield
Near Northside
New Territory
Nassau Bay
Mt Houston
Needville
Porter Heights
Plum Grove
Rayford
Quintana
Rose Hill
Midline
Atascocita
Arcola
Addicks
Willowbrook
Willow
Williams
Westchase
West University Place
Waverly
Turtle Bayou
Trammel
Timberlane Acres
Southeast Houston
Surfside Beach
Bayarea
Directions, That Matter!
Service And Quality Matters
Increase return on your investment with our custom security cameras, access control and software integration technology.
Quickly, professionally, on budget and on schedule, I would not hesitate to recommend Nexlar
Cliff M. Fogo de chao
CEO

Nexlar staff attend to our needs in a courteous and professional manner
Jeremy Director Of Facilities – BCFS

Outstanding customer service, fast and professional installation
Brenda

Thank you so much for your quick and effective work with us. Your technician was outstanding
Matthew
Production Group Leader (PGL) – Haliburton