Professional Business Security Systems Design, Installers And Services In Houston, Texas

If You Need A Professional Business Security Systems.
Please Call (281) 407-0768 For A Free Consultation

Is your business in need of a business security system that can safeguard its fixed assets, increase its productivity and increase its return on investment greatly? Nexlar has the perfect security system for you, regardless of the size or type of your business. We have several systems to choose from, and our team of experts can help you find the best option for your business needs. Nexlar is the leading installer of security systems in and around Houston, TX. So if you are looking for a security company you can trust, call us today at (281) 407-0768 to get started.
REQUEST A FREE CONSULTATION

Effectively Deter Crime And Protect Your Investment Today.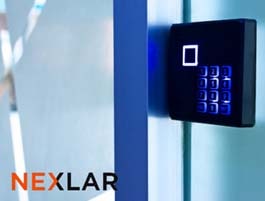 Are you concerned about the security of your business? Perhaps you should be. According to recent studies, businesses that do not have proper security measures are at a much greater risk of theft and other crime. Although there is no guarantee that your business will never be targeted by criminals, installing a quality security system can go a long way toward deterring would-be offenders. Nexlar offers a wide selection of
commercial security solutions
that are perfect for businesses of all sizes.
Maximize employee productivity

Ensure that your employees are working in a safe and secure and increase their productivity in the process. How? Feeling secure will limit distractions and interruptions they could possibly experience. This, in turn, will help them focus more on their work and to achieve more results. Our security systems can also help you ensure that your employees follow company policies and procedures and that they aren't wasting time or resources.
Increased crime has only made protecting businesses more difficult. However, our business security systems are designed to minimize these risks for your business and its employees. Our strict access control systems, alarm systems, and video surveillance systems to monitor activity can help businesses, whether large or small, deter would-be thieves and fraudsters.
Document all security incidents
Get the proof you need, build reports, and improve your business's operations. This documentation can be used to investigate potential security breaches and take steps to prevent them in the future. In order to ensure that all security incidents are properly documented, our company implements several measures.
For example, if you opt for our live-monitoring packages, all security cameras we install will be monitored 24/7 by our team of security experts. Our security personnel is trained to document all incidents thoroughly and accurately. To learn more about our live monitoring and virtual guard services, call (281) 407-0768, and let us ensure that your business has the highest level of security.
Trusted by the leading businesses in the country
Businesses trust our security systems because they know we can provide the reliable protection they need. Nexlar has a proven track record of excellence in delivering security solutions, and our systems have been tested by some of the leading businesses in the state. When it comes to security, businesses know that they can rely on us to keep their premises safe and secure. Our security systems are designed to deter crime. They are also backed by our team of experts who are always on hand to provide support and guidance.
Budget-friendly business security system installation, maintenance, and repair
Business security systems are a critical investment for any commercial property. Not only do they deter burglaries and break-ins, but they can also help to protect employees and customers from accidents and injuries. However, security systems can be expensive to install and maintain.
Here at Nexlar, we offer budget-friendly options for business security system installation, maintenance, and repair. We understand that keeping your property secure is important to you, and we work hard to provide quality services at an affordable price. Call (281) 407-0768 today to learn more about our business security system installation, maintenance and repair services.
Our Business Security Systems

Ensure that your commercial property is as secure as possible with our business security systems. We provide many security systems and can help you choose the right one for your commercial building. Here are some of our security systems for commercial properties in Houston, TX.
If You Are Looking A Commercial Building Security Systems.
Please Call (281) 407-0768 For A Free Consultation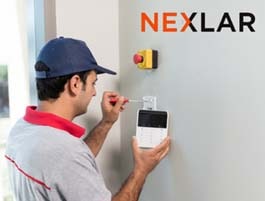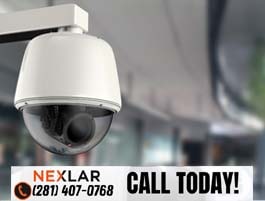 Need help discouraging loiterers on your premises, identifying and apprehending criminals? Our security cameras are the best solution for you.
Capture criminals in real-time
Our security cameras not only provide a deterrent to potential criminals, but they also record and capture events in real-time. Law enforcement can then use this footage to identify and apprehend suspects. Some of the security cameras we install are equipped with facial recognition software that can alert authorities to the presence of known criminals in the area. As a result, our security cameras can prove to be essential in keeping your business safe.
Receive notifications in real-time
Nexlar's Houston security camera installation experts can configure your systems to send notifications to you as soon as they happen. If you're looking for a security camera system that can provide instant notifications, our company has just what you need. Whether you want to receive the alerts directly via your smartphone or via email, our team has the right configuration for you. Schedule a free consultation.
Secure and encrypted privacy
Get advanced security cameras with the latest encryption technology. With our security cameras, you can be sure that your data is safe and sound. In addition, our cameras are easy to install and come with a wide variety of features.
So whether you're looking to keep an eye on your business or you need a more sophisticated system, we have the perfect security solution for you. Contact Nexlar today to learn more about our security cameras and how they can help you keep your data safe and secure.
Protect your investment with an approach that has been tested and proven to work for all businesses for over 70 years. Our alarms emit a loud, that can scare off would-be thieves. We also have silent alarms that can alert the police, who can then come to investigate. So whether you own a business in a high-crime area or just want an extra layer of protection, Nexlar's alarm systems are worth considering.
Every business is different. We understand. We have various features we can customize, including the type of alarm system you want, how sensitive it is, and even the color of the entire alarm system. Are there specifications that you are looking for? Chat with one of our security experts on (281) 407-0768, and we'll tailor an alarm system to meet your business's needs.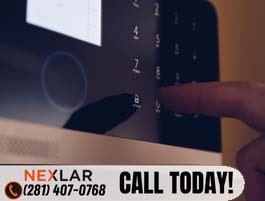 As a business owner, quick response times are essential if there's an intruder. Our alarm systems are built with this in mind. When an alarm is triggered, our security team is notified immediately and will respond quickly to the scene. Nexlar also works closely with government agencies to ensure our clients are always safe. Our security systems are designed to protect people and property, and we constantly innovate to stay ahead of the curve.
With unbeatable response times like those our security alarm solutions provide, you can count on the best commercial security alarms to keep your employees, customers, and investment safe from intruders and fires that could get out of hand and protect your bottom line. We have proudly served our customers for over two decades and will continue to do so for many years. Let us serve you too. Call our experts for a free consultation.
Smoke detection and carbon monoxide monitoring just got easier.
Protect your assets and employees from fires and unsafe gases. We have an alarm system that can detect smoke and carbon monoxide. You can set them to notify you by text, email, or phone call when these gases are detected. These alarms also have low battery, power outage, and tamper settings. If you don't want to monitor the alarm systems yourself, our company offers a variety of plans to meet your needs.
Choose from monthly, quarterly, or yearly alarm monitoring. You can also add camera surveillance to your plan. Our trained professionals will create a custom security solution for your business. Schedule a free consultation with the leading business security system installer in Houston, TX.
Undisruptive security apartment security
We understand that if you own or manage a hotel or high-rise apartment, the last thing you want is a disruptive alarm that causes great inconvenience for your customers each time it goes off. Nexlar's silent alarms are designed to be discreet and effective. Our team will place them strategically around the apartment for discreet security during installation. As a result, your commercial property will get a high level of security without disruption.
Say goodbye to false alarms and false responses for good. With our advanced sensors and algorithms, our alarm systems can eliminate false alarms that are caused by wind, rain, and animals. As a result, you'll only be alerted when there's a real security risk. We have wired and wireless options, so you won't have to worry about being forced to deal with tangled wires and cabling procedures. If you'd like us to install a wired system, we can handle everything from cabling to alarm maintenance.
Closed-Circuit Television (CCTV)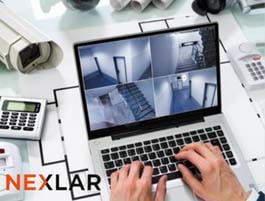 Get the 24/7 coverage you need. Monitor the parking lot, all common areas, and the perimeter of your commercial building with ease. Our CCTV solutions can detect suspicious activity and alert your security staff instantly. Call (281) 407-0768 for more information about our smart technology.
Have the right evidence when you need it
Give your business a better chance of winning a legal proceeding in case of a false liability claim or criminal prosecution. Our CCTVs allow you to get accurate footage of your property, and because they are highly secure, the integrity of your evidence won't be nullified. Evidence can make the difference between a conviction and an acquittal.
Track employees and visitors with tilting models
We have CCTV models that are always tilting and scanning your premises automatically. They'll allow you to track the movement of everyone on your premise and take action as you best see fit. Use our technology to make more informed decisions about your business. Our cameras provide an in-depth view of what's happening in your facility so that you can identify areas for improvement and keep your employees and customers safe. If you're interested in learning more about how our pan-tilt-zoom technology can benefit your business, call us for a free consultation.
Get accurate footage every time.
At Nexlar, we understand that one of the most common problems with CCTV footage is poor image quality. This can result from factors such as low lighting, incorrect camera placement, or lens dirt and grime. In order to get the best quality video, it's important to choose the right video surveillance systems for the job.
Some businesses are required to have reliable security systems on the premises to conduct business. Our CCTV systems are designed to meet the permit requirements of most businesses, and they are also easy to install and maintain.
With our cameras in place, you can be sure that your business complies with the permit requirements and that you are taking steps to protect your property and employees. Not sure if your business is compliant? Contact (281) 407-0768 for more information about our CCTV cameras and how they can help you keep your business compliant.
Our CCTVs are discreet and can be set up in almost any location. With Nexlar's CCTV cameras, you'll be able to track inventory levels in real-time, so you can always be sure that you have enough products on hand if you run an in-store shopping business or manage a warehouse. Our CCTV cameras can also help to deter theft and vandalism. This way, you don't make losses because of shoplifters. So if you want to improve your inventory management, Nexlar can help. Contact (281) 407-0768 today.
Use passwords, tokens, and other methods to allow only authorized personnel access to your premises.
If you are looking for a convenient and time-efficient way to regulate who has access to your premises, consider our access control systems. With Nexlar's access control systems, you can ensure that only authorized personnel can enter your building. This can help to improve security and prevent unauthorized access.
Our access control systems can offer convenience and more. With features like real-time activity monitoring and customizable reporting, you can easily track who is coming and going from your property. Call our expert for a free consultation.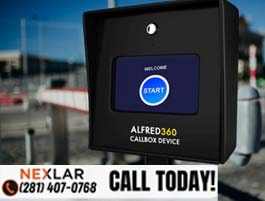 Manage your employees better
Track your employees' most productive hours, set up alarm triggers, and even remotely lock and unlock doors with advanced access control systems you can trust. With their user-friendly interface, you can easily add and remove employees from the system and lessen the risk of a previous employee gaining unauthorized access to your premises and potentially causing damage to your business's reputation.
Cost-saving installation and maintenance
Get the best security system installation service at the most competitive prices. We offer a wide range of access control systems to suit any need, and our experienced technicians are available 24/7 to provide installation and maintenance services. With our budget-friendly services, we can help you keep your access control system running smoothly for years to come. So don't hesitate to call Nexlar today for all your access control needs.
Limit access for exclusivity Increase property value
At Nexlar, we understand that exclusivity is a valuable asset for any property owner. By limiting access to your property, you can help to ensure that only authorized individuals are able to enter. This can help increase your property's security and deter potential criminals. In addition, restricting access can also help to increase the value of your property.
Our access control systems can be customized to fit any property owner's needs. We offer various options, including keypad entry systems, fingerprint scanners, and more. Nexlar's experts can help you select the best system for your needs and budget. Contact Nexlar's expert today to learn more about our access control solutions.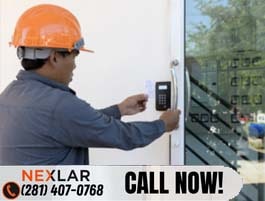 The stress of running without having to worry about security threats is hard enough. But unfortunately, businesses are prime targets for criminals and hackers. That's why having a comprehensive security system in place that can protect your company from all angles is crucial. Here at Nexlar, we have a fully licensed team of experts who will work with you to design a system that provides maximum protection for your business. Call (281) 407-0768 and start securing your assets.
The first step of our process, before we install a security system, is a free consultation call. During this call, one of our expert security consultants will ask you a series of questions about your property and your specific security needs. This information will help us to determine the best security system for your business. We will spend some time explaining how our system works and what features are available. We want you to be fully informed about the security system we install so that your investment is protected.
Our expert will then give you a free no-obligation quote before we install your security system. This way, you can have complete faith that your business is getting the best possible service at the best possible price. We'll explain the different features of our system and how they can benefit you. We'll also work with you to determine the best placement for sensors and cameras. Would you like to request a free estimate right now? Call on (281) 407-0768.
If you choose to proceed with the installation, our team will install the security systems for your business. This process typically involves installing cameras, motion detectors, and alarm systems. We will also determine the best placement for these systems. Once the installation is complete, we will provide you with a comprehensive explanation of how the system works. By choosing to work with our Nexlar, you can be confident that your business will be well-protected against potential security threats your business may face.
After installation, our team will perform regular checks to ensure that your business security systems are operating effectively. We will also provide servicing and maintenance on an as-needed basis to keep your system in top condition. Nexlar's goal is to provide you peace of mind by ensuring your business is protected against burglars and other threats.
Our company's technicians pride themselves on providing high-quality service no matter what. That's why they perform repairs on already installed systems in addition to installing new commercial security systems. For us, no repair job is too big or too small. We have the track record to prove it. We'll always get the job done as efficiently as possible. So if you need security system repairs done, don't hesitate to contact Nexlar's experts at (281) 407-0768 for a free consultation.
When it comes to business security, no one does it like us. Security system installation is very complex, and you should hire a professional to install the systems. We'll also service and perform repairs on the installed security systems no matter what time of the day it is.
– Nexlar's systems are designed by the leading manufacturers and installed by highly trained and experienced professionals with over two decades of multiple industry experience.
– Our security systems are the most comprehensive and user-friendly security solutions on the market.
– Our company offers a range of features that other security systems do not, such as facial recognition and object identification software.
– Nexlar's business security systems are backed by a team of experts who are available around the clock to help you with any inquiries or technical issues you may have.
We understand that security is essential for our customers, and we are committed to providing the best possible protection for your premises. With our advanced security technologies, you can be sure that your data is safe with us. Request a free quote.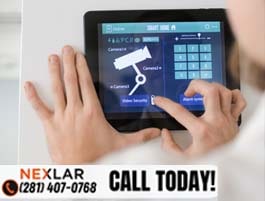 Commercial Business Security Systems Service Area
Houston
Sugar Land
Spring
Katy
Kingwood
Stafford
Conroe
Texas City
Cypress
The Woodlands
Webster
League City
Bellaire
Missouri City
Friendswood
Humble
Richmond
Pasadena
Baytown
Tomball
Galveston
Galveston County
Pearland
Seabrook
Lake Jackson
Channelview
New Caney
Manvel
South Houston
Magnolia
Kemah
Rosenberg
Alvin
Hempstead
Dickinson
Fulshear
New Ulm
Wallisville
Hunters Creek Village
Brookshire
Sweeny
Hardin
Hankamer
Danbury
Needville
Simonton
Gilchrist
High Island
Raywood
Piney Point Village
Orchard
North Houston
Anahuac
Romayor
Huffman
Cat Spring
Bellville
Dobbin
Damon
Highlands
Bacliff
San Felipe
Winnie
Kendleton
Guy
Galena Park
Danciger
Pinehurst
Liberty
Liberty County
Daisetta
Industry
Mont Belvieu
Bleiblerville
Old Ocean
Clear Lake Shores
Santa Fe
Bunker Hill Village
Porter
Liverpool
La Porte
Brazoria
Prairie View
Willis
Cleveland
Clute
Port Bolivar
Rosharon
Dayton
Crosby
Montgomery
Montgomery County
Freeport
Sealy
Fresno
Alief
Hitchcock
West Columbia
La Marque
Beasley
Wallis
Splendora
Devers
Hull
Hufsmith
Pattison
Thompsons
Oak Ridge North
Rye
West University Place
Angleton
Kenney
Hockley
Barker
Waller
Stowell
Deer Park
Sienna
Northeast Houston
Westfield
Near Northside
New Territory
Nassau Bay
Mt Houston
Needville
Porter Heights
Plum Grove
Rayford
Quintana
Rose Hill
Midline
Atascocita
Arcola
Addicks
Willowbrook
Willow
Williams
Westchase
West University Place
Waverly
Turtle Bayou
Trammel
Timberlane Acres
Southeast Houston
Surfside Beach
Bayarea
Directions, That Matter!
Service And Quality Matters
Increase return on your investment with our custom security cameras, access control and software integration technology.
Quickly, professionally, on budget and on schedule, I would not hesitate to recommend Nexlar
Cliff M. Fogo de chao
CEO

Nexlar staff attend to our needs in a courteous and professional manner
Jeremy Director Of Facilities – BCFS

Outstanding customer service, fast and professional installation
Brenda

Thank you so much for your quick and effective work with us. Your technician was outstanding
Matthew
Production Group Leader (PGL) – Haliburton