Top Rated Commercial Burglar Alarm Systems Design, Installation And Service In Houston, Texas

If You Are Looking Houston Burglar Alarm System For Your Business.
Please Call Now (281) 407-0768 For A Free Consultation

If you are looking for a reputable full-service security company that can install, service, and repairs commercial burglar alarms in Houston, TX, you're in the right place. Nexlar's experts have over 25 years of experience installing security systems for businesses and are ready to serve yours too. With a burglar alarm from our company, you can rest assured that your business is protected 24/7. We offer top-of-the-line equipment and professional installation, so you can be sure that your property is safe from intruders. Reach us today at (281) 407-0768 to learn more about our burglar alarm systems and how they can maximize your ROI.
REQUEST A FREE CONSULTATION

Save Time And Money With The Most Trusted Burglar Alarms In Houston, TX.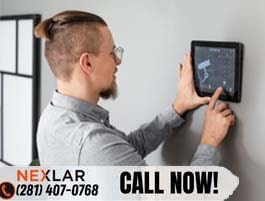 As a business owner, there's nothing worse than coming to work to find a break-in. Not only is it distressing, but it can also be costly to replace stolen items and repair damaged property. Our burglar alarms can help to deter potential thieves and give you peace of mind knowing your business is safe. Our commercial alarm specialists can help you choose the right system, and we offer a wide range of features to suit your needs. We can also install the alarms for you, so you don't have to worry about a thing. Contact our alarm specialists today to find out more about our burglar alarm systems.
Our company's burglar alarms use the latest technology to verify alarms and send alerts to the authorities and our monitoring center if you opt for an alarm monitoring package. This ensures that emergency response teams can respond quickly and efficiently to any potential threats. We have extensive experience in dealing with burglar alarms. We only install systems with minimal false alarms and send the police to valid emergencies. We have established strong relationships with law enforcement agencies across the city. Call us to learn more about our virtual guard and alarm monitoring services.
Burglars are likely to shatter glass to gain access to your premises. Our alarms can detect the sound of breaking glass and trigger the alarm. This can be an effective deterrent to would-be burglars, as it alerts both the occupants of the building and the police to their presence. In addition, glass breakage sensors can also be used to detect accidents or vandalism. If a window is broken in a store after hours, for example, the alarm will sound, and the police will be notified, helping to prevent further damage. To learn more about our other simple but effective ways to improve the security of any commercial building, consult with one of our security experts.
Motion sensors that never miss any movement and infrared sensors
Don't let any suspicious movement, which can be an indication of a break-in, go unnoticed. Our burglar alarms are equipped with motion sensors that detect movement within a defined area, and infrared sensors can detect heat signature changes, which can also indicate movement. Together, these sensors can provide an effective way to deter burglars and protect your commercial building.
Monitor alarm activity via mobile
Our burglar alarms are designed for convenience and peace of mind, with the ability to monitor alarm activity via a mobile device. If you'd like to monitor your burglar alarms remotely, consider using an app. This app will allow you to see the status of your
alarm system
and receive notifications if there is an issue. Have you ever used a remote monitoring app for your burglar alarm? If not, call (281)407-0768 for a free consultative call and see why many business owners and property managers love Nexlar's burglar alarm systems.
Customer service that lets you focus on your business
Burglar alarms are an important part of any business security system but can also be a source of stress and anxiety. We understand that. That's why our friendly and helpful customer service is here to troubleshoot any issues you might have with your alarm systems, so you can focus on running your business. We understand that time is precious, so we'll always do our best to figure out the root of the problem. We'll then resolve it as quickly and efficiently as possible. And if you ever have any questions, don't hesitate to give us a call on 281-407-0768. We're always happy to help.
Remote arm and disarm features
Arm and disarm the alarm system from any distance. This can be useful if you forget to arm the system before leaving the building or if you need to disarm it quickly in an emergency. The remote feature also allows you to check the status of the system remotely, so you can always be sure that your business is safe and secure.
Our team constantly performs regular system updates on every commercial alarm system we install to stay up-to-date with the latest security threats. In a world where new types of burglaries are being constantly developed, it is essential that alarm systems can keep up. By ensuring that our systems are always using the latest technology, we can provide your business with the best possible protection against the ever-evolving threat of burglary.
You can program the burglar alarms we install to allow entry for a set period without triggering the alarm. This can be useful for employees working late or delivery people who need access after hours. Furthermore, if you need to grant access to specific areas of the building without setting off the alarm, you can configure the alarms to do so. Choose what features you want to keep your business safe.
Integrated security solution for every business

We are a leading integrator of security systems in Houston, TX, that can integrate burglar alarm systems too. Our burglar alarms are just one part of this puzzle, and by integrating them with other systems such as CCTV and access control, we can help your business create a much more effective security setup. For example, the burglar alarm can act as a tripwire that triggers other security measures, such as activating the video surveillance system or locking all doors. By taking a comprehensive approach to security, businesses can make it much harder for burglars to succeed. Dial (281)407-0768 for a free consultative call with Nexlar's expert today.
Loud alarm sirens and strobe lighting

Our burglar alarms have been designed to disorient and scare away intruders. The loud siren and bright strobe light will immediately alert you to an intruder's presence, and the disorienting effects of the light will make it difficult for them to escape.
Battery backup up to 8 hours
Get an alarm system that can last up to 8 hours when there is a power outage. Nexlar offers a variety of models to choose from, and our trained professionals are always available to answer any questions you may have. Our burglar alarms are an investment in your safety, and we are confident they will provide you with the protection you need.
Wireless systems built for the modern world.
Our burglar alarms for businesses are designed for the modern world, with various features that make them more effective and easier to use. For example, we have wireless models that are flexible when it comes to placement. Since there is no need for our team to run wires through walls and ceilings, you save costs and cut down on installation time so you can start using your burglar systems as soon as possible. Our wireless systems are much more difficult for burglars to disable since there are no wires to cut. If you want the wired options, our team can install those connected via CAT5 cable, and even then, you can count on our cabling team to do a great job of making them almost impossible for intruders to notice and disable.
Advanced technology for modern crime
We've developed several burglar alarm systems that use the latest technology to keep your premises safe. Our systems are designed to be highly effective against various threats, from opportunistic thieves to organized gangs. We also offer a comprehensive monitoring service to ensure that your business is protected around the clock.
The needs for a commercial security system vary greatly from one business to the next, and that's why our burglar alarms are so popular. They are highly customizable, meaning they can be adapted to meet the needs of any customer. In addition to being highly effective, our alarm systems are also very affordable. We offer various packages designed to fit any budget, and we even offer financing options for those who need a little extra help. If you want a highly customizable and cost-effective security solution, contact (281) 407-0768 today. Let us show you what makes Nexlar's solutions the leading alarm systems in Houston, TX.
A sophisticated Security solution
Our alarms are easy to use and feature advanced technology that helps keep you safe. At home, you should feel secure and safe. The latest technology is used in our alarms to ensure that you are alerted as soon as possible if there's an emergency.
Protect your business around the clock with 24/7 surveillance and monitoring.
As a business owner, not only do you need to protect your premises and inventory, but you also need to safeguard your employees and customers. Our burglar alarm systems ensure that your business is protected around the clock. And with our 24/7 monitoring service, you can rest assured that an expert virtual security guard always keeps an eye on your property.
Stay alert for any suspicious activity in or around your property via text or email.
Whether you're away from your commercial property for a week or a month, it's important to have the assurance that your building is being looked after. With our alarms, you can choose to receive text or email alerts if there is any unusual activity on or around your property. That way, you can take action quickly if there is a problem. Whether you're out running errands or on the other side of the world, you will stay connected to your property and have the peace of mind you need to enjoy your vacation. Never again will you wonder if your property is safe- with our burglar alarms, you'll always know. Contact our support for a free demo of our access control application, Alfred360.
Our burglar alarms are made by the leading manufacturers in the country and will provide years of protection. Are you looking for a simple basic alarm or a more comprehensive security system that will alert the authorities? We've got it all. If you're unsure which type your business needs, our experts can help you find a perfect solution. Call (281)407-0768 today to learn more about our options and find the right alarm system for your commercial property.
We offer a comprehensive security solution that will give you a live feed on your phone. This way, you'll be able to keep track of when someone is at your property. When integrated with CCTV, you can also see who it is and record the footage from anywhere in the world. We offer burglar alarm installation, repair, and preventive maintenance for commercial clients. Our experienced professionals will find the best solution for your security needs. The manufacturers we source from only use the latest technology. Their burglar alarms are backed by a comprehensive warranty. So whether you're looking to protect a small retail store or a large warehouse, Nexlar has you covered.
Contact Nexlar to book a free consultation with one of our security professionals.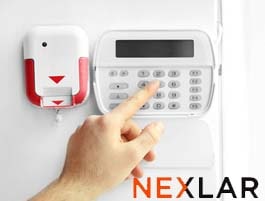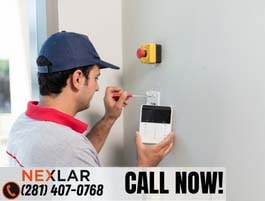 We offer expert installation of burglar alarms to help deter would-be criminals. Our team of experienced technicians with over 20 years of experience will ensure that your alarm system is properly installed and connected to the appropriate cabling. We'll also work with you to determine the best placement of sensors and cameras to maximize coverage. If you're considering installing a burglar alarm system for your business, our team of experts is here to help. We can provide a free consultation and recommend the best type of system for your commercial property and budget.
Our company also offers a variety of monitoring packages for your burglar alarms. Our most popular package includes 24/7 monitoring of your alarm system, regular system checks, and battery replacements. We also offer add-on services, such as fire alarm monitoring and security system automation integration. We also offer a variety of features, such as text and email alerts, to make sure you are always aware of everything happening at your business. Contact us today to learn more about our burglar alarm monitoring packages for businesses.
Maintenance and servicing

Our team of consultants is available 24/7 to ensure that your burglar alarm is always in top working condition. Whether you need a one-time checkup or monthly service, our team of experts will ensure that your system is in top working condition. Our security company offers a comprehensive range of maintenance and servicing options to suit your needs. We can even customize a security package to fit your exact specifications. With our regular maintenance and servicing, you can rest assured that your alarm will be ready to protect your business at a moment's notice. Operating a business is hard enough without having to worry about the security of your premises. Let Nexlar help you protect your business against intruders. Schedule a free consultation call with someone from our team.
We can inspect all the sensors and detectors to ensure they are clean and free of any obstructions. We will also test the control panel to ensure it is functioning properly. In addition, we will check the wiring to make sure there are no loose connections. If we find any problems with your system, we will make the necessary repairs. If you're in need of a burglar alarm inspection and repair, be sure to give us a call. We provide free quotes so you can get an idea of the cost before moving forward with any service.
Alarm verification eliminates false alarms.
False alarms can not only be annoying, but they can also lead to complacency, which can decrease the overall effectiveness of your burglar alarm. Our alarm verification technology can confirm that an intruder is present before the police are dispatched, saving valuable time and resources. It works by using sensors to detect unusual activity in your business. If the sensors detect an intrusion, they will send a signal to our monitoring center. Our trained professionals will then use video cameras to verify that an intruder is present. If an intruder is confirmed, the police will be dispatched immediately. Call (281)407-0768 to consult with one of our experts about our
video alarm systems
.
Alarm verification eliminates false alarms.
Our team can strategically place e-stop buttons on your premises. By incorporating e-stop buttons into your alarm system, you'll be able to immediately shut down all power to your facility in an emergency. This will prevent your property from more damage. It will also give you the time you need to call the authorities. In addition, the e-stop buttons we install can also be used to turn off lights and equipment that may be a fire hazard.
If you are looking for a reliable burglar alarm system, you should call us. We back our products and services with a 100% satisfaction guarantee and have been in business for over ten years. Our company has a solid reputation for installing reliable burglar alarms for businesses in Houston, TX, and surrounding cities. We have a wide selection of systems that can be tailored to the needs of any business, small or large. Our specialized team of experts will be happy to help you choose the right one for your business. We understand that asset security is a concern for our customers, and we are committed to providing the highest level of service possible. In addition to our reliability, we also offer competitive pricing and a wide range of features. Talk to one of our experts for more information. It's FREE.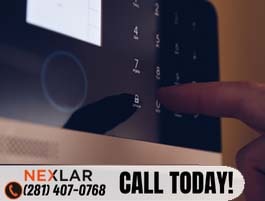 We are flexible and scalable.
We can customize the burglar alarms we install to fit the needs of any commercial property. Whether you need a simple system for your business or a more complex one for a multi-family apartment complex, we have an alarm that will fit your needs. And, because our alarms are expandable, you can ask our team to add functionalities as your needs change, and they'll do it fast. This makes our burglar alarms the perfect solution for businesses of all sizes.
If you're looking for a reliable and fully compliant burglar alarm for your business, look no further than our wide selection of high-quality systems. There are federal laws in place that dictate what type of burglar alarm systems businesses must have in place. These laws are designed to protect both businesses and their customers from theft and other crimes. Our company provides burglar alarms that are fully compliant with these federal laws. This means that your business can trust us to provide them with the level of security they need to protect their assets and customers. When it comes to security, businesses can rely on us to help them stay compliant with the law.
We protect your investment to maximize ROI
Want to know what separates Nexlar from other security companies? The value we can add to your business. Our burglar alarms can deter criminals and minimize the damage in the event of a break-in. However, most important to note is that they can help to protect your investment and maximize ROI. We install well-engineered alarms that include sensors that detect movement, glass breakage, and other signs of forced entry. The sensors then trigger an alarm that will notify the authorities and scare off the intruder. We have systems that also include surveillance cameras that can provide valuable evidence in the event of a crime. By investing in Nexlar's high-quality burglar alarm systems, you can help to safeguard your business and ensure that it remains a profitable investment.
Implement the best burglar alarms for your business today.

Request a free quote today. Call (281) 407-0768 to get started.

Commercial Burglar Alarms Service Area
Houston
Sugar Land
Spring
Katy
Kingwood
Stafford
Conroe
Texas City
Cypress
The Woodlands
Webster
League City
Bellaire
Missouri City
Friendswood
Humble
Richmond
Pasadena
Baytown
Tomball
Galveston
Galveston County
Pearland
Seabrook
Lake Jackson
Channelview
New Caney
Manvel
South Houston
Magnolia
Kemah
Rosenberg
Alvin
Hempstead
Dickinson
Fulshear
New Ulm
Wallisville
Hunters Creek Village
Brookshire
Sweeny
Hardin
Hankamer
Danbury
Needville
Simonton
Gilchrist
High Island
Raywood
Piney Point Village
Orchard
North Houston
Anahuac
Romayor
Huffman
Cat Spring
Bellville
Dobbin
Damon
Highlands
Bacliff
San Felipe
Winnie
Kendleton
Guy
Galena Park
Danciger
Pinehurst
Liberty
Liberty County
Daisetta
Industry
Mont Belvieu
Bleiblerville
Old Ocean
Clear Lake Shores
Santa Fe
Bunker Hill Village
Porter
Liverpool
La Porte
Brazoria
Prairie View
Willis
Cleveland
Clute
Port Bolivar
Rosharon
Dayton
Crosby
Montgomery
Montgomery County
Freeport
Sealy
Fresno
Alief
Hitchcock
West Columbia
La Marque
Beasley
Wallis
Splendora
Devers
Hull
Hufsmith
Pattison
Thompsons
Oak Ridge North
Rye
West University Place
Angleton
Kenney
Hockley
Barker
Waller
Stowell
Deer Park
Sienna
Northeast Houston
Westfield
Near Northside
New Territory
Nassau Bay
Mt Houston
Needville
Porter Heights
Plum Grove
Rayford
Quintana
Rose Hill
Midline
Atascocita
Arcola
Addicks
Willowbrook
Willow
Williams
Westchase
West University Place
Waverly
Turtle Bayou
Trammel
Timberlane Acres
Southeast Houston
Surfside Beach
Bayarea
Directions, That Matter!
Service And Quality Matters
Increase return on your investment with our custom security cameras, access control and software integration technology.
Quickly, professionally, on budget and on schedule, I would not hesitate to recommend Nexlar
Cliff M. Fogo de chao
CEO

Nexlar staff attend to our needs in a courteous and professional manner
Jeremy Director Of Facilities – BCFS

Outstanding customer service, fast and professional installation
Brenda

Thank you so much for your quick and effective work with us. Your technician was outstanding
Matthew
Production Group Leader (PGL) – Haliburton