Best Apartment Security Systems In Houston, Texas
Are you looking for reliable apartment security systems in Houston, TX?
Please Call (281) 407-0768 For A Free Consultation

If you own an apartment complex, security could be the one thing standing between your costs and your profits. When put into perspective, your residents are most likely to pay more and stay longer if they know they are safe. Nexlar installs, repairs, and services security systems for apartment complexes and gated properties in and around Houston, TX. We have the latest in security technology. Trust us to keep your apartment safe. Call (281) 407-0768 today.
REQUEST A FREE CONSULTATION
Protect Your Apartment With Nexlar Security Solutions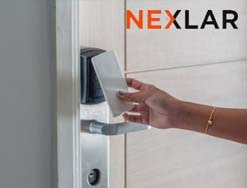 Nexlar offers top-of-the-line security solutions for high-rise apartments. If you're looking for an access control security system or an indoor surveillance system, we have the perfect solution for you.
Surveillance systems are more than twice as effective at defending your property if they are equipped with motion sensors. Motion sensors detect movement and then send an alert to your security staff. This way, if someone tries to enter your building forcefully, you will be immediately notified so that you can take appropriate action. Nexlar's motion sensor technology is an easy and affordable way to upgrade your apartment complex's security system, and it can make a big difference in keeping your residents safe. Call us for a free quote.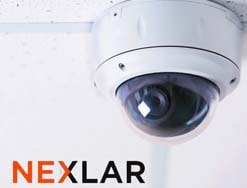 Temperature Detection Cameras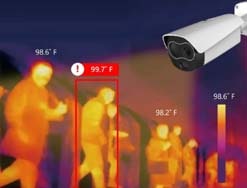 These cameras are constantly scanning the area for signs of unusual heat signatures. If they detect anything unusual, they send an alert to you or your monitoring staff. This allows you to investigate and take appropriate action, whether that means sending someone to check things out or contacting the authorities.
Fires and infections are huge risks, especially in multi-family buildings like apartment complexes. These cameras can detect high-risk visitors and alert your team. Our team can integrate them with cloud-based access control to ensure that you get alerted via email or text even when you're away. Call (281) 407-0768 to inquire about our temperature detection cameras.
Video Surveillance Cameras

Get a record of all premise activity, identify criminals and catch crimes in real-time. Our security cameras capture footage in high resolutions up to 4K. Some of our models use infrared technology to record images in low light conditions of up to. The camera's sensor is highly sensitive to infrared light, which is invisible to the human eye. When it is dark, the sensor records the infrared light reflected off objects in the scene. This allows the camera to see in the dark, although the images that it records will be in black and white.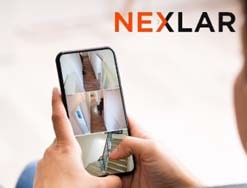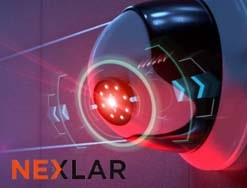 Our virtual guards provide a cost-effective and convenient solution that can be tailored to the specific needs of any apartment complex. They can monitor entry points, identify intruders, and contact the appropriate authorities in the event of an emergency. They can also provide valuable information to tenants about safety concerns in the area. By choosing our virtual guards, you can give your tenants the peace of mind they need to feel safe in your building.
Manage building access and track employee activity with high-quality commercial access control systems. Nexlar's access control systems use various methods to restrict and monitor access to your premises. For example, we can install card readers that only allow authorized personnel to enter certain areas using proximity cards. Our team can also set up alarm systems that will sound if someone attempts to enter forcefully. Additionally, our systems can be integrated with CCTV cameras so that you can monitor activity in real-time. If you want to install an access control system in your business, now's the time to do it. Call (281) 407-0768 today and get a free quote.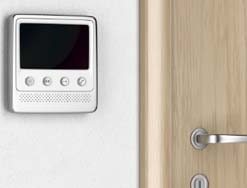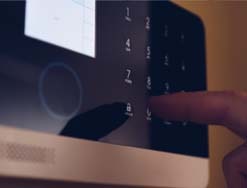 Do you need an alarm system that alerts the police in case of a break-in, or is a simple door lock enough? We install many alarm systems that are easy to use, cost-effective, and compatible with third-party security systems. With so many choices, knowing where to start can be difficult. However, by taking the time to talk to our team and assess your needs, you can find an
apartment security system
that provides the right level of protection for your commercial building.
Automatic Parking Lot Systems
Nexlar's automatic parking lot systems can help restrict access to the complex and keep unknown guests out. We also install traffic spikes which can be used to control traffic flow and keep residents safe. Because our gates are automatic, they make entering and exiting the premises more convenient since they won't have to wait at the gate in long queues for security guards to verify their identity. Contact Nexlar's team for more information about our automatic RFID gate openers.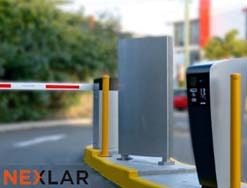 Pedestrian Gates (Turnstiles)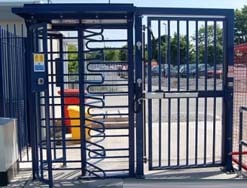 Our turnstiles are made from steel and are very effective at stopping forceful entry into your building. Since customers are required to sign in and out of your building, there'll be fewer chances of strangers getting in and harming your employees and residents and even stealing property. Our company installs half-height and full-height manual and automatic turnstiles for apartment complexes of any size. Our turnstiles are designed specifically for apartment complexes and offer several features that make them ideal for this purpose.
If you've ever had your internet or cable go out, you know how frustrating it can be. Depending on your provider, a team of technicians may need to be dispatched to your commercial building to diagnose and fix the issue. And in many cases, the problem can be traced back to faulty wiring. That's where our professional cabling services come in. We specialize in installing and repairing high-quality data and telecommunications cables. Our cables are designed to withstand years of use, and they're backed by a comprehensive warranty. Because of this, your employees and residents can rest assured that your apartment's security is in good hands. In addition to our cabling services, we also offer a wide range of security solutions for apartment complexes. Our knowledgeable security professionals can help you choose the right systems and services for your needs. We'll also work while keeping you in the loop to ensure that your security system is up and running smoothly. Contact Nexlar today to learn more about how we can help keep your apartment complex safe and secure.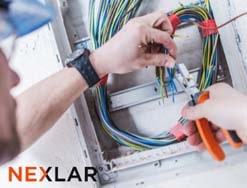 Improve customer experience
Apartment complexes, in particular, can be difficult to keep secure. Nexlar's security systems are different. They are designed to provide peace of mind for your customers. Our access control systems and live-video monitoring will simplify the check-in process for your tenants and make them feel safer. As a result, they'll likely extend their stay and recommend your apartment complex to others. In addition, our security system is backed by 24/7 customer support. Our team is always available to help you with any questions or concerns you may have, and based on the protocols you give us, we can handle your customers' concerns on your behalf. Call us to learn more.
Increase renewal rates and decrease occupant turnover by making your property safer. Studies have shown that residents feel safe and are more likely to stay for a longer period and renew their lease when an apartment has security systems. Turnover rates decrease, and profits increase, and that's what Nexlar specializes in, helping business owners make the most out of their investment.
Increase your apartment's image and value
Enhancing security in your apartment building can go a long way toward increasing its image and value. Burglaries and other crimes can lower the value of a property. Installing an effective security system can help protect your investment and increase its worth. These systems will attract more potential customers looking for safer places to stay. Call us for a free consultation.
Hiring the right security company to install security systems for your building can minimize the damages and help you avoid paying for any damages out of your pocket. This is especially important when claiming insurance on property damages. From CCTV systems and access control to motion sensors and alarm systems, we have the apartment security solutions and the expertise to secure your property. With our assistance, you can rest assured that your bottom line is protected and get the highest return on your investment.
Occupancy rates are a vital metric for apartment complexes. A higher occupancy rate not only brings in more revenue but also indicates that the property is attractive and appealing to potential residents. Apartment managers can boost occupancy rates in many ways, one of which is through improved security. After all, 43% of apartment renters say security is the most important factor when choosing an apartment. By investing in our gate entry systems, and surveillance cameras, you can make your building more attractive to potential residents looking for a safe and secure place to live. Boost your occupancy rate today. Call (281) 407-0768 and see how Nexlar's security systems for high-rise apartments and condos can help you maximize your ROI.
Don't Let Your Apartment Complex Get Left Behind.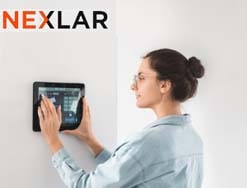 Your apartment complex may be lagging behind competitors when it comes to security, but it doesn't have to be that way. Renters are increasingly taking their safety into their own hands by looking for apartment complexes that offer the latest security technology. And, with the rise of crime rates in major cities like Houston, it's becoming more and more necessary to have a well-secured apartment complex. Nexlar's apartment security systems give you full control over who has access to your complex, and you can also configure specific permissions for each individual. Get in touch with someone from our installation team today.
Professional monitoring options are available.
In addition to security system installation, our company also offers alarm and live video monitoring services to help cut down your operating costs. Our security personnel provides round-the-clock protection of your premises, ensuring everyone is safe.
A security system that works for a small apartment might not be effective for a large complex, and vice versa. That's why it's important to find a solution that can be customized to fit your specific needs. Nexlar offers flexibility and freedom with custom-built apartment security systems that grow with your business. Our professionals build custom systems that can easily be adapted to fit the needs of any size complex.
At our company, we understand that security systems are often a necessity for apartment complexes. For this reason, we price our solutions as best as we can to ensure that your safety and the safety of your tenants don't cost you an arm and a leg. Our cost-effective solutions for apartment security offer the protection and efficacy your business needs. We also offer flexible leasing options with no hidden costs to ensure that you keep your operating costs low and see a greater return on your investment in the shortest time possible.
Our team is available at all hours of the day to help you with any repairs you may need. Our skilled professionals can handle any repair and maintenance issue within a short timeframe. When you call us, we'll assess the problem and then determine the best course of action. If your system needs new components, we'll handle that too. We'll make sure that repairs are performed at a time that best suits your schedule so as not to inconvenience your tenants. We can also perform regular updates on your security systems. Nexlar is a security company you can trust for apartment security system repairs. If you need assistance, (281) 407-0768 is the number to call.
Receive instant notifications via email or text each time someone accesses your building. Our web-based app gives you complete control over every entry point in your building and is the best way to ensure apartment security. With this technology, you can receive alerts on your phone or other devices whenever someone is at your door or in your building. This way, you are notified of any activity on your premises, and you can take action quickly if necessary.
Smartphone control capabilities
Enjoy the perks of smartphone access control with Nexlar's apartment security solutions. This is handy in that it allows you to arm or disarm your security systems, check the status of your entry points, and even view live footage of your premises – all from the palm of your hand. If you get in touch with our team and request a demo of our app, you'll get full access to all the amazing features
Alfred360
has to offer. Once you have the app installed, you'll simply need to enter your login credentials and access your dashboard. Alfred360 has plenty of interesting features.
Request a free demo today.
Durable against smash and grab attacks
Many systems use fragile glass or plastic sensors that can easily be broken, but Nexlar's solutions are different. Our apartment security systems are made from high-quality materials and are robust enough to withstand smash and grab attacks. In fact, our systems are so effective that even if someone were to try and break into your apartment, they wouldn't be able to get very far. Count on Nexlar's security systems to protect your apartment complex for a long time.
Our security systems are built to be discreet, so you won't have to worry about ruining the look of the apartment complex. Chances are, the last thing you want is for your security system to impact the look of your apartment complex. That's why our systems are made sleek and modern, so they blend in seamlessly with your existing décor. Plus, we offer many customization choices to ensure that your system looks the way you want it to. We also believe that security should be invisible but ever-present, and our products reflect that philosophy. So, you can trust that your security system won't take away from the aesthetic of your property. Explore our solutions.
Full integration with other security systems
Our team does integrations with third-party security systems. This allows for wider property coverage and makes it easier to monitor your building and track entry and exit. Integration can also reduce false alarms and improve customer satisfaction. When different security systems are able to communicate with each other, they can verify alarms and ensure that response teams are only dispatched when there is a genuine threat. Call (281) 407-0768 and get in touch with our team if you need any security system integration done.
This feature can recognize suspicious activities and alert your security team or the authorities to take immediate action. These features can help you improve the safety of your complex even further by ensuring that employees are working properly and not loitering in unauthorized areas. We understand that when it comes to apartment security, some systems perform better than others. However, it's difficult to know which is the right one to choose. That's why we're offering a free consultation to high-rise apartment managers or condominium owners for a limited time. Call (281) 407-0768 and talk to an expert today.
Begin Your Search For Better Apartment Security Solutions With Us
Finding the right security solutions for your building is a top priority. But where do you start? Nexlar's security specialists can help you find the security solutions your building needs and budget. We serve high-rise apartment complexes. Contact to set up a free security assessment.
Accredited by the Better Business Bureau
A lot goes into ensuring the security of your apartment complex. You want to be sure that you are working with a reputable, accredited company that can be trusted. Nexlar is proud of being recognized by the Better Business Bureau (BBB). Our industry experience and knowledge of the latest security technology mean that we can provide you with the best security solutions for your apartment. We understand the unique challenges that come with protecting an apartment complex and its occupants. Nexlar has the resources and expertise to meet those challenges head-on. From managing who has access to the building to monitoring activity in your building around the clock, apartment security is a complex and ever-evolving field, and you need a credible security company you can trust. Look any further than Nexlar.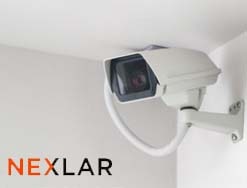 Professional installation, health checks, and repair services
Apartments are often located in high-traffic areas, which can make them prime targets for criminals. In addition, many residents share close living quarters, which can make it difficult to keep an eye on everyone and everything. That's why having a professional security company by your side to install, repair, and service the best security systems for your apartment building is so important. Proper installations will save you tons of money in repairs and service fees. Nexlar's experts can work with you to create a custom security solution that meets your specific needs. Call (281) 407-0768 today.
Free 1-on-1 consultations
Take advantage of one-on-one consultations with the leading security company in Houston, TX. Our security personnel can help you find just what you're looking for. We'll take into account your business's budget, the layout of your building, and your security concerns to tailor a security solution that best suits your business. We have the experience to find a security solution your staff and employees will like too. Make your apartment complex more secure today. Contact (281) 407-0768 for a free 1-on-1 consultation with one of our experts.
The best security systems consultants in Houston, TX
A break-in can be a traumatic event for your staff and residents, and it can also lead to the loss of valuable possessions. Unfortunately, apartment buildings are often prime targets for burglars. The good news is that by working with a Nexlar, you can ensure that your apartment is outfitted with the latest security technology. We have the best security consultants, and our commercial security solutions include motion sensors, security cameras, and access control systems. With these measures, you can rest assured that your apartment is as safe as possible.
Most burglaries often go unsolved, and property owners often see a great decrease in their property's value soon after. Our professionals install and maintain the systems we offer.
Call (281) 407-0768 to connect with an expert in apartment security.
Commercial Apartment Security Systems Service Area
Houston
Sugar Land
Spring
Katy
Kingwood
Stafford
Conroe
Texas City
Cypress
The Woodlands
Webster
League City
Bellaire
Missouri City
Friendswood
Humble
Richmond
Pasadena
Baytown
Tomball
Galveston
Galveston County
Pearland
Seabrook
Lake Jackson
Channelview
New Caney
Manvel
South Houston
Magnolia
Kemah
Rosenberg
Alvin
Hempstead
Dickinson
Fulshear
New Ulm
Wallisville
Hunters Creek Village
Brookshire
Sweeny
Hardin
Hankamer
Danbury
Needville
Simonton
Gilchrist
High Island
Raywood
Piney Point Village
Orchard
North Houston
Anahuac
Romayor
Huffman
Cat Spring
Bellville
Dobbin
Damon
Highlands
Bacliff
San Felipe
Winnie
Kendleton
Guy
Galena Park
Danciger
Pinehurst
Liberty
Liberty County
Daisetta
Industry
Mont Belvieu
Bleiblerville
Old Ocean
Clear Lake Shores
Santa Fe
Bunker Hill Village
Porter
Liverpool
La Porte
Brazoria
Prairie View
Willis
Cleveland
Clute
Port Bolivar
Rosharon
Dayton
Crosby
Montgomery
Montgomery County
Freeport
Sealy
Fresno
Alief
Hitchcock
West Columbia
La Marque
Beasley
Wallis
Splendora
Devers
Hull
Hufsmith
Pattison
Thompsons
Oak Ridge North
Rye
West University Place
Angleton
Kenney
Hockley
Barker
Waller
Stowell
Deer Park
Sienna
Northeast Houston
Westfield
Near Northside
New Territory
Nassau Bay
Mt Houston
Needville
Porter Heights
Plum Grove
Rayford
Quintana
Rose Hill
Midline
Atascocita
Arcola
Addicks
Willowbrook
Willow
Williams
Westchase
West University Place
Waverly
Turtle Bayou
Trammel
Timberlane Acres
Southeast Houston
Surfside Beach
Bayarea
Directions, That Matter!
Service And Quality Matters
Increase return on your investment with our custom security cameras, access control and software integration technology.
Quickly, professionally, on budget and on schedule, I would not hesitate to recommend Nexlar
Cliff M. Fogo de chao
CEO

Nexlar staff attend to our needs in a courteous and professional manner
Jeremy Director Of Facilities – BCFS

Outstanding customer service, fast and professional installation
Brenda

Thank you so much for your quick and effective work with us. Your technician was outstanding
Matthew
Production Group Leader (PGL) – Haliburton