Select the best gate access control for your entry gate
Most people install gates to improve security and control access to their property or community.
Selecting the best gate access control for your property is important to ensure good traffic flow through the gates, restrict access, prevent tailgating and keep track of visitors.
There are many gate access control systems available, and selecting the right system for your property will help you streamline your entry gate and improve your property's value.
Alfred360 Gate Access Control System with visitor management was designed with you in mind.
Alfred's innovative technology allows you to increase security streamline your gate entry access for employees, residents, visitors, and contractors. We designed the best and most versatile gate access control system- Alfred's unique gate access telephone entry system works with remotes, windshield tags, toll tags, RFID cards, license plates, and pin codes.
Best Gate Access Control: How Does It Work For You
Alfred360 Gate Access Control was designed to be the most user-friendly and effective gate system in the market. All our components carry a lifetime and labor warranty while using the system. Our unique gate access control technology can keep track of your gate is open and when do you need to maintain your gate operators to ensure your entrance and access control is always working when you need it. With Alfred360, you enter your property hands-free. Alfred recognizes your license plate, toll tag, or windshield tag. Alfred also worked with gates access control remotes, RFID tags, keyfob, or pin code – Alfred360 was designed to make your life easy. You have a unique portal for your visitors and contractors for each resident or user. You can create new visitors, employees, or contractors on this portal. You can provide access to your visitor for one day, multiple days, or on a schedule ( date and time) you choose. When adding a visitor, you must enter the visitor's cellphone and email. Once you have registered, visitor Alfred360 will send an email and text message informing the date and time your visitor is authorized to enter your property. The Alfred gate access control system will recognize your visitor's license plate and automatically open the gate when a visitor arrives. You will receive a notification your visitor has arrived. Alfred will record when your visitor enters and leaves the property. Visitors can also enter the pin code provided when they registered the visitor in the event system that did not recognize the license plate. Pin code and license plate will be automatic expire in the system.
Intelligence Cloud Access Control Identifies suspicious activity

Easy Control Door and Gates Access Control with your smartphone
No Need for Remotes or Cards Reader but Alfred Supports it
Unlock your door using your cellphone
Alfred recognizes your license plate and automatically opens your gate
Get Fast Notification via email or text message of suspicious activity
Alfred is intelligent and notifies you when a visitor arrives
Hybrid Cloud and on-board storage
Works offline and online
Redundant technology allows user to use phone or existing card reader or keyfob
The right Gate Access Control can save you money: How?
Minimize Liability with gate access control
Security is no longer an amenity but a legal necessity. It is the duty of property owners to provide a safe and secure environment. Your gate access control is one of the most important security solutions for your property. For years, many gate entries have continued to use stand-alone access control keypads with the same code, and HOA or Business can be held accountable for negligent or inadequate security.
Afred360 saves you money and minimizes your property liability. Alfred cloud report allows you to know who is registered and easily restricts access. Alfred360 keeps track of all license plate that enters and leaves the gate. Our cloud solution unfamiliar car report shows the car that entered the community that was not authorized to enter. Easily blacklist a car and receive a notification when the vehicle tries to enter the gate. Use Alfred360 is a complete system for your business and community
Alfred360 can manage your gate entry system, doors, pedestrian gates, and visitor management. 
Contractor over billing protection – Only Alfred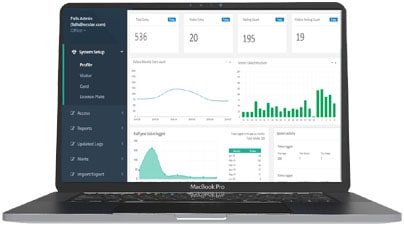 Most gate access control system only controls the entry of your gate. Alfred is unique. We know when a visitor enters and exits your gates with license plate cameras installed in the entrance and exit. Alfred contractor report gives you the ability to know the exact time a contractor entered and left your property. Alfred's unique gate access control feature helped some of our clients deal with contractors that were overcharging the community. You have the power of data in your hands.
Quickly copy the report to prove how long a contractor worked at your community.
Alfred over billing protection helps you save money!
Gate Access Control Credential overcharge by HOA or Gate Company.
Most gate companies and property management charge between $30-$100 to add a new credential to your system plus the cost of the fob or remote. Alfred360 remotes and key-fobs are 50% cheaper the most manufacturers and since Alfred is in the cloud is easier to add a new user in the cloud than a community with your property manager.
To add a new user on your Alfred gate access system, go to your provided Alfred site, log in, add a new user, and assign a credential. You will save thousands a year, depending on the size of your community.
Gate Access Control as Security Guards
Alfred360 is designed to operate as a virtual security guard. The physical security guard can be a great asset for the community, but as we know, security guards can be costly and not practical.
Alfred360 can streamline gate operations to minimize the need for security guards or completely replace them. Virtual Security guards can also work with Alfred360 to ensure your property is secure.
With Alfred360 Seah Steel was able to save over one million per year by replacing ten security guards operating seven gates 24/7. Now Seah Steel has 4 Security guards overseeing all gates and managing visitors
Key management ( Locksmith Charges)
Re-keying locks and replacing locks due to lost keys or increased security can be expensive. Many property managers and associations don't know who has the keys or if keys for essential areas have been duplicated. Alfred360 gate access control can work with existing doors and pedestrian gates, giving you the ability to say goodbye to old keys. Alfred cloud-based solution knows who have cards and when they are authorized to use, helping you easily manage who has access to gates, pool area, clubhouse, and other restricted access amenities.


Wireless Gate and Access control system (cheaper installation and maintenance)
Alfred360 gate and Access control system is wireless and easy to maintain. Our system is low energy consumption and wireless. Alfred can be installed in any door, pool gates, pedestrian entry gates, and clubhouse. The system is fully wireless and easy to maintain. All alfred360 devices come with worry-free maintenance and a warranty. Alfred is tough
REQUEST A FREE CONSULTATION
The right Gate Access Control can save you money: How?

Easily integrate live cameras with our access control and card reader system and see who is entering your business.

Electronic door and gate control paired with virtual guard allows us to open doors, received packages, and more, all remotely. Save money by replacing security guards we can do all remotely.

Need security cameras on sites without power and data connection? We offer unique solutions to secure your remote property.

Be proactive; our door and gate system health check and maintenance service provides you with peace of mind.

Easily view your keyless, gates and card readers using your smart cellphone, tablet, and computer – Call us now for a custom solution.

Electronic door and gate controls  allows you to Control know when and where someone enters or exit your property with remote identification, live video verification, and audit trail of entry and exit activities.

Thermal Imaging Cameras allows you to see objects based on the heat they radiate, giving you unique insights you could only see using a thermal imaging camera technology

Every business is unique, and the Nexlar team offers a creative access control approach to protect your business. Get affordable custom system design, permit, ongoing proactive security maintenance, and support.

keep track of remote sites with our unique mobile solutions.
Our systems utilize the latest battery and solar power technologies.


Access Control and Security Cameras with advanced AI technology can continuously learn what typical activity in a scene looks like and then detect and flag unusual motion

Easily keep track of your project performance and retain high-quality images. Use these images for marketing and project management

Unique software, access control, and camera integration to make sure you gain the highest return on your investment

Facial recognition access control provides a unique solution allowing you to utilize your employees and visitors to face an access control credential.

Access control with license plate recognition easily keeps track of who enters your property and get a notification when a blacklisted car tries to enter through your gates. Get a customized solution with our unique license plate recognition technology.

Save time and money with our unique Artificial intelligent access control software. Avoid wasted time and improves efficiency with our unique pattern detection technology that can accurately recognize people and vehicles' movements while ignoring motion not relevant to a scene. Ensure alerts are meaningful.

Maximize your time and return on your investment. Get our unique self-learning and next-generation analytic to detect, flag, and notify unique events occurring in real-time.
Directions, That Matter!
Service And Quality Matters
Increase return on your investment with our custom security cameras, access control and software integration technology.
Quickly, professionally, on budget and on schedule, I would not hesitate to recommend Nexlar
Cliff M. Fogo de chao
CEO

Nexlar staff attend to our needs in a courteous and professional manner
Jeremy Director Of Facilities – BCFS

Outstanding customer service, fast and professional installation
Brenda

Thank you so much for your quick and effective work with us. Your technician was outstanding
Matthew
Production Group Leader (PGL) – Haliburton