Top Rated Reliable Commercial Gate Company.
From commercial parking lot gates, and gate operators, to automatic turnstiles, Nexlar is the commercial gate company in Houston, TX, to call. When protecting your investment, there are few things more important than security, and no other security company understands that more than we do. Let's talk about your pedestrian and driveway gate needs. Schedule a free consultation. Call us today at (281)407-0768 and book a free onsite survey with one of our commercial gate experts at a time that's most convenient for you.
REQUEST A FREE CONSULTATION

We Design, Install, Repair, And Service Security Gates For All Commercial Properties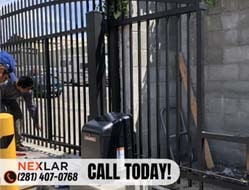 Nexlar offers a wide range of commercial gate systems to fit your needs. From simple swing gates to commercial electric gates systems, we have a solution to meet your requirements. Our team of experienced professionals can also customize a gate system to meet your unique specifications. We are here to help. Contact one of Nexlar's specialists today to learn more about our
commercial gate systems
and how we can help keep your business safe. Call (281)407-0768 today.
Sliding gates are a necessity for any business that wants to maintain a high level of security. Our cantilever sliding gates are especially popular due to their durability and ease of operation. They are also equipped with sensors that automatically close the gate when someone or something passes through, ensuring that your property is always secure. In addition, our cantilever sliding gates come with a remote control that makes it easy to open and close the gate from anywhere within the signal range. Contact us today to get a free quote for the sliding gates we offer.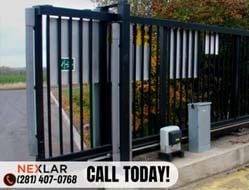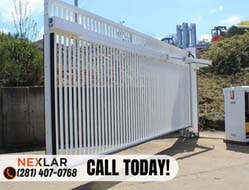 At our commercial gate company, we take pride in our gates. The swing gates we provide are made from the highest quality materials and are backed by a team of experienced professionals. We offer a wide range of swing gates to suit any need, and our experts can help you find the gate your business needs. Whether you need a security gate to keep out intruders or an automated gate to make your property more accessible, we have the perfect solution for you. For more information about our swing gates and how we can help you secure your business, call (281047-0768.
Control traffic and pedestrian access better with traffic barrier arms that are designed to block access to any restricted area. They can be operated manually or automatically. We can equip them with a variety of features, including alarms and cameras. Our barrier arms are an excellent way to secure your business. They are durable, easy to use, and durable. With a barrier arm in place, you can rest assured that your property is well protected.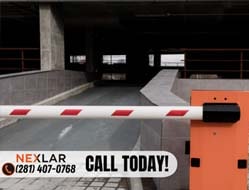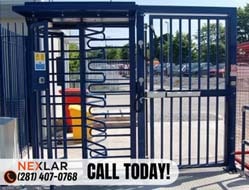 Increase your business's level of security while also allowing for a smooth flow of foot traffic. We offer both indoor and outdoor turnstiles, as well as options that can be customized to your business's needs. Nexlar's experts can help you choose the right turnstile for your business, and our installation process is quick and easy. The turnstiles we provide are available in both automatic and manual models, and our team can help you select the perfect turnstile for your business. We also offer a wide range of additional safety features, such as card readers and fingerprint scanners, to ensure that your business is secure. Contact (281)407-0768 for more about our turnstiles and how they can improve your customer experience and increase your ROI.
Get a gate that cannot be easily cut or pried open. The gates we install are equipped with locks that cannot be picked or defeated. For example, our reinforced hinges are designed to resist prying and tampering, and our locks are picked-resistant. We can also add an alarm system that will notify you if someone attempts to force their way through your gate. You can trust Nexlar to keep your property safe. As a result, our commercial gates provide a high level of security, deterring would-be burglars and protecting your property.
The commercial security gates our company provides are force-tested to ensure that they can withstand the rigors of regular use. The tests are conducted by our experienced professionals who know how to apply the forces necessary to replicate real-world conditions properly. During a force test, the gate is subjected to various types of stress, including pulling, pushing, and impact. These tests help to ensure that the gates will not fail under normal circumstances. They also help to identify any potential weak points that could cause problems in the future. By force-testing commercial gates, we ensure that the gates we install will be able to stand up to the demands of daily use.
If there's a power outage or fire emergency, it is important to have a gate that can be opened manually. That's why our commercial gates have a manual override control. This allows you and authorized personnel to open the gate even when the power is out. In addition, manual override controls can be used to temporarily disable the automatic locking system, making it easier to enter the property. Whether you're dealing with a sudden power outage or simply need to make a quick exit, a gate with a manual override control can be a lifesaver. Request a free quote today.
Get a gate that is built to withstand even the heaviest traffic, day in and day out. Whether you're looking for a new commercial gate for your driveway or a replacement for your existing one, we have a model that will suit your needs. Our gates are made from high-quality materials and come in a variety of styles. So you can be sure that we have one that compliments your property. And because we offer a variety of customization options, you can be sure that your new gate will be truly unique. If you're looking for a durable, long-lasting gate, then look no further than our commercial gate company. We offer the best gates in the business, backed by our 100% satisfaction guarantee. Consult with Nexlar to learn more about our products and services. Thanks for choosing our commercial gate company!
Need traffic to enter and exit your premises faster? We've got you covered. Our automatic gates can be opened and closed much more quickly than any manual gate, which is especially essential for businesses that need to move vehicles in and out quickly. In addition, automatic gates are less likely to be damaged by wind or other weather conditions, and they require less maintenance than manual gates. As a result, they offer a more reliable and cost-effective solution for businesses that need to secure their premises.
To ensure that only people with the right clearance can enter the premises, we can install induction loops to the commercial gates we provide your business. These loops pick up on the magnetic field emitted by metal objects, such as cars or ID cards, and activate the gate opener. This allows people who are authorized to enter the property to do so without having to manually open the gate, which can be time-consuming and inconvenient. Induction loops are an effective way to secure a commercial property and can be used with other security measures, such as CCTV cameras. Consult with one of Nexlar's gate experts to learn more.
Commercial gates are an important part of any business. They help to regulate traffic flow and ensure that only authorized personnel have access to the premises. However, commercial gates also need to be safe. No commercial gate company in Houston, TX, understands that better than we do. Our commercial gates are both safe and compliant with all applicable safety regulations. To make this possible, we also equip our gates with sensors that detect when someone or something is in the way.
Ideal for multiple applications
We have a gate for any commercial setting. If you have a business that has a lot of pedestrian traffic coming in and out of your premises, we have a gate for you. And if you own or manage a factory, apartment complex, or gated community, our gates are the perfect access control solution. Worry about unauthorized access no more. Our Houston gate installation team will ensure that your business has the coverage it needs without sacrificing convenience. Upon request, we can also add a variety of features, such as keypads, push-button locks, and motion sensors, to ensure that the gate we provide is always up to the task at hand.
If you need a gate to control access to your premises, choose a commercial gate with a high number of cycles it is rated for. A cycle, simply put, is the complete opening and closing of the gate. A gate with a higher cycle rating will be able to withstand more regular use than one with a lower rating. Ultimately, this means that it will last longer and require less maintenance. When gates are subjected to heavy use, the hinges and other moving parts can begin to wear down, resulting in increased wear and tear. A gate with a high cycle rating is designed to withstand this type of usage without suffering from significant damage. As such, it is an important consideration for any business that relies on gates to control access to their premises. Consult with us at (281)407-0768.
Based on this assessment, they will provide you with a bespoke quote. So if you're looking for a high-quality, individualized service, look no further than our commercial gate company. We're here to help you safeguard your employees and entire commercial property.
Custom commercial gate designs
First impressions matter. That's why it's important to choose a commercial gate company that can provide a custom solution for your business. From design and installation to maintenance, our team will ensure that your gate is functional and aesthetically pleasing. In addition to security, gates can provide an added level of privacy and exclusivity for your business. Whether you're looking for a simple or a more elaborate gate design, a professional gate company can help you create the ideal entrance for your business. Call (281)407-0768 to personalize yours today.
Make it difficult for determined intruders to break into your premises with anti-climb measures. These features can include vertical bars, spiked tops, and even electrified fencing. In addition, commercial gates can be equipped with CCTV cameras and other security devices that help to monitor activity and deter unauthorized entry. As a result, commercial gates provide an important layer of security for businesses and other commercial properties.
Gates are an effective way to regulate the flow of traffic and ensure that only authorized vehicles have access to your premises. Our commercial gates can be equipped with a variety of features, such as card readers and keypads, to ensure that only authorized individuals can enter. In addition, gates can be programmed to open and close at specific times, further reducing the risk of unauthorized entry. We help commercial property owners protect their assets and maximize ROI for less with cost-effective gate solutions.
Make your business processes more efficient
By automating your entrance gates, you can streamline traffic flow in and out of your property. This reduces congestion and improves the overall flow of traffic. In addition, automated gates can help to improve security by deterring unauthorized access and providing a secure entry point for employees and guests.
Why Choose Our Gate Company

Reliability is what our commercial gates are known for, and we are proud of this. Our customers rely on our gate company to provide a high level of service, and we take that responsibility seriously. We have a fully licensed team that is available 24/7 to help with any problems that may arise. We also have a state-of-the-art monitoring system that allows us to identify and resolve any issues that may arise quickly. As a result, like all our previous customers, you too can rest assured that they are in good hands when they choose our company.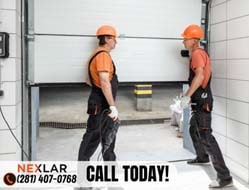 Stay connected with Alfred360
As the world becomes increasingly connected, it's important to find ways to stay connected with your business's gates. Alfred360 is a great way to do just that. With this web-based application, you can remotely control your gates and get notified via email or SMS each time someone tries to access your premises. This gives you peace of mind knowing that your property is secure even when you're not there. Call us today at (281)407-0768 to book a free demo of Alfred360.
System upgrades and integration
Our commercial gate company offers system upgrades and integration to give our clients the most modern and reliable products available. We believe that by continuously improving our security solutions, we can provide our clients with the best products and services. It's what we believe. Our experts are always up-to-date on the latest advancements in the industry, and we are proud to offer these services to our clients. Not everyone is familiar with the latest technologies. So, we offer a free consultation to discuss your specific needs and find a solution that is right for each customer that contacts us. Our experience and expertise are unmatched, and we are confident that we can provide you with a superior gate and service. Contact Nexlar at 281-407-0768 today to schedule a free consultation.
Gain access to our company's 24-hour support. Whether you're having trouble with a gate opener or need someone to come out and replace a broken hinge, we're here to help. Our security gate technicians are available around the clock to provide prompt and professional service. So, if you're ever in need of assistance, don't hesitate to give us a call.
Trusted for over 20 years
Nexlar has been providing high-quality products and services to businesses for over ten years. We are a trusted source for all your commercial gate needs, from simple repairs to complete installation. We offer a wide range of gate models and brands to suit any budget and need. Our goal is to give your customers and employees the best possible experience and help you maximize your business's ROI. So, whether your property needs a new gate for your premises or simply needs maintenance on your existing one. Contact Nexlar's gate installation team today to see how we can help you!
Certified and licensed technicians
We only employ certified and licensed technicians. This means that all of our gate technicians have undergone the necessary training and testing to be able to fill your every commercial security gate needs. We're confident in their abilities to provide you with the highest level of service possible. In addition, our technicians are also licensed by the state to work on gates. This guarantees they have the knowledge and experience required to safely and effectively work on your gate. When you choose Nexlar, you can be sure that you're getting the best possible service from knowledgeable and experienced professionals.
We provide security solutions to suit any need and budget. We have the perfect solution for your business, from simple chain-link fences to state-of-the-art electronic gates. And because each business has unique security needs, we also offer custom solutions. So whether you're looking to secure a warehouse or an office building, we can help. Get in touch with a gate specialist on our team by calling (281)407-0768.
Industry-leading security gates
We pride ourselves on offering industry-leading security gates in Houston, TX, and surrounding cities. Our experienced team of designers and engineers has years of experience creating high-quality security solutions for a wide range of businesses. Nexlar uses the latest technologies and materials to create our security gates, and our products are tested rigorously. This is all to ensure they meet the highest commercial gate standards. Our security gates are designed to provide a physical barrier against intruders, and they can also be equipped with state-of-the-art features such as CCTV and access control systems. Whether you're looking for a simple security solution or a comprehensive security solution, we have a gate that will meet your needs. Contact our gate specialists at (281)407-0768 to learn more about our products and services.
Gate repair and maintenance
Get a full range of gate repair and maintenance services when you choose to work with Nexlar. Whether your gate is in need of a simple tune-up or a more extensive repair, our team of skilled gate technicians is here to help. Our company also provides regularly scheduled maintenance plans to keep your gate operating smoothly and efficiently. In addition, we offer 24/7 emergency repair service for those times when you need us most. So whether you need a one-time emergency repair or ongoing preventive maintenance, our team at Nexlar is here to help. Give us a call today at 281-407-0768 to learn more about our security services.
We aren't just an 'install whatever gate makes us the profit' type of business. If you are considering installing a security gate for your business, our commercial gate company offers free onsite surveys to help you determine the best type for your premises. Our experienced security consultants will assess your property and recommend the most effective gate configuration to deter intruders and protect your assets. We will also take factor in any existing security features, such as CCTV cameras and alarm systems, to make sure that your new gates complement your existing security measures. We want to provide you with a comprehensive security solution that meets your specific needs. With free site surveys, you can be confident that you are making the best possible decision for your business. Contact us today to schedule a survey at your convenience.
If you are looking for a reliable and cost-effective security solution for your business, then you should consider working with our commercial gate company. As a reputable commercial gate company, Nexlar can provide you with a wide range of products and services that can help to improve the security of your premises. From gates to CCTV systems and
access control systems
, we have everything you need to keep your business safe and secure. In addition, we can also give you advice on the best security solutions for your specific needs. So, if you want to ensure that your business is as safe as possible, you should get in touch with a commercial gate company today.
Secure your commercial premises today. Connect with one of our experts today.
Directions, That Matter!
Service And Quality Matters
Increase return on your investment with our custom security cameras, access control and software integration technology.
Quickly, professionally, on budget and on schedule, I would not hesitate to recommend Nexlar
Cliff M. Fogo de chao
CEO

Nexlar staff attend to our needs in a courteous and professional manner
Jeremy Director Of Facilities – BCFS

Outstanding customer service, fast and professional installation
Brenda

Thank you so much for your quick and effective work with us. Your technician was outstanding
Matthew
Production Group Leader (PGL) – Haliburton