Top Rated Commercial Fence System Design, Installation and Service 
If you are looking best commercial fence systems installation.
Please Call (281) 407-0768 For A Free Consultation

Do you need commercial fence installation in Houston, TX? If you're a business owner in Houston, then you know that there are plenty of things to keep you busy. Between running your business and dealing with all the day-to-day tasks, it can be hard to find the time to take care of some of the smaller things on your to-do list. One of those items is likely installing a fence around your property. But don't worry – we can help!
At our company, we specialize in installing fences for businesses throughout Houston, TX. We have years of experience working with all kinds of businesses, so we know how to get the fencing job done in the best way possible. Plus, we offer competitive rates that will fit within your budget. If you'd like to learn more about Nexlar's services or want a free estimate, please give us a call today at (281)407-0768.
REQUEST A FREE CONSULTATION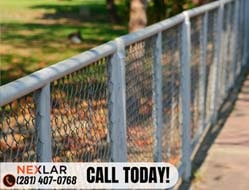 Nexlar's chain link fences are a great option for both security and privacy. The tight weave of the fabric prevents people from being able to break in. Because we provide custom fences, you'll be able to choose the thickness of the wires and how tall you'd like the fences to be. The taller the fence, the more privacy you will have. You'll also have the option to choose what type of coating you want on the wires. They are also very difficult to climb, and the sharp edges of the wire deter would-be intruders.
We can install wrought fences for small and large commercial properties all over the Houston area. Unlike other types of fences, such as chain-link or wood, wrought fences are highly decorative and can add a distinctive look to any commercial property. In addition to their aesthetic value, wrought fences are also very strong and durable, making them an excellent choice for security purposes. Since these types of fences are susceptible to rust and corrosion, our team can regularly inspect and maintain wrought fences to ensure that they remain in good condition. With our preventative maintenance service, our team can ensure that your wrought fences last for many years and provide both beauty and security for your business.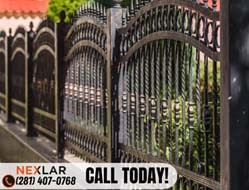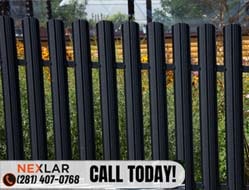 Aluminum fences are a popular choice for both residential and commercial properties. They offer several benefits over other fencing types, including durability, low maintenance, and a variety of style options. Aluminum fences are also highly resistant to rusting and corrosion, making them an ideal choice for coastal areas. When properly installed, aluminum fences can provide many years of trouble-free service. Our aluminum fences are available in various heights and styles to suit any application. Request a quote.
We'll take into consideration the building codes in your area

We also know that every area in Houston has its own building codes and regulations. That's why our fence installation team takes the time to carefully review the building codes of your area before starting any work. By taking these extra steps, our professionals can ensure that your fence meets all the necessary requirements and looks great when it's finished.
The landscape isn't a factor for us.

Although some materials aren't compatible with some environments and landscapes, our fence installation team can take on any challenge. Our team can install a fence on virtually any landscape, whether it is level or hilly, sandy or rocky. Nexlar has the experience and equipment to handle any installation project, and we ensure that the fence meets your needs and blends in with your property. Contact us today for a free consultation.
If you need fence installation in Houston, TX, or neighboring cities, we can come to you. With our commercial fence installation professionals, you can rest assured that you won't be charged any additional fees for travel. We understand that businesses are often located in different parts of the city, and we want to make it simple for you to get the fences you need. That's why we offer a free travel charge for all of our
commercial fence installation
services. So whether your business is located in the downtown core or in a suburban neighborhood, we'll come to you at no extra cost.
Minimal maintenance required
The fences we install are designed for minimal maintenance. The materials we use are resistant to rot, insect damage, and weathering, and they require very little in the way of upkeep. We also have models that are made using a special coating that helps to protect the fence from UV damage. As a result, our fences can withstand years of exposure to the elements without showing any signs of wear. In addition, we offer a warranty that covers any damage that may occur during normal use. So if you're looking for a low-maintenance and low-cost fence solution, give us a call at (281)407-0768.
Complimentary onsite surveys
We offer free onsite surveys to help you find the perfect commercial fence for your business. After the call, we'll send one of our experts to your site to assess the landscape and determine the best course of action. We'll also take into account your budget to find the perfect solution for you. With years of experience in the industry, we know how to get the commercial fence installation job done right – and we're not satisfied until you are. Give us a call today.
The fences we install are sustainable
At Nexlar, we are proud to offer our customers sustainable fencing options. The fences we install are done with little to no damage to the environment. Whether you need a new commercial-duty fence for your business or are looking to replace an old one, you can count on our fences to stand the test of time. And because we're committed to sustainable practices, you can be sure that your fence will have a minimal impact on the environment. Consult with us for more information. Call us at (281)407-0768.
We stand behind all the fencing work we do and offer a warranty on all the fences we install. This means that if your fence gets any problems from normal use, an expert will come out and fix it quickly at no extra cost to you. We're committed to providing our clients with the best fence installation service, and this is just one of the ways we do that. So if you're looking for a trusted team of experts to install your fence, give us a call.
At our company, we make it a priority to ensure that our clients are always happy with our work. You can be confident that you made the right choice in choosing us to install your fence, and we'll do whatever it takes to make sure that you're happy with the final product. If, for any reason, you're not satisfied with our work, just let us know, and we'll make it right. That's our promise to you.
We have the experience and qualifications
Nexlar only hires the most qualified and experienced commercial
gate installers
in Houston, TX. We believe that installing a fence is a serious responsibility, and we take every caution to ensure that our team is up to the task. Each of our installers undergoes a rigorous background check before being hired, and we continually monitor their performance to make sure that they are meeting our high standards. As a result, you can be confident that when you choose our security company for your fencing needs, you are getting the best service possible. With years of experience in the industry, our installers will be able to quickly and efficiently install your fence. This way, you can get back to running your business as usual.
We take care of the licensing and insurance

Running a business is complicated enough, even without having to keep track of city ordinances and building codes. That's why our commercial fence installation team will take care of the licensing to keep your business compliant with the law. We're familiar with all the relevant regulations, and we'll make sure that your fence meets all the requirements. In addition, we'll also pull any necessary permits so that you can be confident that your fence is up to code. So if you need a commercial fence, give us a call. We'll take care of everything so that you can focus on making your business more profitable.
Contracting our company for your commercial fence installation needs will save you money in the long run. Our rates are highly competitive. We offer financing options that can help lower costs even further. In addition, our experience and expertise mean that we can complete the installation job efficiently, minimizing disruptions to your business. And because our fence company only uses high-quality materials, you can be confident that your fence will last for years to come. Make a smart investment that will lower your costs and provide a lasting return on your investment today. Hire Nexlar for your commercial fence installation needs. Call (281)407-0768 to get started.
Steer clear of legal issues
Our fencing experts can help you stay in compliance with local zoning laws. If your business is located in a residential area, for instance, you may be required to erect a fence that meets a certain height and material specifications. You may lose your business permit if you fail to do so. By working with our fence installation company, you can ensure that your fence meets all the necessary requirements. With our help, you can rest assured that your business is in compliance with all local regulations.
Increase your property's value
Make your business more inviting for employees and customers. And when it comes to resale value, a quality fence can be a significant selling point. So, if you'd like to add value to your commercial property, our team of experienced fencing contractors can help. We specialize in the installation of high-quality fences that are built to last.
Barbed and razor wires for additional security

Upon request, our fence installation team can add barbed and razor wires to any fence type of your choice in order to hinder potential intruders. These features are especially useful for businesses that are located in high-crime areas. The sharp barbs of the wire make it difficult to climb over the fence, and the razor blades can cause serious injury. If you'd like us to add barbed and razor wire to the commercial fence we install, let us know beforehand.
Rust is a real concern with most fences. However, that will be the least of your concerns with our commercial security fencing options. Some of our fences are made with vinyl-coated panels. This type of fencing is designed to resist rust and last for many years. The vinyl coating provides an extra layer of protection against the elements, and it helps the fence to retain its color and finish. If you're looking for a commercial fence that will stand up to the elements and look great for years to come, vinyl-coated fencing is a great option. We can source vinyl-coated fences and install them properly onto your premises. Consult with one of our experts today.
Make your business's first impression count

Your business's first impression is critical to its success. A neat, well-maintained property conveys a professional image that can attract customers and help to ensure repeat business. We install high-quality commercial fences. We work closely with every client we serve to choose the right type of fence for their needs and budget, and we take care to ensure that the fence is installed properly. With our help, your business can make a great first impression that will help to ensure its success. Consult with one of Nexlar's experts today.
Trusted by businesses throughout the city for over 10 years
For over ten years, businesses have trusted our commercial fence installation services. During that time, we completed thousands of projects. We are Houston's most trusted experts in all types of fences, from chain links to aluminum security fences. We've worked with small businesses and large corporations, and we're always up for a challenge. No matter what your fencing needs are, we can help. We can work with you to find the perfect fence for your property. We also offer various fence customization options to ensure that your security fence meets your specific needs.
If your commercial property is located in an area with a sizable population of animals, our fences can help. For example, if you own an agriculture business and have a large population of animals that you need to keep contained, a fence is the best way to do it. Our well-built fence will keep the animals in and the predators out. If your business isn't one of such, our fences will provide a barrier between the animals and your customers and employees. When it comes to fence installation for critter control, you need to work with a company that has experience. Nexlar's experts know how to build a fence that will stand up to the elements and keep the animals safe and your business safer. Give us a call today.
Privacy at the best price

From six-foot privacy fences to eight-foot security fences, we have a wide range of options to choose from. And because we use high-quality materials and expert craftsmanship, you can be sure that your fence will last for years to come. Finding the right balance of privacy and cost can be difficult. However, our competitive prices will help you stay within budget. So if you're looking to create more privacy or security at your business, give us a call today.
Every fence we install is built and installed with utmost care and precision. Nexlar only uses the highest quality materials to build our fences, so you can be confident that your fence will last for years. In addition, we build our fences to code, so you can be sure that your fence meets all local safety requirements. Whether your business needs a new fence or to replace an existing fence, our team can help.
We're a highly reputable fence installation company in Houston, TX, with an A+ rating by the Better Business Bureau. We have installed fences for a variety of commercial businesses, including schools, hospitals, and factories. We are experts in our field and can custom-design a fence that will meet the specific needs of your business. Let us find the best fence for your business. Call Nexlar today.
When you choose us, you can be sure that it will be tailored to your specific needs. Whether you need a simple barrier to keep pedestrians out of a dangerous area or a more sophisticated security system, we can help. We work with all our customers to determine the right height, material, and design for your fence, and we make sure that it is installed properly. Consult with one of our professionals to get a fully custom solution for your business.
At our company, we have the process down to a science. So, you can be confident that your new fence will be installed quickly and correctly. Do you need a new commercial fence? Call our experienced team at (281)407-0768.
Schedule a free appointment

When you contact us about commercial fence installation, you'll quickly set up a free onsite consultation with our team. During this onsite survey, we'll survey your premises. This helps our fence installers to get a better understanding of the size and layout of your premises, as well as any special requirements you may have. We'll also discuss your needs and budget to come up with the best solution for your business. Call (281)407-0768 and schedule yours today.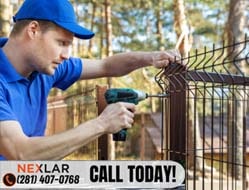 Once our fence installation team has all the necessary information, they will provide you with a cost estimate for the work. We are upfront with our pricing. So, there won't be any hidden costs. Our fence installers will also give you an estimate of the wide range of fencing options. Call (281)407-0768 to find out how much you can save with our commercial fence installation services in Houston, TX.
Once we've agreed on a plan, our team of experienced professionals will get to work. This stage is crucial as it ensures that the fence is properly secured in place and that all gaps are filled. We'll use high-quality materials and fastenings to make sure that the fence can withstand all weather conditions. Once the fence is installed, we'll test it for stability and make any necessary adjustments. We'll also clean up any debris from the installation process, leaving your property looking neat and tidy. All fence installations are quick and done efficiently to ensure minimal disruption to your business. And when we're finished, you'll have a high-quality fence that will provide years of security and peace of mind.
Servicing and maintenance

If you like the work that we do and would like us to help you maximize the performance and longevity of your fence, we can also offer additional service and maintenance options to keep your fence looking its best. Our team can regularly inspect your fence for damage and wear and tear, and we can make repairs as needed. We can also provide additional treatments to help protect your fence from the elements. With our service and maintenance package, you can rest assured that your fence will always be in top condition always. Request a quote for our service and maintenance options.
No matter what type of business you have, a strong, well-installed fence will help keep your property secure. Commercial Fence installation is a big job that requires many steps to complete. It's not as easy as just putting up some fences and calling it a day. Our team will make your fence installation go as smoothly as possible. We have been providing commercial fence installation services for over ten years. So, if you're looking for a reputable contractor who can provide top-notch commercial fence installation services, then look no further than Nexlar. Call us for commercial fence installation, repair, and maintenance. Schedule a free consultation today by calling (281)407-0768.