Houston Commercial Fence Company 
We help you with all you fence, gates and access control system 
Call Us today at

  (281) 407-0768

to schedule a free onsite commercial fence consultation
Our commercial fence company in Houston, TX, has a wide selection of fencing solutions to choose from. Nexlar can help you find the perfect fence for your business. We offer both standard and custom fences, so we can create a unique solution that meets your specific needs. And because we're a full-service security company, we can handle everything from installation to repairs. So if you're looking for a commercial fence company that can provide high-quality aluminum fencing, give us a call today.
REQUEST A FREE CONSULTATION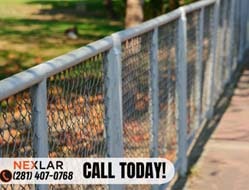 The wire mesh construction of chain-link fencing makes it extremely durable, and the ability to see through the fence helps to deter would-be intruders. In addition, chain-link fencing is easy to install and requires very little maintenance. As a result, it is an ideal solution for any business or property owner who wants to effectively secure their property. Contact our commercial fence company at (281)407-0768 to learn more about our chain-link fencing options.
If you need a strong, durable but also lightweight, and low-maintenance fence for your commercial property, call Nexlar's experts today. Our aluminum fences will not corrode over time. They can also be customized to meet the specific needs of your business. For example, if you are looking for added security, you can choose a fence with barbed wire or spikes. Or, if you want to create a more sophisticated look, you can opt for an ornamental aluminum fence. No matter what your needs may be, Nexlar's aluminum fencing solutions are a great way to protect your investment and assets.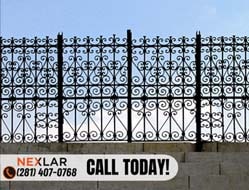 Our ironwork fencing is made to last. Nexlar offers various design options to choose from, and our team of experienced professionals can help you choose the right fencing for your business. Because iron is a very strong and durable material, you can expect your fence to withstand a lot of wear and tear. It is also low maintenance. With this in mind, you won't have to worry about repainting or refinishing it regularly. Contact our commercial fence company for more information about our custom ironwork fencing options.
Security And Utility Cages
Protect your inventory from potential thieves and graffiti wrongdoers with our security cages. If you also need to secure outdoor seating areas, ATMs, and other high-traffic areas, you can count on us. Our security and utility cages can also be used to store valuable equipment, preventing it from being damaged or stolen. Whether you operate a small store or large business in the heart of Texas, security, and utility cages are an important part of keeping your assets safe. Call us for a free consultation.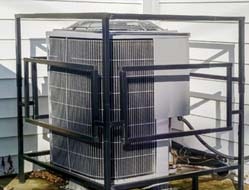 Servicing and maintenance

If you like the work that we do and would like us to help you maximize the performance and longevity of your fence, we can also offer additional service and maintenance options to keep your fence looking its best. Our team can regularly inspect your fence for damage and wear and tear, and we can make repairs as needed. We can also provide additional treatments to help protect your fence from the elements. With our service and maintenance package, you can rest assured that your fence will always be in top condition always. Request a quote for our service and maintenance options. No matter what type of business you have, a strong, well-installed fence will help keep your property secure.
Commercial Fence installation
is a big job that requires many steps to complete. It's not as easy as just putting up some fences and calling it a day. Our team will make your fence installation go as smoothly as possible. We have been providing commercial fence installation services for over ten years. So, if you're looking for a reputable contractor who can provide top-notch commercial fence installation services, then look no further than Nexlar.
Call us for commercial fence installation, repair, and maintenance. Schedule a free consultation today by calling (281)407-0768.
Automated Entry Systems And Gates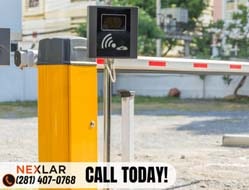 We are a full-service commercial fence company that also provides automated gates. We can provide turnstiles, traffic barrier arms, and sliding and swing gates. There are many benefits to using automated systems and gates, including improved security, reduced crowding and wait times, and increased efficiency. Dial (281)407-0768 for more information about our gate installation services in Houston, TX, for HOAs and businesses of all sizes. Additionally, automated systems can help to create a more professional image for your business.
How about a durable, low maintenance, and classic look to give your business that professional appearance and extra security it needs? Our wrought iron fences are difficult to climb, making them an effective deterrent to intruders. If security is a concern, you can ask our fence installation team to install a fence with spikes or barbed wire to make it even more difficult to scale. Whether you need a short fence to delineate your property line or a tall fence to keep out trespassers, there is a wrought iron fence that will suit your needs. Consult with one of Nexlar's experts today at (281)407-0768.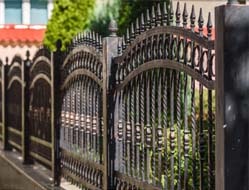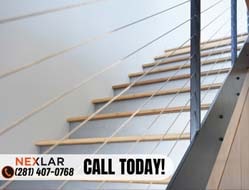 Cable rails are an excellent option for many businesses, as they provide a sleek and modern look while also being highly functional. The cable rails we install are made of high-strength stainless steel cables that are attached to posts on either side of the stairway or deck. The cables are spaced closely together, providing a barrier that is both attractive and effective. Their minimal design makes them a great choice for businesses that want to maintain a clean and professional appearance. Choose an effective commercial security fence by calling Nexlar's expert today.
We Are The Leading Fence Company In Houston, TX, For A Reason
Several business owners in Houston, TX, trust us when it comes to their fencing needs. Nexlar has a team of experienced professionals who are knowledgeable about all types of fencing materials and construction techniques. We proudly offer a wide selection of fencing options, so you're sure to find a fence that meets your budget and security needs. Not sure which you need? Let our expert recommend the right fence type for your commercial property.
Timely expert installation
Let us ensure that the fences you choose are installed correctly. As a professional fence company, we have the knowledge and experience necessary to ensure that your fence is installed quickly and correctly. In addition, they will be able to advise you on the best type of fence for your property, factoring in aspects such as budget, climate, and local regulations. With Nexlar's help, you can be confident that your new fence will serve you well for many years to come.
If you ever need us to fix an issue with your fence or replace it completely, you can count on Nexlar's team. Our fence experts will assess the damage and repair any areas that may be weak or compromised. This includes looking for any gaps, cracks, or holes in the fence (depending on the type of fence you have installed). We'll also inspect the fencing material itself for any signs of wear and tear. If the fence is made of wood, we'll check for splinters or cracks; if it is made of metal, we'll look for rust or chipped paint. We're quick to respond to any damage, and we'll make sure the repairs are carried out quickly and efficiently. With us, your commercial fence will last for years to come. Consult with Nexlar's expert today.
Licensed and certified professionals
We only hire fully licensed and certified professionals. This means that our team has the training and experience necessary to install your fence correctly the first time. We understand that your fence is a significant investment, and we want you to be confident that it will effectively secure your business for a long time. Nexlar's team has the skills and knowledge to ensure that your fence is installed properly and will last for years to come. What does this mean for your business's profits? You'll be able to maximize your ROI in no time. When you work with our commercial fence company, you can rest assured that you are getting the best possible service.
We have K-rated security feces for businesses that want to strengthen their business security tenfold. A K-rated security fence has been designed to provide a high level of security. The "K" designation comes from the Department of State's standards, which are some of the most stringent in the world. A K-rated fence must be able to withstand a physical attack from a determined intruder, as well as a crash from a car weighing up to 15,000 pounds. It must also be able to withstand seismic activity and extreme weather conditions. Our commercial fence company offers a variety of K-rated security fences, all of which have been tested to meet or exceed the Department of State's standards. We've worked with the military, so you can count on our team to provide a K-rated fence that will provide the level of security you require.
A fence can provide many benefits to your business, including increased security, privacy, and even curb appeal. Whether you're looking to keep nosy neighbors at bay or create a more private space for your employees and customers, our commercial fence company can help. The fences we provide come in a variety of materials, sizes, and styles, so you can count on us to find one that matches your needs. A fence can provide the perfect amount of privacy while also adding value to your property. When it comes to privacy, Nexlar commercial fence company has you covered. Call (281)407-0768 today.
Keep pedestrians safe from hazards, for example, transformers
Transformers are one of the most common sources of industrial accidents. Each year, many people are injured while working on or near transformers. In many cases, these accidents could have easily been prevented if proper precautions had been taken. Let us help you prevent a negative unforeseeable future by hiring our fence installation team to install a chain-link fence around your hazardous areas. A fence will physically separate your employees from the transformer and warn them to reduce the risk of accidents further. Create a safer and much more rewarding work environment for your staff. Call (281)407-0768 today.
Protect your business from theft and unwanted solicitors
Make it more difficult for unknown people to gain access to your premises and give your business, its employees, and customers the extra level of security they need to do business with you. Unwanted solicitors are a nuisance to businesses and can be a danger to employees and customers alike. So, if you want to keep undesirables out while still allowing customers and employees to come and go as they please, look no further than our commercial fence company.
Every business is different. That's why we offer custom fencing solutions. Whether you need a secure perimeter around your property or a way to keep your employees safe, we can help. The type of fence you choose for your business will depend on your budget, the purpose of the fence, and the appearance you want to achieve. We offer our customers free consultations to help them choose the right fence that meets their exact needs. We'll help you assess your needs and develop a plan that's tailored to your specific situation. Nexlar is experienced in working with all types of businesses, so you can rest assured that we'll be able to find a fence for you. Contact us today to get started on your custom fencing project.
Enhance your commercial property's value
The markup is in the curb appeal. A well-designed fence can be an integral part of a commercial property's overall look. Not only does it make your property more secure and attractive to potential tenants, but it can also increase its overall value. For example, a store may need a secure fence to deter theft, while an office building may need a decorative fence to create an inviting environment. Whatever the need, there is a fence that can enhance the value of a commercial property. If you want to add value to your commercial property, a fence is a great option. Maximize your revenue today by contacting Nexlar's fence installation team to install the right one for your property.
Privacy + security + functionality at the best price
Get the best deal possible by contracting our commercial fence company. We offer the highest quality fencing at the most competitive prices. In addition, our fence experts in Houston, TX, are always on hand to help you choose the right fencing for your business and install it correctly. So if you're looking for privacy, security, and functionality, Nexlar's fencing solutions are the way to go.
Free on-site surveys and consultations
This lets us help our clients choose the right fence for their needs. We have a wide variety of fences to choose from. We'll come to your business's location and assess your fencing needs. This way, you can make a decision about the best course of action for your business based on facts. We're committed to providing quality fencing products and services, and our free consultation is just one way we can show you that we value your business. Contact us today to schedule your free on-site survey and consultation.
We offer 24/hr support for all our clients, no matter what type of fence they have or need. Whether you're looking for a simple chain-link fence or a more complex perimeter fence solution, we're here to help. Our experts have years of experience in fence installation and repair, and we're always available to answer your questions. Whether you need a new security fence installed or repairs done, our team is always available around the clock to help. With our wide range of fencing options to choose from, you can find the perfect solution for your business. With our fence company's experience and expertise, you can be confident that your commercial fencing needs are catered for. Contact Nexlar today.
We use the most updated equipment
Our equipment is designed to deliver a precision fit, so your fence will look great and last for years to come. Plus, Nexlar's experienced professionals are always available to answer any questions you may have about the installation process. So if you're looking for a commercial fence company that can provide a high-quality fence installation, then please get in touch with us.
We are serious about quality control
Nexlar's customers take pride in our workmanship and rely on us to install a fence that will last. That's why we perform a thorough inspection of every fence before it leaves our base. We check for any flaws in the materials, and we make sure that the fence is assembled correctly. We're also very attentive to the finish, making sure that it is smooth and even. Only when we are completely satisfied with the quality of the fence, do we release it to the customer. That's our commitment to quality, and it's just one of the reasons why our customers keep coming back to us for all their fencing needs.
We understand that every customer has different needs, and we're committed to finding the perfect solution for each one. Our team will find the right style, material, and color of fence to meet your business's needs. We offer several fence customization options, so you can be sure that your fence will be truly unique. And if you're not satisfied with your fence, we'll refund your money or offer a replacement solution. With our customer satisfaction guarantee, you can be sure that you're making the best decision for your property. Request a free quote today.
Financing options available
Not every business has the upfront cash to pay for their fence project. We get that. That's why we offer fence financing options to fit your budget. If you are looking for a flexible payment plan, we can help you find the right agreement that fits your budget. No matter what your budget is, Nexlar can help you find a fence that fits your needs. Give us a call at (281)407-0768 to learn more about our financing options.
You want a solution that is going to be long-lasting and serve its purpose for several years to come. You don't want to replace your fence every few years. With our fencing solutions, you can be confident that you're getting a product that is built to last. We source from only companies that use only the highest quality materials. Our experts are constantly testing and refining our fence installation and design process. As a result, our fences are not only built to withstand the elements, but they also look great. So if you're looking for a commercial security fence that will last for years to come, then look no further than Nexlar's fencing solutions.
We know that a fence is only as good as its ability to keep out unwanted intruders. That's why we only sell fences that we know are tamper-proof. For example, our chain-link fences are made of heavy-duty steel that is virtually impossible to cut through with bolt-cutters. And our wrought iron fences are designed to withstand attempted breaches. We only provide the highest quality fences, made from only the strongest materials. So if you want a fence that will give you peace of mind, contact Nexlar's team today. You won't regret it.
Know what the project entails before you commit to it. We offer free quotes on all of our fencing products, so you can be sure you're getting the best possible deal. And because we're a customer-pleasing business, we're able to offer personal service that you won't find at any other commercial fencing company
Integration with intrusion detection systems
To further your commercial property, our team can integrate the fences we install with perimeter intrusion detection systems. Upon configuration, these systems will provide an early warning of attempted breaches, giving your security personnel time to respond. In addition, after we add video surveillance, you'll better deter would-be intruders and have the evidence you need in the event of a successful breach. If you'd like to improve the security of your commercial fence significantly, call (281)407-0768 and make an inquiry about our security system integration services.
We offer many fencing styles for every business

From simple chain-link fences to ornate wrought-iron designs, we've got you covered. No matter what your aesthetic taste or budget is, we have a fence that will suit your needs. Our security fences are available in a variety of colors and finishes, so you can customize your fence to match your property perfectly. Whether you want a commercial fence for privacy and security or simply want to improve the look of your property. We have the perfect fence for you. Give us a call today at (281)407-07678, and let us help you find the perfect fence for your business.
Count on us for reliability

Fencing your business or commercial property is a big decision. Not only do you have to choose the right type of fence, but you also need to find a fence that will stand up to the elements and withstand the test of time. At
Nexlar
, we have several reliable fencing solutions out there that can provide you with the security and durability your business needs. For example, the chain-link fences we provide are made from interwoven steel wires that are incredibly strong and difficult to break through. They are also coated with a plastic or vinyl coating that protects against rust and corrosion. If you're looking for a reliable commercial fence company in Houston, Texas, be sure to call Nexlar's team today at (281)407-0768.

Directions, That Matter!
Service And Quality Matters
Increase return on your investment with our custom security cameras, access control and software integration technology.
Quickly, professionally, on budget and on schedule, I would not hesitate to recommend Nexlar
Cliff M. Fogo de chao
CEO

Nexlar staff attend to our needs in a courteous and professional manner
Jeremy Director Of Facilities – BCFS

Outstanding customer service, fast and professional installation
Brenda

Thank you so much for your quick and effective work with us. Your technician was outstanding
Matthew
Production Group Leader (PGL) – Haliburton