Top Rated Commercial Automatic Security Gate System Design, Installation and service
If you are looking best automatic security gates system to our business.
Please Call (281) 407-0768 For A Free Consultation

Is your business protected by security gates? If not, now's the time to take advantage of our expert installation services. Our security company is based in Houston, TX, and can install an automatic gate for any small or large-sized business in the area. We have a variety of different gate models to choose from, so you can expect us to find the right gate model for your business. Plus, our team can help you upgrade, replace or integrate your current automatic
security gate
with other security systems if you have one already. Don't wait any longer – call us at (281) 407-0768, and let us help you streamline business operations and make the most out of your investment today.
REQUEST A FREE CONSULTATION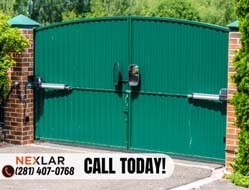 Nexlar installs all types of automatic gates for commercial properties. For example, boom gates are typically used to block vehicles from entering a secure area. Turnstiles, on the other hand, are designed to control pedestrian traffic. Swing and sliding gates are two other common types of security gates. Swing gates are usually used in gated communities and HOAs while sliding gates are more commonly found in commercial parking lots and office buildings. No matter what type of gate you need, there is an option that will suit your business's requirements.
All of our automatic security gates undergo strict quality control measures before they are installed. Each gate is force tested to ensure that it can withstand attempted break-ins. In addition, our team of experienced technicians inspects each gate for any defects or weak points. By undergoing these rigorous tests and inspections, we can be sure that our gates will provide the security your business needs.
Get the closure of a traditional gate with the convenience of automation. Not only do our gates provide an extra layer of protection against intruders, but they also allow you to regulate who has access to your property. We can equip them with a variety of features, such as keypads, intercoms, and CCTV cameras, making it easy to screen visitors before they enter. Request a free quote today.
24 Hours Emergency Repair
Like any other piece of machinery,
automatic security gates
can occasionally fail. A stuck gate can prevent you from getting into your property, or it may allow unauthorized access. In either case, having a reliable repair service that can respond quickly to fix the problem is essential. Our experienced security gate technicians are available 24 hours a day to provide emergency repair services for automatic security gates. We can troubleshoot problems with motors, sensors, and other components. We will work quickly to get your gate back up and functioning at its best. So if you ever need gate repair, (281)407-0768 is the number to call.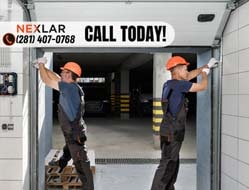 Expert designers and friendly gate installers
We are technical experts in the design and installation of automatic security gates. Our gate installation experts have a wide range of experience in installing gates for commercial properties ranging from high-rise apartment complexes to airports. Our team of friendly installation professionals will ensure that your gate is installed correctly and meets your specific needs. Nexlar also offers a wide range of maintenance and repair services for automatic security gates. Our technical expertise and customer service are second to none, and we are dedicated to providing the best possible service to our clients. If you need an automatic security gate for your business, we are the company to call.
If you have an automatic security gate, it's important to keep it up-to-date with the latest technology. Otherwise, you run the risk of your gate becoming obsolete and unusable. Our security company can perform upgrades for automatic security gates. We can install the latest sensors and controllers, as well as new software that will keep your gate functioning properly. In addition, we can also add additional features, such as remote access and voice control. We offer a wide range of options to choose from. With our help, you can be sure that your security gate will always be up-to-date and give your commercial property an additional layer of security.
Automatic gate integration with other security systems
If you'd like to give your business a higher level of security, we've got you covered. For instance, our team can add license plate recognition (LPR) cameras, which can automatically record the license plate of every car that accesses the premises. We can also add callboxes, allowing visitors to announce their presence and request entry remotely. By integrating these features into the gate system, we can help you create a comprehensive security solution to secure your business. Call (281)407-0768 to inquire about our telephone access control systems.
Take Advantage Of The Latest Technology.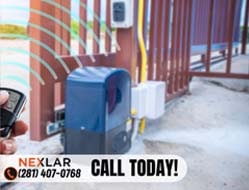 Our automatic gates are designed with the most advanced tech in their class. With features like built-in Wi-Fi, our gates are able to connect to your network and give you full authority over who enters your premises. They also feature motion sensors that can detect when someone is trying to enter your property without permission and send an alert to your phone. This gives you peace of mind knowing that your business is secure. So if you want the best automatic gates in Houston, TX, look no further than our wide selection of gate models. You won't be disappointed. Call (281)407-0768 to learn more.
Free onsite consultations and project estimates
We understand that choosing the right automatic gate for your business can be a tough process. There are several options out there, and it's hard to know which one is right for you. That's why our team offers free onsite consultations and quotes. We'll survey your property, assess your needs, and give you an estimate of the cost. Our experts will also answer any questions you have about our gate models and services. And because we're a locally owned and operated business, we can usually get the job done fast. So if you're looking for an automatic gate, give us a call today. We'll be happy to help you find the perfect solution for your needs.
Trusted by several businesses for A+ BBB-rated security solutions
Businesses in Houston trust us to keep their premises safe, and our A+ BBB rating is a testament to that. But what exactly makes our gates so trustworthy? For one, we have a strict reliability rating process that all our gates have to pass before they're installed. We also assess each gate's functionality score to make sure it's up to the task of keeping intruders out. In other words, with us, you can be confident that our automatic security gates are of the highest quality and will do their job flawlessly. Book a free onsite consultation today.
Over 25 years worth of security consultative knowledge
Our automatic gate installers have over 25 years of knowledge and experience. We always consult with our customers to ensure we understand their needs, and then we design and install a custom gate that meets those needs. We are knowledgeable about the latest gate technology and security trends, and we use that knowledge to create a high-quality, durable product that will last for years to come. Get the best possible service. Choose Nexlar.
Several gate operator options
Choose from a wide selection of gate operators for automatic security gates. Whether you are looking for an automatic swing gate operator or a sliding gate operator, we have a solution that will serve you. For example, our entry-level gate operator is perfect for smaller gates like half-height automatic turnstiles. For something a little more heavy-duty, our commercial-grade operators are built to withstand constant use and are compatible with a variety of gate sizes and styles. And for the ultimate in security and convenience, our wireless operators offer remote access and are ideal for larger commercial properties. No matter your needs, we have an automatic gate operator that's right for you. Call us today.
Long-lasting backup battery
Our automatic security gates are designed to provide hours of reliable operation in the event of a power outage. The backup battery is fully charged at all times and will automatically kick in if the power goes out, ensuring that your property remains secure. In addition, the backup battery is also tested on a regular basis to ensure that it is in good working order. With us, you can trust that your gate will continue to function even in the event of a power failure.
Induction loops and detectors
Our automatic security gates have several important features. For example, they are equipped with loops that detect when something is in the way of the gate. This helps to prevent the gate from closing and to injure someone. The detectors also help to ensure that the gate is fully closed before it opens again. This prevents people from walking through the gate while it is opening and being injured by the moving parts. Call (281)407-0768 to request the specifications of the automatic gates we install.
This allows the gates to close automatically after a set period of time. This is ideal for properties that are left unattended for long periods of time, as it ensures that the gates are always closed and secure. An example of it at work is, if you have an event on your business premises, you can set the security gate to close after a certain amount of time, for example, 10 minutes. This ensures that only invited guests can access your property. Additionally, the timer to close function can be used to deter would-be thieves. If they see that the security gate will close automatically, they may be less likely to try and break into your office. Ultimately, the timer to close function is a simple but effective way to improve the security of your commercial property.
You can now open and close your gates using your smartphone and make your life more convenient. With this new feature, you don't have to worry about carrying around a remote control or key fob. All you need is your phone. This also makes it easy to grant access to visitors. If you're expecting a delivery or repair person, you can simply give them a code to input on the keypad. There's no need to be on-premises to let them in. This feature gives you and your security team more control over your property and who has access to it. It's just one more way of making life easier for your employees and customers. Call Nexlar for a free demo.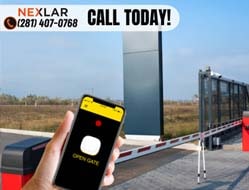 Get longevity with durable gates
Looking for a security gate that will last for years? Look no further than our automatic security gates. Our gates are made from high-quality, durable materials that can withstand years of use. Plus, our gates are backed by a strong warranty, so you can be sure they'll stand the test of time. Whether you're looking for a gate for your home or business, we have a security gate that will meet your needs. Contact one of our automatic gate installers at (281)407-0768 to learn more about our automatic security gates.
In the event that your commercial building is broken into, the damage is likely to be less severe if there are gates in place. This can lead to a lower deductible, as well as a lower premium. And in the event of a claim, having an automatic security gate may help to speed up the process and minimize the damages. In addition, insurance companies may offer discounts for businesses that have security measures in place. So if you are looking for ways to save money on your business insurance costs, call (281)407-0768 to get a free quick quote.
Lower your risk of liability
If something happens on your premises and someone gets hurt, you could be held liable. That's why it's important to have security measures to protect your employees and customers. By having security gates that open and close automatically, you can control who has access to your property. This helps to prevent accidents and injuries. Additionally, if something does happen, you can easily prove that you took steps to protect your customers and employees. Consult with Nexlar's experts to discover all the amazing safety features our automatic security gates have to offer.
Custom built for every business
Nexlar works closely with each client to design a custom gate that meets their specific needs and budget. We take into account the lifecycle of the project, from initial planning and design to installation and maintenance. We'll also work within your deadline to ensure that the gates are ready when they need them. Our team of gate installation experts ensures that every detail is taken care of so that you can focus on your business. As a result, all our clients can be confident that their security needs are being met. Call (281)407-0768 for custom-built automatic security gates for your commercial property.
Ideal for any commercial settings
We can install these gates at the entrance of a factory, for example, to manage traffic flow and prevent unwelcome cars from entering the premises. Our gate installation experts can also install them in commercial parking lots to help manage the flow of traffic and reduce congestion. In addition, automated gates can be used in office buildings and other commercial settings to help improve security and deter crime. Let your business enjoy peace of mind knowing that its premises are secure.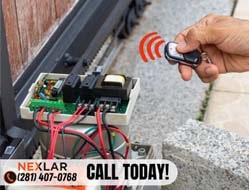 Control your gate at the push of a button. This is convenient for both your employees and guests, as it eliminates the need to exit the car to open the gate. The remote signal has a long-range range, so you can open the gate from inside your car. This gives you ultimate control over who has access to your property. Dial (281)407-0768 for more information about our RFID long-range gate openers.
Give Your Business And Its Employees The Privacy It Needs
When you have an open business, it's easy for people to come in and out as they please. This not only gives potential criminals easy access to your property but also makes it difficult to keep track of whoever enters or exits the premises. The automatic gates we install are a great way to keep unwanted people from coming into your property keep people from seeing into your property, which can be important for privacy reasons. We offer a variety of different gate designs, so you can choose the one that best suits your needs. And our experts are always one call away to advise you on the best solution for your business. Call (281)407-0768 for a free consultation.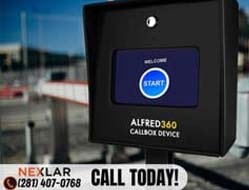 Increase ROI And Property Value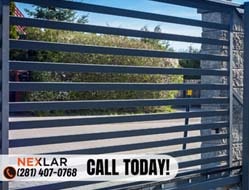 Contracting us to add an automatic security gate to your business can be a great way to increase its value and ROI. Here's how it works: potential customers or clients who see a well-protected business are more likely to believe that the business is successful and worth their investment. This perception increases the percentage of people who are willing to do business with you, which in turn raises your business's value. Additionally, because they can help lower your insurance rates, these savings also contributes to a higher ROI.
Get help making the right decision
When selecting the right automatic gate for your business, there are many factors to consider, and it's important to find a balance between security and functionality. We understand that fully. That's why we offer a free consultation service to help you determine which features are most important to you. Nexlar's technicians work with you to understand your needs and recommend features that will give you the best possible security for your business. We'll help you choose gates that are durable and reliable. We'll also help you choose a product that fits within your budget. Whether you need a Wi-Fi-enabled gate for remote access or a more traditional design, we'll make sure you find the perfect gate model for your business. Contact us today to get started.
Safety always comes first
Our automatic security gates are compliant with all state and federal regulations. They are certified to operate in all weather conditions and have been tested to withstand high winds. We have a license to operate in all areas in Houston. We'll regularly inspect the gates to ensure they are up to code. Nexlar takes the safety and security of its clients seriously, and we are proud to offer the assurance that comes with knowing that our automatic security gates are compliant.
Our automatic security gates are covered by a warranty. This warranty covers defects in workmanship under normal use and conditions. If a problem arises during the warranty period, we will repair or replace the gate at our discretion, free of charge. For more information on Nexlar's warranty policy, please consult our gate installation team at (281)407-0768.
Fully trained experts to serve you always
We only hire background-checked security experts to install our automatic gates. You can rest assured that the Nexlar team is always on duty and ready to serve you. We're committed to providing the best security possible, so you can focus on enjoying your time at our facility. Whether you're looking for a reputable company to install, repair or service a security gate for your business, we have the background and support you need. With years of experience in the field, our team is equipped to handle any situation that might arise. So you can rest assured that your business's security is in good hands, even after installation.
Nexlar has gates for all commercial properties, as well as a variety of styles and colors to choose from. We offer a variety of options for automation, including solar power, battery backup, and more. Our company offers financing options to make it easy to get the gate you need.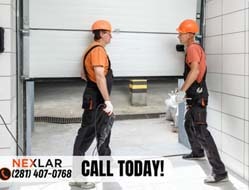 Automatic security gates are great if you want to improve the security of your business and your customer's overall experience, and we're here to help you find the right model for your needs. At Nexlar, we offer free consultations so that we can get to know more about what features or functionalities you're looking for and provide you with a variety of options that will suit your specific requirements. Call (281)407-0768 to get started.