Top Rated Commercial Security Cameras System Design, Installation and Service 
We install, service, and repair multiple camera types. Book your free consultation today.
Are you considering investing in commercial security cameras for your business? If so, you're likely in luck. Nexlar provides a wide range of custom cameras for every commercial setting to meet the needs of small and large businesses. Call our security company to install security cameras in Houston, TX, for your business. Lower insurance costs, deter intruders, and keep an eye on employee productivity. Start securing your premises today. Call (281) 307-0768 for commercial security camera installation, maintenance, repair, and servicing.
REQUEST A FREE CONSULTATION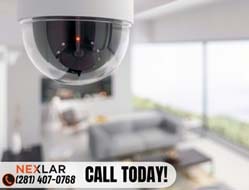 Whether you need to monitor one area or multiple locations, we have a solution that fits your needs. Our cameras are built for businesses of all sizes and come with everything you need to get started. Plus, our included software makes it easy to view and manage your camera footage. With our IP security cameras, you can rest assured that your business is safe and secure. Call us to learn more.
With features like wide-angle viewing, night vision, and remote access, our cameras provide round-the-clock protection. And with our easy-to-use management software, you can set up your cameras to fit your needs. Whether you're looking to protect your employees, customers, or inventory, our Pan tilt zoom (PTZ) cameras are for you.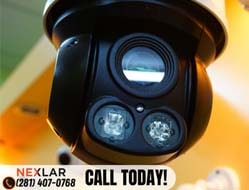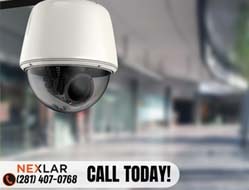 Our dome cameras are designed for indoor and outdoor use. They have a vandal-resistant design and are weatherproof. Our dome cameras also have a wide field of view. They can be set to record at specific times of the day, late at night time. These cameras can also be set to record only when they detect motion. They can also be equipped with a microphone to record audio. Most importantly, they are secure and encrypted, ensuring your data is safe.
Do you need to monitor areas like parking lots or building exteriors? Our bullet cameras are just what your business needs. They are ideal for multiple surveillance applications. They have features that allow them to continue operating even in bad conditions. Call (281)407-0768 for more information about them.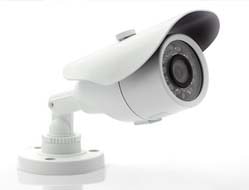 License Plate Recognition Cameras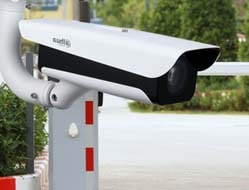 Track vehicles that are getting in and out of your premises better with our cameras. These cameras use advanced algorithms to read and record license plate numbers automatically. The data is then stored in a secure database that can be accessed by authorized personnel. And because they are also equipped with infrared LEDs, our LPR cameras can capture clear images even in low-light conditions. Do you need a weatherproof and vandal-resistant that is ideal for outdoor use? Call Nexlar's professional today and request a free quote.
Our thermal cameras are designed to provide superior quality images in a wide range of lighting conditions. The cameras use a specialized sensor that is sensitive to infrared light. This allows them to produce clear images even in low-light situations. They also have advanced image processing software that helps to improve image quality and reduce noise levels. As a result, our thermal cameras are able to provide clear and reliable images that can be used for several purposes. That includes security, surveillance, and law enforcement.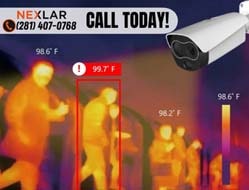 360-Degree Panoramic Fisheye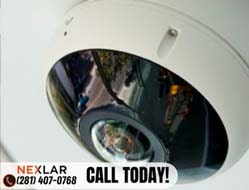 Our panoramic fisheye security cameras offer a unique 360-degree view of your premises, providing comprehensive surveillance coverage in a single device. With high-definition images and built-in infrared illuminators, our cameras can provide clear footage day or night. And with their wide field of view, our cameras can cover large areas with fewer devices, helping to reduce installation costs. Whether you're looking to secure a warehouse or office building, our panoramic fisheye cameras can help you achieve your security goals.
Our cameras boast a wide field of view, allowing you to monitor a larger area with fewer cameras. This is thanks to the panoramic lens, which gives the camera a wider angle of view than a standard lens. The result is a more efficient surveillance system that can cover more ground with fewer cameras. In addition to the wider field of view, the panoramic lens also provides superior image quality. The images are sharper and more detailed, making it easier to identify objects and people. Looking to improve your security or want a better way to monitor your property? Our cameras are an ideal solution. Contact one of the experts at Nexlar to learn more about our panoramic cameras.
Quick to learn and Easy to use
Our business cameras don't need any special training to use. They have clear and simple controls that anyone can understand. This makes them ideal for businesses that want to increase security without adding extra complexity. Some models we have also offer features that make them even easier to use, such as automatic alerts and remote viewing.
Our cameras come with easy third-party sharing capabilities. You can share the footage with law enforcement or other authorized personnel with the touch of a button. The captured footage is securely stored in the cloud so that you can access it from anywhere. And if you need to review footage, you can do so without having to download it first. Some camera models we install are also equipped with night vision and motion detection. This way, you can keep a close eye on your commercial building 24/7.
Integrate with access control
Upon request, our team can integrate these cameras with access control systems. This will give you even more control over who can access your premises. Our cameras can be used with third-party security measures, such as door sensors and alarms. This can significantly reduce the risk of crime and keep your business safe. Our cameras have high-resolution images, a wide field of view, and a high user rating. As a result, they are invaluable when it comes to security and loss prevention. Book a free consultation with Nexlar's team to learn more about our onsite integration services.
The most advanced technology
From infrared capabilities to motion sensing, our security cameras are the best in the market. Low-light conditions and quick movements don't stand a chance against the advanced in-built tech of our cameras. And because some of the models we have are wireless, you'll be able to access the live feed of your premises remotely.
Safeguard your business from false lawsuits
Ensure you have clear and indisputable evidence of what occurred during a given timeframe. This footage can be used in court to disprove any malicious or false claims made against your business. As a result, they protect you from legal implications. By investing in these cameras, you are taking an important step to protect your business from legal troubles. Give your business a fighting chance against false claims. Call Nexlar today.
Deter criminal activity with ease
Our cameras are tamper-proof and weather-resistant, making them ideal for any business or office setting. Whether you're looking to protect your store from shoplifting or your office from vandalism, Nexlar has the perfect solution for you. Contact our security camera installers today to learn more about our cameras. Let us show you how they can keep your business safer than ever before.
Get clear and colored footage
With a resolution of up to 4K, our cameras provide clear images that can be used for identification purposes. Our security cameras also have advanced imaging technology to provide accurate colors. This is essential in a commercial setting where businesses need to be able to identify people. With our cameras, you can be sure you are getting the best possible image quality.
If your employees are aware that they are being monitored, your business can encourage them to work more efficiently and effectively. Real-time footage from security cameras can also be used to monitor employee performance and identify areas for improvement. In today's competitive business environment, any advantage that can be gained by improving employee productivity is worth considering. Nexlar's cameras can also improve business efficiency by eliminating blind spots and providing employees with a clear view of their workspace.
Make business processes more efficient
Suppose one of your staff members is accused of theft. The footage can be reviewed to confirm or refute the claim. Or, if a customer files a lawsuit about damaged merchandise, the footage can be used to investigate the incident. If staff members are constantly interrupting each other's work, it may be necessary to implement new workflow procedures. Let us help you streamline your business processes, talk to one of our experts today.
Advanced safety features such as heat mapping
Heat mapping works by tracking the movement of people and objects within the camera's field of view. This information is then used to create a heat map that highlights areas of high activity. This enables staff to identify potential threats and take appropriate action quickly. Some of the models we provide also have facial recognition capabilities. This can further improve your business's security.
Our security company understands that there are concerns about the security of any footage security cameras capture. That's why our cameras use encryption to protect the video footage from being accessed by unauthorized individuals. This will ensure that only the right people can view the footage. It also prevents tampering or alteration of the footage.
Audio functionalities with built-in mic
Record and listen to conversations as well as other sounds with ease. The built-in microphone makes it easy to capture audio, and the camera's software automatically records and saves the audio data. You can access the recordings through the camera's web interface or through a secure online storage account. The recordings can be used for evidence in court or for other purposes.
Our security cameras have a motorized zoom feature that allows the user to zoom in and out as needed. This functionality is essential for many businesses, as it allows them to keep an eye on their premises at all times much better. The camera's zoom feature is also helpful in identifying faces and other objects at a distance. They are equipped with high-quality lenses that provide clear images, even in low-light conditions. If you'd like to get a complete view of your business's surroundings, consult with Nexlar today.
Forget about manually adjusting the camera lens to get a clear image of the activity on your premises. With autofocus, the cameras will automatically adjust to keep a clear image. This is especially important if there is movement in the area being monitored. The autofocus feature also helps to reduce blurriness, making it easier to identify people and objects in the footage.
Some of the models we provide are equipped with a strobe light that is activated when the camera detects motion. The light helps to deter potential burglars and vandals. It also makes it easier for the camera to capture clear images of activity in the area. In addition, the strobe light can be used to help identify potential witnesses to a crime. If someone sees the light, they'll be more able to provide a description of the person or vehicle that triggered it. That information can be helpful in solving a crime. Our cameras are an important tool in keeping businesses in the city safe. The strobe alert helps to make them even more effective.
High storage with cloud storage and SD storage
Our cameras have high storage capacity, so you can store weeks or even months of footage. And if you need to access footage from a specific event, don't fret. Our cloud and SD storage options make it easy to find and review the footage you need. Let storage space be the last of your concerns, and schedule a free consultation with our team.
Over two decades of technical know-how
Our team of camera installers has over two decades of experience when it comes to security cameras. They can help you find the one with the specifications your business needs. Our professionals can assess your security needs. We'll then recommend a camera system that will give you the coverage, convenience, and security you need. We'll even provide installation and support services to make sure that your system runs smoothly. So if you're looking for commercial security camera solutions, don't hesitate to give us a call at 281-407-0768.
The security that grows with your business
Your need for comprehensive security grows as your business expands. Our cameras are designed to grow as your business expands. This provides the coverage you need to keep your property and employees safe. From small and mid-sized businesses to large warehouses, we have a camera system that will fit your needs. And if your security needs change over time, our cameras can be easily upgraded to provide the latest security technology. Are you just starting out or expanding into new territory? Our cameras will give you the added peace of mind you need to focus on what's important -running your business.
We want to make sure every client our company serves has the best possible experience with our products. That's why we offer free onsite surveys. Nexlar's team of experts will come to your business and assess your specific needs. This will help them recommend the best camera system for your property. We will also provide a free quotation for the installation of the system. With our onsite surveys, you can be confident that you are getting the best possible solution for your business.
Purchasing and maintaining a security camera system can be costly. We understand that, and that's why we offer flexible leasing options. This makes it easy to get the security you need without blowing through your budget or sacrificing your bottom line. Our leases are available for both short- and long-term use. Nexlar offers many pricing options to fit your budget. Plus, with our lease-to-own program, you can eventually own your security system outright with minimal upfront costs. Contact us at 281-407-0768 today if you'd like to learn more about our affordable security camera solutions.
Rechargeable battery options
Get the option of rechargeable batteries or solar-powered security cameras when you choose us. This is a great feature for businesses that want to be able to rely on their cameras even when there's a power outage. They are also more eco-friendly than disposable batteries, so you can feel good about using them in your business.
Security cameras can be even more effective when equipped with video analytics software. Video analytics is a type of artificial intelligence that can be used to automate the analysis of video footage. By analyzing videos in real-time, our cameras can provide instant alerts for potential security threats. For example, if a camera detects someone loitering in a restricted area, an alert can be sent to staff. Video analytics can also be used to track the movements of people and vehicles, helping to create a more secure environment. When used with other measures, this software can help to secure your business even better.
Every business, whether small or large, has different needs, and that's why we offer fully custom security cameras. We will understand your specific security requirements and then design a system that meets those needs. Our cameras are designed for optimal visibility and durability, and they can be configured to record footage in any environment. Do you need a simple surveillance system for your office or a comprehensive security system for your warehouse? Nexlar has the perfect solution for you. Dial (281)407-0768 today to learn more about our custom security camera solutions.
Save money and maximize your ROI
Thanks to rapid and steady advances in technology, security cameras for businesses are now more affordable than ever. Our cameras are tamper resistant, require little maintenance, and hardly malfunction. We can also easily integrate them into your existing security. Because they are scalable, you can add more features without sacrificing security as your business needs grow. There is no substitute for a well-built camera system. Investing in one will ensure that your business is safe and that you get the most out of your investment. Consult with our team today.
Expertly cabled for reliability
Our cameras are designed for reliability and ease of use. Our team of experts takes care of all the cabling, so you can be sure your system will work faultlessly. We use only the highest quality security installation tools. Our cameras are also backed by a warranty, so you can rest assured knowing your investment is protected. When it comes to security cameras, we've got you covered. Contact us to learn more about our cameras and services.
If a camera goes down, our team of experts will be there to fix it as soon as possible. We'll ensure that your cameras are always up and running. And because our cameras are reliable and secure, this will be the last of your concerns.
We have the right components for any security camera
As a leading
commercial security camera
supplier, we have the right components for any camera system. From cameras and lenses to DVRs and NVRs, we have everything you need to create a complete security solution. Our company also offers a wide range of accessories, including mounts, brackets, and cables. We do this to ensure that your cameras are installed correctly and work properly. With our vast collection of cameras, we are confident that we have the right solution for you. Contact us today.
Do you need a security camera that will allow you to view live footage of your premises from anywhere? If so, we have a solution for you. Our IP cameras will give you the convenience and high-quality footage you need at all times. If you're a business owner in Houston, TX looking for a security camera that can keep your business safe, we have just what you need. Our cameras are designed to provide maximum security for businesses of all sizes. We offer a variety of camera systems and configurations to suit your specific needs. Our experts are available to help you choose a surveillance system that is ideal for your business.
We have the expertise to secure your commercial property. Call a Nexlar expert today.

Directions, That Matter!
Service And Quality Matters
Increase return on your investment with our custom security cameras, access control and software integration technology.
Quickly, professionally, on budget and on schedule, I would not hesitate to recommend Nexlar
Cliff M. Fogo de chao
CEO

Nexlar staff attend to our needs in a courteous and professional manner
Jeremy Director Of Facilities – BCFS

Outstanding customer service, fast and professional installation
Brenda

Thank you so much for your quick and effective work with us. Your technician was outstanding
Matthew
Production Group Leader (PGL) – Haliburton