Are you ooking for a commercial Security Camera Installer ? We can help Call us  

(281) 407-0768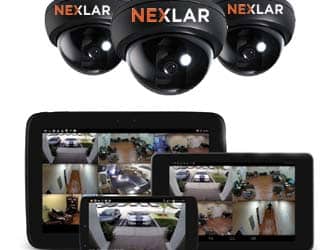 Highly Rated Security Cameras Installers. Fast & Professional - CCTV And Surveillance Installation Company in Houston
In the contemporary business environment, ensuring the safety of your assets, employees, and premises is crucial. Our commercial security camera installation services are designed to provide you with the peace of mind that comes from knowing your business is protected around the clock. Our expert team takes the time to understand your specific needs, offering personalized solutions that ensure every inch of your property is under surveillance, deterring potential security threats and providing crucial evidence when you need it most. 
At Nexlar, our security camera installers are skilled, licensed and insured, ensuring that your business is in safe, qualified hands. Celebrating decades in the industry, we've blossomed into your first choice for security camera installation, blending unparalleled service with warm expertise. Nexlar isn't merely a security solution; we are your reliable partners, dedicated to weaving meticulous and innovative security solutions, all tailor-made for your unique needs!We're your trusted surveillance vendors, partnered with the leading security camera brands to bring you top-tier safety solutions. Our security camera consultants are ready to visit your site and expertly design the perfect camera placement, ensuring your spaces are always under a watchful eye

License Plate Recognition Security Cameras Installation Service
We are experts at license plate security cameras. Nexlar has a lot of different license plate cameras that can meet your needs and your budget. LPR (license plate recognition) cameras change based on the speed of the moving cars. Security camera installers from our company are very well-trained in how to set up, program, and install security cameras. Call us today and schedule a free onsite security cameras consultation.
Megapixel Security Surveillance Cameras
When you care about the small details, HD (megapixel) surveillance cameras will be your best choice. There is a new technology that makes HD Security Cameras more affordable and easier to use. IP CCTV security cameras allow us to zoom in on the recorded images and get the best forensic images from the cameras. Our installers of CCTV cameras have the skills and tools to get the job done quickly and correctly.
Remote Viewing Security Cameras
Whether you're at home or away, you can see your security cameras. A free app for your smartphone will be installed by our security cameras installer. This app will let you see the cameras from your home. Our phone app is very easy to use. It doesn't take long at all. You can watch the live feed and playback videos. Most of our security system lets you see the cameras from anywhere. Call us today to set up a free meeting with a surveillance camera installer.
Cloud Based Security Cameras Installation Company
Cloud surveillance cameras send video to the cloud, which means that you can see the footage from any device. This isn't all: The cloud can also help improve the safety, efficiency, and return on investment of cameras. Remotely, all of the images are being taken. They use the cloud as a backup. When you have internet and a network, cloud storage can be used.
Video Analytics
It's cheaper to use a Smart Video Alarm than a traditional security system because it's more accurate and proactive. There are ways that they can make manned guards and police officers who are there all the time more efficient and effective. Video analytics in security cameras is a big step up from just detecting when someone moves around. Motion detection looks for changes in pixels. On the other hand, video analytics uses intelligence to identify people, cars, and other objects.
Alarm Integrated Cameras
Cameras can be integrated with alarm to offer an extra layer of protection.
Security Camera Installer near me
When you need help with your security cameras, we're here to help you! We serve Houston and all of the surrounding cities. The cities where we have clients are Austin and San Antonio. Dallas and Brownsville are also cities where we have clients. If you need a security installer near you, then this might be the right place for you to look. We're here to help. Our proactive surveillance cameras can protect your business and help you do some of your business more quickly and easily, as well. It's time to set up your free CCTV consultation.
There must be a license for security camera installers in Texas, and they must get it from the department of public safety. If you want to work with security cameras in Texas, you'll need to get a license from Texas. Licensed Security Cameras installers can only work with licensed cameras if they have a company license. A business is also breaking texas law by hiring an unlicensed individual. According to Texas law, you can only hire a licensed company to work on your surveillance cameras.
Nexlar security is based in Houston, TX, and they serve all of the other cities in the area whether you want to set up a free security installer consultation today.We're here to help. Call us now. We install security cameras for a low price and treat you well, from basic CCTV to a high-end video system for business. We can help your company. We will go wherever you are, no matter how far or how close we are to you.
Most security camera installers work for a rate of $75 to $150 an hour, but that can vary. In terms of expertise and certifications, the rate varies. The people who set up security cameras aren't all the same. With the new technology that is out there, security camera installers are more like network engineers now that they can. Putting in security cameras is not as easy as plugging in a device. It's a lot to think about, from how far away the camera is to how long it takes to set up the network.
Directions, That Matter!
Service And Quality Matters
Increase return on your investment with our custom security cameras, access control and software integration technology.
Quickly, professionally, on budget and on schedule, I would not hesitate to recommend Nexlar
Cliff M. Fogo de chao
CEO

Nexlar staff attend to our needs in a courteous and professional manner
Jeremy Director Of Facilities – BCFS

Outstanding customer service, fast and professional installation
Brenda

Thank you so much for your quick and effective work with us. Your technician was outstanding
Matthew
Production Group Leader (PGL) – Haliburton