Houston Security Cameras System Design, Installation and Service 
If you are looking best security cameras system to our business.
Please Call (281) 407-0768 For A Free Consultation

If you own any business in Houston and are looking for a commercial security camera installation company in Houston, TX, look no further than Nexlar. We can help you protect your property and employees. We specialize in installing security cameras for businesses in Houston and neighboring locales. Our company has a wide variety of cameras to choose from, and we can customize a system that meets your specific needs. Contact the leading Houston
security camera installer
and book a free consultation with one of our security camera installation experts.
REQUEST A FREE CONSULTATION

Solar-Powered Security Cameras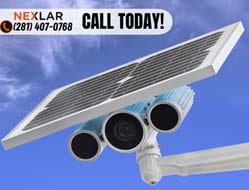 Our security camera installers are experienced in installing a variety of different types of security cameras, including solar-powered models. These models are completely self-contained, meaning that there is no need to run power lines to the camera location. They are also low maintenance because they do not require batteries or other consumables. This makes them perfect for use in remote locations where there is no access to power lines. As a result, they are an ideal solution for those who want peace of mind without having to check and replace batteries constantly.
Your security cameras shouldn't be accessible only onsite. In the past, having a security camera meant that you had to be physically present in order to view the footage. However, with our IP cameras, that is no longer the case. The IP cameras our team installs can be accessed remotely via the internet, giving you access to live footage from anywhere in the world. This is a huge plus if you and your employees need to monitor the premises from multiple locations. Our installers are experts in installing IP cameras, and we can help you take advantage of this cutting-edge technology. Request a demo.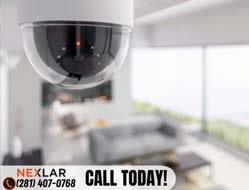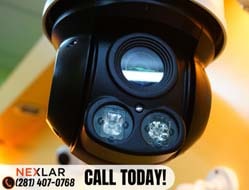 We can install PTZ cameras for any commercial setting. Our PTZ cameras offer a high degree of control and flexibility. With Nexlar's PTZ cameras, you can pan, tilt, and zoom the cameras to get a better view of an area. Therefore, they are ideal for monitoring large areas or tracking movement. Most PTZ models we carry are equipped with features like night vision and motion detection, which can further improve your security. If you're interested in installing a PTZ camera at your business, our installers would be happy to help. Give us a call.
Deter burglars and loiterers
Loiterers and burglars are common problems in commercial areas. Not only can they reduce your property's value, but they can also be a danger to your customers. Our security cameras are an effective way to deter these criminals. The presence of cameras can act as a deterrent, as potential criminals will know that they are being watched. Some variants we carry are equipped with in-built alarms that will sound if an intruder is detected. This deters potential burglars and alerts you to their presence so that you can take action to protect your property. And if they break in, their success won't be long-lived. The footage from the cameras will be used to identify and apprehend them.
Increase your commercial property's value today
What type of business do you operate? No matter what industry it is in, potential buyers will see the
security cameras
as an added level of protection, and you will be comforted by the knowledge that your employees and customers are safe. In today's market, a property with a comprehensive security system is highly desirable, so don't wait to increase your property's value – call our security camera installers today. They are experts at selecting and installing the right system for your business.
Have the evidence you need when you need it
Our security camera installers are experts at choosing the right system for your needs and ensuring that it is installed correctly. We understand how important being able to review footage quickly in the event of an incident is. That's why we will work with you to make sure that your system is capable of meeting your business's needs. Our team is also available 24/7 to help you troubleshoot any problems that may arise. With Nexlar's help, you can rest assured that you will have the evidence you need when you need it. Request a free demo.
We install cameras with vandal resistance for several reasons. Vandal-resistant cameras are designed to withstand impact from common tools used to damage property, for example, hammers or stones. They are also constructed with durable components that are difficult to break or remove. This type of camera is often used in public spaces where there is a higher risk of vandalism, such as parks or playgrounds. The sight of a camera with vandal-resistant housing may discourage would-be thieves from attempting a break-in. For these reasons, our security camera installers often recommend vandal-resistant cameras for our customers. If you'd like to talk to Nexlar's camera specialists, call (281)407-0768.
Enjoy high zoom capabilities
The security cameras we install have high zoom capabilities that allow you to see clearly, even from a distance. The last thing you want is blurry footage that's unusable. With an 8x zoom, you'll never have to worry about blurriness because our cameras can provide you with a clear image no matter what. With our high zoom capabilities, you'll always be able to see what's going on, even if you're not right there. With the cameras we install, you can rest assured that you're always getting the best possible view of your premises. So if you're looking for a security camera that can provide you with a clear image, then look no further than Nexlar's camera installation experts.
Our security cameras are designed for easy management. With cloud access, you can change settings anytime. All you need is an internet connection. You can also watch the live footage of the premises. If you want to record the footage, you can do so easily. The captured video is stored in the cloud, so you can access it from anywhere. And if you ever need assistance, our team is always available to help. We believe that security should be simple and convenient, so you can focus on what matters most. That's why our cameras are the perfect solution for any business. Consult with one of our experts today.
Whether you're looking for a way to simply monitor activity in your store or factory, or you need a more sophisticated system to protect your premises, we have a solution that will empower your business. Nexlar's experienced and certified professionals will work with you to find the best placement for your cameras and ensure that they are installed correctly and securely. We understand the importance of reliable security footage, and we'll do everything in our power to make sure that you're getting the high-quality recordings that you need.
Store up to 8TB of footage at a time
The cameras we install can store up to 8TB of footage at a time. With our security cameras, you can trust that you have plenty of space to store your footage. They are a great choice for businesses that want to have a large amount of footage available at all times. If you need even more storage, we also have cloud storage options available. All footage is encrypted, so you can rest assured that your security is our top priority. Give our camera experts a call today to find out more about our storage options.
Get two-way audio and listen in on conversations.
Our security camera installers are experts at installing camera models with two-way audio. This feature is especially useful for deterring loiterers and other potential criminals. With two-way audio, you can speak directly to anyone who is caught on camera, letting them know that they are being watched and that they should leave the premises immediately. This can be a highly effective way to deter crime and keep your property secured. To learn more about Nexlar's security camera installation services and the models we carry, call (281)407-0768.
Gain valuable insights to maximize efficiency
When it comes to any business operation, efficiency is key. The more efficient your processes are, the more productive you'll be – and that's where security cameras can come in handy. By installing cameras in strategic locations around your property, you can gain valuable insights into how your employees are working and identify any areas where processes could be improved. What's more, our security camera installers are experts at finding the perfect location for each camera to maximize its effectiveness. So why not give Nexlar a call today and see how we can help you improve your business's productivity?
Budget-friendly camera installation with flexible payment options
Whether you're looking to pay the whole fee upfront or spread the cost over time, we have a payment plan that will work for you. And because we know that security needs can change, we also offer the option to upgrade or add additional cameras at any time. So if you need a security solution that won't break the bank, give us a call today. We'll be happy to discuss our various payment options with you and help you find the best solution for your business.
Multiple models to choose from
Our security camera installers have a wide range of models to choose from, so you can find the perfect fit for your needs. We offer both hardwired and wireless options, as well as models with night vision and weatherproof features. Whether you're looking for PTZ cameras to keep an eye on your parking lot or an IP security camera to monitor indoors, we can install the right camera for your commercial property. And because our installers are experienced professionals, you can be confident that your new system will be up and running in no time. Contact Nexlar's cameras installation specialists in Houston, TX, for a free onsite consultation.
Outdoor and indoor camera installation
One of the most important benefits of contracting Nexlar is that the cameras we carry can be installed both indoors and outdoors. This gives your businesses the flexibility to choose the location that will best suit their needs. For example, our IP67-rated security cameras can be used to monitor areas that are difficult to see from inside the building, such as entrances and exits or parking lots. The indoor camera models, on the other hand, can be used to keep an eye on high foot traffic areas, such as lobbies, or sensitive locations, such as safes or vaults. Ultimately, the decision of where to install security cameras depends on the needs of your business, and our specialists can help you make the right decision. Get a powerful tool for protecting your property and employees. Book a free consultation today.
Expert advice and troubleshooting services
Even the best security cameras can experience problems from time to time. That's why we offer quick and expert advice for any issues you may be having with the security cameras we install. Whether you're having issues with image quality or motion detection, we can quickly diagnose the problem and provide recommendations for a quick fix. And if you aren't sure about the right type of camera for your business, we can help too. Book a free consultation with our team.
24/7 emergency repair service
No matter what time it is, our security camera installers are available 24/7 to do any security camera repairs. Whether you're dealing with an electric cable issue or a broken camera, we'll be there to help. Nexlar's team is highly trained and experienced, so you can count on us to have them back up and fully operational as fast as possible. Let us help you secure your premises, call (281)407-0768 to schedule a consultation.
Advanced safety features like motion detection
Our security company prides itself on staying up-to-date with the latest technology. That's why our security camera installers only install cameras with the most advanced safety features. With motion detection, you can be alerted the moment something moves in front of your camera. This is especially useful for deterring intruders or catching them in the act. And with night vision, you can keep an eye on your property even when it's dark outside.
Highly accurate AI detection
Some of the security cameras we install have smart analytics capabilities that can detect people and objects with a high degree of accuracy. This is possible because the cameras are equipped with artificial intelligence (AI) algorithms that are constantly learning and improving their detection abilities. AI detection can be used for a variety of purposes, such as identifying potential security threats, monitoring employee behaviour, and more. In addition to smart analytics, the cameras also have additional features that make them even more effective at deterring crime and keeping businesses safe. For example, the cameras can be programmed to send alerts to security personnel in real time if they detect an unusual event. Our team can also integrate them with other security systems, such as access control and burglar alarms. As you can see, the smart security cameras we install for businesses are much more than just simple surveillance devices. They are powerful tools that can help to keep businesses safe and secure. Please consult with our expert to learn more about our smart video surveillance cameras.
Minimize the spread of infection with our thermal detection cameras
We can install thermal cameras at entry points or any other area on your premises with high foot traffic. Thermal detection cameras work by measuring the temperature of a person's skin. If the camera detects a high temperature, it will send an alert to your security staff. This can help to quickly identify people who may be infected and take the necessary precautions. Thermal detection cameras are just one way that our security camera installers can help you keep your premises safe. Call (281)407-0768 to learn more about our other cost-effective security solutions.
Low voltage security solutions
If you're looking to keep your business costs at a minimum, our low-voltage cameras are a great option. They use less electricity than standard cameras, so your electric bill will be lower. Additionally, they're less likely to trip circuit breakers, so you won't have to deal with atypical power outages. Nexlar specializes in providing low-voltage security solutions for businesses throughout Houston, TX, and neighboring locales. Request a free demo today.
Be sure that you're getting a clear view of whatever you're monitoring. Whether you're trying to identify someone in a crowd or get a better look at a suspicious package, the right zoom ratio can make all the difference. So if you're looking for a top-quality security camera, be sure to check out our options. We also have a wide selection of lenses available to help you get the most out of your camera. Additionally, the zoom ratios make it possible to capture quick movements without losing clarity. With such amazing zoom capabilities, Nexlar's zoom cameras are sure to provide you with clear footage always.
Our security camera installers are experienced professionals that pride themselves on their skills. And, we have such faith in our work that we offer a satisfaction guarantee. If you're not satisfied with our installation, give us a call, and we'll come out and take care of it – at no extra cost to you. Request a free quote today.
Our experts can detect vulnerable locations on your premises.
Our security camera installers are experts at detecting vulnerable locations on your premises. They'll take into account several factors, such as the layout of the property, the type of building, and the surrounding area. This allows them to identify full coverage blind spots and pinpoint the best locations for security cameras. In addition, our installers have experience working with a variety of different security systems. This means that they can tailor the camera placement to your specific needs and ensure that your premises are fully protected. So if you're concerned about security, don't hesitate to give our team a call and schedule a free onsite consultation. We'll happily assess your needs.
While our cameras are primarily used to deter crime and capture footage of incidents, they can also be used to provide live-monitoring services. If you want to eliminate the costs that come with having a physical security guard on duty at all times, we can help. By using the live feed from security cameras, our virtual guards can keep an eye on things even when there is no one physically present. This live monitoring can help to deter crime, as potential criminals will know that they are being watched. Additionally, it can provide a sense of security for you and your employees, knowing that someone is monitoring your property at all times. Do you need virtual guard services in Houston, TX? Give us a call today.
Stream live footage to your smartphone
Our IP cameras can give you a live feed of what's going on at your business, streamed right to your smartphone. You can see who's coming and going and be alerted if there's any suspicious activity. Our installers are experts at setting up these cameras, so you can rest assured that your property is well-protected. And you'll have the footage you need to identify the perpetrator and bring them to justice if anything occurs. Give Nexlar a call today for more information about our live-streaming remote security cameras.
Have a clear view even in low-light conditions
Our day and night security cameras are designed to provide clear images even in low-light conditions. They utilize advanced infrared technology to capture clear footage even in complete darkness. In addition, our cameras feature built-in image stabilization that helps to reduce blurriness and keep images sharp. So whether you're trying to identify a prowler or want peace of mind, our day and night security cameras can help you get the clarity you need.
Find The Right Camera For You. Call (281)407-0768 today.
Get self-sufficient power systems with our rechargeable cameras, solar cameras, and wired options, and because they are low-voltage, you save a lot on the electric bills. If you are looking for a security camera installation team in Houston, TX, that take your business's safety to the next level, experts at Nexlar are here to help. We offer free consultations so that we can assess your needs and provide you with the best possible security camera for your business. Choose from our wide range of camera types and features. Whether you're looking for standard surveillance or something more specialized, we can help. Call (281)407-0768 to get started.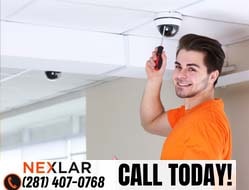 Directions, That Matter!
Service And Quality Matters
Increase return on your investment with our custom security cameras, access control and software integration technology.
Quickly, professionally, on budget and on schedule, I would not hesitate to recommend Nexlar
Cliff M. Fogo de chao
CEO

Nexlar staff attend to our needs in a courteous and professional manner
Jeremy Director Of Facilities – BCFS

Outstanding customer service, fast and professional installation
Brenda

Thank you so much for your quick and effective work with us. Your technician was outstanding
Matthew
Production Group Leader (PGL) – Haliburton