Community Gate Systems Design, Installation and Service 
If you are looking best community gate systems.
Please Call (281) 407-0768 For A Free Consultation

Do you manage a gated community or HOA? If your community needs a gate system in Houston, TX, look no further than our security company. Nexlar installs, services, and repairs
gate systems
that will keep your community safe and streamline the entry and exit process for your residents. Our gates systems can also increase property values and give your residents and staff peace of mind knowing they are protected from all the potential dangers that intruders pose to them. Our team provides expert installation and 24-hour customer service for all our customers. We have various gate systems for gated communities, multi-family complexes, and HOAs. Call (281)407-0768 to request a demo.
REQUEST A FREE CONSULTATION

Swing gates are a type of gate that is commonly used in gated communities. They are often used to provide security or to control access to an area. For example, swing gates may be used to keep unauthorized vehicles from entering an estate. Swing gates can also be used to create a barrier between two areas, such as a playground and a pool. In addition, swing gates can be used to protect pedestrians and bicycles from vehicular traffic. When choosing swing gates for a community, it is important to consider the needs of the community and the type of traffic that will be using the gates. Our swing gates are a versatile option that can provide security and safety for any community.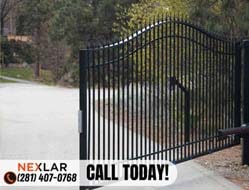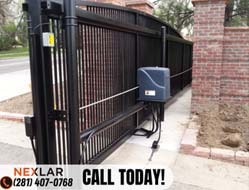 We offer a variety of high-quality sliding gates that are designed to provide maximum security for HOAs and gated communities. Our siding gates are made from durable materials and feature robust locking mechanisms that make them difficult to breach. Our sliding gate installers can also add security features such as alarms, password-protected entry and exit, RFID, and CCTV cameras. Nexlar's siding gates are less likely to be blown open by strong winds. This can reduce the risk of damage to property or injury to people in the vicinity. We can design them to blend in with the surrounding environment, making them aesthetically pleasing as well as secure. Eliminate the need for a large clearance area, which can be a trip hazard. Call Nexlar today!
Our pedestrian gates are an increasingly popular feature in many communities, especially those with pools. These gates provide a secure barrier between the pool area and the rest of the community. This ensures that only authorized individuals have access to the pool. This also reduces the risk of accidents and helps keep pools clean and safe for everyone to enjoy. In addition, they block off areas where people might wander, and they also provide a visual barrier that can discourage would-be intruders. Our pedestrian gates improve security without sacrificing convenience or accessibility. Whether you're looking for a gate for a small community or a large development, we have a solution that will fit your community's needs.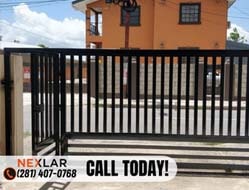 The electric gates we install for multi-family communities have a backup battery that can last up to 12 hours without needing another charge. What does this mean for your community? Upon installation, this backup battery will help to ensure that the automatic gate always has power, even when there is an electrical blackout or anytime the main power supply is lost. And because it is rechargeable, it can be used again and again. Worried if the gate will function well when the electricity is out? Worry no more. We have a solution for community managers. Consult with us today.
Safety features for extra security
All the community gate systems we install are designed with your residents' well-being in mind. For example, the gates are equipped with sensors that detect when someone is trying to enter the community. If the sensors are triggered, the gates will automatically close to prevent unauthorized entry. This helps to prevent children and animals from getting out into the street, and it also helps to keep intruders from getting into the community. The gates are also wide enough to accommodate people with disabilities, and they are equipped with a special button that can be used to open the gates manually in case of an emergency. And because the gates are made of sturdy materials that cannot be easily breached, they can easily deter would-be burglars and keeps your community secured.
Multiple optional accessories like audible alarms
We understand that the security of the community's residents is a top priority. That's why we offer a range of optional accessories that can help to increase security. For example, our team can add audible alarms to the gate system to alert the guards if someone attempts to enter the community without permission. We can also add remote access controls so that tenants can open the gate from their car or phone. These optional accessories are just a few of the ways that we can help to secure your community.
Comprehensive security, always
We have many types of gate systems that can be used to control access to any community. Some systems use card readers, while others require a key code or remote control. The most effective gate systems use a combination of these methods to provide the highest level of security. For example, we can install a gate system that uses card readers for entry during daylight hours. After dark, the system requires a key code for entry. This ensures that only authorized residents have access to the community and that all visitors are properly registered. Let us help you provide a high level of security for all residents. Contact a Nexlar representative today.
Your community gate needs to remain functional at all times. That's why we offer emergency gate repairs for breakdowns and malfunctions. We understand that a malfunctioning gate can cause all sorts of problems for your community, including security breaches and the inability to control who comes in and out. That's why we offer a 24/7 gate repair service so that you can rest assured that your gate will be fully functional again in no time. We also offer a warranty on all of our repairs so that you can have peace of mind knowing that your community is secure. Reach us at (281)407-0768 if you ever need gate repair services in Houston, TX.
Sourced from the best gate manufacturers in the United States
We are partnered with the best gate manufacturers of security gates in the country. Because of this, we are able to offer a wide range of options for materials, styles, and functions to make sure that our gates are the perfect fit for your community. Whether you need a simple pedestrian gate or a complex multi-tenant system, we have the perfect solution for you. Call (281)407-0768 for a security gate that will last for years to come. You'll receive a free quick quote.
Designed and tailor-made by experts
A well-designed and expertly crafted gate can enhance the look of your property while providing security and privacy. Nexlar specializes in designing and creating custom gates for all commercial properties. We work with you to ensure that the gate we create is the perfect color, height, and style for your needs. Whether you're looking for a simple entry gate or a more elaborate design, we have the experience and skill to create a beautiful and functional piece that will meet your needs. Get in touch with our team to get a quote for our custom gate services.
Over 30 years of technical knowledge
We have over 30 years of technical knowledge of community gate systems. That's why we're confident that we can provide you with the best possible service when it comes to your needs. Our experience has taught us that each community's entrance needs are unique and require a customized solution. We'll design and install a gate system that meets the specific needs of your community. Nexlar offers a wide range of security solutions, from simple swing gates to traffic barrier systems. We also offer a variety of access control options, including keypads, card readers, and intercoms. Whether you need a new gate system or want to upgrade your existing system, we can help. With our contractors' experience and knowledge, you can rest assured that you're in good hands with Nexlar. Call us today for a quick no-obligatory quote.
Reduce wait times for residents and contractors
Our gates can save time and hassle for both residents and contractors. By having a system in place, you can avoid the need to wait for someone to manually open the gate, which is a complicated and stressful access control process. For example, you might want to limit access to the pool area to only residents. Or, you might want to allow contractors to enter but not exit until they are finished with their work. This also prevents accidents and injuries. As a result, the community gate systems we install can help reduce stress levels, promote a sense of community and help contractors spend less time on less productive activities like waiting for a physical guard to come to open the gate for them. Let us help you automate the check-in and out process, reduce wait times, and keep vehicular and foot traffic moving smoothly and efficiently. Contact Nexlar today.
Reduce car stacking at the entrance
Our gate systems allow for a smoother flow of traffic, as residents can enter and exit the community without having to wait for physical guards to open the gates by hand. By controlling the flow of traffic, these systems can help to keep your community's driveway clear and prevent congestion. Our systems are also adjustable so that they can be adapted to different traffic conditions. For example, if there is a heavy volume of traffic, you can adjust the gate settings to allow more cars in. If there is a light volume of traffic, we can adjust the settings to allow fewer cars in. By using sensors to limit the number of cars that enter and exit the parking lot, our gate systems can automatically regulate the flow of traffic. As a result, cars spend less time idling at the entrance and exit and more time actually parked in the lot.
Ensure successful package deliveries
Our community
gate systems
will ensure that packages are delivered quickly and safely without incident. The gates will be manned during delivery hours so that drivers can easily enter and exit the community. Let your community's residents start receiving their deliveries in a timely and efficient manner. Consult with us today.
Keep track of whoever gets in and your community
Our community gate systems are designed to keep track of who gets in and out of your community. By keeping a log of the time and date of every entry and exit, you can easily monitor who is coming and going. This information can be valuable in a variety of situations, such as identifying patterns of criminal activity or keeping an eye on suspicious behavior. In addition, our gate systems can also help you keep an eye on your community as a whole. By monitoring the comings and goings of your residents, you can quickly identify any areas that may need more attention. Whether you're looking to improve security or to get to know your residents better, our community gate systems can help you achieve your goals.
Make your customers' experience better
Our electric gates have auto-open and close functions that make passing through your gates a breeze. This can be a valuable time-saver for visitors and residents who are rushing to get into or exit your community. If you'd prefer, we can add a long-range RFID system to the gates to open automatically when a resident approaches, making the entry process even smoother. Whether you're looking to improve security, efficiency, or customer satisfaction, adding a gate system to your business is a great way to do it, and Nexlar can help. Consult with our expert today.
We can work with your budget and have several financing options
If you want a community gate system, we can offer a financing option that suits your budget. We understand budget constraints are often a major factor when it comes to deciding whether or not to install a community gate system. However, we strongly believe that every resident should have the opportunity to enjoy the benefits of living in a gated community. That's why we offer financing options that make it easy for you to save money on your initial investment. With our budget-friendly financing options, you can have the community gate system you've always wanted without breaking the bank. Let us help you save. Consult with our experts if you'd like us to create a payment plan just for you.
Swing and slide gate operators
We offer swing and slide gate operators for all of the community gate systems we install. These operators ensure that gates open and close properly, helping to keep intruders out. They also provide a smooth, quiet operation, making it easy for residents to come and go. Whether you're looking for a simple gate system for a small community or a more sophisticated setup for a larger one, Nexlar has the perfect solution for you. For more information about our swing and slide gate operators, call (281)407-0768.
Our community gate systems are highly rated for continuous duty because they are designed to withstand constant use. The cycles of opening and closing the gates are automated, so they can handle a high volume of traffic without wearing down. The gates are also made from sturdy materials that can resist weathering and corrosion. As a result, our community gate systems are built to last, making them an ideal choice for busy neighborhoods. Our gate systems are backed by a team of knowledgeable and experienced customer service representatives who are always available to help.
Alfred360 is a web-based app that gives you the ability to manage your gates from anywhere in the world. When it comes to controlling your community gate systems, there's no better solution. With this app, you and your staff can unlock gates remotely, set alarms, and receive notifications if anyone tries to tamper with the gate system. You can also grant or revoke access to specific individuals, making it easy to control who has access to your community. Best of all, your data is stored on a secure server rather than on your personal computer. This means that it is much less likely to be hacked or stolen. So if you're looking for the most convenient and effective way to control your community gate system, this web-based app is the way to go. Call our expert for a free demo for Alfred360.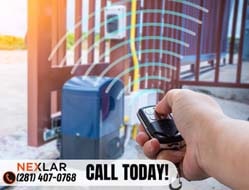 Our process starts with a quick call. This is because we understand that time is of the essence when it comes to security. We do this because we want to get an idea of what you're looking for and what your budget is. We'll also ask what kind of maintenance you're willing to do and how often you're planning on using the system. We will discuss your needs and budget with you in order to tailor a solution that meets your specific requirements. Our security company also offers a free consultation so that you can see how our services can benefit your community. Nexlar's team of experts is available 24/7 to answer any questions you may have and to provide your business with the best service possible. Contact us today to discuss your community gate needs.
Complimentary onsite survey of your premises
Getting a complimentary onsite survey of your premises for our community gate systems is a great way to see what security options are available to you. Our team of experts will be able to assess your property and give you tailored advice on the best way to secure it. We understand that every community's security needs are different. We will work with you to find a solution that fits your budget and requirements. So don't hesitate to contact us today at (281)407-0768 to arrange your free onsite survey.
Free, no-obligation Quotation
Once our team has all of the right information, they can start to put together a proposal for you. We'll go over the different options and make sure that everything is compatible with your existing infrastructure. We'll also give you a pricing estimate so that you can make an informed decision about whether or not our gate systems are right for you. We offer free, no-obligation quotations on all of our community gate systems because we want you to be sure you're getting the best possible price. Nexlar's team of experts can help you choose the right gate system for your needs and budget. So if you're looking for a community gate system, be sure to give us a call today.
We believe that gate installation should be more than just a service – it should be an experience. That's why we take a unique, hands-on approach to installation that ensures each and every customer is satisfied with the final result. Once the installation plan is in place and you've given us the go-ahead, our team of experienced professionals takes care of everything, from trenching and setup to cabling work. We'll electrically connect the gate to the cabling system and test it for proper operation. The end result is a community gate system that looks great and functions perfectly. Most importantly, it's a system that you can be proud of for years to come.
Service and maintenance upon request
Your entrance gate is a vital part of your community's security infrastructure. That's why we offer service and maintenance upon request as part of our process. Our experienced technicians develop a timeline and schedule that meets your needs and ensures your gate system is always in top working condition. By proactively servicing and maintaining your community gate, you can avoid costly repairs down the road and keep your property safe and secure. The installation of a community gate system is a complex process that requires expertise and experience. However, the end result is a safe and secure community that can enjoy the benefits of having a gate system in place. Consult with Nexlar.
If you are looking for a security gate system to install in your community, give us a call today. Nexlar has the experience and knowledge to get the job right so that your residents and customers can enjoy your community without having to worry about security. We offer a variety of gate systems to choose from so you can find the perfect one for your needs. Call (281)407-0768 for a consultation to discuss your needs and see how we can help.
Directions, That Matter!
Service And Quality Matters
Increase return on your investment with our custom security cameras, access control and software integration technology.
Quickly, professionally, on budget and on schedule, I would not hesitate to recommend Nexlar
Cliff M. Fogo de chao
CEO

Nexlar staff attend to our needs in a courteous and professional manner
Jeremy Director Of Facilities – BCFS

Outstanding customer service, fast and professional installation
Brenda

Thank you so much for your quick and effective work with us. Your technician was outstanding
Matthew
Production Group Leader (PGL) – Haliburton