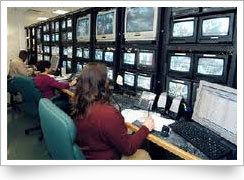 Nexlar Security provides real-time , interactive video monitoring. Using surveillance network Nexlar Security video guard tours on a scheduled, emergency on as-needed basis. Protect your property with unparallel service that combines video monitoring and Virtual guards 24/7. This significantly reduce personnel cost and improve site security.
Virtual Guard Through Video Analytics offers superior analytics to transform your video surveillance system into a dynamic, real-time, proactive system that delivers early warning of security breaches, fast appearance-match video search, and new levels of video quality, network and storage efficiency. It sports state-of-the-art, ultra-wide dynamic range day/night detection and the only self-learning video analytics system-all leading to the highest degree of accuracy with the fewest false alarms in the industry.
All the equipment used as state of the art technology and all our technicians are highly trained.
We are fully licensed in the state of Texas and proud member of the BBB and TBFAA (Texas Burglar and Fire Alarm Association).