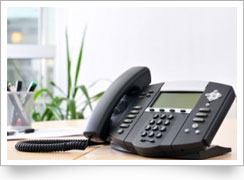 At Nexlar security we cater to your business needs. Our goal is to fully understand your requirements and how your business interacts with the clients over the phone and provide solutions that can help your business grow and keep track of details that are vital for your success. Our team of experts knows that the installation process is the most important part of the new phone system. We donít leave until you are fully trained and satisfied! We offer superior systems with premium services.
We can help your company decrease cost and improve productivity with our business phone solutions. Our team can help you deploy advanced IP business phone services just like any other software application. Your VoIP software can be hosted alongside other IT services in your data center and your employees can simply connect remotely via an IP connection, wireless LAN, the cellular network or even broadband from home
We provide solutions for all you business telephony needs. Call us now for a Free Consultation!