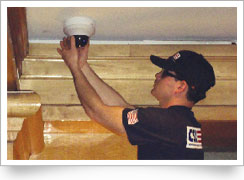 Security integration is an ideal way to get best of the various security systems that are available and integrate all systems into one user friendly interface. We can integrate access control, video analytics, burglar alarm, fire alarm, intercom into a single comprehensive package. We use the latest system available and our technicians are highly trained to install and maintain most security systems.
Our team of experts works hard to meet you requirements of safety and security. Located at Houston, TX Nexlar is a local security integration company which strives to provide you 24/7 monitoring. We are fully licensed in the state of Texas and proud member of the BBB and TBFAA (Texas Burglar and Fire Alarm Association).
We design, service and install the security systems and fully comply with the norms set by national and local standards. Our technicians are factory trained and undergo rigorous training.