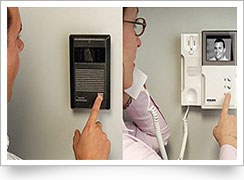 Nexlar Security provides the latest technologies in intercom solutions. Our professionals work hard to meet your intercom system requirements and to provide both convenience and security. We are fully licensed in the state of Texas and proud member of the BBB and TBFAA (Texas Burglar and Fire Alarm Association).
Whether you are looking for an easy way to communicate in your office or Home we can help.
We offer an array of solutions to suit your needs.